LOCURA con la Regla BORN AGAIN y QUORA [ENG-ESP]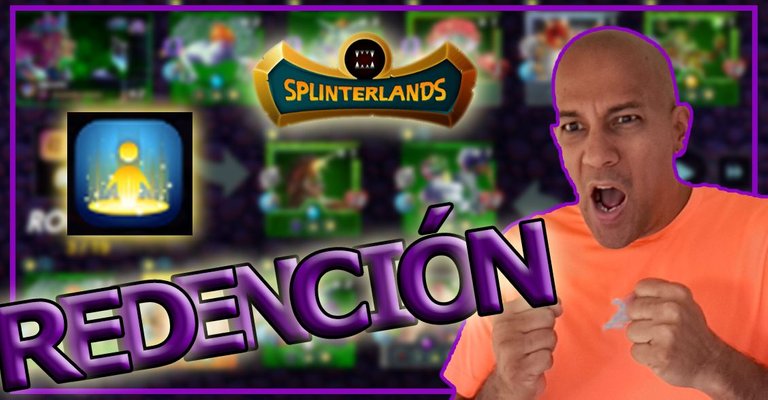 Esta es mi primera batalla con esta regla. Se llama Born Again y lo que hace es que cada monstruo resucita una vez, por lo que tienes que matar dos veces.
Solo he jugado dos batallas así, la otra se las muestro otro día porque perdí. Lo cierto es que todavía no tengo una estrategia definida que pueda ser la mejor. Sin embargo me parece que Quora es increiblemente poderosa con esta regla. Quizás muchas de las gladius puedan ser así de fuertes y crecer como locas, aunque veo que al Quora tener doble tipo de ataque, pudiera ser mejor.
This is my first battle with this rule. It's called Born Again and what it does is that each monster resurrects once, so you have to kill twice.

I've only played two battles like this, the other one I'll show you another day because I lost. The truth is that I still don't have a defined strategy that could be the best. However it seems to me that Quora is incredibly powerful with this rule. Maybe many of the gladius can be this strong and grow like crazy, although I see that Quora having double attack type, could be better.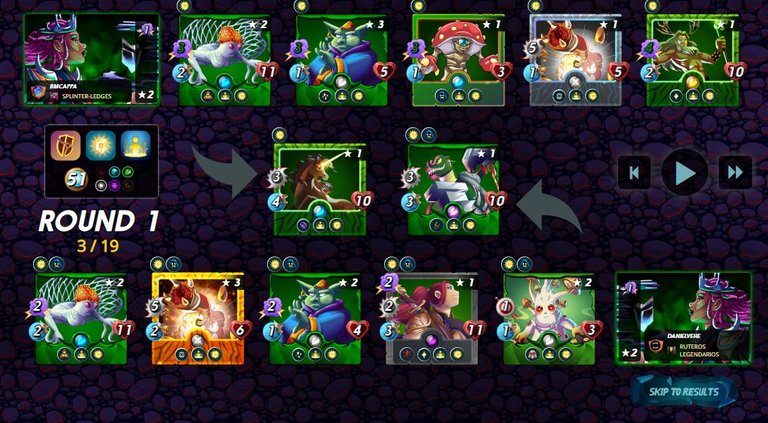 Comienza la batalla jugando los dos con el mismo invocador. Yo con Quora de protagonista y mi rival con Kron. Cuando veo ese ícono al que yo llamo "Redención" no sabía de qué se trataba y lo descubrí en esta batalla.
The battle begins with both of us playing with the same summoner. Me with Quora as the main character and my rival with Kron. When I see that icon that I call "Redemption" I didn't know what it was about and I discovered it in this battle.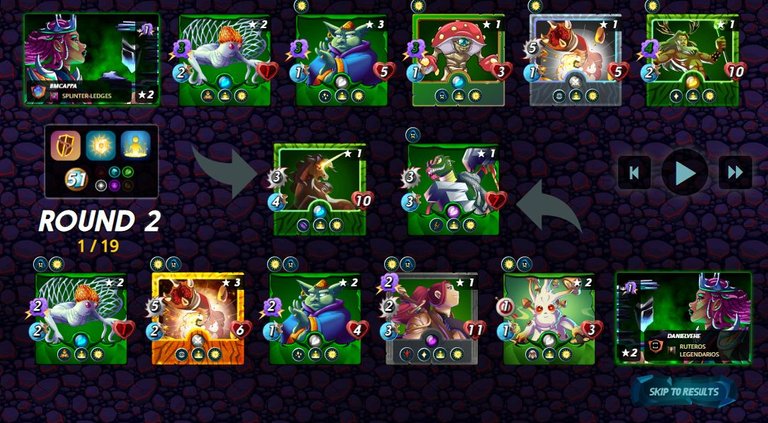 Los dos usamos a Mycelic, por lo que serían los primero en sufrir los ataques. Aquí el tema estaba en cuál de los dos sería el primero en caer.
Los tanques eran distintos. El suyo resistía bien la magia y eso me podría perjudicar. También el hecho de contar con Mushroom que bajaba la magia a mi Quora.
We both used Mycelic, so they would be the first to suffer the attacks. Here the issue was which of the two would be the first to fall.

The tanks were different. Theirs resisted magic well and that could hurt me. Also the fact of having Mushroom that lowered the magic to my Quora.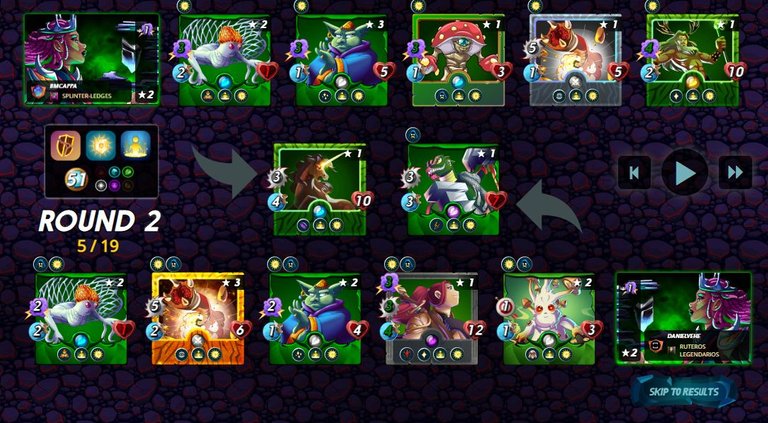 Los dos Mycelic cayeron rápido y Quora dio un último golpe, por lo que comenzó a crecer. Mi Mycelic fue el que resistió más aunque solo un ataque.
The two Mycelic fell fast and Quora gave one last hit, so it started to grow. My Mycelic was the one that resisted the most although only one attack.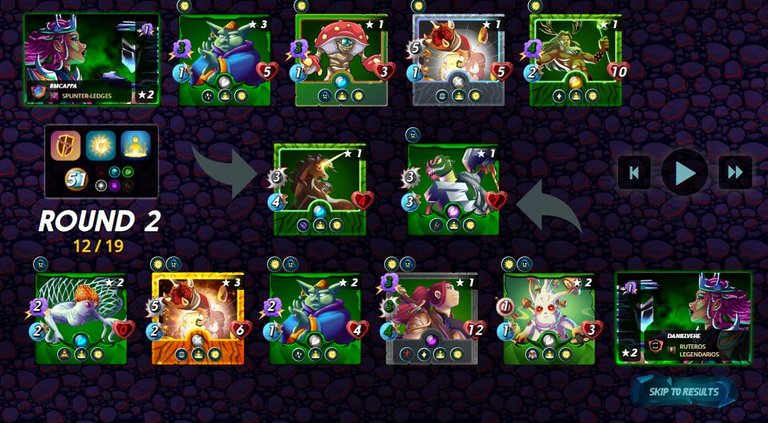 El unicornio estaba herido y podría morir porque Grund le pegaba muy fuerte, también con la ayuda de Quora.
Ahora que no estaba Mycelic, mi Sand irí al ataque de Kron.
The unicorn was wounded and could die because Grund hit him very hard, also with the help of Quora.

Now that Mycelic was gone, my Sand would go to Kron's attack.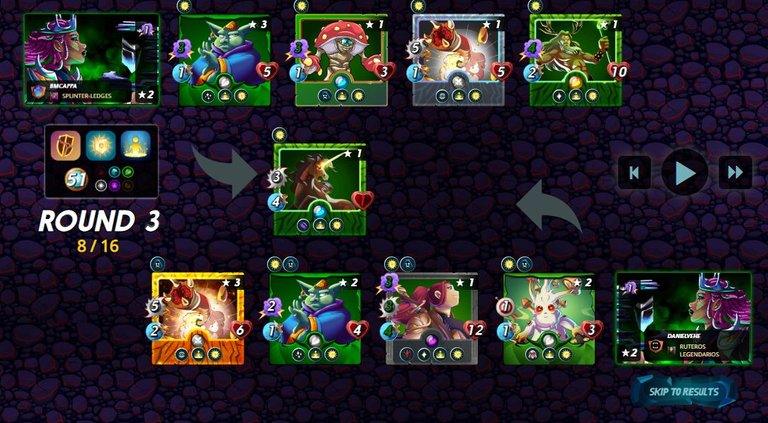 Murió el unicornio y también Grund por segunda vez. Mi estrategia de colocar a Fungus está a punto de explotar. Fungus pasa al primero como un tanque y será eliminado muy rápido, pero además va a resucitar y tendrán que volverlo a matar. Esto hará que Quora crezca dos veces en estadísticas.
The unicorn died and so did Grund for the second time. My strategy of placing Fungus is about to explode. Fungus goes to the first one as a tank and will be eliminated very quickly, but also he will be resurrected and they will have to kill him again. This will cause Quora to grow twice in stats.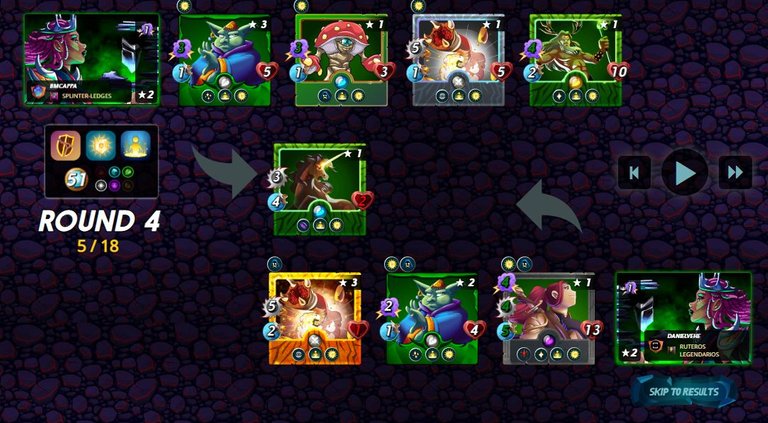 Matan a Fungus y mi Quora crece. Al final está mi Sand que está siendo masacrado por el suyo y mientras que Kron está quedando vivo.
Fungus is killed and my Quora grows. At the end is my Sand being slaughtered by his and while Kron is being left alive.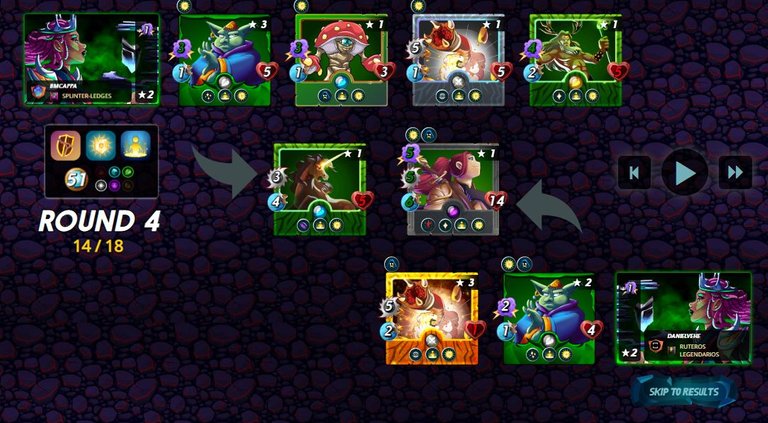 Matan por segunda vez a mi Fungus y Quora llega a 5 de ataque, pasando a ser tanque. Mi Sand está a punto de morir pero debilitó a Kron.
My Fungus is killed for the second time and Quora reaches 5 attack, becoming a tank. My Sand is about to die but weakened Kron.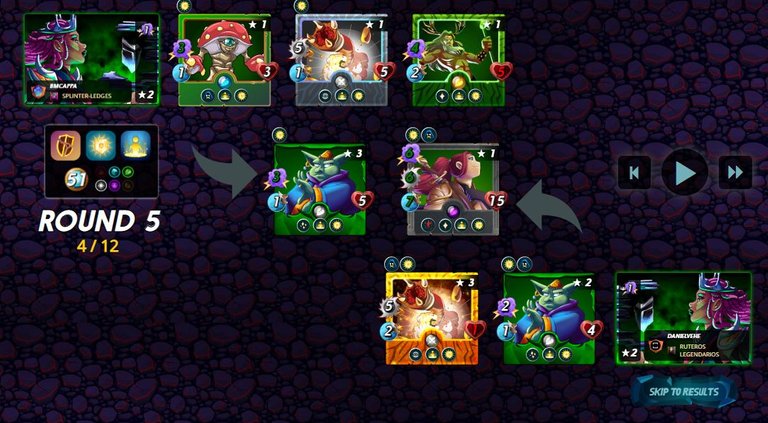 Mato a su unicornio por segunda vez con mi Quora que llega a 6 de ataque. Ya se está haciendo invencible para cuando le toque con Kron. Mi Sand muere por primera vez.
I kill his unicorn for the second time with my Quora that reaches 6 attack. He's already becoming invincible by the time it's his turn with Kron. My Sand dies for the first time.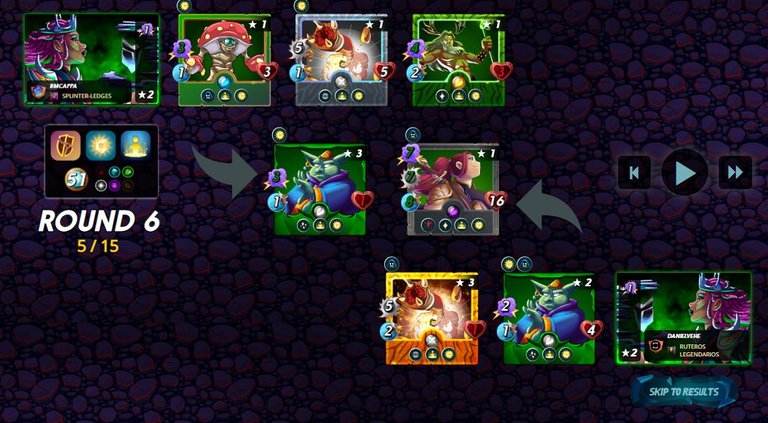 Mi Quora mata a Goblin por primera vez y llega a 7 de ataque. Con 16 de vida es casi imposible que me maten.
My Quora kills Goblin for the first time and reaches 7 attack. With 16 health it's almost impossible to get killed.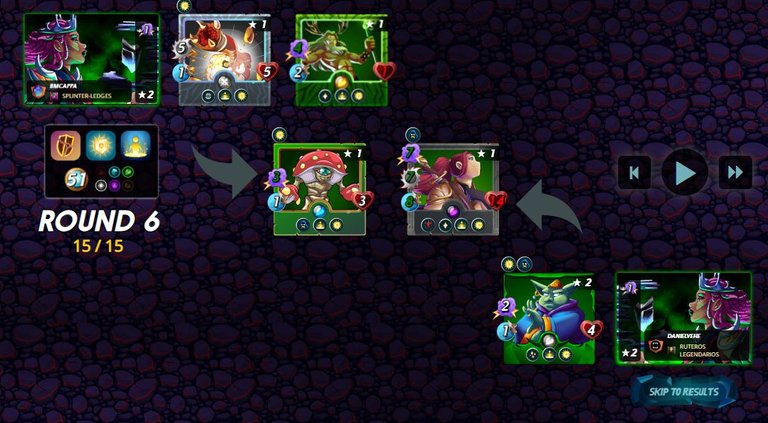 Lamentablemente Goblin matá al otro Goblin y Quora no tiene oportunidad de crecer, como si falta le hiciera XD. A mi Sand lo matan dejando a Kron con 1 de vida
Unfortunately Goblin kills the other Goblin and Quora has no chance to grow, as if he needed it XD. My Sand gets killed leaving Kron with 1 life.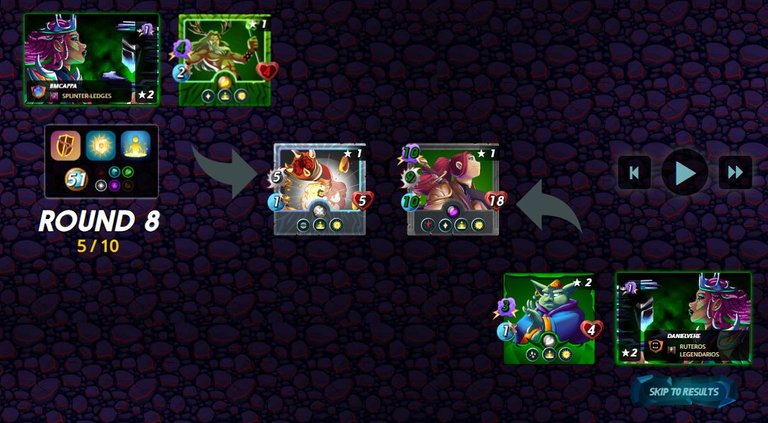 Quora mata a Mushroom muy rápido y sube a 10 de ataque en magia y 9 en melee. Lo hace en buen momento para que su Sand baje como tanque y no vaya a matar a mi Goblin que ayuda en la curación de Quora, aunque con 18 de vida nada la podría destruir.
Quora kills Mushroom very quickly and goes up to 10 attack in magic and 9 in melee. She does it at a good time so that her Sand goes down as a tank and doesn't go to kill my Goblin that helps Quora's healing, although with 18 health nothing could destroy her.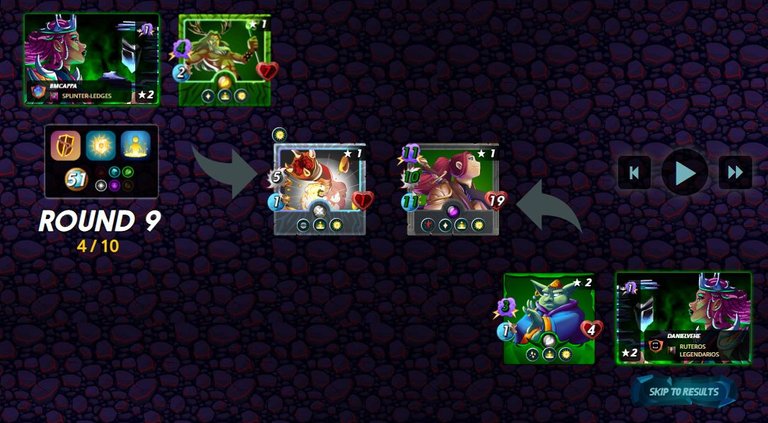 Mata a Sand y llega a 11 de magia y 10 de melee. Está a punto de enfrentar a Kron que no se ha recuperado por completo de lo herido que lo dejó mi Sand.
He kills Sand and reaches 11 magic and 10 melee. He is about to face Kron who has not fully recovered from the wound that my Sand left him.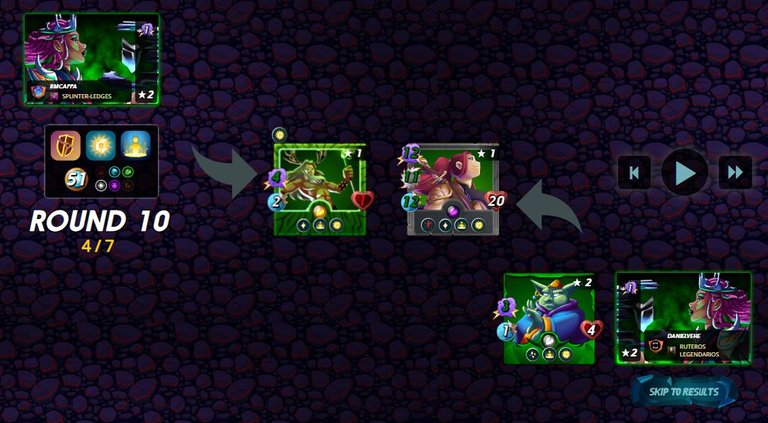 Por último se enfreta a un Kron que lo mata la primera vez quedando con 12 de magia y 11 de melee. Para la segunda muerte le toca a Goblin quien da el disparo final y acaba la batalla.
Finally he faces a Kron who kills him the first time, leaving him with 12 magic and 11 melee. For the second kill it's Goblin's turn who gives the final shot and ends the battle.
Vi en twitter que @cpol jugó una batalla parecida y me encantaría que la dejara en los comentarios para complementar este post.
Has jugado esta regla de batalla? ¿Cuál estrategia crees que es la mejor?
---
Si todavía no te registras en el juego, lo puedes hacer aquí: https://splinterlands.com?ref=danielvehe
If you have not yet registered for the game, you can do so here:
https://splinterlands.com?ref=danielvehe

---
---