Watch to earn Streams are Back- Splinterlands Gold foil card giveaway!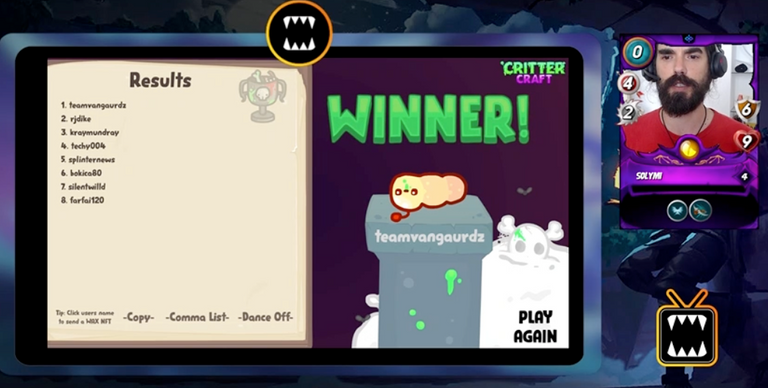 Hello Gamers!
Blockchain gaming and the play and earn experience is still a relatively new way of looking at games. On my twitch channel I not only do games but also look at the economy around them. Hive has many great games and some of them are even free to play without any initial investment. If you want to learn more about how to earn cryptocurrency with gaming, blogging, vloging go find out about it on my website!
Watch to earn Streams are back!
I already streamed a few days ago and you can check that out in the replay of my latest stream here Splinternews Twitch channel
Since we are having a slow comeback there where not so many viewers, but hey I have been absent for almost half a year. Anyways some of you already claimed some hive engine tokens with their channel points.
If you don't know what #watchtoearn is:
By following my twitch channel and watching my streams you will earn channel points. You can redeem various cool things with these points. Note: all the claimable assets can be claimed as long as the loot chest is full. You can see the contents of the loot chest here. @snvault the wallet of @snvault is only used for this purposes. The active authority is with @solymi (this will change once I figure out a better decentralized solution for this) tokens sent to the loot chest will remain there until they are redeemed by viewers. @Solymi will not use the funds held by @snvault for own purposes. Snvault only sends out funds to viewers who signed up on the In Game Name Form Click HERE to fill the form. It will ask for your twitch ID and your Hive username. Wax address can be provided too!
But you need a twitch ID and you need a HIVE wallet. If you don't have one there is multiple ways to get one! The easiest way is to sign up with Splinterlands and buy a spell book! Other ways go over Leofinance with twitter or even facebook login!
Redeemed channel points will be paid out once a month(Changed while writing this post). If you would like to see some details on that you can check out any of my old Watchtoearn reports!
Watch to earn report March
Let's have a look who is on the list and what they redeemed!
It is only two viewers who exchanged their channel points. @xvaxz and @jdike redeemed 10 Oneup and 100 LVL so far.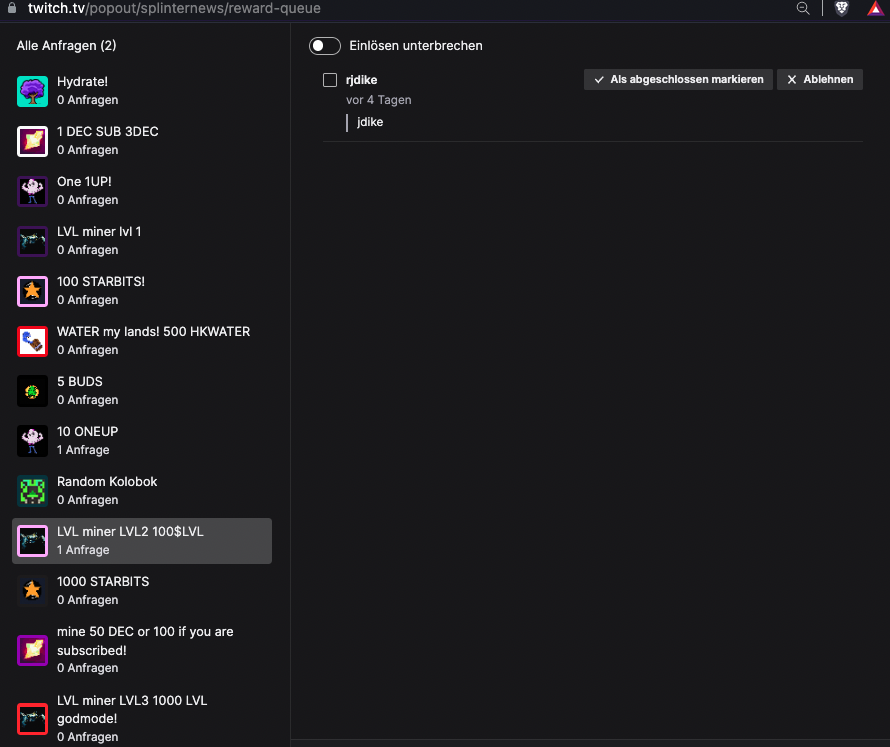 I think we can do better here. I will be tweaking around on these a bit and probably will get back to a weekly payout routine. To start with that I will now send those two their rewards using the @snvault treasury.
The LVL tokens in the vault have been sponsored by @psyberx founder Jboss. Thank you again for being awesome! The $ONEUP are sponsored by @solymi
Lets check out the balance sheet of @snvault on leodex.io


image from Leodex.io
I can see that we have no DEC in there but @solymi will see to it that the vault gets filled! If the Starbits run out the same will apply here.
Anyone who wants to contribute to the watch to earn treasury is welcome to do so.
You can send any hive-engine token to @snvault
Please notify either @solymi or @splinternews if you send some so we can add that to the channel rewards!
We will add THGAMING, MEME and PGM to the rewards soon. Probably come time even more tokens will get added on this list.
Important: I want to make this a sustainable watch to earn faucet for my viewers. Any form of abuse will hurt the community! Just don't do it!
I am working with several streamers and we all have our blacklists and we also exchange this kind of data. If you get banned from giveaways you might be on one the streamers blacklist. (just don't!)
The rewards have been sent!

Winners of my past giveaway
We had a bunch of comments that where posted on my last giveaway. Let's pick our 3 winners with help of the random comment picker by @sentipl
https://hivetools.herokuapp.com/picker/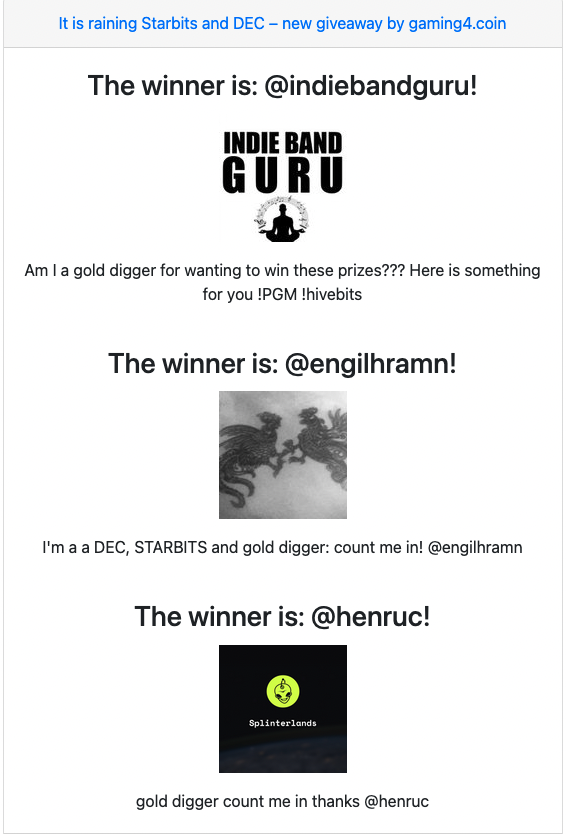 sorry @captainloken, @bokica80, @shawnmichael-gt, @amaillo, @lipe100dedos, @vagabond42069, @jdike, @jonimarqu, the next time you will be victorious.
Our 3 winners:
Congrats! Each of you winning 333 DEC and 3333 STARBITS!
Next giveaway Splinterlands GF cards!
Yes we are loading up some cards and I will pick 1 winner winning a random gold foil card!
Rules
Leave a comment on this post and include the word: legendary
Please make it a meaningful comment!
Include one link to the @leoglossary like this main menu! You may have noticed a few links throughout this post and this is for a reason!
Thank you everyone for reading! I hope to see you on my next stream!
Cheers
Solymi
gaming4.coin
Comment! Engage!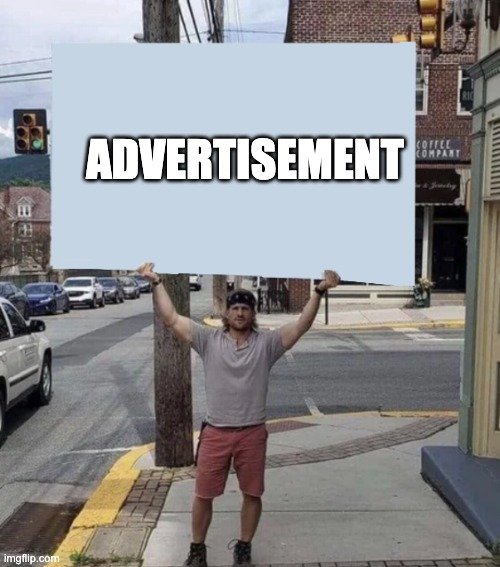 If you are not playing Splinterlands yet, you are missing out on amazing rewards in form of NFTs and crypto! Check out Splinterlands now!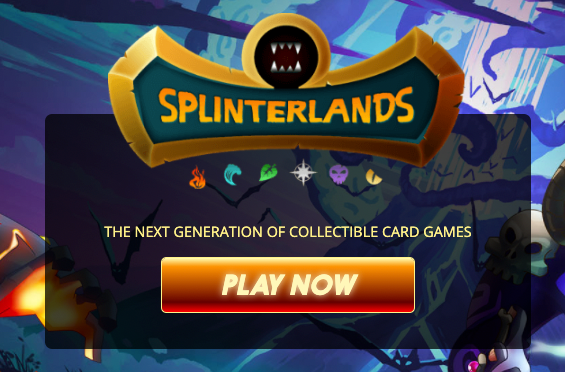 source SPLINTERLANDS
Follow SplinterNews on TWITCH
Play RisingSTARgame

Farm Dcrops


Play EXODE




Posted Using LeoFinance Beta
---
---