Favorite Common Cards in Gold League - Part II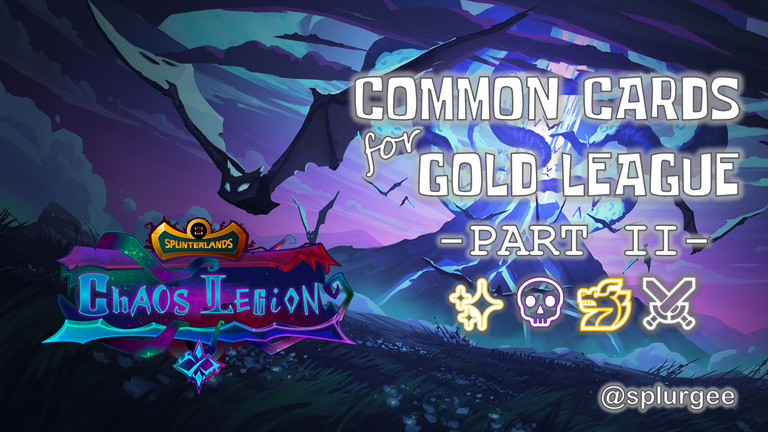 This post is a continuation of the write-up I made for the Fire, Water and Earth splinters. Today, I'll be rounding up the list for the remaining splinters.
Again, these cards are what I rent to compete in the Gold league while keeping my rents low. I don't rent fancy cards like Selenia Sky, Sacred Llama Mage and Kron the Undying. I stick with the cheap ones to keep my rent low while still able to stay competitive. Pretty sure this can help you compete in the leaderboard but you'll be needing those expensive legendary summoners.
And also, please note the cards below might not suit your playstyle or strategy but I really hope this helps you win more games.
So without further ado...
✨✨✨ Life ✨✨✨
| Monster | Card | Mana Cost | Comment |
| --- | --- | --- | --- |
| | | 2 | Mr. Cool Guy! This card annoyed the sht out of me so I started using this too. You can play this at the 1st or 2nd positions depending on the mana cap. This is too fast for the tanks and too annoying for opposing magic lineup. The best part? This is only two mana! |
| | | 6 | The Silvershield Knight synergizes really well with most of the melee cards be it a sneak, tank or an opportunity monster giving them +1 attack damage. When its turn comes to be the tank, the furious looking horse will be trampling all over your opponents. |
| | | 5 | This is the card that I use for armor repair purposes. It has the snipe ability so it's a dual purpose monster. This allows my tank, usually the Shieldbearer, to soak more damage before it dies and at the same time punishes the range/magic attackers hiding at the back. |
💀💀💀 Death 💀💀💀
| Monster | Card | Mana Cost | Comment |
| --- | --- | --- | --- |
| | | 3 | This is a personal favorite. Cheap and effective in taking down the backline of the opponent with its 3 attack and poison ability. At low mana, you can pair this with the Undead Badger for a 1,2 combo at the back or maybe even add the Silent Sha-vi for a triple tap! |
| | | 5 | Sssssilently sneaks all the way to the backline of your opponent. Armor? No problem. Its attack instantly reduces the max health of the target. Gets deadlier with buffs to itself or debuffs to the enemy. |
| | | 4 | I don't even know what this is. A bat? owl-bat? vampire? Whatever it is, this provides an invaluable role for the death splinter. At second position, this will get targeted by the snipers. But with its flying and high speed, it has a good chance to dodge and punish them for missing. And did I say its HP increase with the scavenger ability and reduces enemy range attack with the headwinds ability? Sold? |
⚔️⚔️⚔️ Neutral ⚔️⚔️⚔️
| Monster | Card | Mana Cost | Comment |
| --- | --- | --- | --- |
| | | 6 | For some reason, I keep getting Noxious Fumes so this is a must rent card for me. Also works with earthquake rule set. At level 8, it should be able to out-sustain everything else as long as you put small HP monsters for this cube to devour. Goodbye, Furious Chicken. |
| | | 6 | 3 range attack is meh but the swiftness it brings to the table is 💯💯💯. Watch your monsters outspeed your opponents and increase their accuracy. |
| | | 1 | I don't even bother renting max level Ooze. My level 1 is fine in Gold League. Sure it gets outclassed by an Ooze at level 8 but their effects are the same. The delay to the enemy brought by its slow ability is as important as the swiftness brought by the Supply Runner. |
🐲🐲🐲 Dragon 🐲🐲🐲
There are only 3 common dragon cards and I really don't bother renting them.
Monster
Name
Mana Cost
Comment
Shenron
999
Dragon Ball Z

Collect the seven dragon balls to summon Shenron and make a wish. This dragon is broken.
Blue Eyes Ultimate Dragon
999
Yu-Gi-Oh!

You know you're fcked when you see this. GGWP.
Kaidou
999
One Piece

One of the four emperors so this should probably be a legendary character. LOL.
Sure, there are other incredible common cards out there like the Disintegrator, Feral Spirit, Haunted Spider but I can't list everything. What I listed above are the monsters that are on top of my renting priority list. But then again, it will depend on your playstyle.
Comments? What are your top 3 common cards for the Life, Death and Neutral splinters? Write it down in the comments below. 🖊
Next posts would be for the Rare cards! Stay tuned and keep grinding!

Want to start having fun while earning in the @hive network? Signup to @splinterlands using my referral code.

---
---