Potion, Quest, and Active Splinter Updates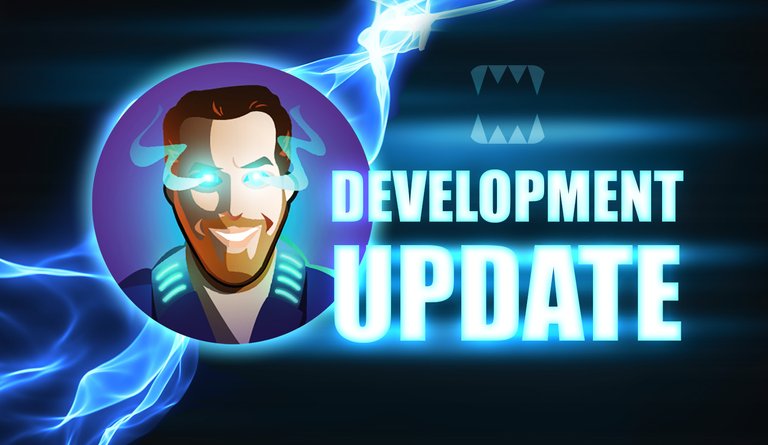 In addition to all of the exciting new things that are part of the Untamed release (which you can read about here: Splinterlands: Untamed - Info & Release Date), we have a bunch of other smaller changes that we have been working on and plan to release together. The majority of these changes are ideas proposed by players or are a result of player feedback, so as always we want to thank you for your input and your help to make the game better!
The changes listed below are planned to go into effect along with the release of the Untamed edition on Saturday, November 30th, around 10 am - 12 pm EST (UTC-5).
Potions
The first set of changes are in regards to potions. The following updates have been requested by MANY players, so we hope they make things better and easier for everyone.
Purchasing Individual Charges & Removing Strength Levels
One issue that was brought to our attention is that players often purchase the Basic or Enhanced strength potions - thinking that they would stack - and it ends up just being wasted DEC since the player wants to always use the Brilliant strength potion.
Another is that many players would like to be able to purchase a smaller number of charges of each potion. For example, if you only have 5 packs to open, it would be great to be able to purchase 25 charges of the Brilliant Legendary and Alchemy potions for a manageable 2,250 DEC instead of having to amass a much more difficult 45,000 DEC for 500 charges of each.
We think that both of those things make a lot of sense, so we will be getting rid of Basic and Enhanced strength potions altogether, and at the same time allowing players to choose the number of charges of the Brilliant strength potions they would like to purchase at any time. There will also be bonus charges given out for large purchases, just like when buying booster packs!
For players who currently have charges of Basic or Enhanced strength potions in their inventory, they will be automatically converted to Brilliant strength charges when this change goes live at a rate of 4:1 for Basic and 2:1 for Ehanced (except for the Quest potions which will be 5:1 and 2.5:1).
Since you cannot have fractions of a charge, the conversions will be rounded up. For example, if you have 13 Basic Legendary Potion charges, they will be converted into 4 Brilliant Legendary Potion charges automatically when this change goes live.
Purchasing Potions with Crypto/USD
One of the most important goals of the Splinterlands project is that it should be accessible to people who have no experience with cryptocurrency. This is a big differentiator between Splinterlands and other blockchain-based games which typically require players to own crypto (for things like gas fees) and to know how to transact with it.
Potions are one area where we are failing in that goal. It is currently very difficult for people to get enough DEC for potions - they have to be able to first aquire cryptocurrency, then know how to trade it for STEEM or TRX, and then be able to trade that for DEC. This gives experienced cryptocurrency users a huge advantage over everyone else and that is a big deterrent for a lot of players. It also creates a lot of customer support issues and potential for players' funds to be lost or stolen.
Now that we are beginning to focus more on player growth and marketing to a wider audience, this is something that needs to be addressed. As a result, we are going to start selling potions for crypto and USD via PayPal just like we currently do for booster packs. The cost of the potions in DEC will remain the same, and the USD pricing will be based on a rate of $0.001 USD / DEC, or 1000 DEC / $1 USD.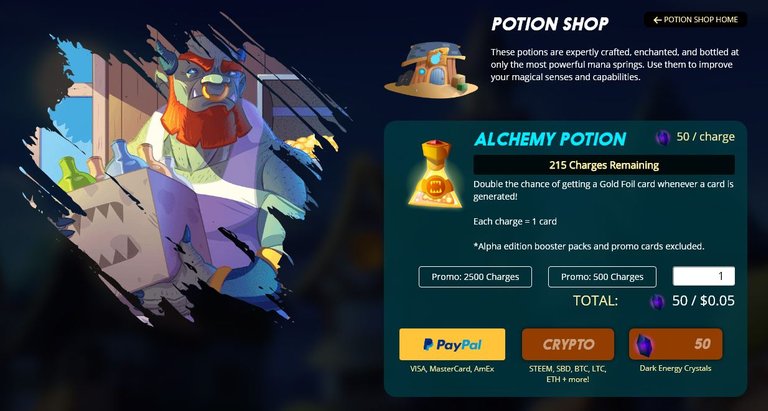 In order to mitigate any potential negative effects on the market price of DEC - since people who previously were forced to purchase through the market to buy potions now have another option - we will also be setting the price of Untamed booster packs at a fixed rate of 2000 DEC / pack, regardless of the price for which DEC is trading on the markets.
This way, if the price of DEC ever drops too much below $0.001 USD on the markets, there will be an arbitrage opportunity that savvy players can take advantage of to get cheap booster packs and potions, or just to make a quick profit.
Option to Disable Potions for Reward Cards
A number of players have also asked about the ability to disable their potions when opening Reward Cards. We agree that players should be able to choose how to apply their hard-earned potions, so we have added a new setting in the settings screen that, when enabled, will disable all potions from being applied when Reward cards are opened.
Active Splinters & Daily Quests
The next set of changes involves active and inactive splinters for battles and daily quests. Again, these changes come as a result of feedback and input from the players - you!
Increased Chances of Inactive Splinters
One of the elements of skill in the game is around choosing which Splinter to play in a battle in order to best counter what you expect your opponent might play. With the majority of Splinters being active in all battles, that element of skill is significantly diminished. Additionally, we want to encourage players to get cards from a wide variety of Splinters rather just maxxing out one or two.
As a result, we will be changing the algorithm so that Splinters will be inactive in battles more often (except for Ranked battles between players under 300 rating, in which case all Splinters are always active). As mentioned above, we expect that this will add additional skill to team selection since you have a higher chance of accurately guessing which Splinter your opponent will choose, and it will encourage players to own or rent a more diverse set of cards.
It will even be possible, though rare, that only a single Splinter may be active for a battle! We think that these battles will provide an interesting twist as both players strive to make the best team using the same Splinter.
For those of you who are thinking that this will make daily quests much harder to complete, don't worry, because...
Daily Quest Splinters Always Active
With this change, the Splinters that are part of either player's daily quest will always be active in Ranked battles. We realize that, even before the changes above, it can be very frustrating when you're trying to complete your daily quest and your Splinter is repeatedly inactive.
We're happy to announce that those days will soon be over, and you will be able quest in peace...well, except for the fact that your opponent will still be trying to crush you...
New Daily Quests
We are also finally adding new quest goals for the first time since the release of the daily quests around a year ago! Many, many players have asked when there would be a Dragon splinter quest - and the answer is: now! We also have two other new quests which we hope will help to keep the game interesting and engaging. The new quests will be limited to players in the higher leagues as indicated since new / lower level players may not have the cards to complete them.
Without further ado, the new quests are (drum roll please):
Win 5 Ranked battles using the Dragon Splinter (Gold league and up)
Win 5 Tournament battles (Gold league and up)
Win 3 Ranked battles without using any Neutral monsters (Silver league and up)

Stay tuned for more updates from the Splinterlands!
Website | Blog | Discord | Telegram | Shop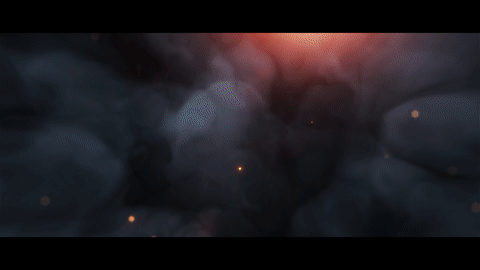 ---
---