Chaos Legion Airdrops: What to Expect for New Players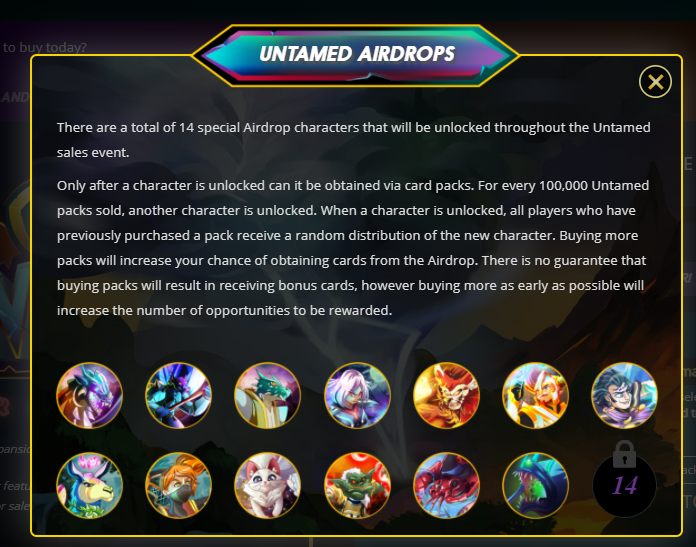 After the most recent Splinterlands AMA and the discussions around Chaos Legion, the entire community is in a buzz. One of the most interesting topics of the AMA centered around subtle changes to how air drops will be handled as part of Chaos Legion. I won't get into the specifics of some of the changes discussed around staking SPS, vouchers, pre-sales packs, etc (you can find those details in the AMA here), but one question many new players may have is how to value these new air drop cards. For example, should you rush out to buy and stake large amounts of SPS in order to have a chance at these air drop cards? Do you bid feverishly on hive-engine to buy all the fractional vouchers that you can get your grubby hands on? For a new player without context, it would be easy to rush in and FOMO. But a little context and history may be helpful in your decision making process. Below is a listing of the 14 air dropped cards as part of the Untamed set along with their current (as of publishing) market price.
| # | Current Market Price | Airdropped Card |
| --- | --- | --- |
| 1 | $49.99 | Diamond Dragon |
| 2 | $33.00 | Gloridax Guardian |
| 3 | $6.00 | Drake of Arnak |
| 4 | $155.00 | Mimosa Nightshade |
| 5 | $533.33 | Yodin Zaku |
| 6 | $194.00 | Chanseus the Great |
| 7 | $150.00 | Lir Deepswimmer |
| 8 | $560.00 | Scarred Llama Mage |
| 9 | $10.00 | Beatrix Ironhand |
| 10 | $499.00 | Byzantine Kitty |
| 11 | $6.75 | Goblin Firemage |
| 12 | $28.82 | Lobstradamus |
| 13 | $11.85 | The Gorlodon |
| 14 | $8.40 | Hero of Beyond |
There are a lot of meta cards in the list above, but also some not-so-popular ones as well. As you can see, the prices cover a broad range from $6 all the way up to $560 for a single card. For historical purposes, Scarred Llama mage came out less than a year ago (~November 1st, 2020) and initially sold on the marketplace after release for $7.25 per base card. Splinterlands players at the time received one guaranteed Scarred Llama Mage card for every 450 Untamed Card packs they purchased, with the chance of receiving more (randomly generated on the blockchain).
Having a chance at getting a few $560 cards for free is certainly nice, but you also need to weigh the cost of investment to participate. Personally, I'm all-in on Chaos Legion as a new player to the game, so I'll be actively participating as much as I can in the pre-sale and subsequent CL launch. How about you - what is your strategy and where are you allocating your Splinterlands allowance? Let me know in the Comments section below!
Unofficial Poll: Your Personal Splinterlands Budget for the Remainder of 2021
a) Chaos Legion Packs
b) Land Plots
c) Riftwatchers mini-edition Packs
d) SPS
e) DEC
f) Alpha and Beta cards
g) New Reward cards
h) Untamed cards
i) Gotta have 'em all!
j) I'm outta here!


Check out my new YouTube Channel for more Splinterlands tips, tricks, and guides:
Tales from the Crypto Mancer

@splinterlands @hive #Splinterlands #play2earn #playtoearn #profit #Splinterlands-Strategy @bulldog1205 @nft @splinterlander @altcoindaily @steemmonsters @splinterlands-ru @splinterlands-au @blockchaingames @gaming.nft #crytocurrency #gaming #bitcoin #Phillipines #pinoy #HIVEBLOCKCHAIN #gaming #hive #nonfungible #token #YieldGuildGames #dec #sps #airdrops #crypto @gaming-hero
---
---