Bunny Errors of Judgement
My wife's nephew is bunnysitting two rabbits for a couple weeks while their owners are travelling, and we headed over with Smallsteps to feed them and stroke their soft little bunny heads. While I wouldn't want one as a pet, they are nonetheless, very cute.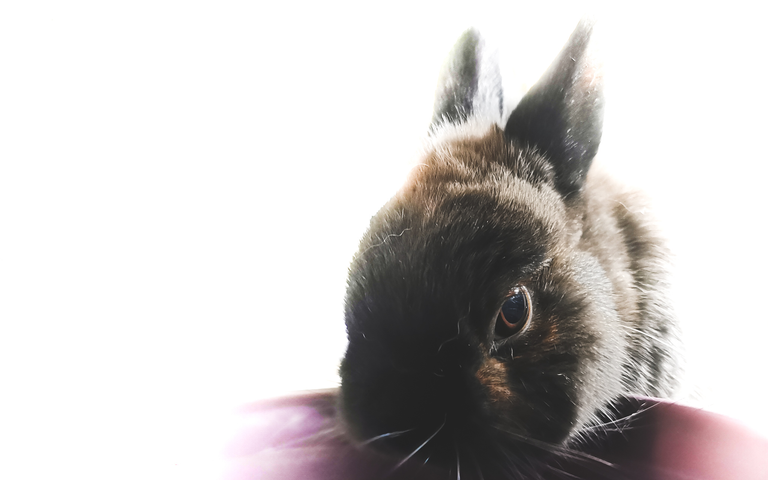 Speaking of bunnies...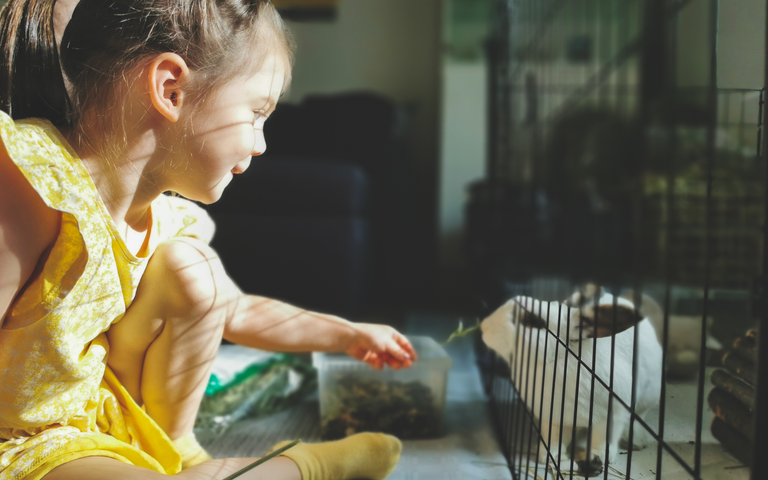 I made a bunny tactical error with Splinterlands this season, as I have tried to make it into Champion two of both Modern and Wild formats. My "cunning plan" was to rent the Modern cards I needed to push into C2 and then, add the Wild cards on top to push into the World C2. Things were going pretty well but the problem is...
Modern is hard!
Even now, after taking several losses in a row as I tried to get one more daily chest before packing it in, I am pretty high in the ranks.

Yes, that is a 900 point difference between me in 52nd position and @jacekw in first. And you will notice, even Jace took a couple rounds more than normal to get up there. The competition is much tighter in Champions there, because there aren't that many bots playing it, so this season at least, I will settle for Champion 3.
But for comparison, I did make it into Champion 2 "on the wild side" of things.

And you can see here that while I am 50 places lower in the rankings and in a higher league, there is "only" 500 points between me and first place. I would really like to continue on playing to see if I can get into Champion 1 for the very first time, but... that tactical error.
Well, I guess I could have tried, but I am also trying to get a few chests along the way and because I was playing both formats and requiring quite a few games to get the Modern account into Champion 3, my ECR is maggoted. And, with the tweak to the ECR burn rate once an account falls below 50% - each round I play is very costly, especially since I lose most of them.
But, given that I feel I have been struggling, both sides have a better than 50% average win rate, with my Wild side being about as good as it has ever been to finish I think, at about a 58% win rate. And, considering I am playing in both formats this season with both getting to Champions, 450-odd games isn't that bad.
However, there is no real benefit for getting into Champions on both, as the daily challenge rewards are shared across them. However, there is a bit more DEC on offer for the wins on Modern, which is likely because the bots haven't been playing on that side.
Does anyone know if it is possible to get the stats at the end of season on how many rounds were played in each format? Also, it might be interesting to see the "average DEC per win" on a sample of accounts in different leagues.
What will I do different next season?
Well, I think that instead of starting with Modern, I will try to focus on the Wild side of the format, as I can rent all of the cards I would need for modern. However, if I can get up to Champion 3 from D2 pretty fast, I will move over to modern and play there. This way, I can keep having some fun playing and earning the daily chests, without it costing me position in ranking. The benefit of this is that I can let the Wild side account rest a day or two and let more people move ahead of me, so then I have people to play.
This was actually a challenge in the Modern format early on, as even though I am not doing well, at may points I was ranking in the low double digits, because like I said, there are/ were very few bots playing. Still being in 52nd at this point with such a poor score is ridiculous. However, playing in Diamond and maybe pushing into low Champion 3, means there will be people to play and there will be a good chance to focus on the daily quests to add to the booty haul without risking Wild position, as well as perhaps having an easier time of it.
"Booty haul" sounds like fun!
Of course, this still costs ECR, so I will have to "control myself" and forget about moving up the points ladder to get to the next league, but if that happens, that is fine too. Getting into Champion 2 makes life so much easier for me, as I can play far less games, which obviously saves my ECR, but more importantly, also means I don't have to play as much, which is good especially at the moment, because time is coming at a premium.
On top of this, playing less means being able to rent out more and even with DEC in the hole, it is still significant. And, have a look at the state of the summoners for Diamond.
CHAOS LEGION:

DICE:

UNTAMED: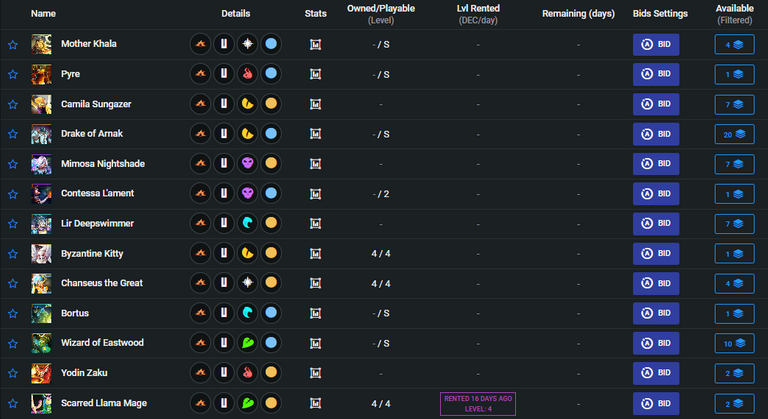 These are the summoners available for Modern and, there aren't many out there, with most in single digit supply for rent, including the Chaos Legion and Dice Summoners - there are currently zero Max Obsidian from CL and zero Lorna Shine from Dice available. And that Byzantine Kitty is a Gold MAX worth $32,000.
Which is kind of cool really, since it is like renting out a Ferrari, without the risk of someone crashing it.
Tomorrow, I can add my playing cards into the supply for rent, so hopefully there are still some takers, but I am pretty sure that the new summoners that are going to arrive, will have plenty of demand on them once they drop.
Well, since I can't play anymore, I guess it is time to look at the markets to see if I am any closer to retirement, or a step further away.
Taraz
[ Gen1: Hive ]
---
---