Moving Focus to Focus
Another end of season for Splinterlands has come and gone and thankfully, I was able to scrape it into Champion 3 for both Modern and Wild formats.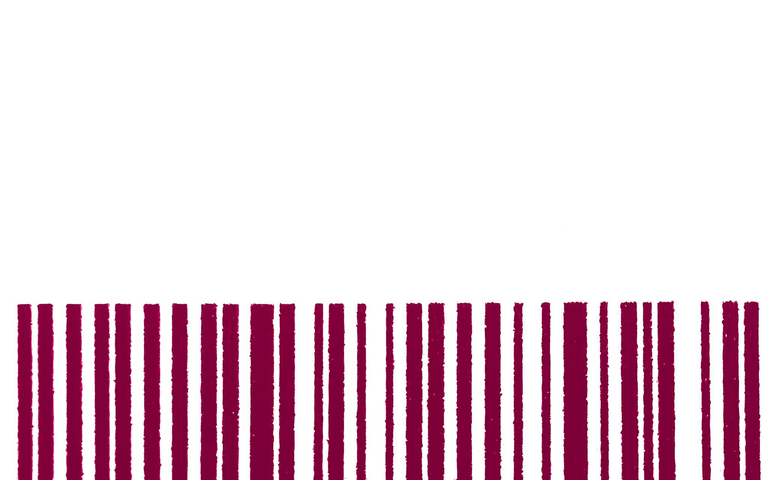 Modern:

I acrtually made it quite easily into Modern Champions, with what I think was under 100 rounds played, but I played one more and ended up getting smashed back to mid-Diamond 2 in a handful of rounds, then had to grind all the way back up again, which destroyed my ECR and pushed it under 10%.
My consistency needs a lot of work, but I wanted to play more to play with the much hyped Rift Watcher set, as I have a full deck available. However, I suck massively with them, though there is a lot of potential once they are better understood and especially, once they get combined with some of the older cards in the wild format, where I haven't used them at all yet. But, I am pretty sure that those in the top leagues of Wild, have full kits as well, fuller kits of the older cards than I do, plus are generally better players.
It isn't going to be easy.
But, I started to get the hang of some of the combinations at times, even if it was mostly through luck. Given more time, I might be able to set some decent lineups, but the problem I think will be, is that other people will come to the same conclusions far earlier, so by the time I work it out, the meta will have changed again.
And, Wild was a grind too.
Wild:

Again, I made it there relatively quickly but then got pushed back into Diamond 1 and after that, had to play 100 more rounds to get back into champion. So many times I was close to getting over the line, so many times rejected. It is very frustrating.
But, at least there are some rewards on offer and I got a little luck with some of the SPS in chests rewards, which is good, because I don't earn much from actually playing the games.
End of Season rewards looked like this, where altogether there was almost 60 dollars worth of rewards. This sounds like a lot to some people, but remember that none of this comes for free and there is more to it than just playing, as it takes investments into cards, and I have invested a lot and still need far more.

The total summary looks healthy too, where for the entire season and including playing and daily rewards, there was 270 dollars worth - but again, this is all relative to actual holdings and in order to earn this, I was also renting a lot of cards to be able to compete and, I still struggle heavily to actually win.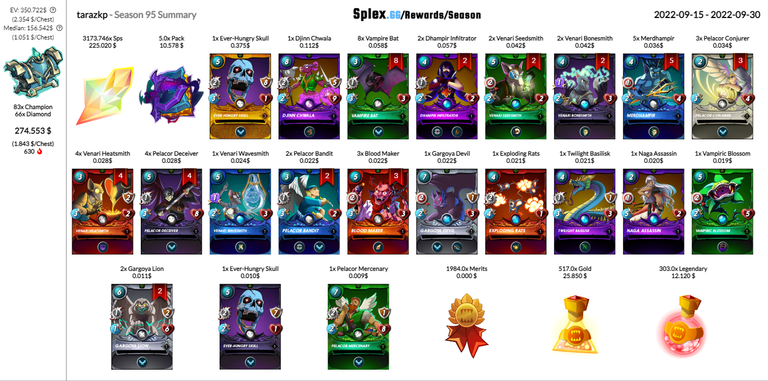 To know how much of a grind it was to scrape into Champion, I haven't played in two full days, but my ECR is just over 50% - this doesn't seem like that much of an issue, but this also affects the potential to earn SPS through the games, as well as compete for Daily Focus rewards. The people who are able to play consistently and actually win, they are likely earning a fair amount of value.
Perhaps one day.
But, one upside is that since my ECR is shot, I am able to rent out for a couple days in the hope that I can earn some DEC in order to finance rentals for my next season campaign. For this early in the season, the values are halfway decent.

The Rift Watcher set:

For those lacking basic arithmetic skills, that means that it would take over three years being able to get that rental amount daily, to cover the current value of the RW cards I hold. With them being worth under purchase price, it would likely take four years of that earning daily to break even on them.
It is a long game, isn't it?
Whether it pays off is an unknown.
However, in the meantime, to earn through playing, I have to play a lot more in Champions leagues, not just scrape in. So, what I should probably do is let my modern rating die and focus solely on Wild instead. That way, I can spend my ECR battling for higher reward chests instead of pushing through Modern Diamond after getting into Wild C3. I can get into both, but it takes a few days to get through Modern, and that could be time spent in Champions, where the rewards are higher.
In all the time I have been playing Splinterlands over the last year, I haven't cared much about the rewards I have received from playing, but I feel that I really should start paying more attention to them. I should start looking at it as more of an investment than I have been and earning is part of the "cost averaging" of ownership. Some people do this through renting which is quite passive, but based on the current rewards, it is likely better for those who are able to compete in Champions to actually play instead. This is evidenced by the higher rental values of Maxed cards currently, as they are needed for Diamond.
So, I think that for the first time since Modern was released, I might let it slide this season and focus my attention on Wild, to see if there is much of a difference in rewards. I have never made it into C1, but perhaps I can scrape into C2 and then start from D2 in the season following, saving me some more ECR with a shorter trip to Champions again. This gives me the opportunity to kill my ECR at EOS in Modern to see if I can get it up there too, as I will have more time to rent out during recovery, something I have to do now anyway.
With so much happening in Splinterlands, I think it is worth me stepping back and focusing my attention on something I can control, which is the way I play the game. With the new cards available, it is also a good time to learn how they work, something that takes me far more time than I suspect it takes others, as I am quite mentally challenged in regards to this type of activity, as well as many others.
It is still going to be two and a half days before my ECR is full, so hopefully I can earn enough DEC in that time to cover the following 10 of game play. It seems the only way I can control how much I play, is by making my cards unavailable. Luckily though, I have a mountain of other things to do IRL in the meantime.
Taraz
[ Gen1: Hive ]
---
---