Little game facts (EN - ES)


Hello dear followers and initiators of the game.
The initial thing to start playing and start playing is to buy the 10 usd book (Referral link), obviously it depends on how much you want to win, having cards in your account, whether they are your own or rented, has a great influence, since the greater the number of cards on your account, the higher the power points, which allows you to reach higher leagues, but it all depends on the strategy to take, since each league has different numbers:
How much power is needed to reach each league, silver 3 15000+ power, silver 2 40000+ power, silver 1 70000+ power, gold 3 100000+ power, gold 2 150000+ power, gold 1 200000+ power, diamond 3 250000+ power , diamond 2 325000+ power, diamond 1 400000+ power, champion 3 2 1 500000+ power, of course I omitted the bronze league, in the following image you will find the rewards of each league, the rating you need for each league and the start of each league when you finish the season.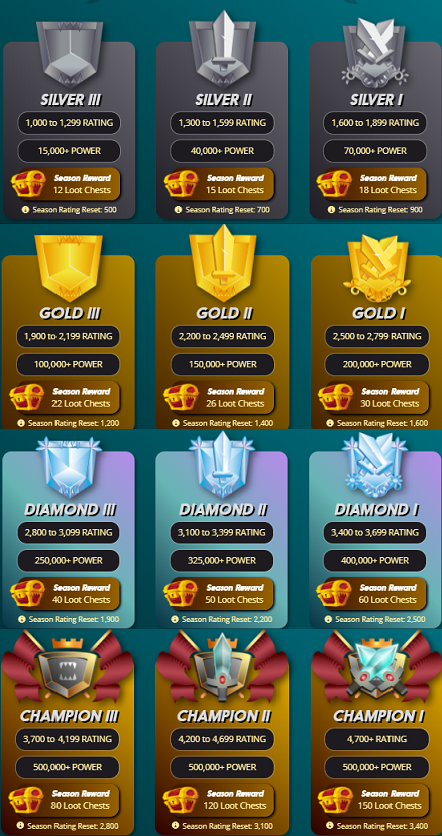 Therefore, how much dec or credits is paid for rent, depending on which league you want to be in, the numbers vary, depending on the level of the summoners and monsters to use, I would recommend writing down your rents in a notepad or in an excel sheet to keep track of your losses or gains, to reflect on the next season you failed, and to improve.
The higher the leagues, the more DEC per fight, but the DEC is also variable, the higher the DEC value, the more DEC the game gives, it also depends on how many players get decs, etc.
For example, in the following image, there is the golden Phantom of the Abyss card that at the time of renting it, the rental value is 220 dec per day and it gives me 50,000 power, of course it depends on the level of the card and its edition.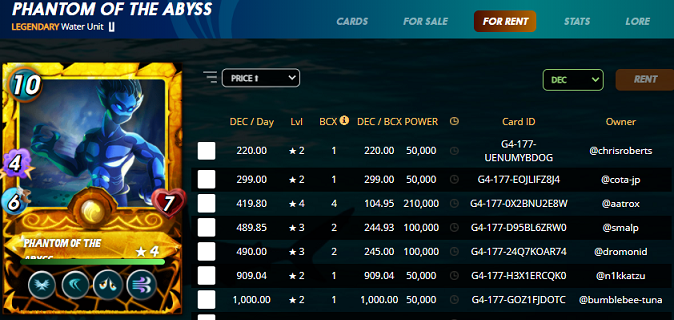 On the other hand, there are the daily quests, where you have to win 5 fights with the same element, using a monster with sneak ability, using a monster with sniper ability, and another one where you have to win 3 battles without using the neutral cards, depending From each league you will receive a number of chests. Example in the following the 5 Sneak battles.

Monsters to be able to pass from the bronze league.
There are many rookies who are starting and struggle to move up the league, especially the bronze one, which is very, very crabby. But there are certain tank monster cards with healing that you need to rent or buy to beat that league; SEA MONSTER, FLESH GOLEM lvl 3 and HAUNTED SPIRIT.
With his high life and healing capacity, his enemies will suffer with his bestial attack.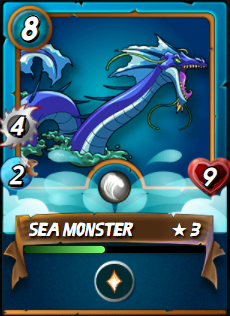 The hideous flesh golems of the lost tribes, with incredible regeneration powers and lots of health, this card is good with a combination of monsters and summoner.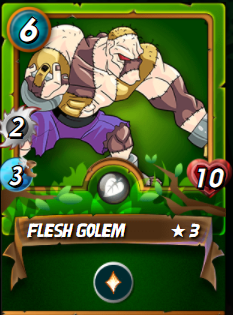 With a good mix of cards and this haunted spirit can attack the living with blunt force and heal themselves with ease.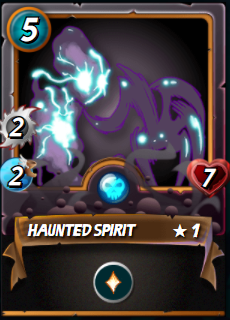 ---
Hola queridos seguidores e iniciadores del juego
Lo inicial para empezar a jugar y empezar a jugar es comprar el libro de 10 usd (Link de referencia), obviamente depende de cuanto quieras ganar, tener cartas en tu cuenta ya sean propias o alquiladas influye mucho , ya que a mayor número de cartas en tu cuenta, mayores puntos de poder, lo que te permite llegar a ligas más altas, pero todo depende de la estrategia a tomar, ya que cada liga tiene números diferentes:
Cuánto poder se necesita para alcanzar cada liga, plata 3 15000+ poder, plata 2 40000+ poder, plata 1 70000+ poder, oro 3 100000+ poder, oro 2 150000+ poder, oro 1 200000+ poder, diamante 3 250000+ power , diamond 2 325000+ power, diamond 1 400000+ power, champion 3 2 1 500000+ power, por supuesto omití la liga de bronce, en la siguiente imagen encontrarás las recompensas de cada liga, la calificación que necesitas para cada liga y el inicio de cada liga cuando terminas la temporada.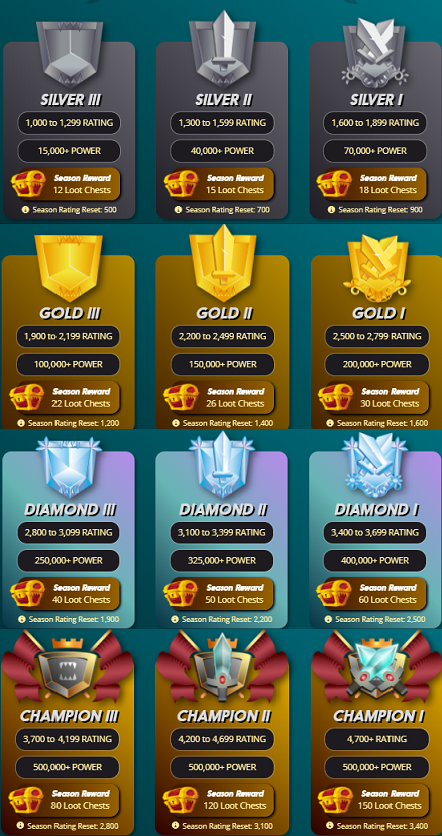 Por lo tanto cuanto dec o creditos se paga por renta, dependiendo en que liga quieras estar, los números varian, dependiendo del nivel de los invocadores y monstruos a usar, te recomendaria anotar tus rentas en un bloc de notas o en una hoja de Excel para realizar un seguimiento de sus pérdidas o ganancias, para reflexionar sobre la próxima temporada que falló y para mejorar.
Cuanto más altas sean las ligas, más DEC por pelea, pero la DEC también es variable, cuanto mayor sea el valor de DEC, más DEC da el juego, también depende de cuántos jugadores obtienen dec, etc.
Por ejemplo en la siguiente imagen es la tarjeta dorada Phantom of the Abyss que al momento de alquilarla el valor de la renta es de 220 dec por día y me da 50000 de poder dependiendo el nivel de la tarjeta y su edición.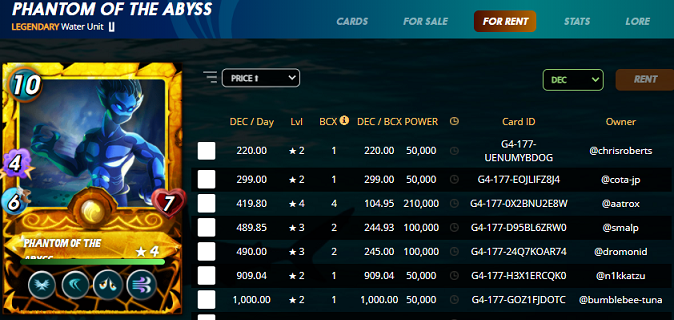 Por otro lado, están las misiones diarias, donde tienes que ganar 5 peleas con el mismo elemento, usando un monstruo con habilidad de furtivo, usando un monstruo con habilidad de francotirador, y otra donde tienes que ganar 3 batallas sin usar el Cartas neutrales, dependiendo de cada liga recibirás una cantidad de cofres. Ejemplo en el siguiente las 5 batallas furtivo.

Monstruos para poder pasar de la liga bronce.
Hay muchos novatos que están empezando y sufren para subir de liga especialmente la de bronce que es muy pero muy ladilla. Pero hay ciertas tarjetas de monstruos tanque con curación que debes alquilar o comprarlas para superar esa liga; SEA MONSTER, FLESH GOLEM lvl 3 y HAUNTED SPIRIT.
Con su alta capacidad de vida y curación, sus enemigos sufrirán con su bestial ataque.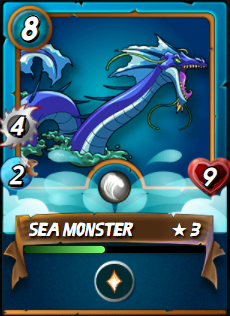 Los horribles golems de carne de las tribus perdidas, con increíbles poderes de regeneración y mucha salud, esta carta es buena con una combinación de monstruos e invocador.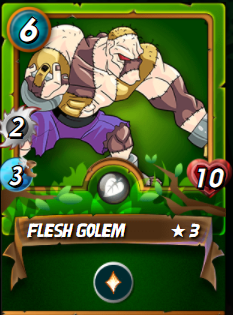 Con una buena combinación de cartas y este espíritu embrujado puede atacar a los vivos con fuerza contundente y curarse a sí mismos con facilidad.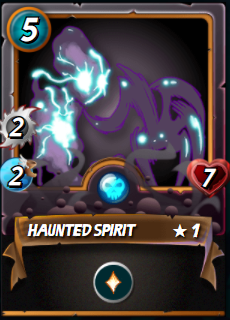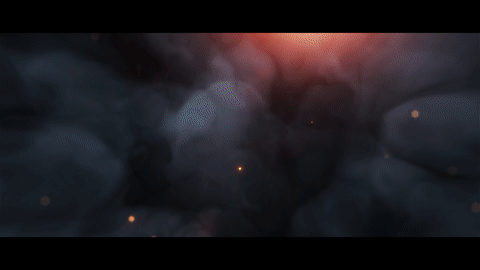 ---
---