Ed's Cheesy Chorizo Salami and Grape Pot Luck Skewered Snacks
Hello Hello Food Lovers of the Hive.
Tis the season for bring a dish to a party or meal apparently.
In my case, Mrs T texted me from work, stating they were having a works lunch and everyone was bringing a dish, and she wanted to partake as well.
Fair enough thought I...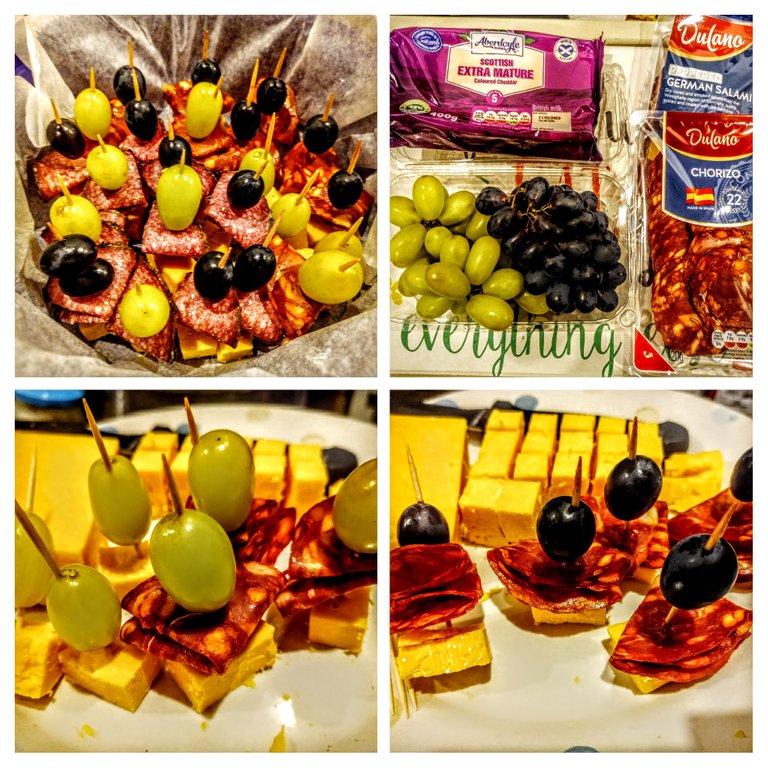 Problem Number 1 The lunch was the next day!
Problem Number 2 Most simple things had been chosen already!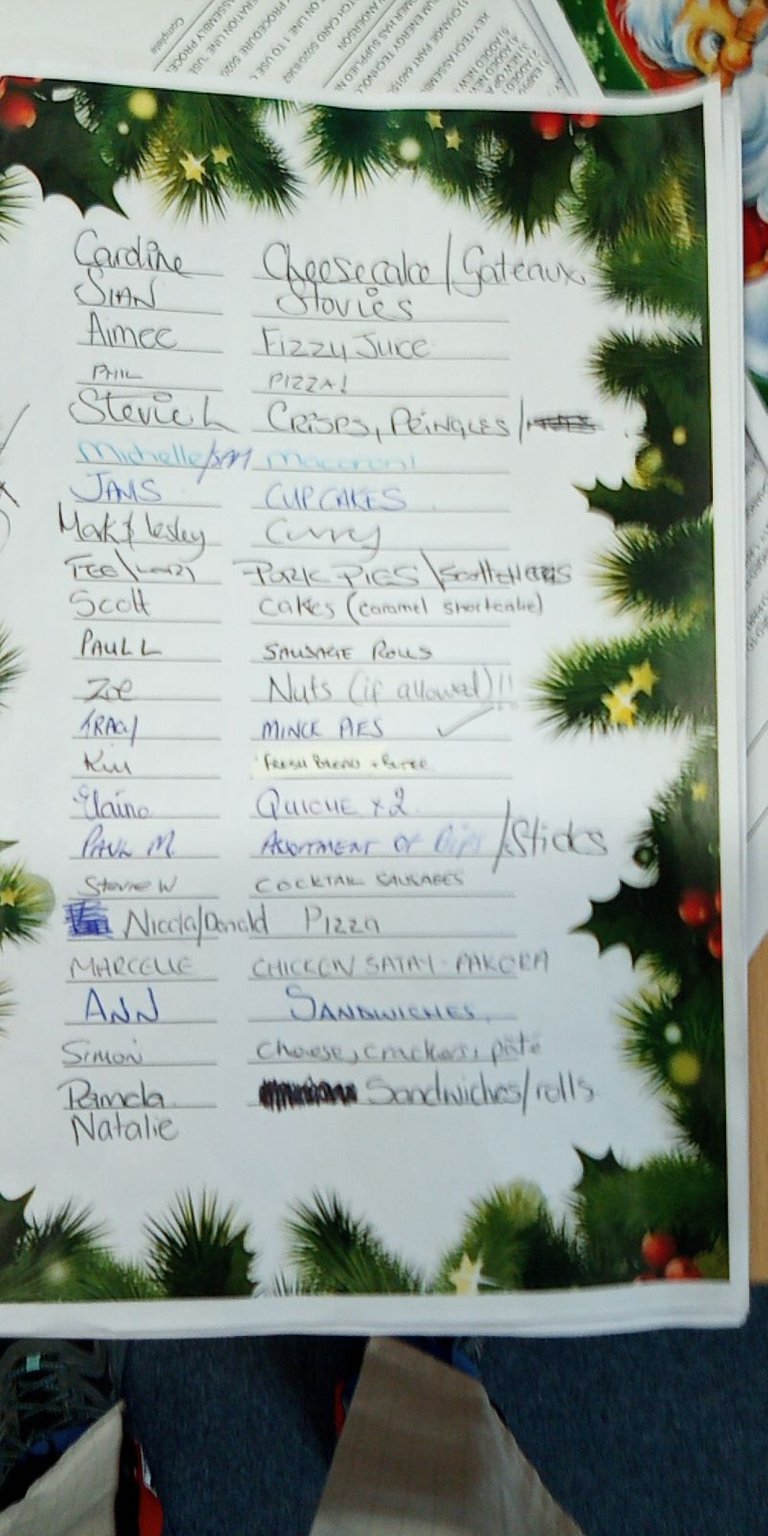 "I added my name to the list!" said Mrs T but I left it blank,maybe something with olives says she!
"We are in Scotland, not back in Spain, people here don't eat fluffing OLIVES" replied I!
However, with her mentioning Olives, a plan sprang to mind and I hot-footed it down to the local grocery store.
What else can be black or green besides Olives?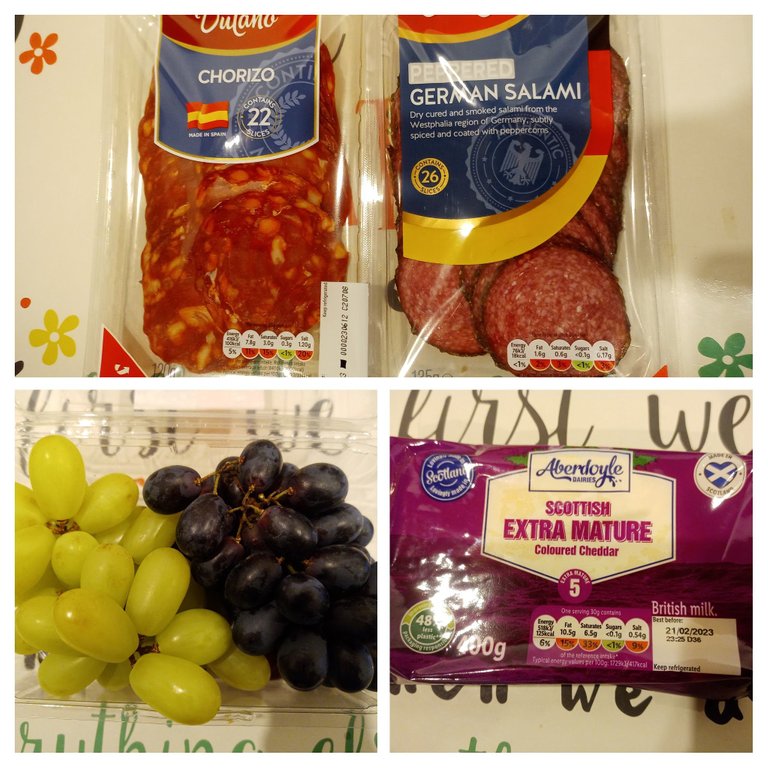 Heck yes grapes!
Of course the beauty of grapes nowadays is that they're generally seedless, so the madman's plan was put into motion ...
THE PLAN - SIMPLE COCKTAIL SKEWERS
The Name - Ed's Cheesy Salami Chorizo Grape Skewers
KISS - Keep It Simple Sweetheart is what I love to adhere to, and when it comes to recipes I generally don't even use them!
The Ingredients
Brazilian Black and Green seedless grapes (in - lieu of the olives!)
Spanish Chorizo
German Salami
Scottish Extra Mature Cheddar
The four basics that required. They are all so damn tasty that you don't need anything to add flavours!
But WAIT!
You often have a binding agent in cooking, something to hold things together. So we need it for this recipe as well....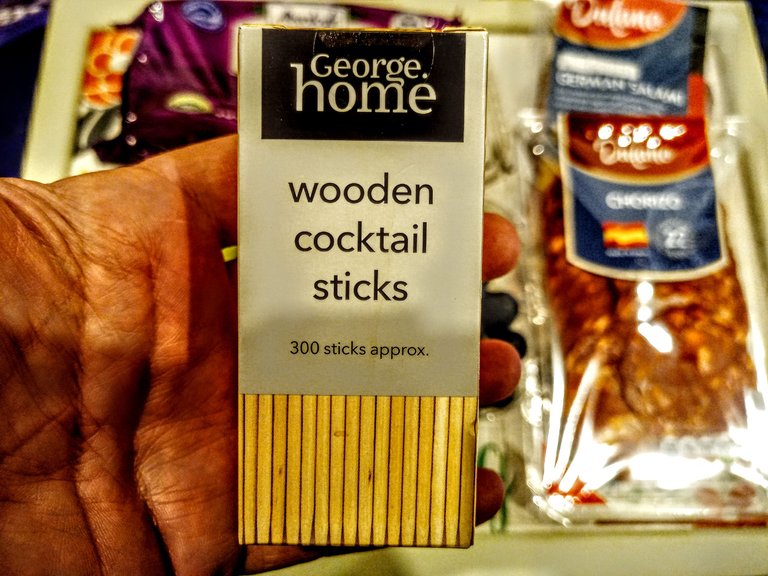 Why, the skewers of course!
I mean the clue is in the title after all!
The skewers are simple wee wooden cocktail sticks. Wherever possible I will use things that can be recycled etc.
Method of Preparation
1. Grapes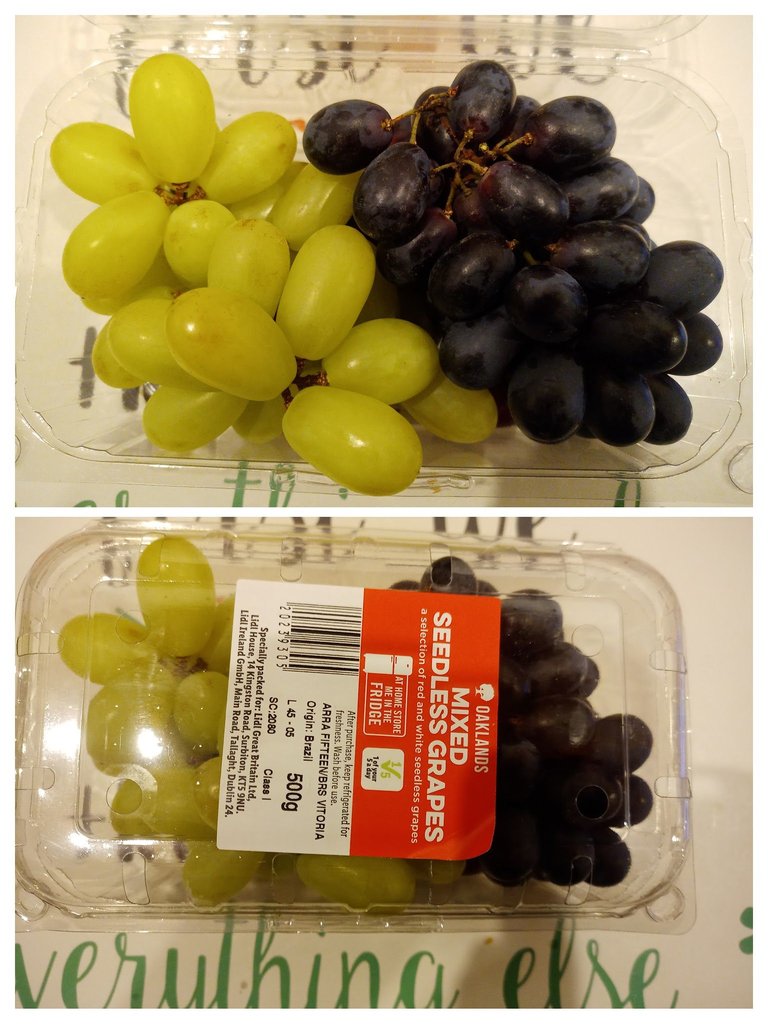 I never knew we got grapes from Brazil! I guess that is because it is the closest place to us what with it being wintertime now.
Take them out of the container and give them a good look and a wash, remove any that are not perfect, don't forget to taste a few just to make sure that they are good enough to be used.
2. Cheese
One beauty about being in the UK is the cheeses that we have.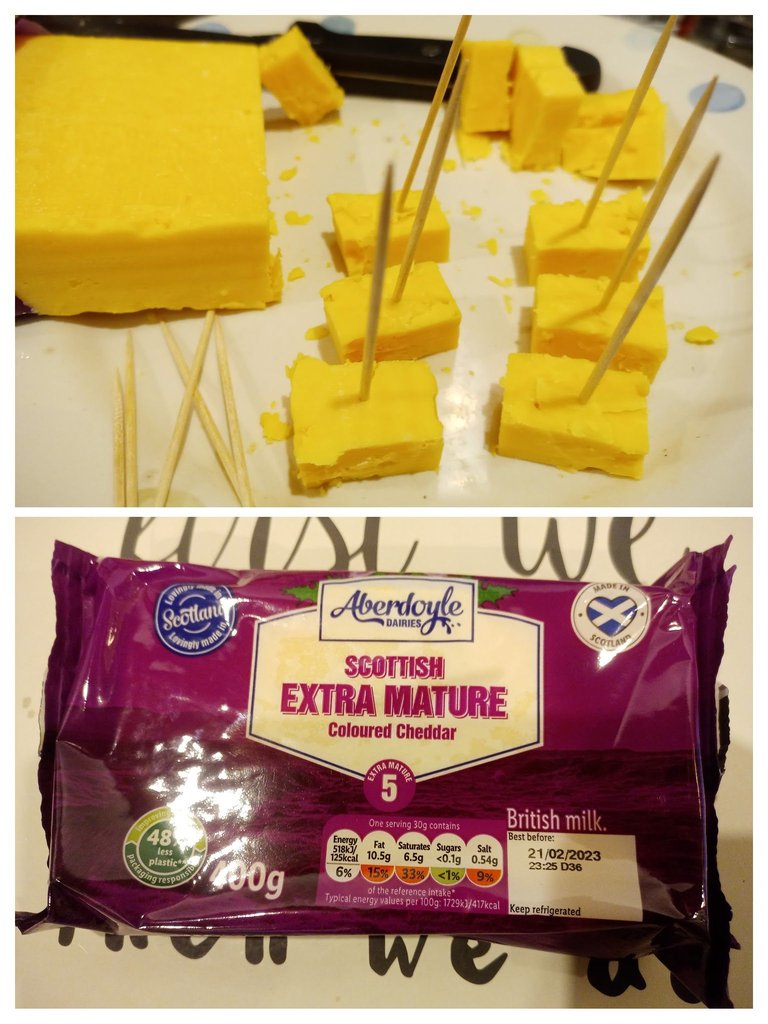 When it comes to Cheddar Cheese I love it matured or preferably Extra Mature as you can from the picture that is what I used here. Extra mature Scottish Red Cheddar cheese.
By the way,do you know that Cheddar cheese gets its name Cheddar cheese from the English village of Somerset where it originated from.
Cut the cheese into little squares or rectangles, like I did.
3. The meats
I choose two contrasting meats, that both go well with cheese.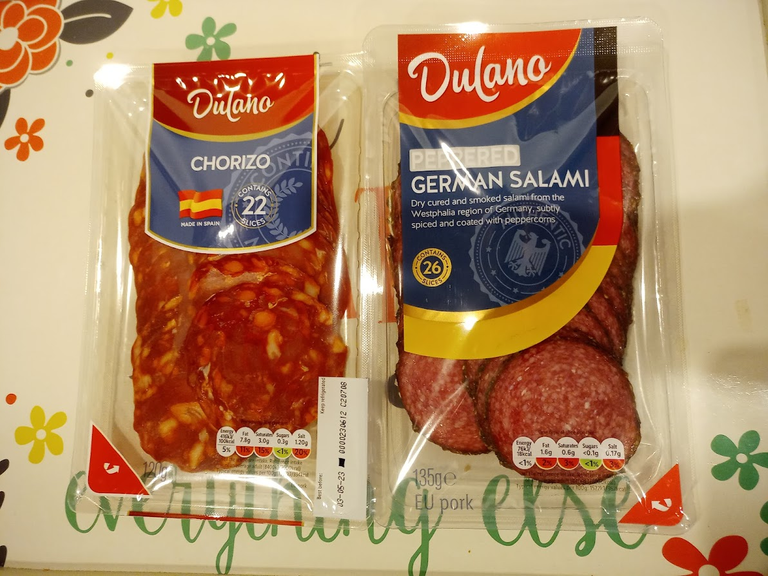 As I mention in the title of the dish, we are using two different type of meat. Spanish chorizo and German salami.
Chorizo well that is just the bomb and works so well with grapes. You might be wondering why I choose German salami and not Danish salami?
Perhaps not, but I shall tell you anyway🤣 I tend to find that the easily found Danish salami is too large for our purposes as you can see below.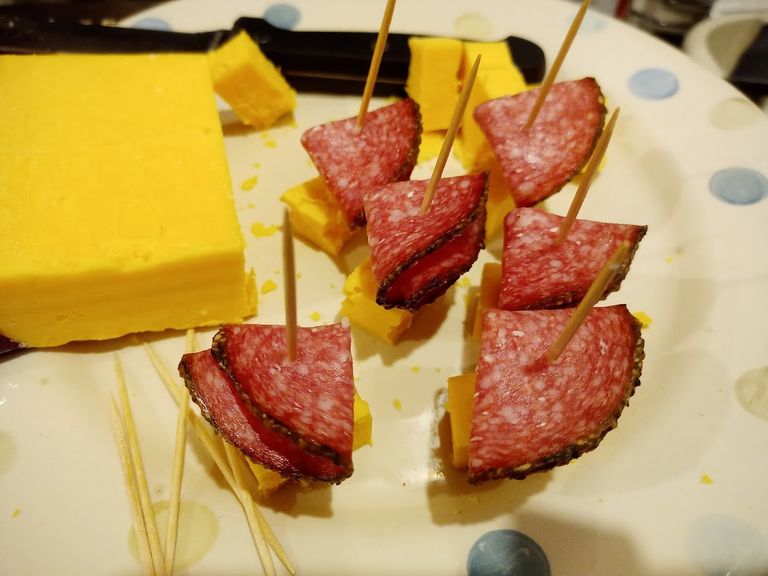 After we have skewered the cheese, we get a slice of meat and fold in quarters and then put on the skewer above the cheese.
Do you see how perfectly this fits over the cheese! Also not the peppered edge, all chosen to give all natural spices and flavours to Ed's Cheesy Salami Chorizo Grape Skewers.
Now we are rocking, let's do the same with some chorizo. Note that we only put one slice of meat on a skewer. Remember KISS so no multistacking of meat! The only stacking allowed is of course $HIVE.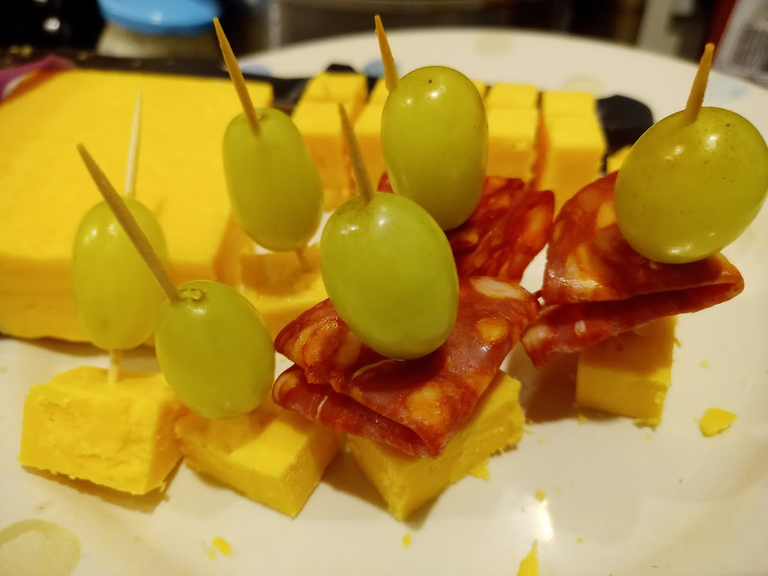 Just look how the chorizo looks with a green grape on top.
And trust me, when I say that it tastes as good as it looks!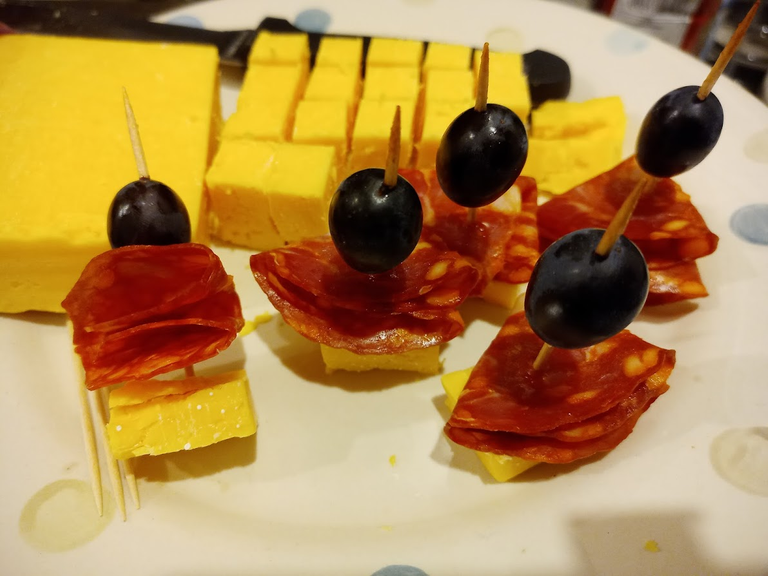 The one thing I noticed was the size difference between the green and black grapes.
4. Finishing Up
People who know me, know I love my chocolates! I was well aware when taking things into a work environment that things go missing or get broken.
"Paper plates, we need paper plates!" said Mrs T.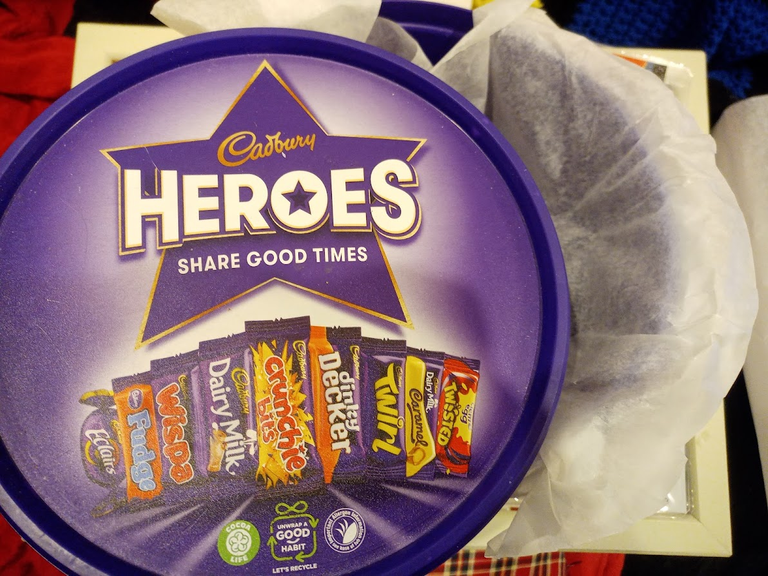 "Behave woman!" said I response.
"You don't need paper plates, or even plates you need a container!"
I also knew that giving one of our good containers might mean not seeing it again. So I got an empty HEROES tin from last Christmas and lined it with greaseproof paper.
In I popped a selection of finished skewers.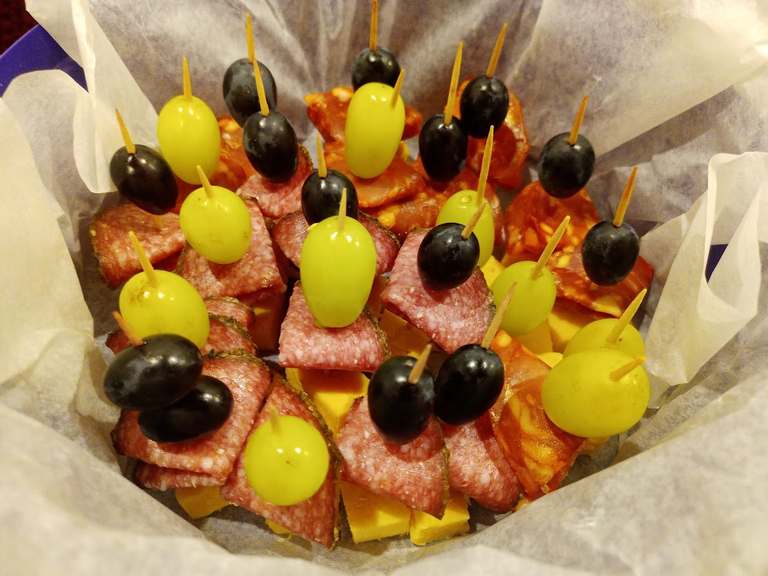 The lid was popped on and Mrs T took to the work's bring a dish lunch.
THE VERDICT?
FLUFFING AWESOME .... "I only had 1!" said Mrs T "I went back to get another one, and the whole container had gone! Everyone said they were so simple yet they were thetastiest dish at lunch."
Fine praise indeed. And that will do for me.
Thanks for visiting and Merry Christmas!


All images and ramblings are from me, the mad Scotsman TengoLoTodo and pictures taken with my Smartphone.
@tengolotodo December 22nd 2022

DO WHAT YOU LOVE AND DO IT OFTEN
Haste Ye Back!
---
---