Pizza Guild Brawl Report 23 - Daily Focus Reset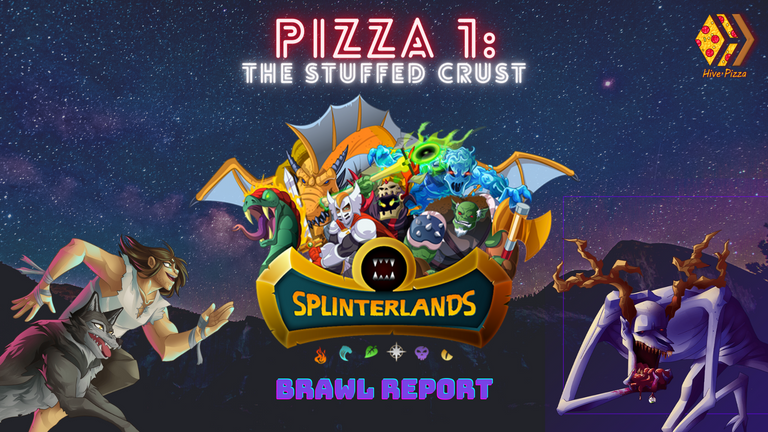 Ever since daily quests changed to daily focus, earning Rshare to get chests to open, I've found my timer resetting later and later. You see, the daily chests were based on a 24 hr timer, and you couldn't open your rewards until that timer was up. Unfortunately, the next 24 hr time didn't start until you claimed your rewards, so every second you were late meant your next set of rewards wouldn't be claimable until later the next day. As a human player, this daily delay on the next days rewards could potentially add up to days of missed daily rewards when compared to bots that could automatically claim rewards on time each and every day. Forget being busy at that exact moment, or your claim is too late at night and you fall asleep before you can claim. And don't even think about asking for a new quest, which restarts the timer completely to a fresh 24 hrs.
Well all that's changed. The Splinterlands team has now made it so that your timer for your daily rewards restart at the same time each and every day. It doesn't matter when you actually claim, the next timer keeps on ticking. You don't need to feel rushed or pressured to login a the exact moment lest you fall behind the bots once again. And if you want a new focus, your timer doesn't change, so if I haven't started playing that day, I can still reset the focus and lose out on a half day of rewards. This was a great change by the team in my opinion.

Let's get to the brawls...
Battle #1 - Loss
Ruleset - Silenced Summoner / Target Practice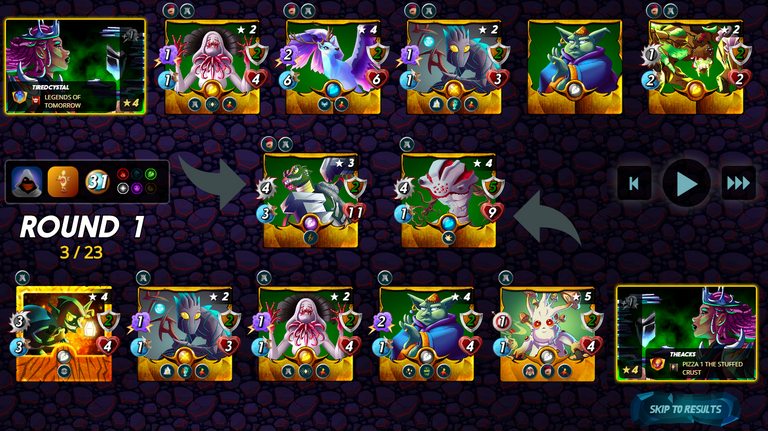 I tried to take advantage of Target Practice by playing Fungus Flinger in the 2nd spot to get it killed and activate martyr. This all goes well to start, but I played Goblin Psychic right behind. This meant he was the next snipe target, and once my healer was gone, the match slipped away. This was over in 5 Rounds.

Battle #2 - Loss
Ruleset - Noxious Fumes / Fire & Regret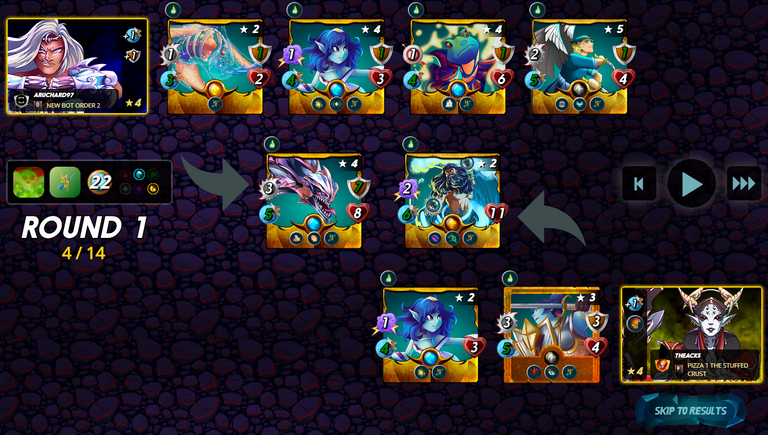 We both play River Nymph here to cure our tank of poison. That's about where the similarities end here. Unfortunately I the enrage in Diemonshark who is then able to 2 hit kill Oshannus. This was a very quick 2 Round failure.

Battle #3 - Win
Ruleset - Going the Distance / Holy Protection / Aim True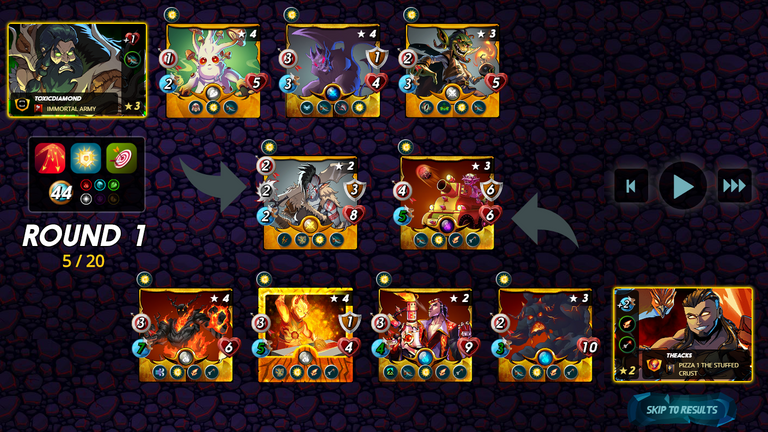 I mentioned last time that I felt good about my Going the Distance ruleset, and here is a look at my typical go to line. My summoner will vary based on the allowable element and total Mana available, but I usually always involve Fire, and this time I go with Jacek for the +2 Speed Boost. I love Ash Mirage here to play Headwinds, which reduces my opponent's Ranged attack by 1. Playing Fire gives me access to 3 solid Close Range options, Lava Launcher goes up front thanks to it's armor, Molten Ash Golem is up next, and Tinderlock. I finish up lineup with Flamesmith, who will shatter all enemies armor. This one is all over in Round 4.

Battle #4 - Win
Ruleset - Ferocity / Lost Legendaries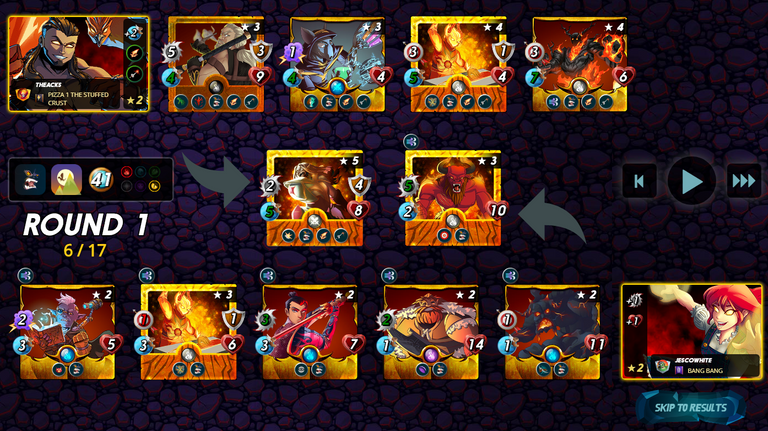 I go with Jacek again for this one, again looking to take advantage of that +2 Speed. The downside of Jacek however is Scattershot, as it spreads out damage instead of focusing on completely eliminating targets. Fortunately, RNG is on my side and I take out Technowizologist in the first round. Then, Eleven Defender with Shield holds the front line long enough for those same scattershot attacks to take out more of the back line. This takes 6 Rounds, but I leave with the Win.

Battle #5 - Win
Ruleset - Armored Up / Odd Ones Out / Weak Magic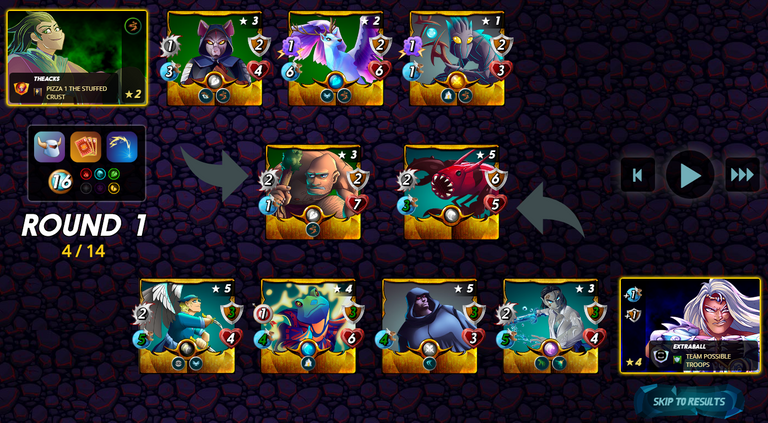 This one took a little while to get rolling. Tide Biter was immune to Mylor's Thorns and Angelic Mandarin kept Pelacor Bandit Healed up. Fortunately for me, Spirit Hoarder kept himself alive and once I get through Tide Biter, I'm able to get Angelic Mandarin up front to take him out. That finally gives me the chance to get rid of Pelacor Bandit and finish this fight after 14 long Rounds.

Battle #6 - Win
Ruleset - Stampede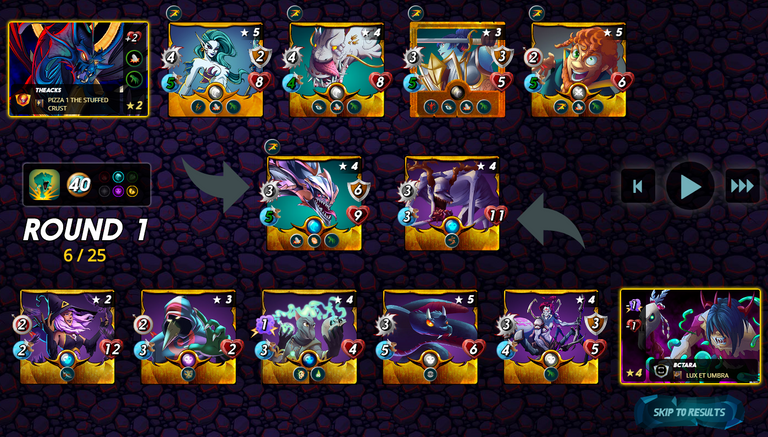 Trample can be absolutely devastating in the Stampede ruleset once you get the ball rolling. Adding extra speed, there's my opponent is just unable to do anything to stop all the Trample. This is all over in a very quick 2 Rounds.

Battle #7 - Win
Ruleset - Opponent Fled


Battle #8 - Win
Ruleset - Opponent Fled

All I can say for Battles #7 & 8 is thank you very much for the free wins.

I'm extremely happy with finishing 6-2. Even if you take away the 2 opponenets that fled, I ended up with 2 more wins than losses. It may be too early to tell, but I think I'm settling in nicely at this current fray.
If you or someone you know is looking to join us in the Pizza Guilds, we are looking for active members. Come check us out on discord (link below) and we'd be happy to talk about adding you to one of our 6 guilds.
In the meantime check out some other Pizza guild Brawl Reports:
PIZZA 1 - The Stuffed Crust
@kqaosphreak - Brawl Report #96, Social Media Challenge, Tis be Hot Out Right Now!
PIZZA 2 - The Deep Dish
@relf87 - Guild Brawls With Pizza 2 - We Are Back At The Top!
@vaynard86 - Social Media Challenge: Splinterlands Weekly (July 14 - July 20) + Brawl Report
@blitzzzz - Week 87 of my SplinterDiary📝📚, Pizza 2🍕 Brawl Report
PIZZA 420 - The Calzones
@candnpg - Splinterlands — Brawl Report and Social Media Challenge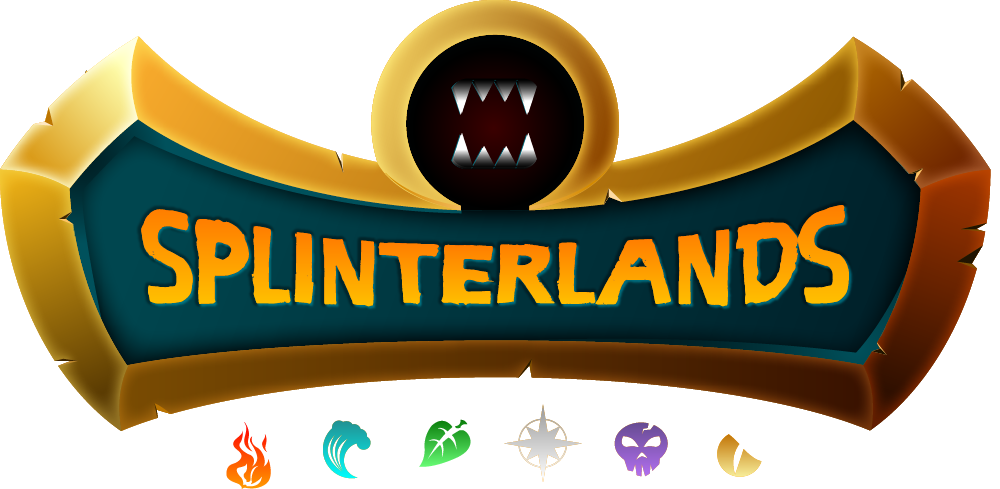 New to Splinterlands? Use my Referral Link here. After you purchase as Spellbook, I will send you 1000 dec and delegate some cards to help you get started.
Splinterlands is a collectible card game using blockchain technology where your Summoners and Monsters (Splinters) participate in 1v1 battles.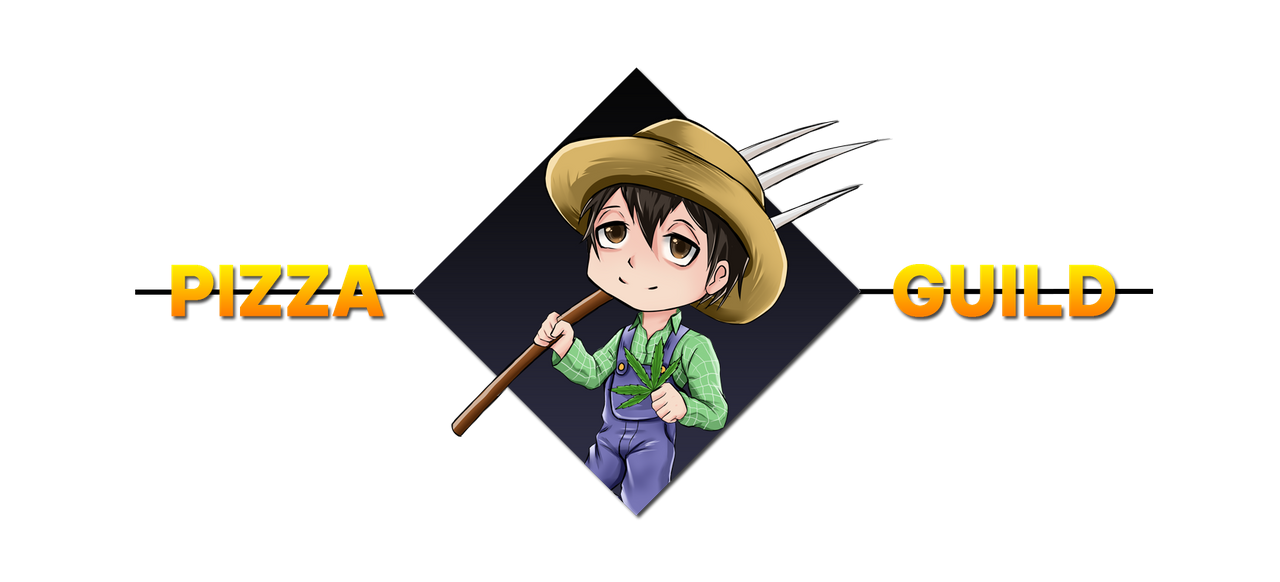 Join us on the
HIVE.PIZZA Discord
. You'll find a diverse community of gamers, musicians, artists, and crypto enthusiasts. There's weekly giveaways, competitions, trivia nights, and Scholarship Programs.
---
---