hive.pizza | Witness Updates, Project Sneak Peaks, & More!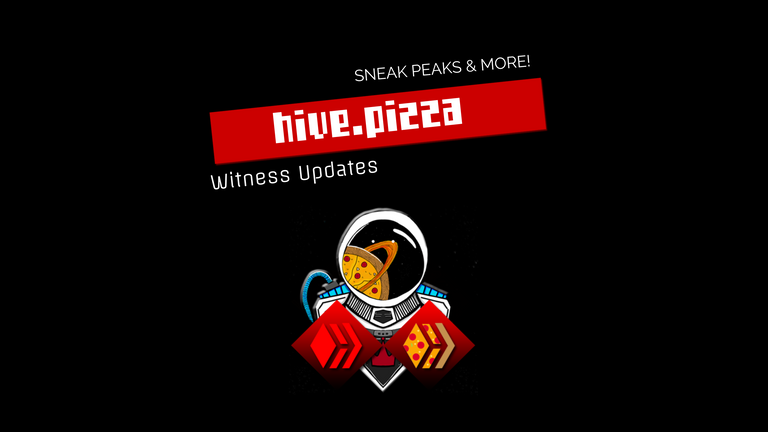 Hey everyone!
We hope you have a very Merry Christmas and Holiday weekend! We partied it up in the most festive of ways with the PIZZA holders over in our Discord server and are absolutely thrilled to have been able to spend Christmas with such an amazing community!
This week we have some updates and some sneak peaks for you! Check it out!
Witness Update
Current Rank: 68/61
We are getting so incredibly close to the 50s! We're not sure that we'll reach our goal of top 50 by end of 2021, but we still have a chance to attain it before our 1 year anniversary in February if we can gain the support of a few larger accounts who might like what we're doing or simply appreciate the fact that we are bringing new users to HIVE every day through our campaigns. As always, we sincerely appreciate each and every one of your votes.
A vote for PIZZA is a vote for Community, Engagement, Free Speech, Creativity, and the overall well-being and growth of HIVE.

Pizzabot Updates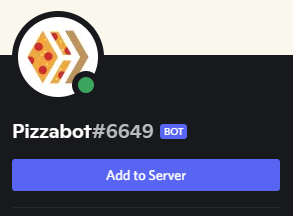 Pizzabot can now be added to your server easily by clicking on the bot in our Discord server and clicking/tapping on the 'INVITE TO SERVER' button. You will be asked to confirm which server you'd like to add Pizzabot to followed by granting of the necessary permissions for the various bot features to function. While Pizzabot was originally created for the PIZZA community, the bot has many customizable features and can be used to grab tons of data throughout the HIVE ecosystem including wallet information and various game information for Splinterlands, Exode, Rising Star, and more!
Updated BOT Tokenomics



We've pushed the last rolling tier change to the bot as we mentioned a few weeks ago in this post.
Adjustments are as follows:
Level 1 - 5 uses per 24 hour period
Level 2 - 10 uses per 24 hour period
Level 3 - 15 uses per 24 hour period
Level 4 - 20 uses per 24 hour period
Level Requirements:
Level 1 - 20 PIZZA (Delivery Driver Lv1)
Level 2 - 200 PIZZA (Delivery Driver Lv 2)
Level 3 - 500 PIZZA (Senior Driver)
Level 4 - 5000 PIZZA (Champion's Club)
PIZZA Dlux Tool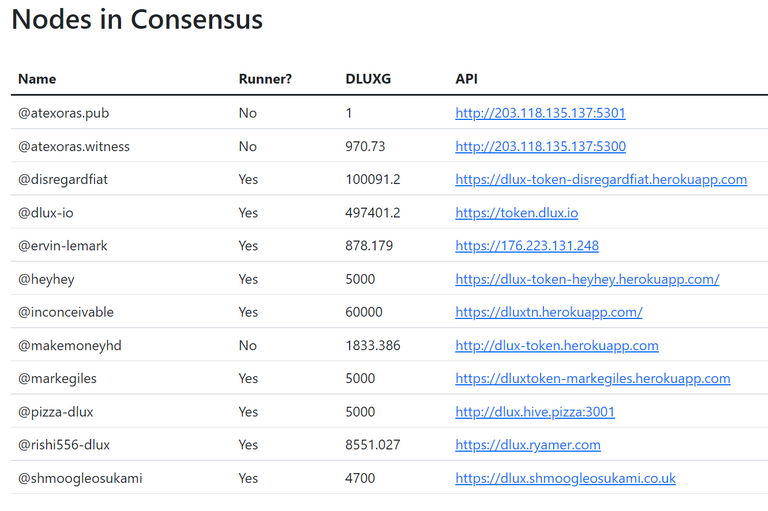 @HiveTrending and the PIZZA team has brought another awesome tool for those of you who like data, viewing witness activity, or just more DLUX information in general. The DLUX Tool offers information such as the DLUX token supply and other essentials such as how many blocks the side-chain lags behind the Layer-1 Hive chain.
The lower section shows a list of nodes currently in consensus. A subset of nodes are not runners now but are ready to be promoted to runner status whenever a spot opens up.
You can read more about the tool in the announcement post by @hivetrending here.
You can view the tool in action here:
https://hiveuprss.github.io/dluxmonitor/
For more information relating to the pizza DLUX witness, you view the monitor here:
http://dlux.hive.pizza:3001/
Discord Updates & Engagement
Join our DISCORD SERVER HERE


Automation for roles improved
We've worked towards improving some of the backend automation that goes on that helps keeps things running here at PIZZA. If you were missing a rank role previously, you should be good to go now! This also includes automation improvements that will help us track folks who are powering down to prevent community reward abuse whether intended or not. We'll continue to improve on this process over time as we build out our robust rewards and rank system.
PIZZA Christmas Party
This weekend we celebrated the Holiday with a weekend-long Christmas Event that included tons of presents and ended with an epic community Christmas party. Throughout the weekend, the PIZZA team delivered over $700 USD worth of Video Game keys, NFTs, PIZZA tokens, HIVE, and other various token assets such as SPS, Bitcoin and Doge.
During the Christmas Party event, we had over 40 people hanging out in the music channel live chatting and enjoying some amazing Christmas remixes together! Thank you to everyone who came out and congratulations to everyone who received presents or won those awesome STAKER giveaways!
Splinterlands Guild
Our Splinterlands Guild continued to dominate this week and secured another epic first place victory, overtaking the fighters over at 1st Strike, among others.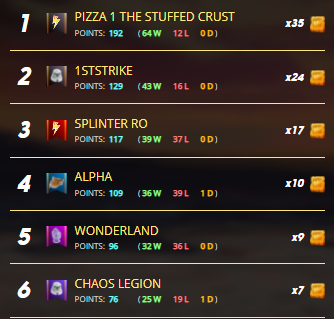 Great job team!
Diesel Pool Updates


For those looking for a DeFi experience, you can provide liquidity for any of our SWAP Pools and earn daily rewards. Below are current expected APRs at time of post and the tokens they pay out daily as rewards.
SWAPHIVE:PIZZA
Average APR: 71.8%

Token Rewards

SWAPHIVE, UTOPIS, STARBITS, SWAPSTATE


PIZZA:DEC
Average APR: 129.905%

Token Rewards

DEC, UTOPIS (compounding token)


PIZZA:STARBITS
PIZZA:ONEUP
Average APR: 138.859%

Token Rewards

ONEUP, PIZZA, SWAPHIVE, LVL, COM
Hive Christmas Album
For those still in the Christmas spirit, you can still listen to the Hive.Pizza 2021 Christmas Album over on our website at https://hive.pizza/holiday. It will be available to stream for FREE at this URL until our next album release where at that time, we will move the album to another location on our website.
Those musicians who participated in providing/making music for the album will receive a % of the announcement post as well as the donations we received for the hard work put into this when we pay them out next Sunday! If you would like to donate, please check out the website link above! Thank you everyone and thank you to those who donated or upvoted the post!
If you are a musician and missed out (or want to do this again) please let us know! We're starting to plan the next Holiday album now! HIVE music is AWESOME!
Sneak Peaks
As you know, we're running a bit behind on staking rewards because of my crazy schedule. We're truly sorry for that and we want you to know that we're going to bring them to you as soon as we can. There is no point in saying otherwise. My schedule at work definitely got away from me as I mentioned in the last weekly post and I just need a bit more time. They ARE coming.
Here are a few sneak peaks of some of the other cool projects we have going on over in the Pizza Shop!
Remember, this is definitely not the full list but rather some updates on some items we havn't mentioned in a bit!


Dungeon Crawler
We announced at HIVEFest this year during our speaking portion that we would begin working on a Dungeon Crawler game which intention for a retail release on popular game platforms such as Steam where we will garner more visibility for the HIVE blockchain through linkbacks generated through advertisement and sales of the game.
We also announced that some staking tiers would receive some in-game perks such as having their own character featured and even ENTIRE DUNGEONS built around their characters. Keep an eye out, we'll be releasing those tiers in a future update!
For now, I mainly just wanted to let you guys know that even though my schedule has been insane, I've been able to make a little time to start working on basic animations.

Here is a very rough teaser preview of some animation work. Again, this is very rough (One frame has the beginning of leather wrap and the blade is a blob, for example lol) with a small amount of time showcasing that hey, we are going to work on this and hey, this is what is achievable with just a small amount of my time. Just wait until I can work on PIZZA bit more full time 😉 We're going to build cool things!

Website 2.0 Sneak Peak
Website 2.0 will not only have a new landing page built to capture and retain new users but will also feature the first phase of our onboarding adventure and web community system. The following just touches on the surface of what 2.0 will have.
As you can see in the screenshot below, users will be able to create community accounts that will be required for the onboarding adventure and will be tied to their HIVE accounts.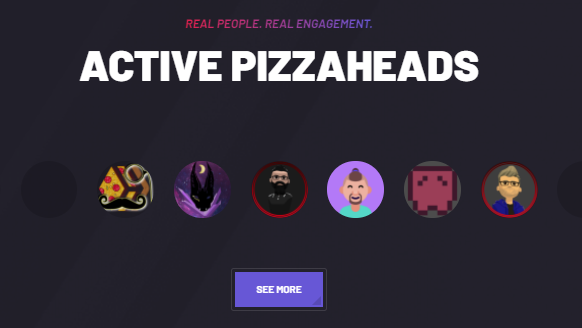 | We've cleaned up our 'PIZZA on the Chain' section and will be pulling it into the community site. The feed updates in real-time and can be customized to pull in appropriate tags on-chain. | Website 2.0 will also feature a Knowledge Base that will help new (and existing) users navigate all of the wonderful things HIVE and the PIZZA ecosystem has to offer! We anticipate this part of our website to receive heavy traffic once we ramp up our advertising and onboarding campaign! |
| --- | --- |
| | |
Barons are Coming!
That's right! Premium hand-crafted (by myself, frame by frame and pixel by pixel) animated Baron's are coming to HIVE. We hope you have been accumulating PIZZA! These will be airdropped to those with at least 10,000 PIZZA Tokens (Baron Title) staked in their wallet. We'll announce the snapshot date soon!



That was just a quick peak into some of the awesome things you can expect in the coming days! We have a few other pretty awesome things we're baking up in the ovens over in the PIZZA shop that we think you're really going to like!
REWARDS
Discord Photo Engagement
1st @blitzzzz | 2nd @anikekirsten | 3rd @gwajnberg


| 1st - 10 Za | 2nd - 7 Za | 3rd - 5 Za |
| --- | --- | --- |
| | | |
Lucky 5 Raffle Weekly $PIZZA Holders
(randomly chosen weekly from all holders with >= 1 $PIZZA in their wallet)
These lucky winners have won 3% of their staked $PIZZA holdings value back!
@danilogus @kryptodenno @berti710 @uthantzin @choof
500+ Tier Raffle for $PIZZA holders
These 5 bonus winners are drawn from holders with >= 500 $PIZZA
Congratulations and thank you for locking up your tasty za! Enjoy your bonus rewards of 3%!
@hovermower @theacks @ehon @kennysgaminglife @meesterboom
Daily Winners
Congratulations! You have won an instant 4% APR of your staked $PIZZA holdings back in additional $PIZZA!
@infinitytcg @aweee @wrestlingdesires @vokus @camiloferrua @satren @dstampede

DELEGATE TO PIZZA
Please consider delegating your HP to our @hive.pizza curation account. Not only does it help our project grow, but it also allows us to further ramp up our onboarding and curation services. The Pizzabot you know and love also consumes more and more HP every day which has to come from our curation account. Not only this, but you will farm your share of the daily $PIZZA rewards pool!



You can also check out the HIVE.PIZZA website here.
Buy $PIZZA
Leodex
Tribadex
Hive-Engine

Join the Discord and $PIZZA NATION

Join our curation trail here
Vote for us as Hive-Engine witness here
Vote for us as HIVE WITNESS HERE
---
---