A beginners guide to RisingStar!!

Photo Courtesy of @risingstargame
Hello Everyone!!
If you have been paying attention, there are several new crypto games on the Hive Blockchain that are blowing up!! One of said games is a cool new RPG card game called RisingStar, where you can start your virtual music career as a lowly busker, and work your way all the way up to super-stardom!!! I will include a few details to help you get started here!
First of all, if you need to get signed up, you can use this link below:
RisingStar Game Official Sign-Up Link
Using this link, you can sign in with your Hive Keychain extension easily! If you do not have Hive Keychain downloaded yet, you can get it here!
Now that we have the basics for getting started down, it is time to move into the actual gameplay mechanics! Once you get signed up using Keychain, you will notice that you have a singer card, called the busker.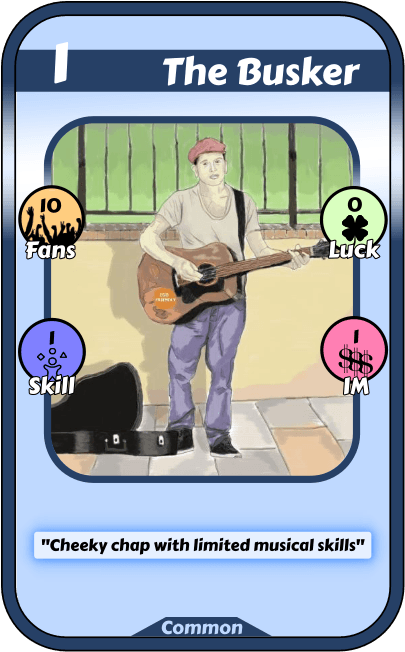 This is the starter card that everyone starts with! As you can see, each singer card has 4 stats attached to it: Fans, Skill, Luck, and IM or Income Modifier.
Fans: This stat directly affects the number of Starbits, which is the cryptocurrency earned in-game, that you can earn from each mission completed.

Skill: Skill also affects the number of Strabits earned, and needs to be balanced with fans in order to keep your "ego" down, as will be discussed in better detail later. You do not need to worry about ego until you are at level 15 or at over 1000 fans!

Luck: This stat directly influences your chances of getting power-ups and NFT rewards from missions completed. The higher your luck, the better your chances are!

IM (Income Modifier): This stat is for future use as the game develops!
Now that we have basics on the character card stats, you can also acquire instrument cards, as well as vehicle cards through card packs! These card packs can be purchased using various means: Paypal, Crypto exchange, and even with Starbits earned in-game! Each pack has at least 1 card that is rare or better, and can help you get started by earning more Starbits per mission! It does not matter which cards you pick for your band, as it is your total combined card power that determines your mission payouts, as well as your luck for getting NFTS! So collect all that you can!
Instrument cards only have luck as a stat, as pictured below!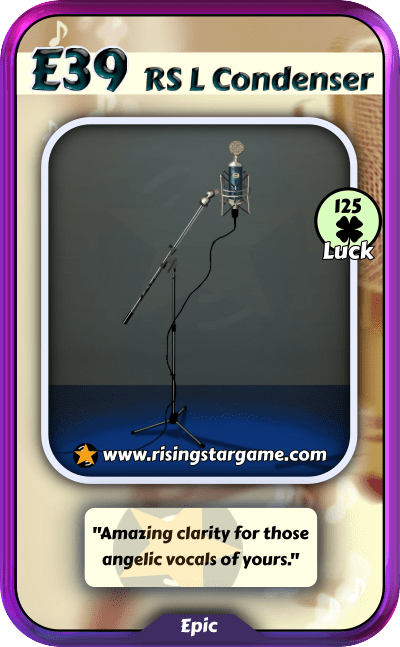 And most vehicle cards have a combination of Fans, Luck, and some IM, which as mentioned earlier will be used at a future date!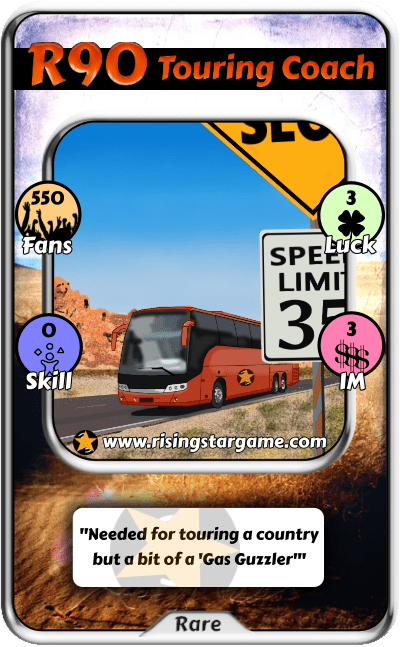 Even if you only have the starter card, that is all that you need at first to get started earning Starbits! Every new player will star by completing the "Illegal Busking" mission on the "Missions" page! You can find this by clicking on the "Start A Mission" button on the home page, or by clicking on the mission map, on "Home Town" as pictured below!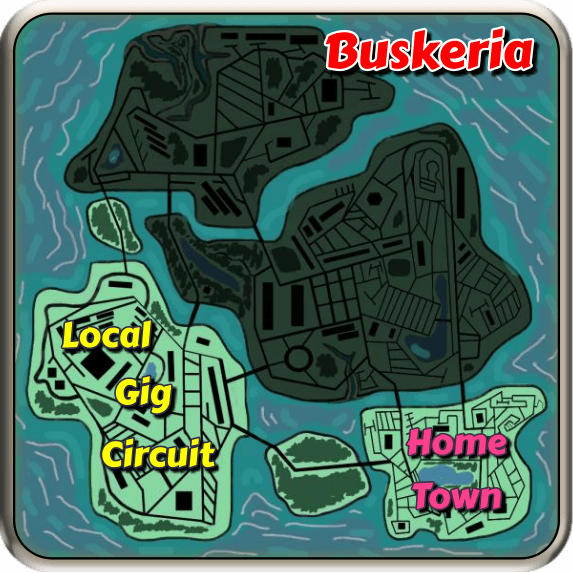 Once you click these, you will see the mission on the right side of the screen, looking like this: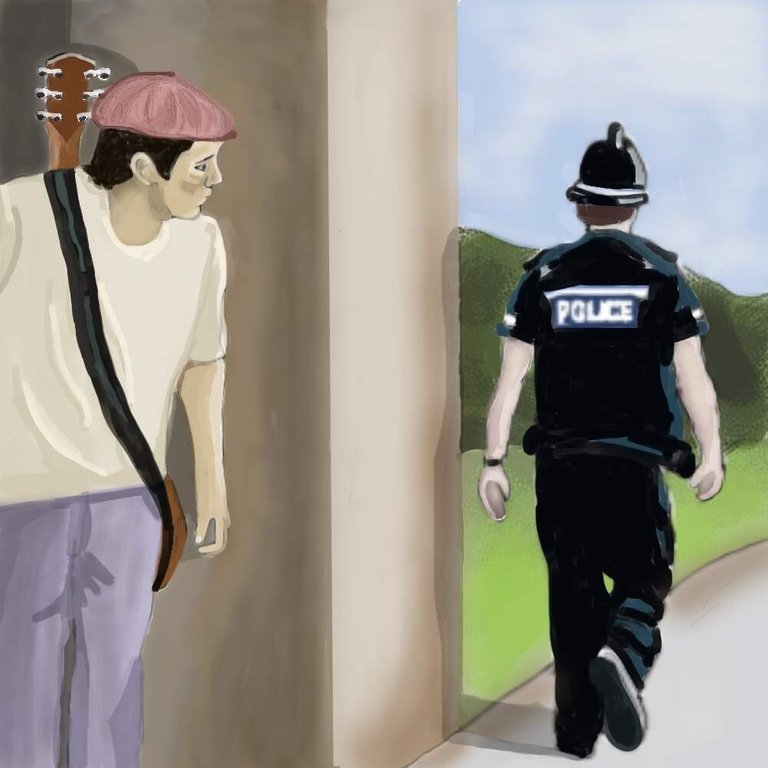 Just click on the "Start" button directly under this picture, and you are now only 5 minutes from getting your first Starbit payout!!! Welcome to RisingStar!!
Once the mission completes, you will get a notification in your daily journal, which is at the very bottom of the page. You can check here to see exactly what rewards that you receive from each mission. You will need to complete at least 10 of each mission before you can progress to the next one, with each mission giving more and more reward value! Some missions are also Level-capped, meaning you have to be a specific level to start them!
Once you start leveling up and adding new cool NFTs to your collection, there are a couple of details that you will start needing to pay attention. Ego, as mentioned earlier, will start to build up once you get more than 1000 fans or to level 15. Ego occurs when your fans start to get higher than your skill. To balance this out, you can place higher fan cards on the market, or in storage which can be purchased in the in-game shop! Once your ego level is lower than your skill level, you will see your ego drop back down to 0. This is important because as your ego goes up, your rewards per mission completed goes down, and we want to gain as many Starbits per mission as possible to progress through the game! The Ego meter is at the top left, and looks has this blue guy inside
Beside the Ego meter is your energy meter! This shows you how much energy that you currently have to complete missions! Every mission has an amount of energy that it needs to be completed, and will drain your energy meter by that much when the mission is started! Time itself will allow the meter to go back up to 100% over time, but there are a few other ways to get your energy back up!
To recharge your energy, the game has a few mechanics to help out! First, there are coffees that can be found doing missions! If your character is lucky enough to find a coffee, your energy recharge rate gets increased for a while, helping you complete more missions! Second is probably my favorite aspect of the game, PIZZA!!! You can find pizza slices while doing missions, which will refill your meter back to 100% each time. You can also purchase 2 different PIZZA nfts to help out: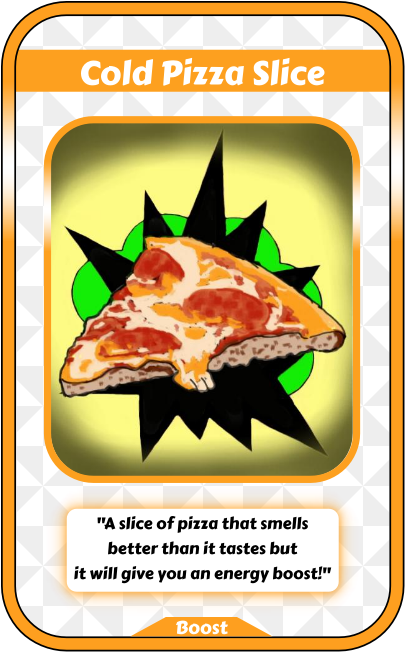 The Cold Pizza Slice is an ownable NFT that recharges every 24 hours after use, allowing the player that owns it to refill their energy meter on demand!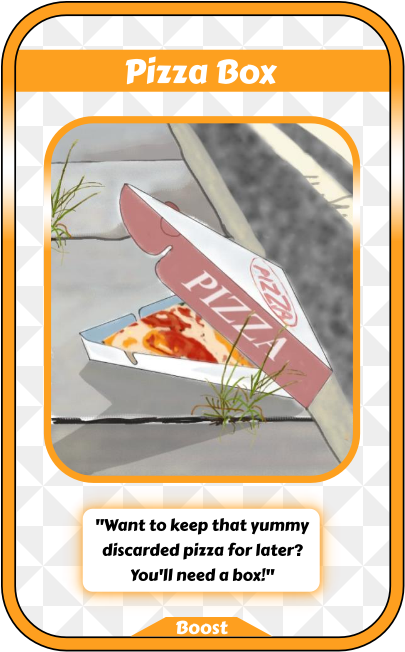 The Pizza Box NFT allows players to store 1 pizza slice that is found in missions to use whenever they need it! if the box already has a slice of pizza in it, then any other slices found in missions will automatically be applied like normal! I recommend getting 2 or 3 to start out! It makes a huge difference on the amount of Starbits that you can earn daily!!
Well, I hope that you all learned a lot from my tutorial! I will be making plenty more of these to help new people get started in game! Make sure to follow me, as I am constantly doing giveaways on my stream as well, to help new players build their card base and earn more rewards! My next tutorial will be on card selection, as well as how to earn the other crypto involved in RisingStar, called StarPro, and it's many uses in the game! Until then, stay blessed, stay positive, and keep helping the next new guy!
-Thercek AKA SilenxNecrosis
Follow me on twitch for great gameplay strats at:
SilentxNecrosis' Twitch
For more awesome content and giveaways, make sure to follow the rest of the Twitch #NoSleepGang members below!


Luthien1289:
https://www.twitch.tv/luthien1289
A super chill streamer that does battle challenges with viewers for a chance to spin her prize wheel! Also does marble races, and various other giveaways! Make sure to drop her a follow!!


Snyxnya:
https://www.twitch.tv/snyxnya
A Splinterlands Streamer that does giveaways for several different NFT games!!


Skynotik:
https://www.twitch.tv/skynotik
Another great streamer that does RisingStar giveaways (Pretty sure he is who go me going in it again!) Also does Splinterlands giveaways, and I even won some Pokemon card packs on his stream! Let's Gooooooo!!


SplinterlandsColloseum:
https://www.twitch.tv/splinterlandscolosseum
Does daily DEC drawings, tournaments, and has NFTS to colllect to WIN BIG$$$-
https://hive.blog/splinterlands/@marcuswahl/splinterlands-dollar40-dec-was-paid-out-now-assemble-what-is-on-the-scroll-first-for-dollar50


SplinterlandsClove71:
https://www.twitch.tv/splinterlandsclove71
Does drawings, raffles, and marble races for SPS, DEC, and cards!
Also does giveaways constantly on her Splintertalk posts at:
https://www.splintertalk.io/@clove71/


SplinterlandsHQ:
https://www.twitch.tv/splinterlandshq
Does nightly drawings for DEC, SPS, cards and gives really good tips for battle strats as well! Come check out Gank and Walking Keys! A great duo to learn from and hang out with while you win BIG!!


Drabs587:
https://www.twitch.tv/drabs587
Does nightly marble races and drawings for SPS! Also a huge help on other streams and newer to streaming! Come show some support for this amazing guy! He gave up everything to do this, and is extremely giving!


Gameboy_Ali:
https://www.twitch.tv/gameboy_ali
An amazing guy with amazing energy! The King of NFTs! I won my first ever wax NFT in his stream, and he is constantly doing drawings, marble races, and even mosh pits to win some cool prizes! This stream is lit 100% and will fill you with energy and positivity!! Just don't forget your #SilentParachute if you are playing marbles! Lol


Bulldog1205:
https://www.twitch.tv/bulldog1205
Bulldog is a former youtube streamer that is now streaming on Twitch as well! He does drawings, raffles, and has all kinds of cool prizes to win! Come check out his stream and keep an eye out for that #ChickenKill!


Spl_Godislove777:
https://www.twitch.tv/spl_godislove777
This guy! God is love is all about spreading love and positivity throughout the twitch community and Splinterlands in general! he is great for learning high-end strats! He does drawings for prizes, and even helps with delegating some of his cards out at end of season at times to help others get better end of season rewards!


Siutcase:
https://www.twitch.tv/siutcase
Another amazing streamer! Siutcase does drawings daily as he completes his in-game challenges! He does a great job explaining his card choices and why he is picking them! An all-out fun stream, and a must add to your nightly watches!!


Puditang2300:
https://www.twitch.tv/puditang2300
I love this guy's energy and enthusiasm! He is growing like crazy, and his streams are like a party every day! Come join the fun and win some drawings with us!


Untamedsarge:
https://www.twitch.tv/untamedsarge
This guy will crack you up! I would not recommend for people that like to avoid profanity, as the stream is listed for mature audiences! But if you don't mind it, come on in and join us! Always doing challenges with viewers where you can win SPS or DEC!


Ivarbj0rn:
https://www.twitch.tv/ivarbj0rn
A new Splinterlands streamer! He is already doing big giveaways on stream, and doesn't even have the resources to do it! Come show this man some love and support!


Niclamus:
https://www.twitch.tv/niclamus
Another great streamer! Does great explanations for battle strats! Come check him out and show some love!!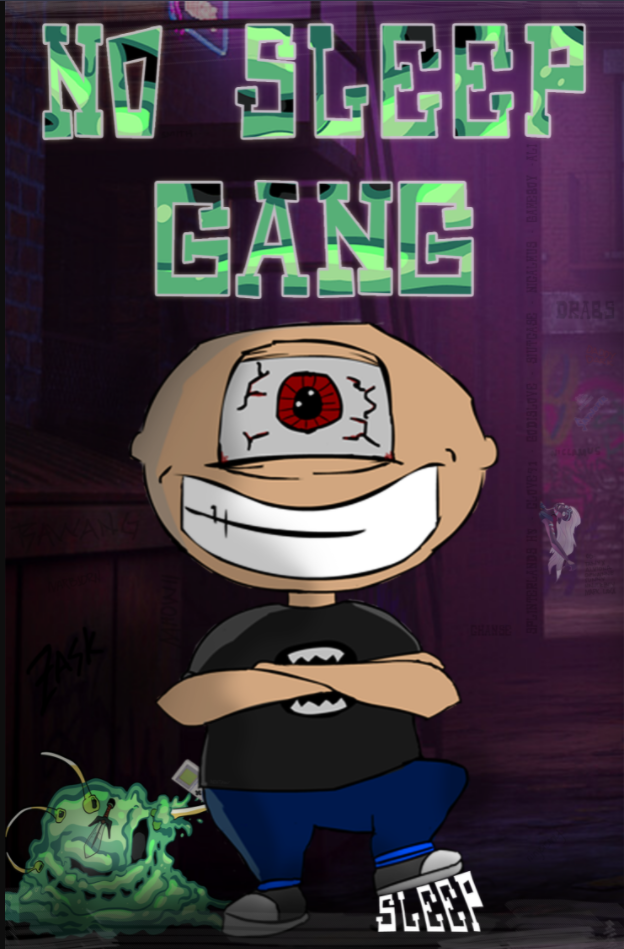 Image Courtesy of @cmmndrbawang
#splinterlands #spt #playtoearn #nosleepgang #1up #oneup #saltgang #giveaway #spl #sps #dec #hivegaming #steemmonsters #monster-curator #splintertalk #leofinance #splinterlandshq #pizza #starbits #risingstar
---
---