28th May 2023 : Splinterlands Tournament in Partnership with TeamPH, THGaming, Pimp and Crypto-Shots
TeamPH Splinterlands Tournament
After last month's successful @splinterlands Tournament, in collaboration with @team-philippines, @tokenpimp and @lolztoken, we are again co-sponsoring a Splinterlands Event to reward our Token Stakers! $LOLZ will not be involved this month, but we thank them for their initial support and hope to see them back in one of our future Splinterlands Tournaments 🚀
This Tournament we're excited to announce that @cryptoshots.nft is jumping in as a premium sponsor, and you will be able to win some amazing #cryptoshots NFT packs on the official Event Stream on May 29th on @damour's Twitch Channel !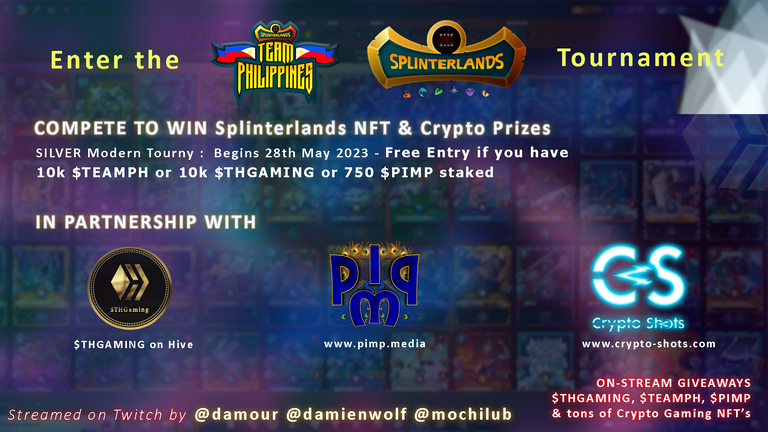 The TeamPH Hive Community is growing quickly and currently has 129 Subscribers. We are super happy to continue our Partnership with them and our monthly Splinterlands Tournaments are a great way to collaborate and bring other Tribes & Games together into our growing Hive family!
Here is the >> Tournament Link with Time, Date and League Details <<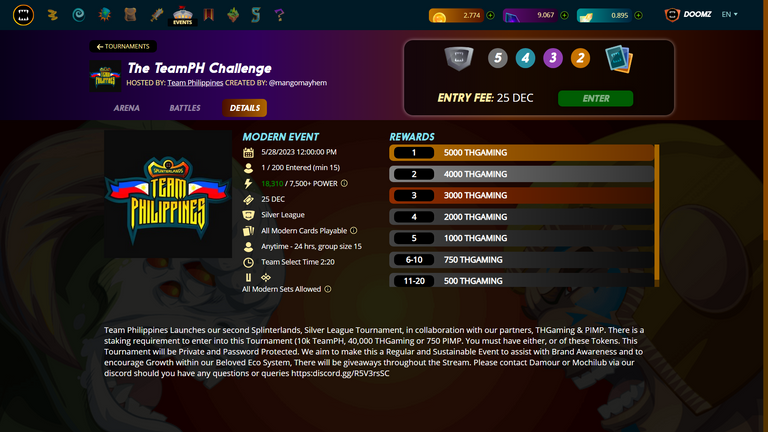 Rewarding our Stakers!
With this Tournament there is an entrance fee of 25 $DEC, to cover the creation costs. Instead of charging a lot to enter, we will be rewarding our Tribe's token STAKERS by providing them with a secret password to get in.
As mentioned in the Official TeamPH Tournament Announcement Post :

The Staking requirements for this Tournament can be either one of the following :

• 10,000 TeamPH Tokens
• 10,000 THGaming Tokens
• 750 PIMP Tokens

The prizes for the Tournament will be the following :

1st Place – 5000 TEAMPH, 5000 THGAMING, 500 PIMP
2nd Place – 4000 TEAMPH, 4000 THGAMING, 400 PIMP
3rd Place – 3000 TEAMPH, 3000 THGAMING, 300 PIMP
4th Place – 2000 TEAMPH, 2000 THGAMING, 200 PIMP
5th Place – 1000 TEAMPH, 1000 THGAMING, 100 PIMP
6th – 20th Placements will also receive rewards for participation.

How to Enter?
The Tournament Password will be given out on 26th & 27th May 2023 to verified Hive accounts (with the appropriate Stake). If you would like to Enter this Tournament you can join the TeamPH Discord or the THGaming Discord and ask to be submitted. @mangomayhem (TeamPH) and @jim-crypto (THGaming) are handling the passwords in the relevant Discord servers, so find one of them in the General-Chat.
Catch the Stream and Win prizes!
The Tournament will be broadcasted by three experienced Streamers @damour, @damienwolf and @mochilub :
>> Here is Damour's Twitch Address << - he will be hosting the Event again this month. There will be tons of on-stream giveaways so be sure to catch the stream even if you aren't playing! I recommend following him on Twitch so that you don't miss the broadcast of this Tournament and future Events.
Watch our Promo Video (above) created by
@jim-crypto
showing this week's sponsors as well as some highlights of last month's stream!
The Tribes
As mentioned, in order to participate in this Tournament you will need a Stake of $TEAMPH (10 000) or $THGAMING (10 000) or $PIMP (750). Below we will provide all of the applicable links.
If you'd like to further support these Tribes, please consider Subscribing to their Hive Communities and following their official Curation Accounts :
Also, here's a Shout out to last month's Sponsor :
Wrap Up
As always and MOST IMPORTANTLY, do not spend any Money / Crypto you can't afford to lose! The global crypto market is undergoing what could be a long term bear cycle (more sellers than buyers) and everyone should be preparing for a long haul.
During the current Bear market, Threshold Guardian Gaming will continue to innovate and collaborate, rigorously developing our Token, Guild and Economy.
If you would like to join THGaming and explore the #metaverse with us, our Social Media links are below.
Trade safely, Game hard!
THE END
---
Linktree Official - All Social Media links

---
---