Crypto-Shots x THGaming - August Community Competition - $195 in NFT Prizes!

THGaming has partnered with @cryptoshots.nft —a $WAX and $HIVE based First Person Shooter game— and we're kicking things off with a Competition filled with amazing prizes for the THGaming and Crypto-Shots communities!
---
HOW TO ENTER (4 ways)
It's pretty easy to enter, and you can do so in Four ways.
For this competition all entries will be accepted. However you can only win ONCE per account.
---
THE LOOT
We have included USD Prize values based on estimated market prices at today's date.
🥇 1 x GRAND PRIZE
The BEST post / video / stream will win:
Total Value - $98.28
🥈3 x RUNNER UPS
The 3 BEST runner up posts / videos / streams will win:
Total Value - $26.24
🥉12 x WILDCARDS
Total Value - $1.52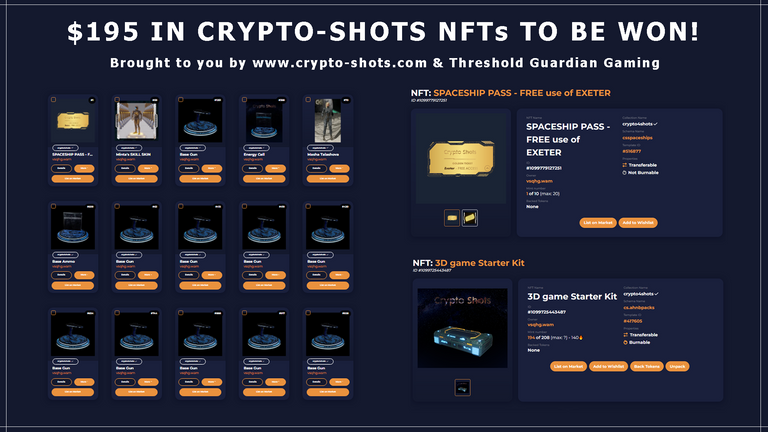 To view all Crypto-Shots NFTs listings for yourself, please visit CryptoShots on the Waxchain.
ENTRY RULES
Good luck to all entries. Looking forward to seeing some amazing Crypto-Shots content being created this month!
For detailed information about Crypto-Shots on Hive please read this post by @cryptoshots.nft : 'CRYPTO SHOTS - Full launch on Hive: August 21st 🔥 🔥'
---
---
CRYPTO-SHOTS TOURNAMENT (August 13th)
Can't wait till the end of the month? Participate in the upcoming @cryptoshots.nft tournament to have some fun and win Wax and Hive NFT prizes: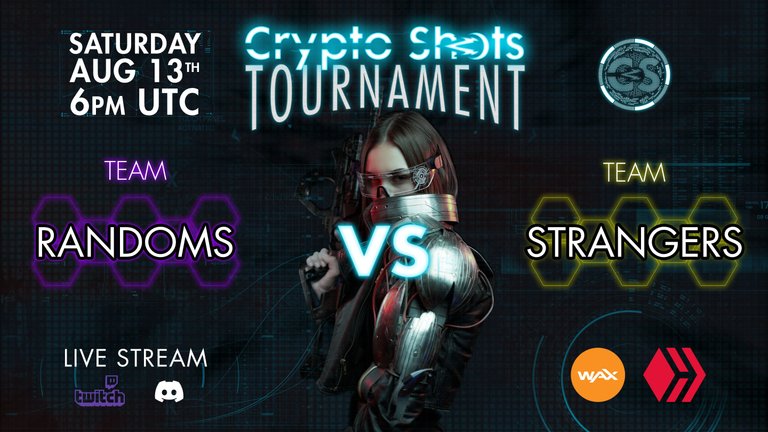 Join the Crypto-Shots Discord Server to keep up with the latest news, developments and events!
They also play a few Discord games if that's your thing!
As always...Trade safely and Game hard!
---
---