5 Ways To Earn A Passive Income With Splinterlands | Even If You're Not a Gamer!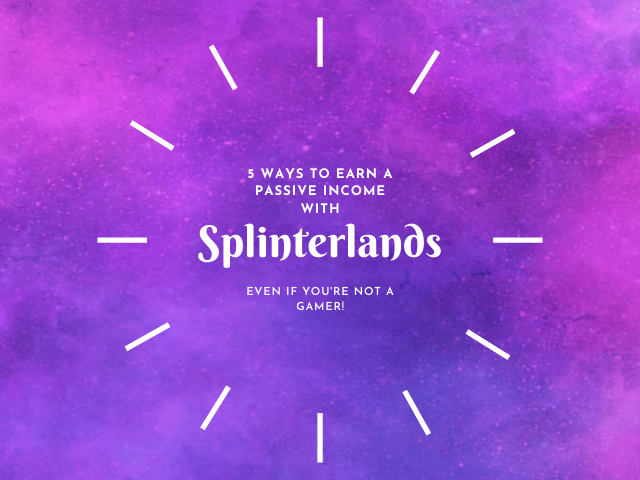 Play to Earn
For those who didn't discover Splinterlands on the Hive blockchain yet, you should really at least check it out as your Hive account is the account you use to login to Splinterlands. With all the Splinterands updates lately and their roadmap ahead, there are plenty of ways to benefit from this game, even if you're not a gamer yourself! But, of course, the first option to earn from Splinterlands is simply "Play To Earn".
By playing the game you can earn every single day. First, by earning $DEC by playing (winning!) battles. But if you unlock your daily quest rewards (those differ each day), you can find credits, $DEC (in-game currency), Chaos Legion booster packs, cards, potions as a reward as well.

SPS Airdrop (until July 2022)
The team started a year-long (yes!) airdrop with Splinterlands tokens ($SPS) for everyone holding Splinterlands assets. Every day until somewhere in July, there's a screenshot that records your assets, giving you points that will give you a piece of the pie of that day's airdrop.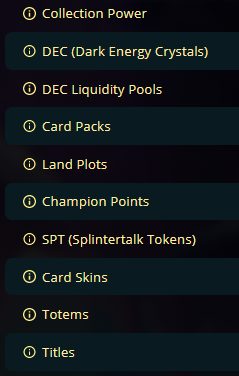 As you can see, there are quite a few ways to get in on the daily airdrop, even if you'd just play Splinterlands with your starter set and manage to earn a bit of daily $DEC or open 1 chest with a card as a reward, you will receive airdrop points and therefore: SPS airdropped that day. Your total rewards can differ by the day as it doesn't only depend on your points but the others as well.
You also receive points over the $DEC you're holding in your BSC wallet (if you connected it to your account) and the $DEC you have in pools. The pooled DEC even earn you double airdrop points!

Staking SPS
If you stake the SPS that you've received from the airdrop, or of course, that you've bought, you will also receive staking rewards in $SPS tokens. Currently, the APR is 33.96%: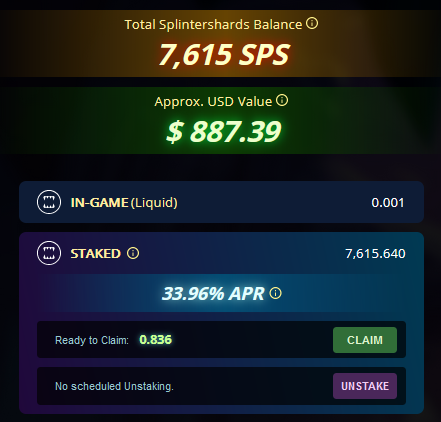 As you can see, I recently reached my soft goal of having 7500 SPS staked, meaning I'm past 7%% of reaching my 10k goal for the year. I'm very motivated to reach this sooner because the stake also generates vouchers, which I will discuss in the next paragraph.

Vouchers
Vouchers is another token you can either buy on Hive-Engine, Leodex or Tribaldex (the Hive token markets) OR receive for free every single day IF you have $SPS staked in our Splinterlands account.
They were initially introduced for the release of new card packs, you needed 1 voucher for each pack you purchased during the presale. Since the general sale of Chaos Legion packs started, you don't need them anymore, but the vouchers are still dropped and will be used for other in-game benefits in the future. They already have a value, and can be traded in the markets.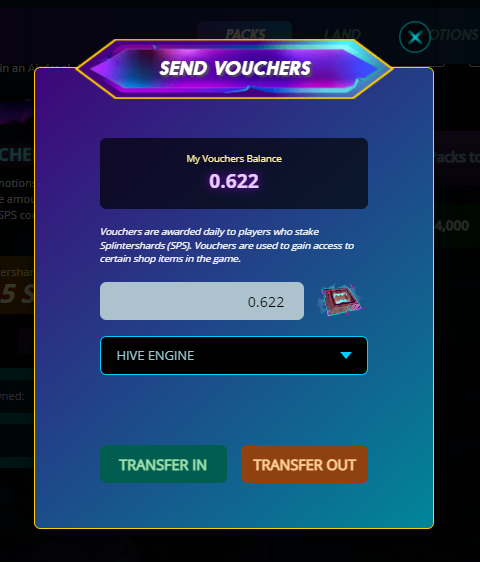 With my current stake, the screenshot above shows how much my daily voucher drop is, and I'm honestly hoping to come a little closer to 1 voucher a day soon. I'm not selling my vouchers though, I'm keeping them in case the new collection that will be released in Q2 this year requires vouchers as well.
Receiving these vouchers is prepping me for the new release, and meanwhile bringing in a small extra passive income as they are trading for $1.36 each currently.

Renting out Splinterlands cards
When you decided you aren't really a great player, or you have loads of extra cards you never use, consider renting them out!
This is a great way of using your assets to earn you a passive income every single day when they're rented out instead of leaving them unused and waiting for them to go up in value. The currency you earn when renting out cards is $DEC. You receive them directly in your Splinterlands account. Some people earn a very sweet income from their rental business!
Although you can nowadays rent cards in-game in your Splinterlands account as well, I personally still go to Peakmonsters as I find the interface for rentals easier to check.

Conclusion
Getting into the Splinterlands fun brings in quite a few possibilities to start earning as a player as well as an investor. You can be both as well. I haven't even discussed selling/buying cards in this post, but I figured that was stating the obvious.
In which category do I fall? I have tried the game, but since all the changes with new cards, I really suck at playing. To the point that I barely get out of the bronze 3 league. I bet if I'd set my mind to it, I'd be able to crawl up but I can't find the motivation or time to dedicate my time to it. So therefore, I'm falling in the category investor more than player.
I'm happy with that, and will keep doing what I've been doing. Stacking $SPS :)
I hope this post was helpful, feel free to leave a comment below.

Credits
The text divider is my own design, where I sometimes use images from Canva Pro or in other cases, my own images.

Let's Connect
If you want to connect, you can give me a follow on my socials. For inquiries, you can send me a direct message on Discord.

My Referral Links:

Posted Using LeoFinance Beta
---
---