Changing SPS Rewards for LAND Owners
SPS rewards for LAND owners will soon change
Yesterday we heard in the Town Hall that probably sometime in Q2 of this year SPS rewards will not be given out simply for anyone holding plots of LAND. While it will still take some time for LAND functionality to be completed (being able to make buildings etc.), the team wants to include the staking requirement already much earlier. As such you must stake cards on your plots in order to be eligible to receive SPS rewards. I would assume that the cards themselves will also determine how much rewards you will get. E.g.:
lvl
edition
rarity
common/gold foil
In other words, the higher the lvl of the cards, the older they are, the rarer they are and whether or not they are gold foil will probably greatly contribute to the amount of SPS you will receive.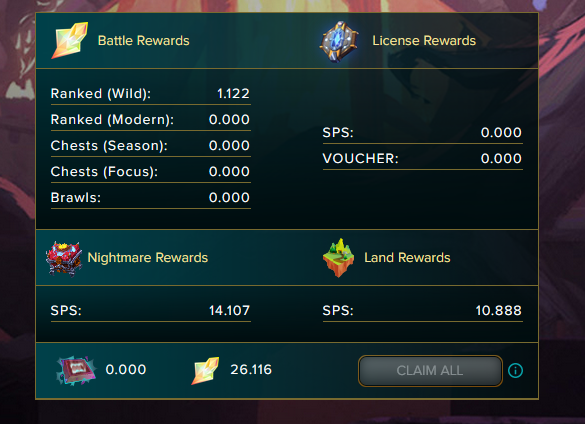 This is I think very good for the game overall, as LAND will already "eat" a lot of cards sometime in Q2/3 as you will want to stake them to receive more SPS. Also, this deosn't necessarily mean that whales will have the greater leverage as someone holding only a handful of plots will only need several high quality cards to receive the maximum SPS which will be overall much cheaper in absolute terms.
Now is a great time to buy some of those still very cheap maxed out Reward cards. You can get some for only $4! The team also mentioned that higher BCX will be generally much better than having rarer cards. In other words, buying some maxed out cheap reward cards will greatly boost your plots!

It is still unclear whether we will need a summoner or if cards of different splinters can be mixed on a plot. But I doubt that they will need to have a summoner since there are simply just so few around. Also, I think that one plot will only be able to accept cards from the same splinter, but I am unsure...
If anybody knows more, leave a comment in the post!

⛅🌦🌧🌦🌧🌨☁🌩🌦⛅🌧☁🌤🌥🌪🌧🌨🌩⛅🌦☁🌤🌥🌤⛅🌤⛅🌦⛅

⛅🌦🌧🌦🌧🌨☁🌩🌦⛅🌧☁🌤🌥🌪🌧🌨🌩⛅🌦☁🌤🌥🌤⛅🌤⛅🌦⛅

---
---