I am Buying SPS Again
Good day Hiveians!
Join me in analyzing the crypto markets!
SPS is at All Time Lows
Just 10 days ago I called SPS a "dumpster fire". Granted, it was a click bait title, but what do you call a token that just keeps falling? Well at least for SPS we know the main reason: inflation/dilution. With almost 1M SPS distributed daily, it comes to no surprise that the token cannot hold its value. In the last post you can see that I am expecting a bottom very soon nevertheless. There is simply too much value stored in the Splinterlands economy currently to allow for lower SPS prices (#1 Blockchain game, thousands of $ trades on the daily market, etc.). At least that's my theory...
I could of course be proven wrong, but for SPS to keep on crashing into the 1 cent area and below there would have to be something game breaking happening (like crashing servers, a hack or more layoffs etc.). I do think the worst is behind us. With that being said, in the chart I posted last time, there could be a little bit more room to the bottom as seen here: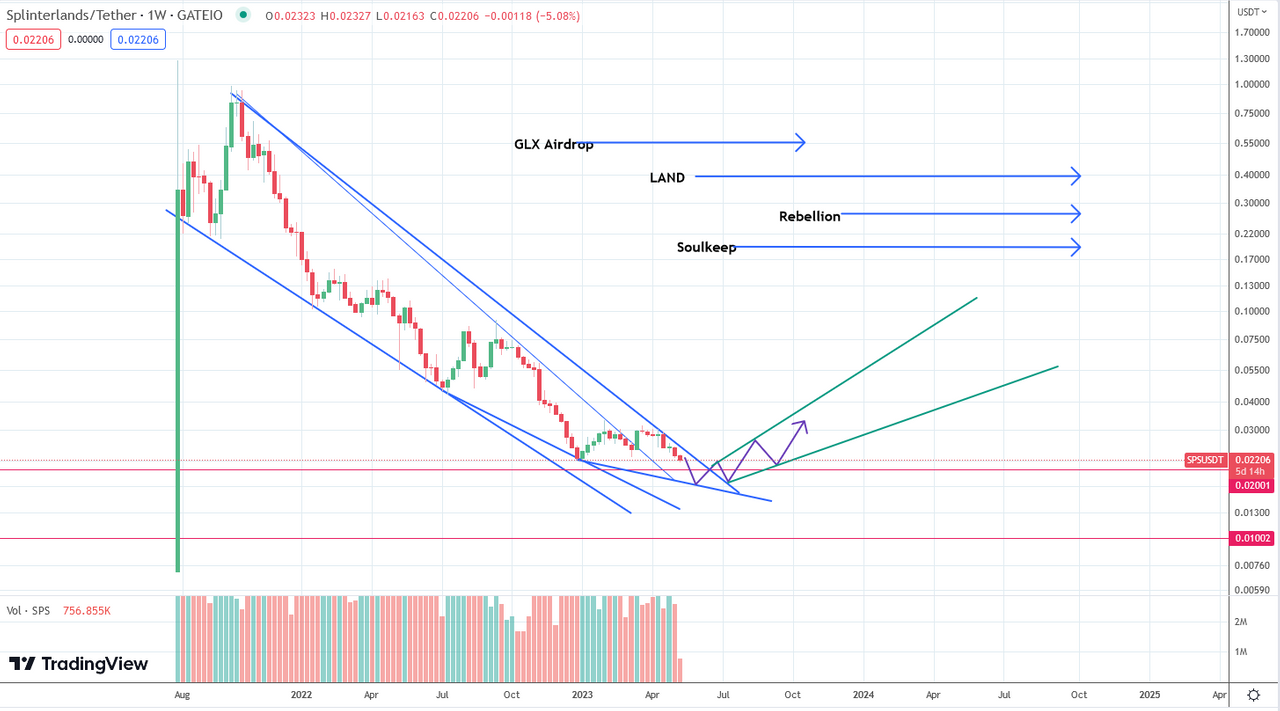 The bottom of around 1.7 cents is rather arbitrary - it should just allow for another potential drop. In any case, it won't matter too much if SPS bottoms out at 2 cents or 1.7 cents or even a bit lower: the breakout form the falling wedge is very likely to occur at some time this year. And when it does it won't matter too much where you bought SPS.
Of course for people like me who bought quite a bit at 20 and 40 cents, it's painful to see SPS going this low. It will take a long time to see these levels again. But I am hopeful for these reasons:
SPS staking requirements: finally we are getting the biggest use case for SPS! This certainly would not have hurt if implemented earlier, but at least it is coming in Q2 I believe. This will put buying pressure on SPS since even with delegation I believe there is not enough SPS around currently for everyone playing in their current league and get their maximum rewards

LAND: I have said this often before like so many others. But LAND 2.0 at the end of Q2 is going to be a big deal. We will see a lot of DEC being burned and staked as well as cards. This will very likely bring DEC back to its peg more sustainably. This means that SPS will probably be positively affected as well.

Soulkeep: I haven't seen this being talked about too much. But the new game on SPL is going to be released in June. While perhaps not being an obvious catalyst for a higher SPS price, it will definitely attract many new players. Perhaps tens of thousands or more could sign up in the coming months. Having more players in any economy is of course always positive for asset prices.
Conclusion
I am not going to be buying all too much in the coming weeks, but it's going to be enough that I won't have to say: "Why didn't I buy the dip?". For anyone new entering SPL this is probably a fantastic opportunity to get a good entry point in one of the biggest web3 games out there. I am not expecting a quick turn around however (even if the turn around happens soon, my chart would expect 10 cents next year). Anybody buying SPS now should at least expect to hodl it for several years! If you can do that, now is probably a good time to start.
---
As a general reminder: Please keep in mind that none of this is official investment advice! Crypto trading entails a great deal of risk; never spend money that you can't afford to lose!

⛅🌦🌧🌦🌧🌨☁🌩🌦⛅🌧☁🌤🌥🌪🌧🌨🌩⛅🌦☁🌤🌥🌤⛅🌤⛅🌦⛅

⛅🌦🌧🌦🌧🌨☁🌩🌦⛅🌧☁🌤🌥🌪🌧🌨🌩⛅🌦☁🌤🌥🌤⛅🌤⛅🌦⛅

---
---