#5 - Splinterlands Giveaway - NFT: VENARI HEATSMITH - Bonus: 100 DEC (Closed)

Congratulations!
@lukilux has won the Giveaway!
The random number has been generated: 992

   Score Participant     Lucky Number

     751 lukilux            743
     563 luizeba            555
     515 sheikh27           507
     508 amaillo            500
     441 rentaw03           433
     394 litrydow           386
     377 blitzzzz           369
     235 mrbravo99          227
      65 jaimenetsbr         57
      34 andy-plays          26

This is the Splinterlands Giveaway #5, please read the rules below and do not forget to choose your lucky number in your comment.
Follow me, so you do not miss out on the next Giveaways.
Check out my blog to see which Giveaways are still ongoing.
You are allowed to participate to as many Giveaways at the same time as you wish.
Not a player yet? Sign up here:
https://splinterlands.com?ref=tralb
Stats for VENARI HEATSMITH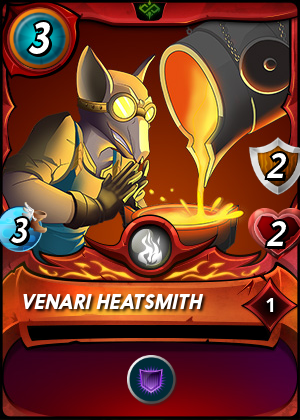 Rules
Choose your lucky number between 1 and 1,000. Make your guess within one week after this post has been published.
If your in-game name differs from your name here, please specify your in-game name in your comment.
Only one guess per player.
Voting, following and re-posting are highly appreciated but not obligatory. Every participant has exactly the same chance!
I will use a self-made script to generate a random number between 1 and 1,000.
The participant that made the best guess will win the card.
If a participant made an exact guess, a Bonus of 100 DEC will be transferred to the winner.
If there are two or more candidates who made the best guess, one final winner will be chosen randomly.
Let me know if you have any questions.
Good luck to everybody !!!
---
---