CHART: Splinterlands Leagues' limits SIMPLIFIED [Summoner/Monster level limits]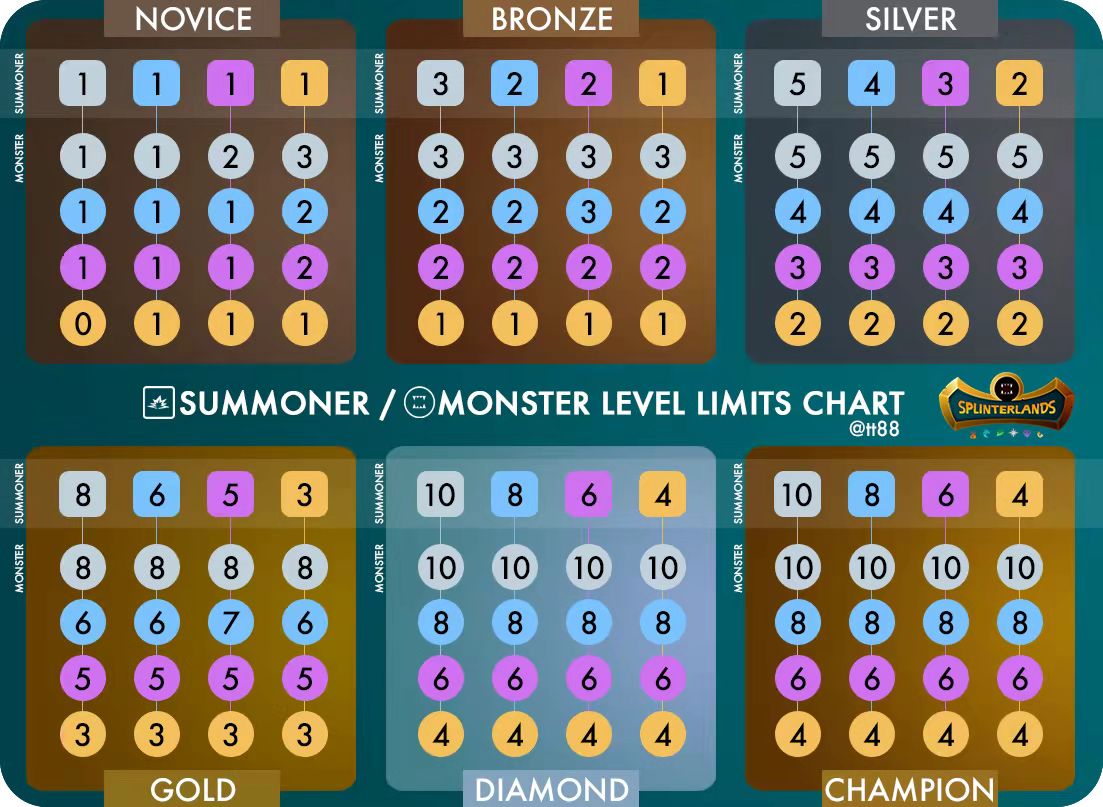 In Splinterlands, the monsters' levels allowed in each league have always been quite confusing to me.
First, I still play with mostly a level 1 deck even though I am currently in Silver I, around the 2000 MMR. Second, I still recall myself as a new player mixing up the digits standing for the levels with the ones standing for the BCX (number of cards needed to level up a monster), which are two different things.
For example, to get a Common monster from Chaos Legion to level 2, you actually need 5 cards (level 2 = 5 BCX). Moreover, the BCX actually changes depending on the rarity of the card. Finally, to make matter worse, you might have a leveled-up monster that theoretically could qualify for the league you are competing in, but because you don't have the adequate summoner, you won't be able to use it in a battle.
Having played for a few seasons by now, all those concepts make complete sense to me. However, I still believe that this is far from being straightforward, especially for new players. Consequently, I've decided to put those pieces together in a user-friendly chart (or at least, as user-friendly as I could make it).
Hopefully, it will come in handy if you are currently building a deck around leveled-up monsters. Personally, I still have a long way to go before leveling up my own cards. Nonetheless, this chart will certainly become useful once I'll decide to take the leap. For now though, I'll stick to renting Gold Foils cards to take advantage of those leveled-up monsters.
In a nutshell
1/ Each league limits the level of the summoners you can rely on.

Leagues:
Novice
Bronze
Silver
Gold
Diamond
Champion
2/ These limits differ in function of the summoner's rarity (Common, Rare, Epic, Legendary).

Rarity:
Common
Rare
Epic
Legendary
3/ The combination of the summoner's level and its rarity gives you access to a set of leveled-up monsters.

I've tried my best to make this chart concise and comprehensive. My hope was to bring some clarity to the topic.
Feel free to share it to help others if you found it useful!
Thomas
PS: Ongoing little giveaway, 2 days left.
---
---