Does Quix The Devious offer the most cost-effective way of playing with leveled-up monsters in Splinterlands?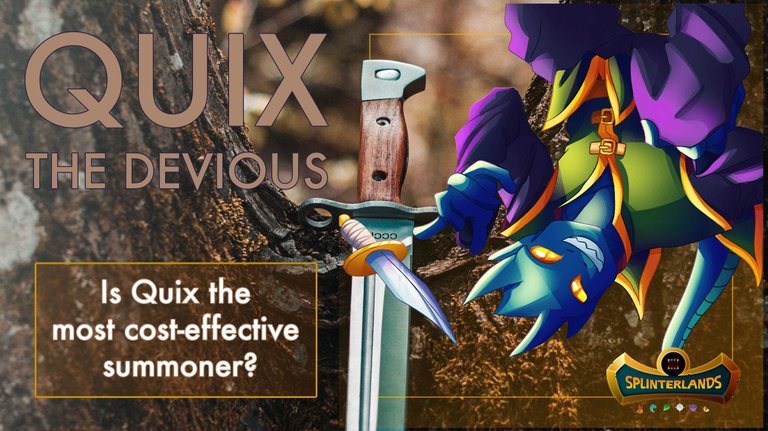 The Dragon Splinter
---
Leveling up my Dragon Splinter was always in the back of my mind, essentially for two reasons.
1 - It's Cost-Effective!
The first reason is that the Dragon Splinter can be combined with the other elements, which means that we are still able to play leveled-up monsters from those Splinters without having to leveling-up their associated summoners.
2 - It's Powerful!
The second is because the Dragon Splinter offers some of the most powerful creatures in the game.

The Main Drawback
---
The obvious drawback is that the Dragon Splinter is not always available unless we have a Dragon Focus for the day, which happened to me three days in a row recently. That was probably the RNG's way of congratulating me on my latest purchases. That being said, 10 to 15 new focuses are coming soon, which will make getting a Dragon Focus much harder going forward.

Buying the "dip"?
---

For a long time, I didn't quite find a price point at which I felt comfortable pouring in outside money. But with the recent dip in prices, I've decided to spend an additional $100 on a few specific cards that could further improve my deck's competitiveness overall. I was a bit early as I got my 3 BCX of Quix The Devious around the $18-19 mark. At its lowest, this Dragon Legendary Summoner was hovering around $14-15 per BCX. If the market dips further in the next few months, I might consider grabbing 3 more BCX of that same Summoner.

Quix The Devious
---
I chose Quix The Devious for the following reasons:
a) as a Legendary Summoner, fewer BCX is required to level it up.
b) belonging to the Chaos Legion Edition, Quix will be playable in the Modern Format for most probably the next two years or so.
c) leveling-up Quix was cheaper than leveling up Kelya Frendul or Obsidian alone.
d) the Speed and Ranged debuffs could partially offset Kelya Frendul and Yodin Zaku's buffs.
e) Quix can still synergize well with my somewhat leveled-up Life Splinter.
At Level 2, This Dragon Summoner will finally allow me to play with leveled-up monsters maxed-out for Silver for the very first time.
I was looking forward to unlocking a few key abilities and here are two examples:
Diemonshark: got it up to level 4, which unlocked the Enrage ability.
Mycelic Slipspawn: got it up to level 4 as well, which unlocked Forcefield.
| DIEMONSHARK | MYCELIC SLIPSPAWN |
| --- | --- |
| | |

Why this move doesn't make sense?
---
Looking at the current rental price of Quix made me wonder if I had not made a huge mistake. In fact, the DEC I've spent for 3 BCX would have allowed me to rent a Level 2 Quix for the next 25 years!! My purchase decision actually only relied on the belief that the team will keep driving value to card ownership and therefore, those cheap rental prices might not stay that low forever. But well, what do I know?
Why this move can still make some sense?
---
This move still does make sense when compared to the money it costs to level up each and every Rare Chaos Legion Summoner to that same threshold. With $100 spent, I have not only the 6 Splinters potentially available to me as long as the Dragon Splinter is switched on, but also a few powerful Dragons that can make a significant difference once at level 2. Chaos Dragon comes to mind with its Blast ability.
CHAOS DRAGON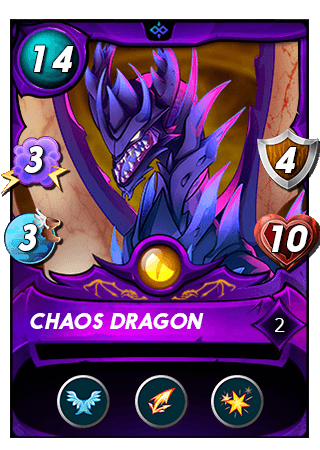 Do I regret my purchases?
---
I went in a bit too early as I could have possibly saved money for at least 1 extra BCX. Nevertheless, having played the Dragon Focus for 3 days in a row gave me enough confidence to trust the viability of this strategy. Furthermore, owning now 3 BCX of this Summoner brings me peace of mind in the sense that I won't have to worry about seeing my rental potentially canceled. Was it worth the price though? I'm not sure!
See you all very soon!
Thomas

For new players interested in joining this amazing game, you can support me by using the following referral link (at no extra cost to you!):
https://splinterlands.com?ref=tt88
Thank you.
---
---