SPLINTERLANDS: The Underestimated Beetle - feat. Crypt Beetle! [Share Your Battle]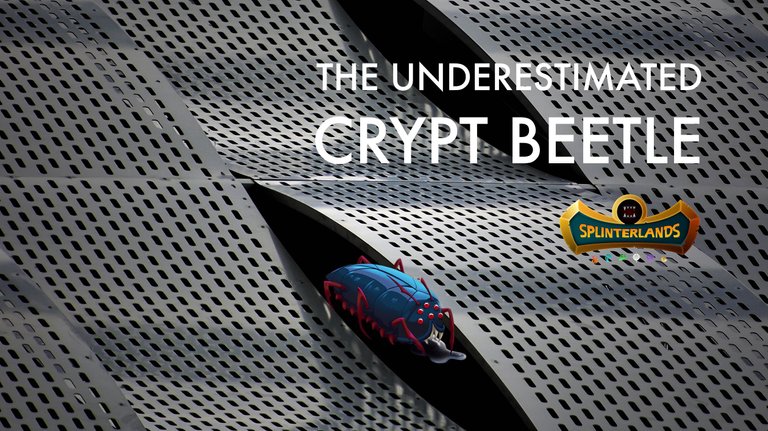 The Relentless Beetle
---
CRYPT BEETLE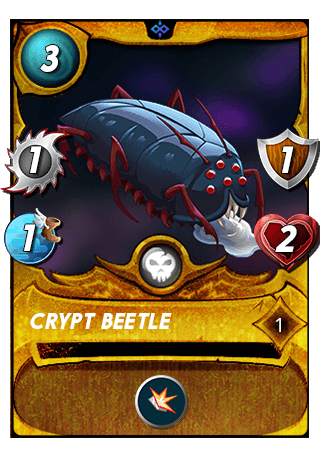 Crypt Beetle is, to me, one of those cards that already offer great value for one single BCX. In those cases, as I don't intend on leveling them up anytime soon, I usually like to purchase them in Gold Foil. At Level 1, the Crypt Beetle comes with Shield for a 3 Mana cost only. One Melee/Range attack won't make it budge, while two Melee/Range attacks will take 4 hits to take it down. Sure, its low HP still makes it quite vulnerable as a tank, unless we use it in specific niche cases.

I still recall one of my battles where I thought I had lost for good. The Crypt Beetle was my only monster left on the field facing an armada of Life Melee monsters. However, because my Summoner was Camila Sungazer (-1 Melee debuff), the opposite monsters' attacks were all dragged down to 1. Therefore, the Crypt Beetle took the hits like a champ' while slowly eliminating the opposition. That battle was a lot of fun but unfortunately, the link seems to have expired since then!

For today's challenge, I chose to analyze two battles that were conducted under similar circumstances. One ended as a Win, while the other as a Loss. I found it useful to put those two battles together to provide some insights. The two following battles were both under the "Equal Opportunity + Close Range" rulesets. The Mana Cap were similar as well, as one was 23 while the other was 21. I ended up facing two very different strategies, a Ranged and a Magic play.
The Win
---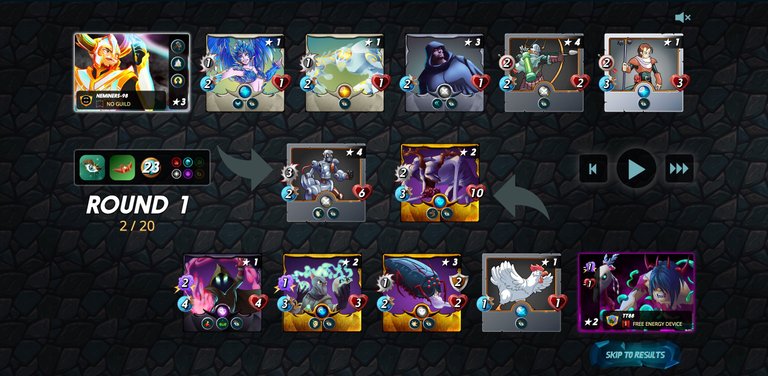 Rulesets: Equal Opportunity + Close Range
Mana Cap: 23
League: Gold III
CHANSEUS THE GREAT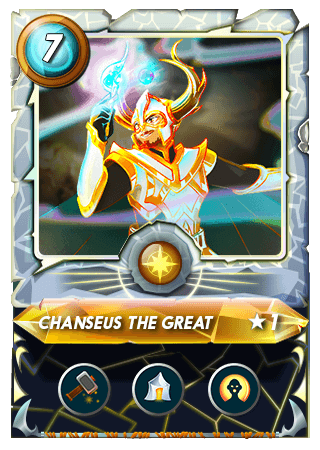 In this battle, I was facing an Untamed Legendary Summoner, Chanseus The Great. I don't know about you, but every time I see one of those Legendaries Summoners, I get the feeling that the odds are not in my favor. Fortunately enough, this battle ended well for me.
| CELESTIAL HARPY | SOUL FIEND | CHAOS AGENT |
| --- | --- | --- |
| | | |
My opponent went with 3 monsters having very low HP. Those served as baits while Highland Archer and Peacebringer would fire from the backline. Beside the Soul Fiend, the two other baits had evasive abilities, Flying for Celestial Harpy and Dodge for Chaos Agent.
| HIGHLAND ARCHER | PEACEBRINGER |
| --- | --- |
| | |
I chose the Furious Chicken as my first bait, and the Crypt Beetle as my second. My hope was that Venari Bonesmith and, especially Magi Necrosi would slowly take down the enemy while the Cursed Windeku would take care of the opposite tank.
| FURIOUS CHICKEN | CRYPT BEETLE |
| --- | --- |
| | |
The strategy turned out to work well as the Shield of the Crypt Beetle was decreasing the damage dealt by the Ranged attackers. Moreover, the Beetle helped divert the attacks away from Windeku, which would have fallen quickly without making much use of its Thorns otherwise.
The Battle:
https://splinterlands.com/?p=battle&id=sl_4f67afc969b7d6eb334aeca3defcbb6b
The Win Rate (100%):
https://splintertools.io/battle?player=tt88&battleId=sl_4f67afc969b7d6eb334aeca3defcbb6b&cards=438,361,131,356,341,362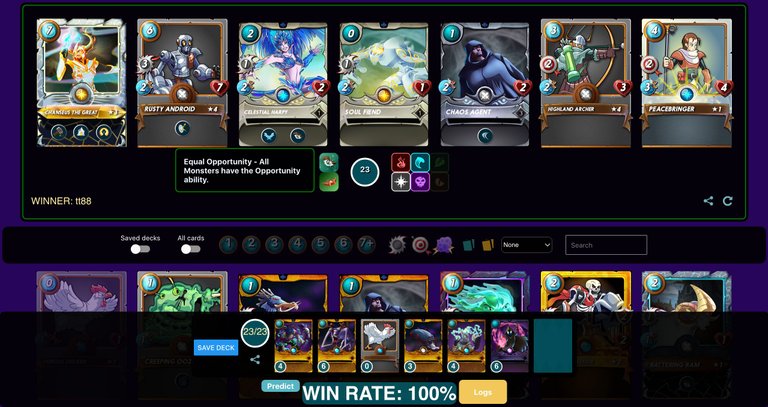 The Loss
---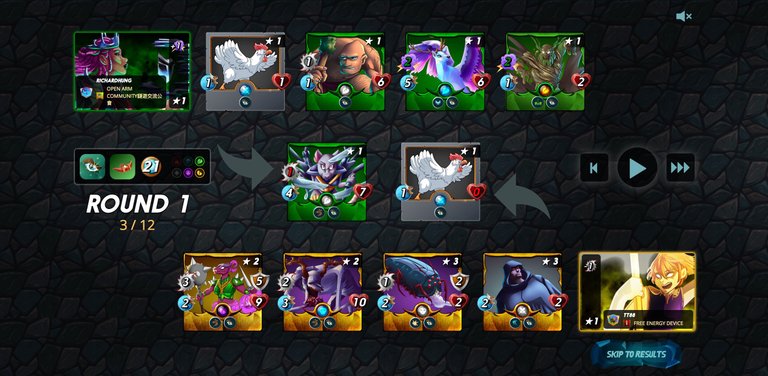 Rulesets: Equal Opportunity + Close Range
Mana Cap: 21
League: Gold III
CAMILA SUNGAZER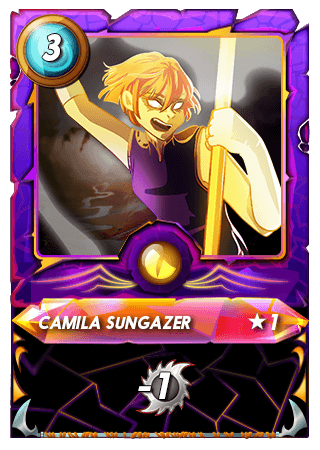 Let's look at my loss now. In this one, I was too focused on how to counter Melee and Ranged attacks that I forgot about Magic. I chose to go with Camila Sungazer and two Thorns monsters in the back, Djinn Chwala and Cursed Windeku (again).
| DJINN CHWALA | CURSED WINDEKU |
| --- | --- |
| | |
This time, however, Regal Peryton and Djinn Biljka got the upper hand as I had nothing to slow them down, not even the -1 Magic debuff of Thaddeus Brood, which would have certainly been a better choice. My opponent's lineup was well thought out.
| REGAL PERYTON | DJINN BILJKA |
| --- | --- |
| | |
Similar to what I did in the previous battle, he or she went with a Camouflage monster, which would prevent it from being attacked even though it becomes the lowest HP monster on the field at some point. This made it impossible to stop Biljka.
HILL GIANT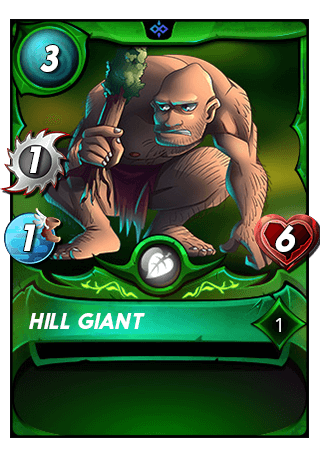 Then, by placing Hill Giant in front of Peryton, my monsters would have to go through the Giant first as they both had six HP. On top of that, Regal Peryton has Flying, which made it very hard to be hit. In the end, Djinn Chwala fatally missed it several times.
By looking at the Win Rate, I only had a 20% chance of winning overall. This highlights the fact that the Crypt Beetle's low HP makes it extremely vulnerable to Magic attacks as it can be eliminated in one single hit.
The Battle:
https://splinterlands.com/?p=battle&id=sl_8b46eb36f77f10dcc27ef0e161ca13fb
The Win Rate (20%):
https://splintertools.io/battle?player=tt88&battleId=sl_8b46eb36f77f10dcc27ef0e161ca13fb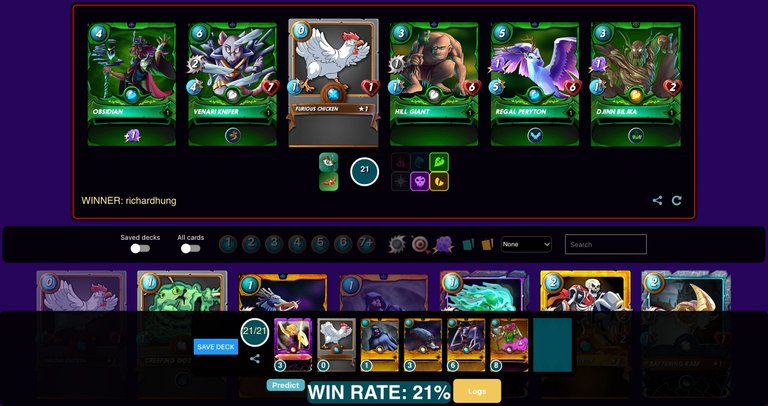 ---
In conclusion, by keeping the potential vulnerabilities of the Crypt Beetle in mind, we will be able to find the best niche use cases for this underestimated monster.
I hope you've learned something, or at least, got entertained!
Cheers!
Thomas

Bonus video from Ashley NFT Gaming | @Macfillet
---
Not so long ago, I watched an insane battle shared by Ashley NFT Gaming on her YouTube channel where the Crypt Beetle successfully defeated the Flesh Golem!
https://www.youtube.com/watch?app=desktop&v=Pg3qE_DCJ84

For new players interested in joining this amazing game, you can support me by using the following referral link (at no extra cost to you!):
https://splinterlands.com?ref=tt88
Thank you.
---
---