IMPORTANT DETAILS - SPLINTERLANDS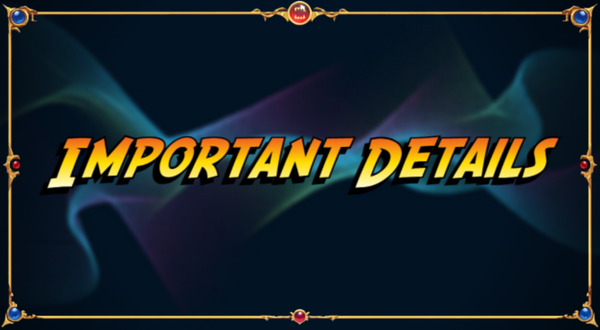 Eu já repeti isso tantas vezes que já se tornou cansativo, mas os pequenos detalhes são extremamente importantes e fazem toda a diferença em Splinterlands. Nas recentes atualizações houveram algumas mudanças sutis mas que são o detalhe que pode te fazer perder uma partida caso você não os saiba, justamente por isso eu resolvi criar essa postagem para abordar alguns desses detalhes importantes para evitar cometer erros (que eu cometi) no Splinterlands!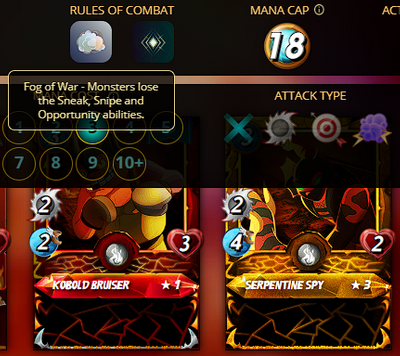 O primeiro detalhe que eu não lembro de ter lido nas postagens do @Splinterlands foi sobre a mudança na regra Fog of War

que agora também remove a habilidade Opportunity

de todas as cartas. Essa é uma mudança muito importante pois as cartas com essa habilidade eram a melhor saída para serem utilizadas com a Fog of War mas isso não será mais possível.
Adicionando mais um detalhe importante envolvendo essa mudança, agora que é possível ter três regras de combate na mesma partida você poderá se deparar com a seguinte situação: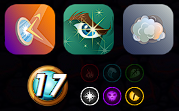 Esta foi uma partida Brawl que eu joguei e acabei tendo duas surpresas bem desagradáveis. Foi neste momento que eu descobri que a Fog of War

removia a habilidade Opportunity

e que a ordem das regras de combate definem quem anula quem. Neste caso a regra Equal Opportunity

veio antes da Fog of War

, portanto ela distribuiu sua habilidade para todas as cartas e logo em seguida a habilidade foi removida, resultando em uma derrota humilhante com quatro cartas incapazes de atacar por causa da anulação mencionada acima.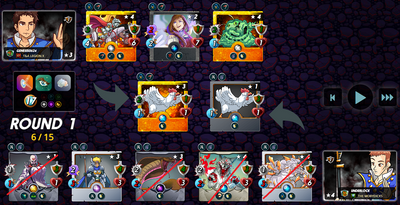 Imagino que se a ordem das regras de combate invertessem (esta é só uma suposição não confirmada) com a Fog of War

vindo antes da Equal Opportunity

possivelmente todas as cartas permanecessem com a habilidade Opportunity

disponível. Caso você saiba a resposta concreta para essa dúvida eu adoraria que você comentasse para disseminar esse conhecimento.
Outro detalhe importante foi o lançamento do invocador Astral Entity através do Airdrop. Hoje eu tive o prazer de enfrentar esta carta e a experiência foi exatamente o que eu imaginava. Seus efeitos são muito poderosos e este invocador é capaz de amplificar demais a força de um time.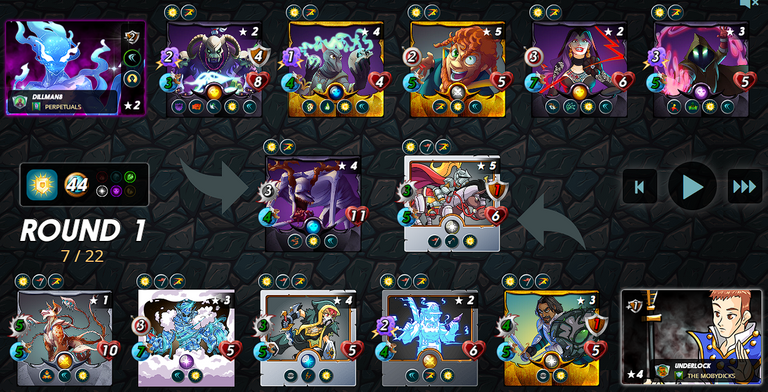 Nesta partida o invocador conseguiu tirar a proteção de quase todo o meu time e ao dar a habilidade Dodge

para cartas que estavam com a velocidade amplificada se tornou extremamente difícil para os meus monstros conseguirem acertar os ataques. Ao longo da partida foram 6 ataques que deram Miss e meu time conseguiu eliminar apenas duas cartas mas uma delas recebeu o Ressurect

do Astral Entity. A primeira partida enfrentando este invocador só me mostrou que ele realmente é muito poderoso e eu tentarei alugá-lo o mais breve possível para experimentar algumas estratégias.
Já que eu mencionei o assunto estratégia, também quero compartilhar com vocês uma estratégia que é pouco vista (pelo menos na liga que eu jogo) e que pode ser bem útil em algumas partidas. O combo é bem simples e nós podemos chamá-lo de Bomberman, ele funciona assim: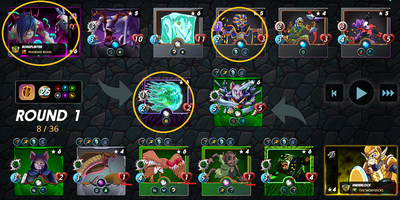 Ao escolher uma carta com a habilidade Redemption

junto com outras cartas que possuam a capacidade de diminuir a vida das cartas inimigas você poderá tornar os oponentes frágeis o suficientes a ponto de morrerem apenas pelo dano do Redemption

. O ideal é fazer isso em partidas com Unprotected

para evitar que o dano seja aparado pela armadura, e recentemente com a mudança na habilidade Scavenger

esse combo se tornou mais eficiente pois a carta só terá sua vida aumentada após todos os danos e mortes acontecerem. Neste exemplo o Screeching Vulture morreu sem poder aumentar sua vida pois as cartas morreram ao mesmo tempo.
Estas são algumas informações bem relevantes mas que podem ter passado despercebido por vocês também então quis compartilhar estas experiências negativas que eu tive para evitar que vocês cometam os mesmos erros lol. Devemos sempre acompanhar as atualizações para aprendermos o quanto antes sobre esses pequenos detalhes que se alteram e fazem total diferença na sua gameplay.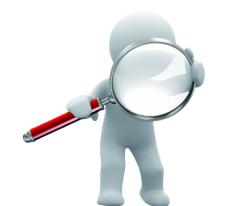 Muito obrigado a todos que leram até aqui, espero que tenham gostado. Se vocês curtirem meus conteúdos, peço que deixem o seu voto na postagem e sigam o meu perfil para poderem acompanhar as futuras postagens.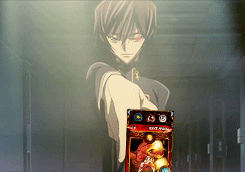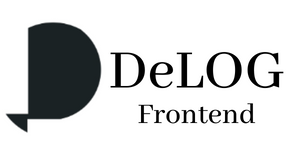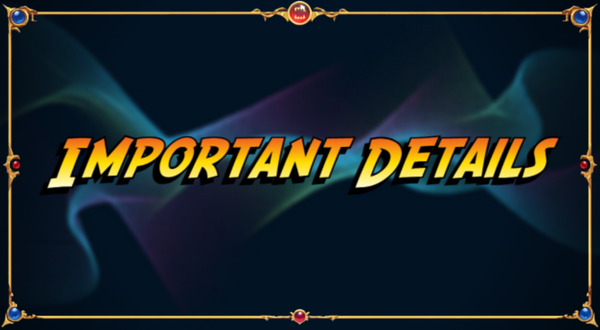 I've repeated this so many times that it gets tiresome, but the small details are extremely important and make all the difference in Splinterlands. In the recent updates there have been some subtle changes but which are the details that can make you lose a game if you don't know about them, precisely for this reason I decided to create this post to address some of these important details to avoid making mistakes (which I did) in the Splinterlands!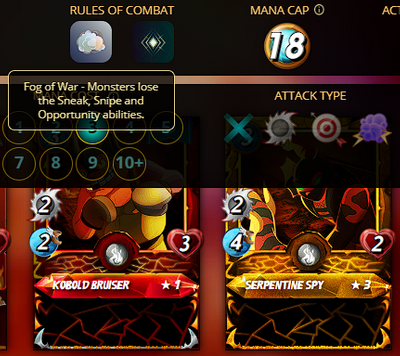 The first detail I don't remember reading in @Splinterlands posts was about the change to the Fog of War

rule which now also removes the Opportunity

ability of all cards. This is a very important change because cards with this ability were the best way out to be used with Fog of War but that will no longer be possible.
Adding one more important detail involving this change, now that it is possible to have three combat rules in the same match, you may encounter the following situation: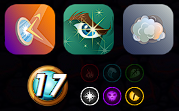 This was a Brawl match I played and ended up having two very nasty surprises. It was at this point that I discovered that the Fog of War

removed the ability Opportunity

and that the order of combat rules defines who cancels who. In this case the Equal Opportunity

rule came before Fog of War

, so she distributed her ability to all cards and shortly thereafter the ability was removed, resulting in a humiliating defeat with four cards unable to attack because of the aforementioned nullification.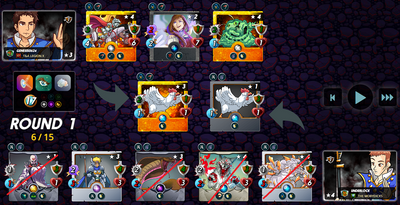 I imagine if the order of combat rules were reversed (this is just an unconfirmed assumption) with Fog of War

coming before Equal Opportunity

possibly all cards would remain with Opportunity

ability available. If you know the concrete answer to this question, I would love for you to comment to spread this knowledge.
Another important detail was the launch of the summoner Astral Entity through Airdrop. Today I had the pleasure of facing this card and the experience was exactly what I had envisioned. Its effects are very powerful and this summoner is capable of greatly amplifying a team's strength.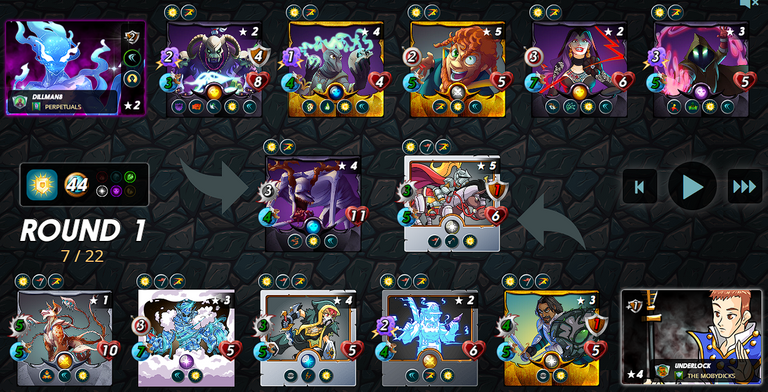 In this game the summoner managed to take the protection of almost all my team and by giving Dodge

ability to cards that were with speed amplified became extremely difficult for my monsters to land attacks. Throughout the game there were 6 attacks that gave Miss and my team managed to eliminate only two cards but one of them received the Resurrect

do Astral Entity. The first game facing this summoner just showed me that he really is very powerful and I will try to rent him as soon as possible to try out some strategies.
Since I mentioned strategy, I also want to share with you a strategy that is rarely seen (at least in the league I play) and that can be very useful in some matches. The combo is very simple and we can call it Bomberman, it works like this: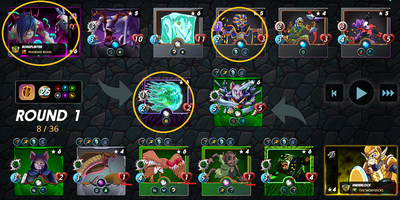 By choosing a card with the ability Redemption

along with other cards that have the ability to decrease the life of enemy cards you can make opponents fragile enough to from dying just from the damage of Redemption

. Ideally do this in games with Unprotected

to prevent the damage from being parried by the armor, and recently with the change in the Scavenger

ability this combo has become more efficient because the card it will only have its life increased after all the damage and deaths happen. In this example Screeching Vulture died without being able to increase its life because the cards died at the same time.
This is some very relevant information but that may have gone unnoticed by you as well so I wanted to share these negative experiences I had to prevent you from making the same mistakes lol. We should always follow the updates to learn as soon as possible about these small details that change and make a total difference in your gameplay.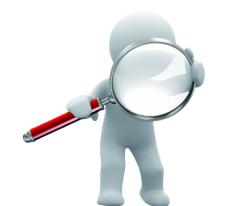 Thank you so much to everyone who read this far, I hope you enjoyed it. If you like my content, I ask you to send your vote on the post and follow my profile so you can read future posts.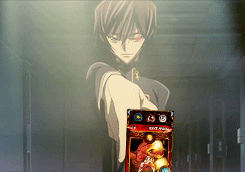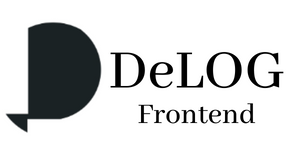 ---
---