Technical Analysis 101 - Exchanges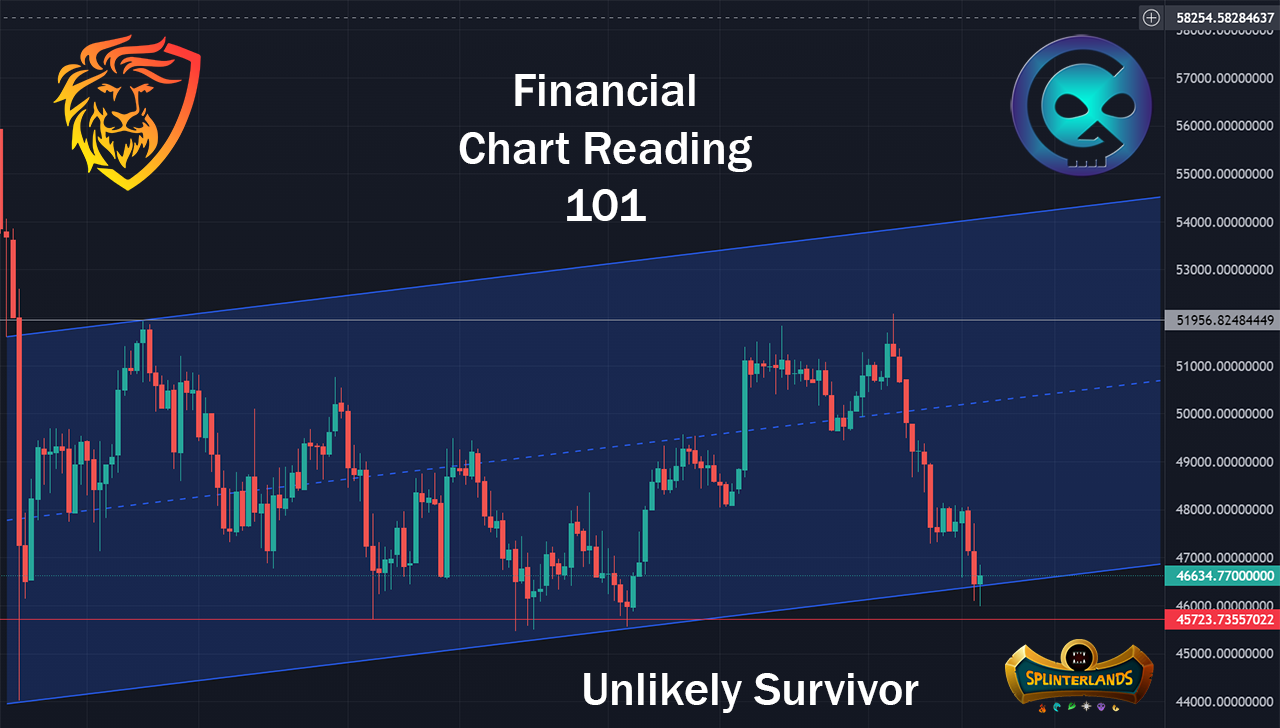 I started in crypto a few years back with $800 and pretty much no idea what I was doing aside from a basic understanding of how to make a trade. Through mostly luck and intuition I somehow managed to turn that $800 into 10's of thousands of dollars. I do not know about you, but I would like some reason besides a feeling in the back of mind saying you should buy MATIC. It is going to go up. So near the end of 2021 I started reading and learning about financial charts and specifically how it applies to crypto currency and thought what I am learning might benefit others here. Can this be applied to splinterlands or is it too heavily influenced by the game itself? It is still early in this adventure, I do not know so join me and we will find out one lesson at a time and make better informed crypto decisions.

Today we are going to cover some of the basic things you are going to need to begin trading crypto currencies yourself, such as exchanges and how to navigate them. What is an exchange? An exchange is a place where buyers and sellers come together to exchange assets, in our case crypto currencies. I mostly use
Coinbase Pro
( formerly GDAX ) for my trading and will be using it and
Trading view
for my explanation but most exchanges should function similarly.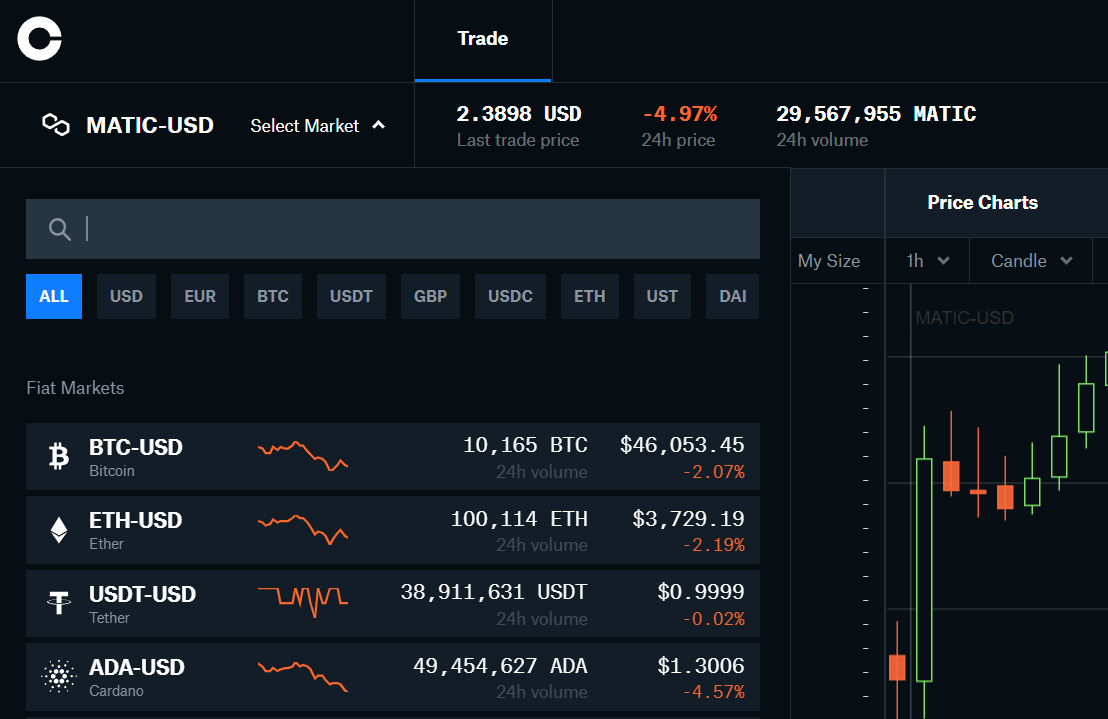 in order to trade currency you will have to select the trade tab on
Coinbase Pro
, on binance and hive it is called market, decentralized exchanges typically call it swap. Then select you trading pair, for this example we will use MATIC-USD.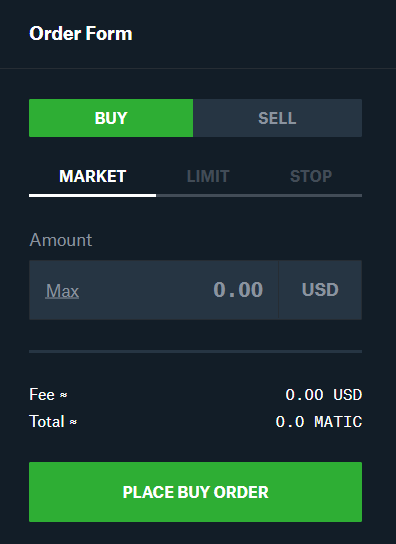 The basic features of every exchange include the ability to place buy and sell orders.
Coinbase Pro
has three types of orders, market, limit and Stop. Market orders execute immediately at the current market buy or sell price and usually charges a high fee for executing immediately. Limit orders you set a price and amount when the market reaches your price the orders is executed for the amount you set. Stop orders, sometimes referred to as stop loss orders due to often being used as safety nets to stop you from taking a loss. Stop orders take two prices, the stop price and the stop limit as well as an amount and whether it is buy or sell. The way stop orders work is when the market hits your stop price your limit buy order will execute. I most often use this to stop losses on my trades or profit. Eg. I buy MATIC at $2.61, I'm pretty sure its going to go up but incase I think if it looses 2% (about 5 cents ) I am probably wrong. so I put in a stop at $2.55 and we want to give some room if it is moving down quickly so a limit of $2.54 sell all MATIC. If the market hits $2.55 it will execute my limit to sell my MATIC at 2.54 however it will sell to any buys still remaining on the market between 2.55 and 2.54 then place what remains at the limit order of 2.54. I do the same to protect profit, MATIC is at 2.5% profit from were I bought, I think it still has more room to go up but I don't want to loose that profit, so I put a stop at 2% that way if it falls back to 2% it will execute my sell and I won't loose all of that profit.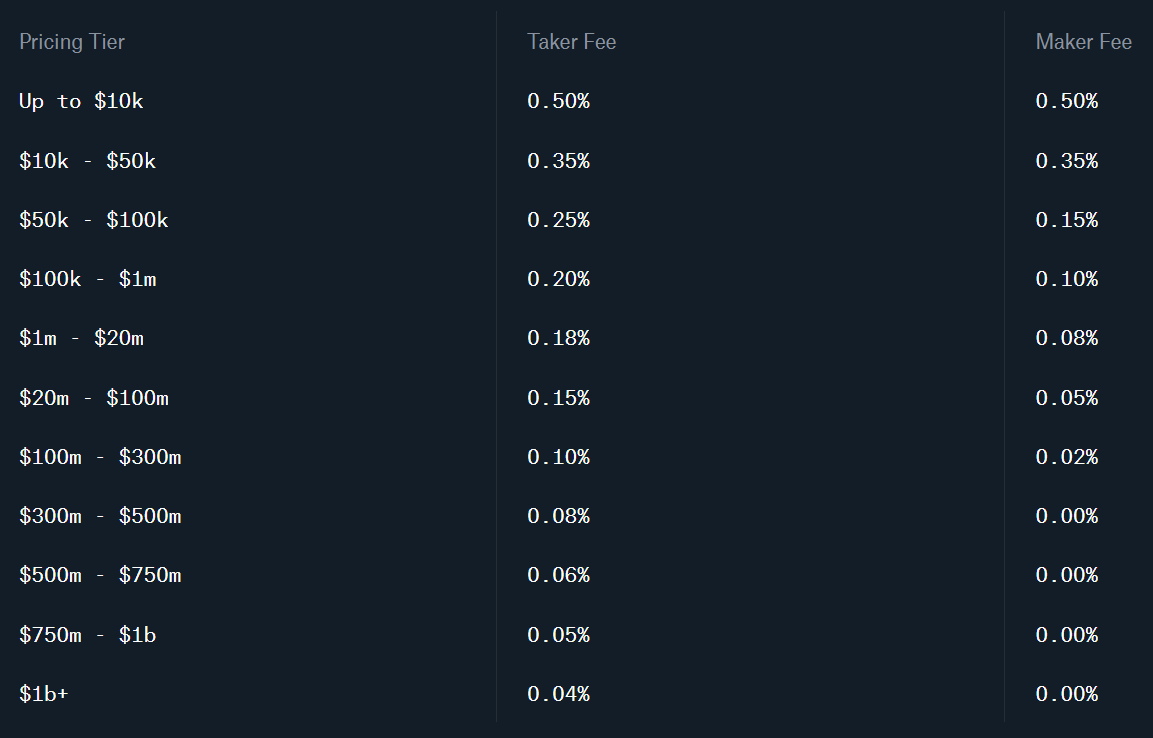 all exchanges have fees in some form or another. Yes, this might come as surprise to 'use hive it's free cult' even hive has fees which cost $60 because I failed to follow my rule of do your own research so was unaware of that 1% deposit fee.
Coinbase Pro
fees, as you can see above are based off your trading volume for the last 30 days and once above $50k volume are different for maker and taker. Maker would be the limit orders while taker is market orders. The more you trade the better deal you get. If you are unfamiliar how volume works, I buy $5000 in MATIC and later sell theat MATIC at $5500, I just did $10.5k volume.

Well that covers the basics of exchanges if technical analysis interests you give me a follow and learn with me. Next Technical Analysis article we will be getting to know Trading view the tool we will be using aside from an exchange.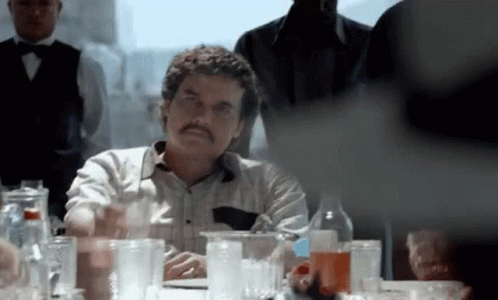 The cartel token has huge potential as always
Do Your Own Research

Follow me on Twitter to keep up to date on my posts
Have fun and earn with me in Splinterlands play to earn game.


Panic at the Disco
- on Dec 8th splinterlands launched Chaos Legion and Chaos ensued
Posted Using LeoFinance Beta
---
---