WinterFest Rewards Received - Thank you Splinterlands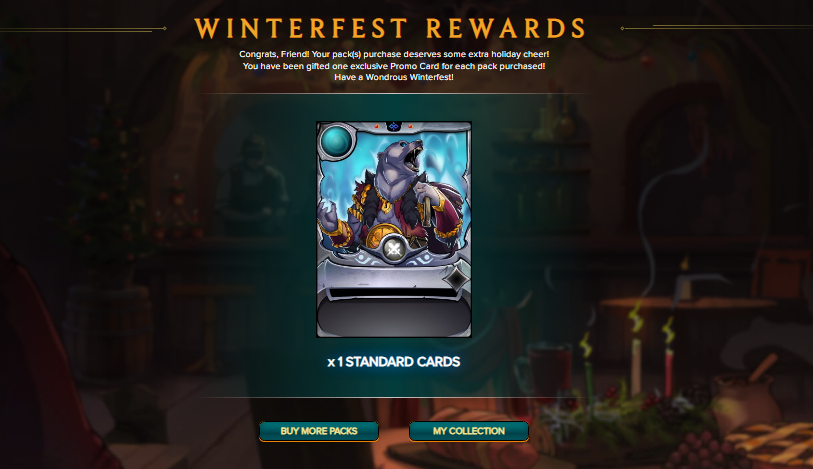 Thank you Splinterlands team for again spicing up this Christmas season with another massive rewards to loyal investors and patrons of the leading Play to earn game in the cryptoverse. Within this last quarter of the year 2022, we've already received about Six (6) airdrops/rewards for patronizing the splinterlands game as follows:
GLX airdrop to SPS stakers
GLX staking rewards with huge APY
GLGT rewarded for staking GLX
MLSPA pack staking rewards
Third Chaos Legion Legendary Summoner Airdrop, an now
WinterFest Rewards
Two days ago, Splinterlands announced Splinterlands Winterfest End of Year Promotion! that features a new promo card, Arkemis that will be gifted to players for purchasing any booster pack in the Splinterlands shop for the next 30 days.
Arkemis will be a Common rarity, Neutral card added to the game and players will receive a level 1 copy of the card for EACH booster pack purchased in the Splinterlands shop for the next 30 days! That includes all Chaos Legion, Riftwatchers, and Tower Defense Nightmare pack purchases and bonus packs count as well!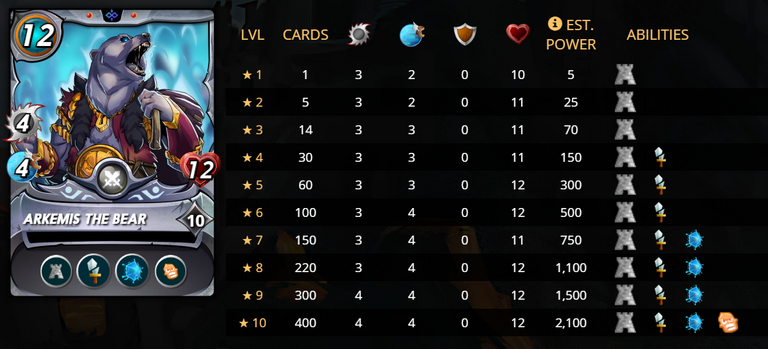 Arkemis being a neutral card which can be played with any Summoner and in many different situations, is already a big addition to the Splinterlands card deck for battles and with its massive stats. Arkemis is a monstrous 12 Mana, Common rarity character. with a strong Melee attack (3 to 4) and a significant amount of health, but it's his Four Special abilities that he's gained through years of weathering the (crypto) winter that really make him powerful. From level 1 to 10, the make up of Arkemis looks great even for novice battles.
At level 1 he Protects himself and all other friendly characters with additional armor, and as he levels up he gets the extremely rare Halving ability, which halves the attack of his targets when he hits them. He also gains the ability to block high powered attacks via the Forcefield ability and finally at max level he begins to get Enraged when he isn't at max health, which increases his Melee attack damage and Speed! source
Two Arkemis Promo Cards received
Hours ago, I received this card gift from @Steemmonsters after pirchasing one Chaos Legion pack with 4k DEC. It feels good to have Arkemis in my owned card deck which is gradually growing. I'm yet to pen the pack to know the quality of cards therein but already enjoying the promo card in my battles.
The card gift came with these words Congrats, Friend! Your pack(s) purchase deserves some extra holiday cheer! You have been gifted one exclusive Promo Card for each pack purchased! Have a Wondrous Winterfest!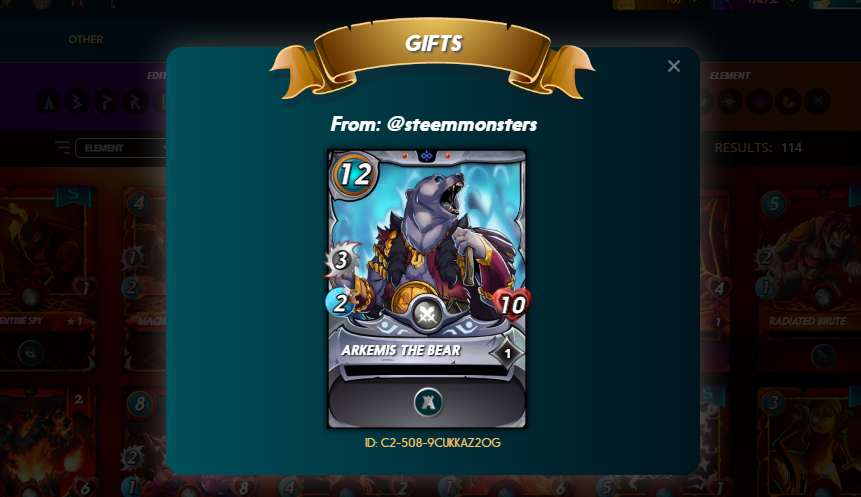 The splinterlands team has done so well to backdate the purchasing date of card packs as qualification for the promo card. All players who made pack purchases since Tuesday, Nov. 29th, 2022, when the 2022 Holiday Deals post was published are retroactively receiving one Arkemis the Bear promo card - with the same gold foil chances and guarantees.
I made my last Choas Legion pack purcahse on December 2 after missing the "Possibilus the Wise" airdrop. However, when I opened to view my gift card - Arkemis, I noticed that an earlier card had been dropped in my collection for the pack purchased on December 2. I'm planning of getting more card packs so I can start levelling up my Arkemis cards to make it stronger for battles.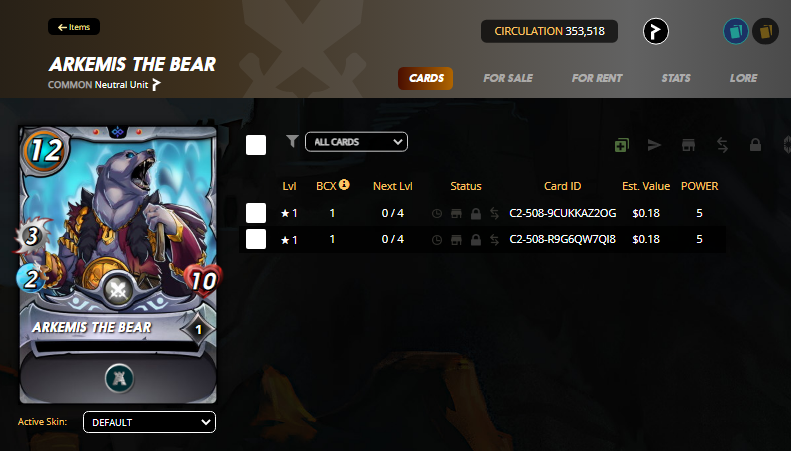 Again, thank you Splinterlands for this Christmas gift which is still open for more claiming in the next 15 days. Engaging the Splinterlands game is becoming more interesting.
Let's see how the coming days unfold. it can only get better!
---

Splinterlands game is termed the "next generation of collectible card games" in which allows players to collect, trade, and battle with provably scarce digital collectibles with real-world value. Battles on Splinterlands Unlike most trading card games, are fast and furious, and are usually completed within few minutes. The Splinterlands gameplay is simple and easy to learn viz: reviewing combat rules, making and submitting of the team and watching the battle unfold.

If you found the article interesting or helpful, please hit the upvote button, share for visibility to other hive friends to see. More importantly, drop a comment beneath. Thank you!
Let's Connect
Hive: https://leofinance.io/@uyobong
Twitter: https://twitter.com/Uyobong3
Discord: uyobong#5966
---
Posted Using LeoFinance Beta
---
---