I had a 0.00615% chance. I won the Astral Entity gold foil card airdrop.

In the first 12 weeks of airdropping the Chaos Legion set, I was unsuccessful in getting any cards through the airdrop, neither regular nor gold. But when opening some packs I was lucky to get 6 cards that were available in Airdrop.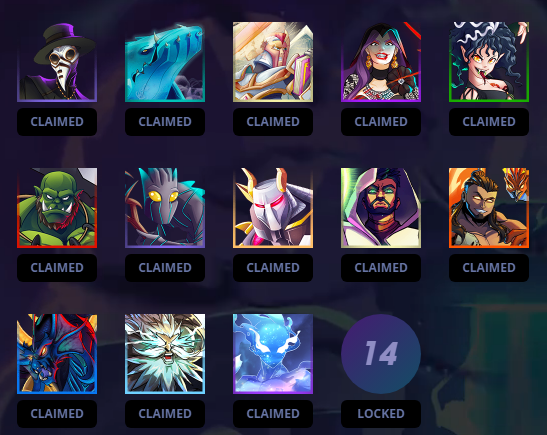 Grum Flameblade, Grandmaster Rathe, 2x Iza the Fanged and 1 regular Carnage Titan and 1 Gold Carnage Titan.

Today I was lucky enough to get my seventh letter, and this time by airdrop. Astral Entity. And in the golden version. Chance of 0.00615% or 1 in every 16,260.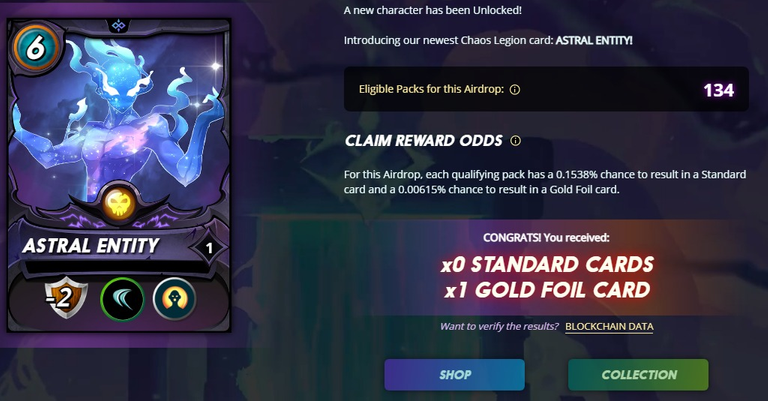 But since I'm out of a job and the bills keep coming, it seems that this letter was a momentary blessing for me. The bills will have to be paid on the 5th and I was calculating every Hive I could earn so that the account would close and I would only have to worry again about the March bills which is when I go back to work.
I know there will still be some money left over in March, but the loan I was thinking of getting will be smaller now, as I put the letter up for sale. In April I'm thinking of buying it again because it will be worth less than what I sold it, 119 dollars, which when paying all the fees to be able to withdraw in BRL consumed me something around 10 dollars.
5% to sell on the market, 1% to withdraw from Hive-Engine, 0.075% to convert to Binance HIVE/USDT, 0.075% to convert from USDT/BRL, and finally 4 BRL approximately to send to my bank account.
Now I can focus on publications, battles, Brawl and from April I will receive my salary from work again and I will be able to reinvest my Hive and HBD in increasing my HivePower and my cards in Splinterlands.
I'm stabilized in the Gold league, with that I maintain the goal of reaching the diamond league in April and then start accumulating HBD to buy the packs of the new collection that arrives.

Nas 12 primeiras semanas de airdrop da coleção Chaos Legion, não tive sucesso em obter nenhuma carta pelo airdrop, nem regular e nem dourada. Porém ao abrir alguns packs tive a sorte de conseguir 6 cartas que eram disponiveis no Airdrop.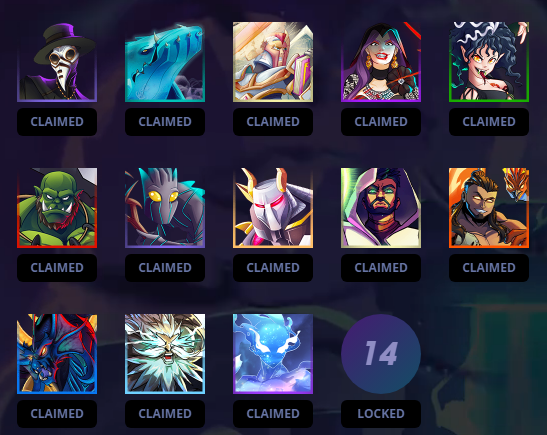 Grum Flameblade, Grandmaster Rathe, 2x Iza the Fanged e 1 Carnage Titan regular e 1 Carnage Titan Gold.

Hoje tive a sorte de conseguir minha sétima carta, e dessa vez pelo airdrop. Astral Entity. E na versão dourada. Chance de 0.00615% ou seja 1 em cada 16.260.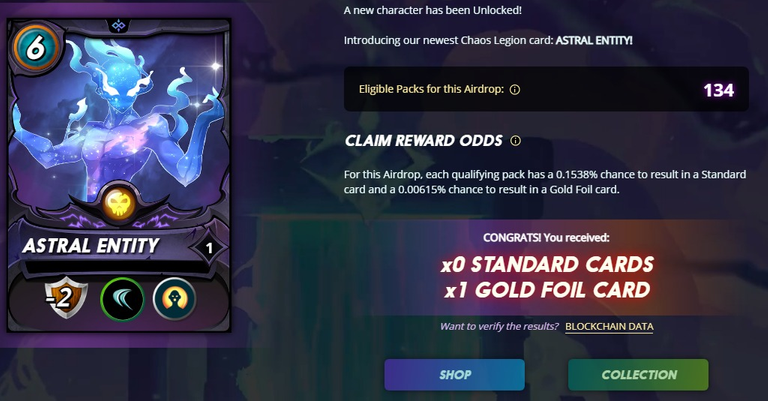 Porém como estou sem emprego e as contas não param de chegar, parece que foi uma benção momentânea essa carta para mim. As contas terão que ser pagas dia 5 e eu estava calculando cada Hive que poderia ganhar para que a conta fechasse e só tivesse que me preocupar novamente com as contas de março que é qunado eu volto a trabalhar.
Sei que ainda faltará um dinheiro para o decorrer de março, mas o empréstimo que eu estava pensando em pegar será menor agora, pois coloquei a carta para venda. Em abril penso em recomprá-la novamente pois estará com um valor abaixo do que eu vendi, 119 dólares, que ao pagar todas as taxas para conseguir sacar em BRL me consumiu algo em torno de 10 dólares.
5% para vender no mercado, 1% para retirar do Hive-Engine, 0.075% para converter na Binance HIVE/USDT, 0.075% para converter de USDT/BRL, e por fim 4 BRL aproximadamente para enviar para minha conta do banco.
Agora voltar meu foco nas publicações, batalhas, Brawl e a partir de Abril volto a receber meu salário do trabalho e poderei reinvestir meus Hive e HBD em aumentar meu HivePower e minhas cartas no Splinterlands.
Estou estabilizado na liga Ouro, com isso mantenho a meta de chegar na liga diamante em Abril e depois começar a acumular HBD para comprar os pacotes da nova coleção que chegar.

---
---