This is the way. Being an SPS Shark is the creed. [ENG|ESP]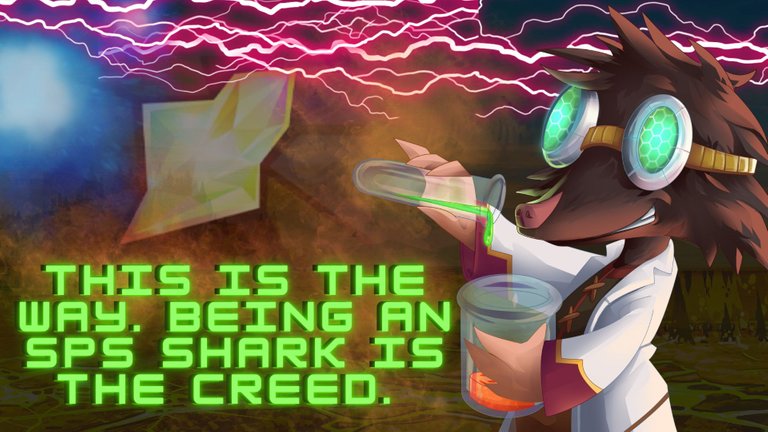 How about my friends from the world of Splinterlands? As you know, Splinterlands has many ways and means of approaching the game and one of them is the investor layer. I currently find myself more focused on this layer than the player layer.
I recently told all my followers on youtube that I sold all my cards and that I decided to put the entire cost of my collection into SPS. At first, before August began, my goal was to be able to sell everything and buy or at least reach 10K in SPS.
The video is in Spanish but you can use the subtitles in English.
Goals
In the path of investment, financial growth, and long-term sustainability there is a fundamental principle. The goal is in one direction. You have to be clear about what you want to do with your money. How do you want to put it to work and what is the goal that money works for? Whether it is financial, emotional, or social, you must be clear about where it is going.

In my case, I have a Primary goal that should be in other secondary and short-term goals.
My first goal: 50K
Secondary: 20K
Short term: 15K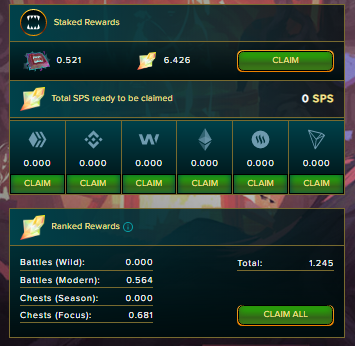 So all my efforts within Splinterlands and HIVE should be focused on being able to unlock these goals or levels that I have set for myself.
Projections
As you know, the SPS is a token with a very strong Fundamental value and that has many processes that are not relevant now that make it able to enter trading ranges above $0.2, so my goal is to double my amount of SPS before this happens or as long as it takes for the price to get there.
Intentions
My main intention is always to be able to produce more and more SPS in the Stake. As the APR decreases and gets closer to its minimum production amount on assets, my goal is to be able to produce at least 15 SPS daily when this happens.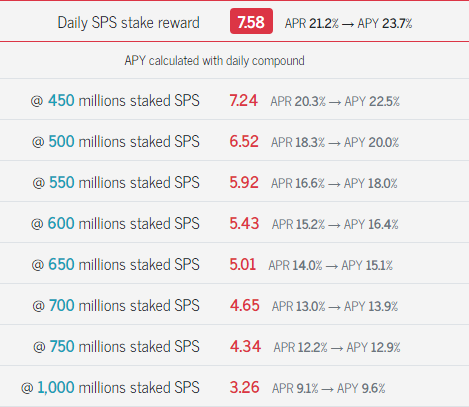 When a billion SPS are already at Stake, still having an average of 15 SPS per day I think is more than good.
Conclusion:
Everything we set out to do in life is subject to circumstances and situations that we often cannot foresee. But when we have a clear intention, every day we propose to add a little value to our goal and maintain the perseverance, discipline, and seriousness necessary to carry out what we want, rest assured that you will fulfill it.
I don't know what your current amount of SPS is, but whether it's 1000 or 200 SPS I'm sure it's a goal that we can set for ourselves, that you're going to double your SPS if you set out to create a solid foundation for this growing ecosystem and expansion.
I believe that we are currently in a time that offers us great opportunity and capacity for future capitalization within Splinterlands.
All images are my own, captured with Stream Labs Software and AMD Adrenaline Software. The game is Original from my Steam Library.
PC I use to run the game:
Processor: Intel(R) Core(TM) i3-10105F CPU @ 3.70GHz 3.70GHz
RAM: 32.0GB DDR4 TeamCore Gaming
GPU: AMD Msi Radeon Rx 570 4gb
Hard Drive: M.2 Pci express 3.0 1TB
Be part of Venap Games and its communities:
---
Spanish
¿Qué tal mis amigos del mundo de Splinterlands? Como saben Splinterlands tiene muchas formas y maneras de afrontar el juego y una de ellas es la capa del inversionista. Actualmente me encuentro más enfocado en esta capa que en la del jugador.
Hace poco comentaba a todos mis seguidores en youtube que vendí todas mis cartas y que decidí meter todo el costo de mi colección transformarlo a SPS. EN un primer momento antes de que comenzará Agosto mi meta era poder vender todo y comprar o por lo menos llegar a los 10K en SPS.
Goals
En el camino de la inversión, el crecimiento financiero y la sustentabilidad a largo plazo hay un principio fundamental. La meta en una sola dirección. Tienes que tener claro que quieres hacer con tu dinero. Como lo quieres poner a trabajar y para cual es la meta que trabaja ese dinero. Ya sea financiera, emocional o social, debes tener en claro hacia donde va.

En mi caso tengo una meta Primaria que debería en otras metas secundarias y a corto plazo.
Mi meta primeria: 50K
Secundaria: 20K
A corto plazo: 15K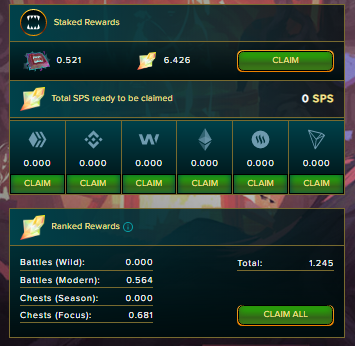 Entonces todos mis esfuerzos dentro de Splinterlands y HIVE deben ir enfocados en poder ir desbloqueando estas metas o niveles que me he propuesto.
Proyecciones
Como se sabe el SPS es un token con un valor Fundamental muy fuerte y que tiene muchos procesos que ahora no vienen al caso que lo hacen ser capaz de entrar a rangos de negociación por encima de los 0.2 $ por lo que mi meta es doblar mi cantidad de SPS antes de que esto pase o en el transcurso que le cueste al precio llegar allí.
Intenciones
Mi intención principal es siempre poder producir más y más SPS en el Stake. A medida que disminuye el APR y se va acercando a su cantidad mínima de producción sobre los activos, mi meta es poder producir por lo menos 15 SPS diarios cuanto esto suceda.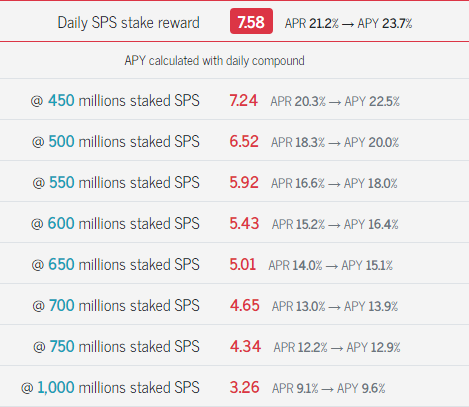 Cuando estén ya los mil millones de SPS en Stake todavía tener una media de 15 SPS diarios creo que esta más que bien.
Conclusión:
Todo lo que nos proponemos en la vida esta sujeto a circunstancias y situaciones que muchas veces no podemos prever. Pero cuando tenemos una intención clara, todos los días nos proponemos en agregar un poco de valor, a nuestra meta y mantenemos la constancia, disciplina y seriedad necesaria para llevar a cabo lo que deseamos ten por seguro que lo vas a cumplir.
No se cual sea tu cantidad de SPS actual, pero sean 1000 o 200 SPS estoy seguro que es una meta que nos podemos proponer, de que vas a doblar tus SPS lo harás si te propones crear una base solida para este ecosistema en pleno crecimiento y expansión.
Creo que actualmente nos encontramos en una época que nos ofrece gran oportunidad y capacidad de capitalización a futuro dentro de Splinterlands.
Todas las imágenes son mías, capturadas con Stream Labs Software y AMD Adrenaline Software. El juego es original de mi biblioteca de Steam.
PC que utilizo para correr el juego:
Procesador: Intel(R) Core(TM) i3-10105F CPU @ 3.70GHz 3.70GHz
RAM: 32.0GB DDR4 TeamCore Gaming
GPU: AMD Msi Radeon Rx 570 4gb
HD: M.2 Pci express 3.0 1TB
Forma parte de Venap Games y sus comunidades:
---
---