Complete WOO Land Buying Guide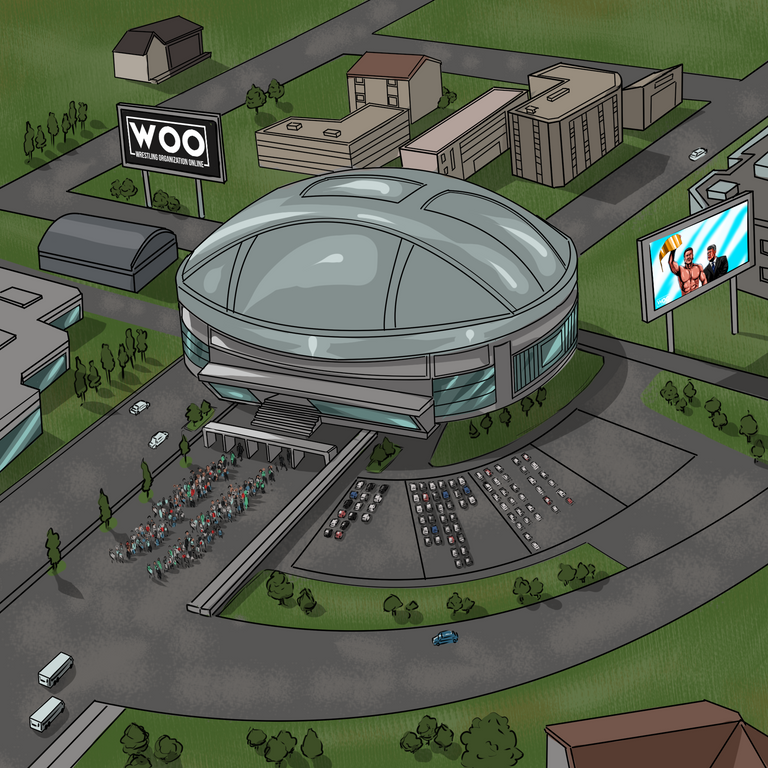 WOO Territory Sale is 24 Hours Away!
With about 24 hours left until the sale, we figured this is a great time to showcase how users can participate in this first Territory sale! But before we go any further, I want to shout out our team that has made this possible. @tobias-g, @balaz, @assassyn, @gamerzaza, and @crimsonclad from our dev team worked tirelessly to ensure this was up and running in time, and our art team of @domthesonartist and @japex1226 made sure the NFTs and WOObucks icons turned out perfectly. Thank you, team!
Now, let's get into the breakdown!
How To Buy WOObucks?
First, before we get into how to buy WOObucks, I want to explain what WOObucks are. WOObucks is our form of "in-store credit," meaning WOObucks can be used to purchase various items WOO sells. In this case, you can use PayPal to buy WOObucks with fiat currency and use those WOObucks during our first Territory sale. Please be aware that WOObucks are nontransferable and nonrefundable, so make sure to buy what you want to use, as we will not be issuing refunds for any purchases of WOObucks.
With that out of the way, let's showcase how users can buy WOObucks. First, you will need to log into our website at https://play.wrestlingorganizationonline.com, and you will see this: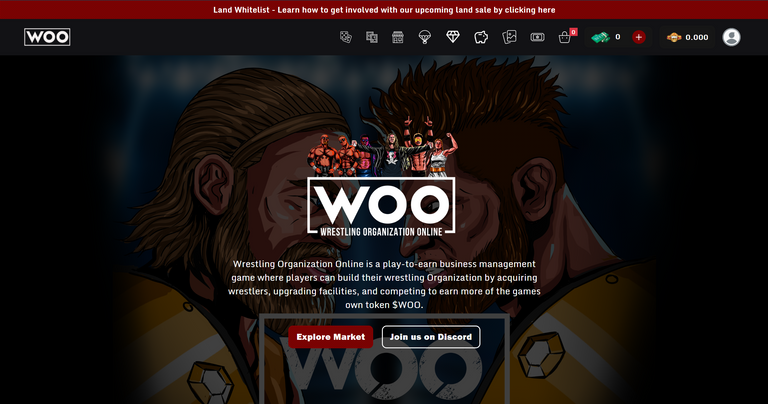 You may notice a new icon next to your $WOO balance. That is our icon for WOObucks. Click the icon as shown below to initiate purchasing.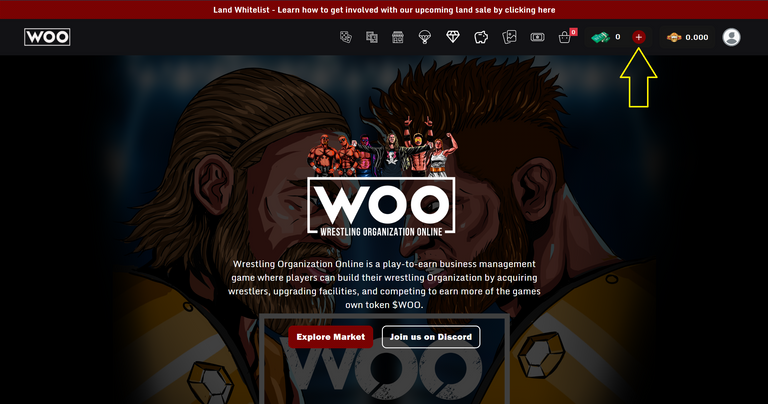 Once you click that, a popup will appear and will look like this: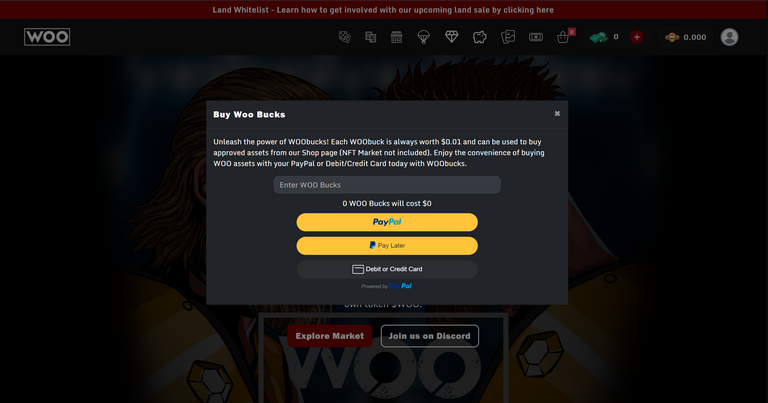 You can type in the number of WOObucks you would like to purchase, and then it will show you how much those WOObucks will cost in USD. Once you type in how many WOObucks you would like to purchase, you can choose one of the three forms of payment offered by PayPal. Let's showcase the "Debit or Credit Card" option for this example.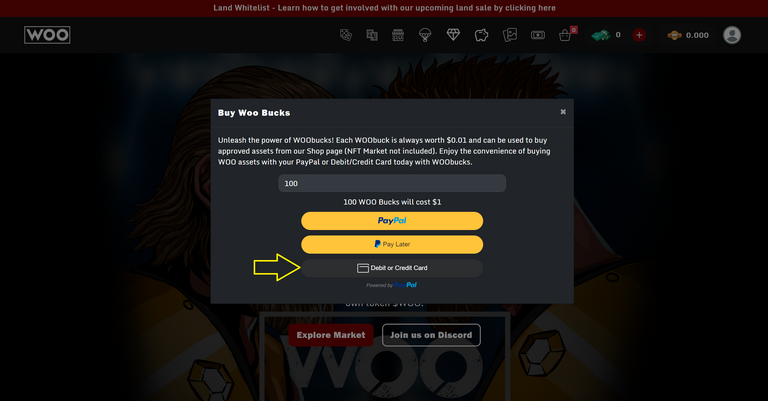 Once you click that option, another popup will appear, and it will look like this: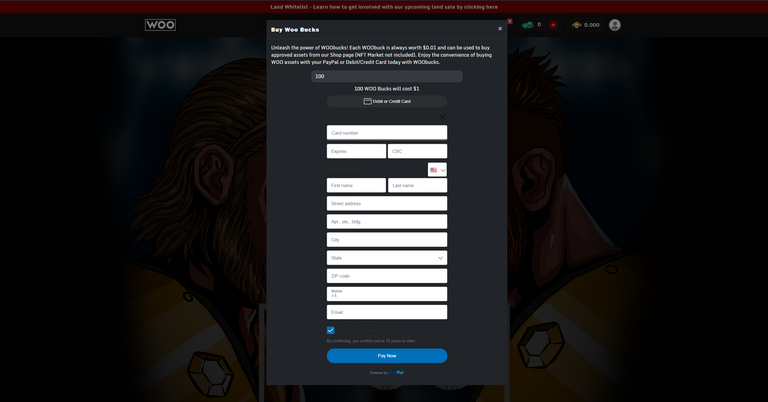 Fill out the form and click the blue "Pay Now" to initiate the purchase. Once it has been completed, you will see this beautiful popup: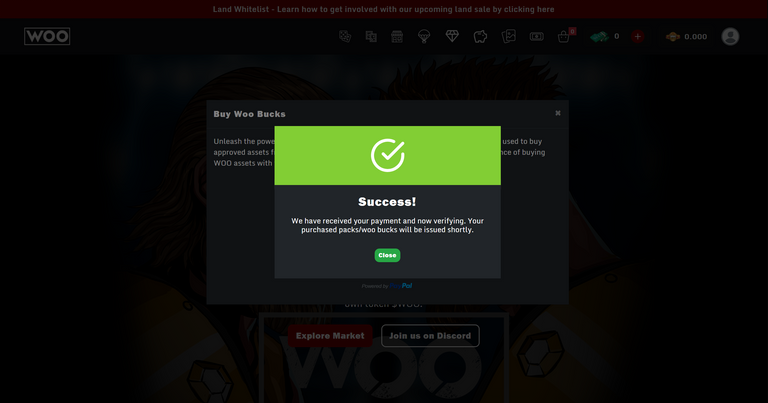 SUCCESS! Hell yeah! Now your account will populate with the number of WOObucks you have purchased. We can now use those WOObucks to purchase a City Pack from the first Territory available.
How To Buy City Packs
Now that you have your WOObucks, you will want to close out of that popup and return to the main website. When you're there click this icon: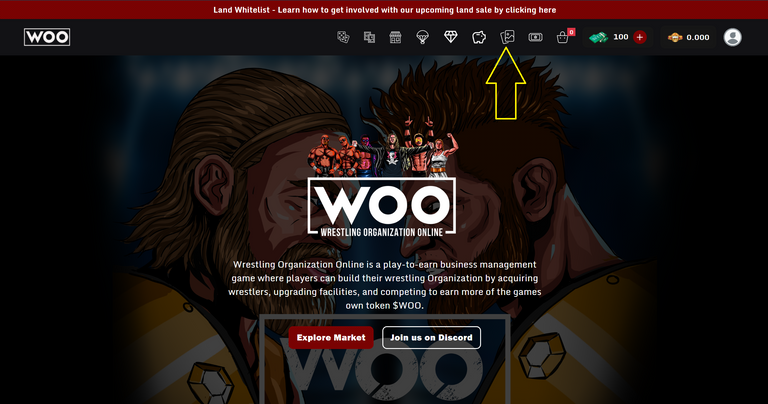 Once you click that icon, a popup will appear for you to purchase City packs.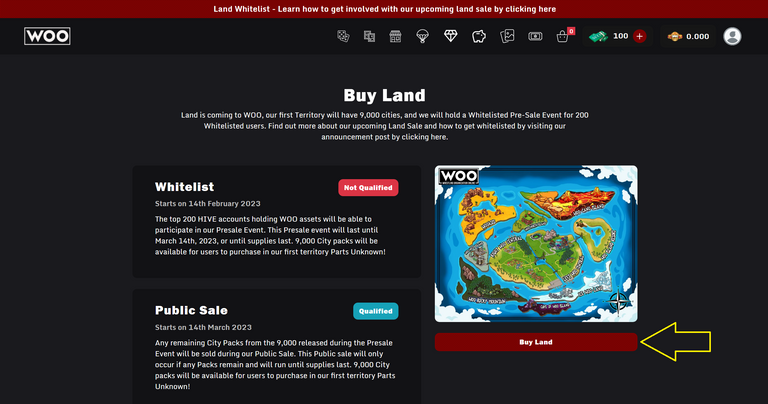 Now, click the "Buy Land" button, and a new popup will appear: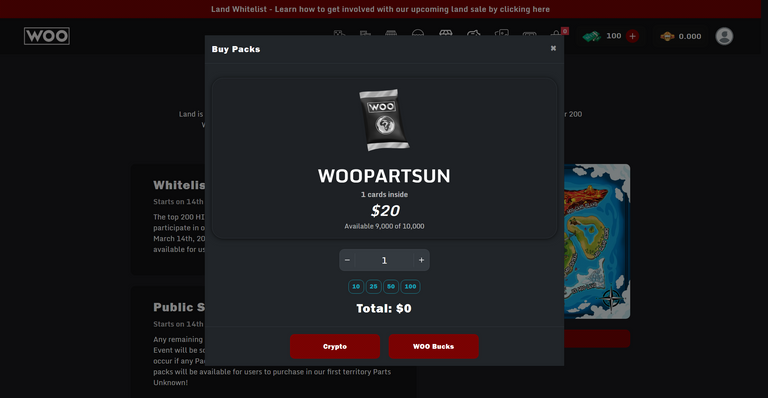 You can use our quick buy buttons or input how many packs you want, then click one of the two payment options. Let's say you wanted to use the WOObucks you purchased; then you would click the button below.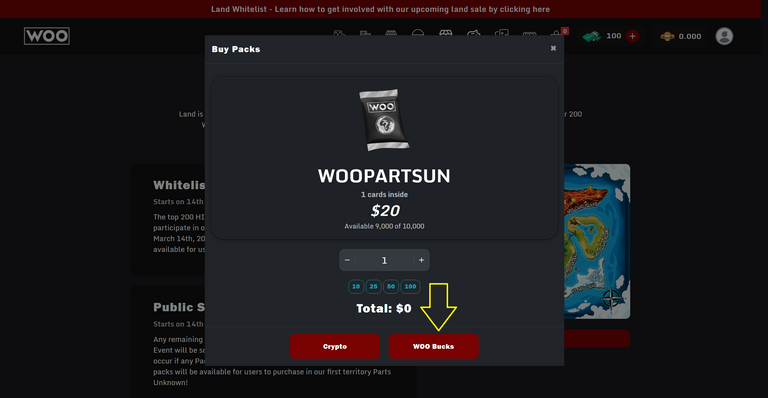 Once you click that button then, a new popup will appear: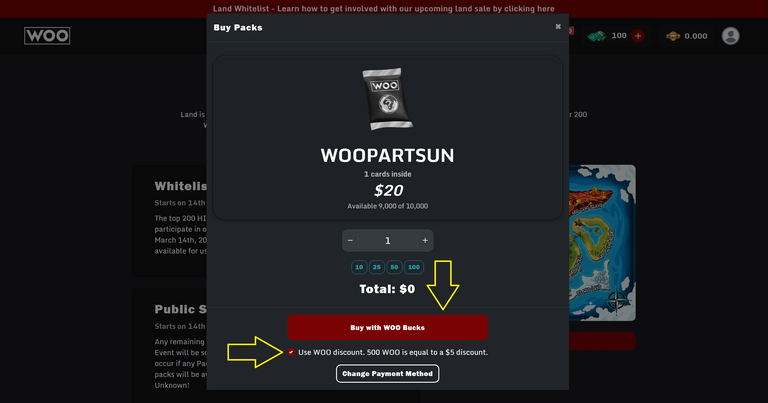 You can click the checkbox to use your $WOO discount and click buy with WOObucks. As long as you have the appropriate amount of $WOO (if discounts are used) and WOObucks, then the purchase will go through without error.
But let's say you wanted to use crypto instead. Then you would return to the previous screen and click crypto as seen below: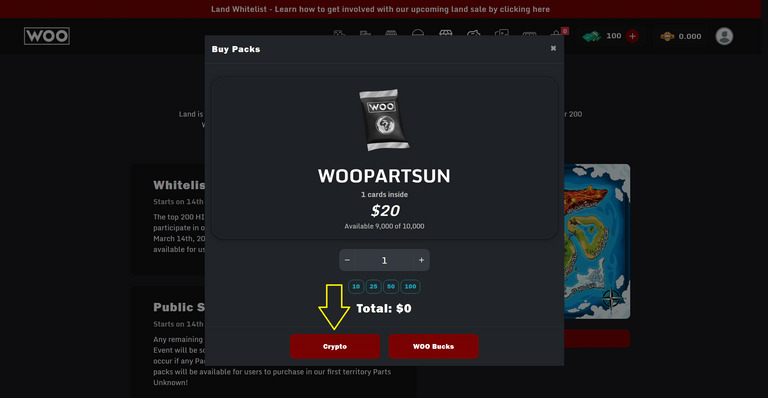 Once you click the icon, a new popup will appear, allowing you to use the various cryptos we accept. You can see those cryptos below: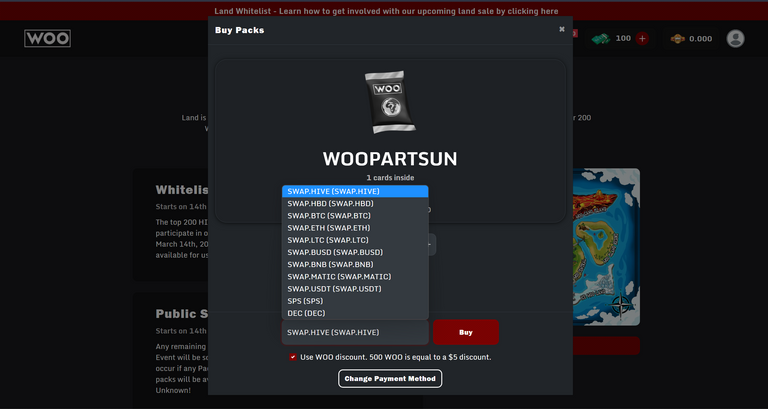 And that's how easy it will be to buy City packs from our first Territory sale starting tomorrow at 9 am EST. Don't forget to join our discord and participate in this historic event!
BE AWARE PURCHASING IS NOT ACTIVE AT THIS MOMENT. THIS IS TO GET USERS PREPARED.

Did you know we've recently launched our witness for @wrestorgonline, if you like what we're creating, please consider supporting us by voting here.
Buy WOO Token and stake your WOO for APY!
Claim your airdrops for holding packs!
Use your NFTs in our minigame or WOO NFT mining!
Follow WOO on Twitter and join our Discord!
Check out our WHITEPAPER!
Get your packs from Hive-Engine and Tribaldex
#oneup #ctp #leofinance #alive #aliveandthriving #archon #neoxian #proofofbrain #hivepizza #spt
---
---