WOO Territory Whitelist Sale Announcement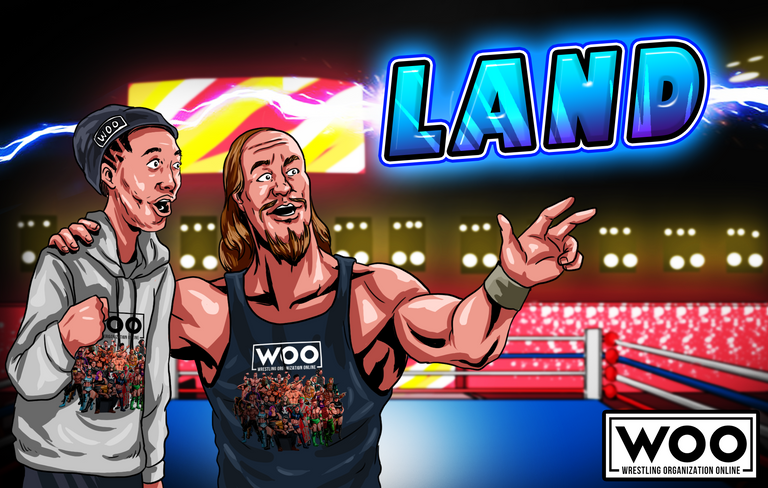 We are incredibly excited to move forward with #WOO Land! We will be holding a sale where users can buy Land from our first Territory. In total, we will release 20 Territories over time. Each Territory will have 10,000 individual cities or a total of 200,000 cities.
Remember, Wrestling Organization Online brings old-school territory wrestling to the #HIVE blockchain. With our first Territory Land sale, we will be one step closer to making that vision a reality.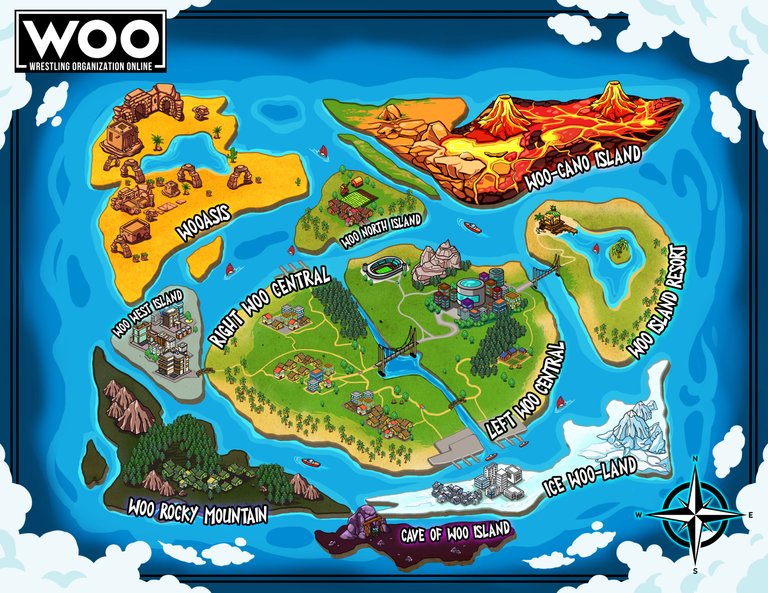 Work In Progress/Proof Of Concept Map Created By @japex1226
WOO Territory Land Whitelist Pre-Sale
This first Territory will have 9,000 cities available for purchase, and we will hold a Whitelisted Pre-Sale Event for 200 Whitelisted users! Users can purchase a WOO Territory City Pack containing 1 WOO Land NFT. This NFT will have random stats in a 3-star system. These stats contain Fanbase, Wealth, and Population. Depending on the stats on the NFT, it will earn $WOO for each match held in the city.
More information on WOO Territories will be published soon, but let's get back to the tiered Whitelist explanation!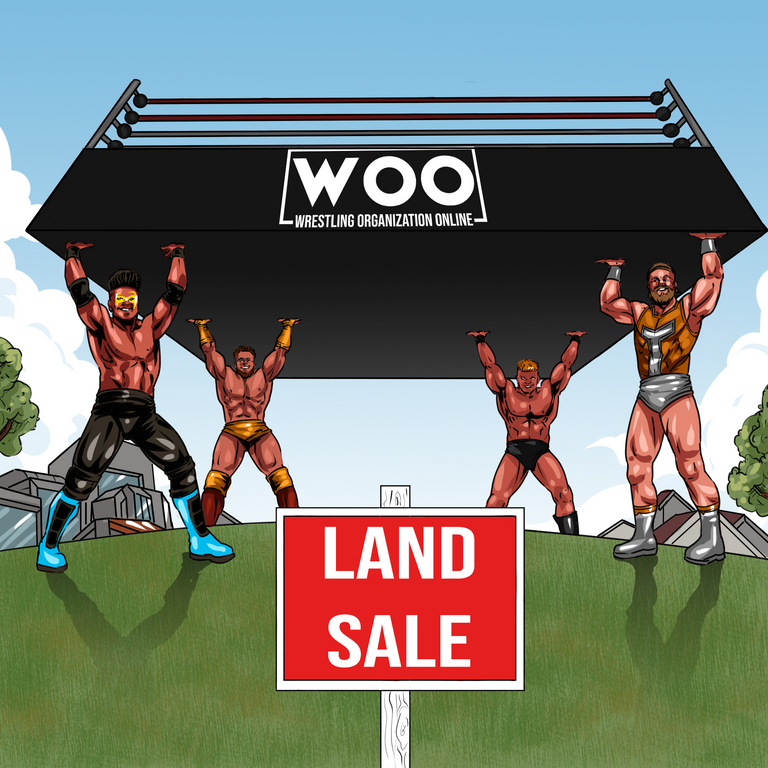 How Many Points Are Needed For Each Tier?
There will be four tiers total, allowing users to buy several Land packs determined by their tier. See below to determine how many points will be needed for each tier.
| Platinum Tier | Gold Tier | Silver Tier | Bronze Tier |
| --- | --- | --- | --- |
| 10,000 Points | 7,000 Points | 5,000 Points | 3,000 Points |
What Benefits Does Each Tier Have?
As stated above, there will be various tiers, and you will need to hold assets to unlock the multiple tiers. Depending which tier you fall into will determine how many individual packs of WOO Land you can purchase.
| Platinum Tier | Gold Tier | Silver Tier | Bronze Tier |
| --- | --- | --- | --- |
| Unlimited Land Buying | 25 Land Buys | 5 Land Buys | 1 Land Buys |
This tiered structure allows users to work together in pools to increase the number of packs purchasable. We feel this will enable countless ways for users to strategize and execute their buy strategies in various ways. Pooling with other users is risky, and you should DYOR and pool with users you trust.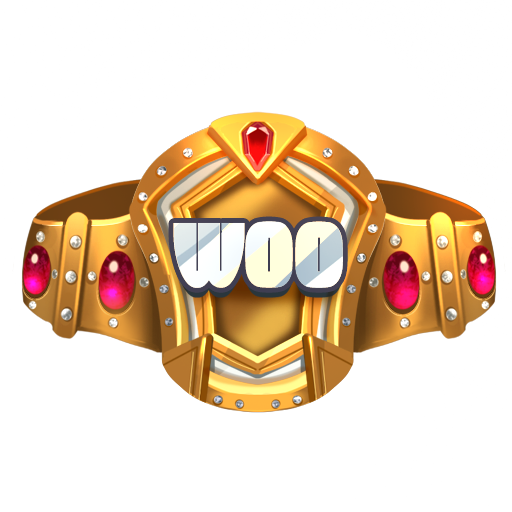 Point Breakdowns For Assets
We tried to give value and options to all users. We have assigned points for each NFT, Pack token, and $WOO token staked. See the following breakdown for each asset.
NFT Point Breakdown
If you chose to open packs or buy NFTs from our NFT marketplace, you could secure a Whitelist spot for our WOO Land Sale! The table below shows how many points each #NFT is worth.
| Common NFTs | Lore/Tutorial NFTs | Rare NFTs | Epic NFTs | Legendary | Staff NFTs |
| --- | --- | --- | --- | --- | --- |
| 1 Point each | 2 Points each | 3 Points each | 4 Points each | 5 Points each | 10 Points each |
We are also giving Gold Belt versions of NFTs x100 points. So, a gold belt common will be 100 points and a gold belt staff will be 1,000 points!
$WOO Token & Pack Point Breakdown
We are also giving value to our tokens allowing players who haven't opened their packs and/or stacked their $WOO bags a chance at a whitelist spot. See below for the point breakdown. Only STAKED $WOO counts. Liquid $WOO will not be calculated for WL Tiers.
| $WOO Token | WOOALPHA Packs | WOOSATURN/WOORAVEN Packs | WOOREWARDS Packs |
| --- | --- | --- | --- |
| 1 Point/500 $WOO Staked | 5 Points each | 3 Points each | 2 Points each |
In Closing
Only 200 users will be able to take part in this Whitelisted Pre-Sale Event, and it will be on a first come first, served basis. We will be taking daily snapshots, which will determine the queue. If a user drops from a tier, their spot will be lost, and they will have to reenter the queue.
For example, Say 250 people fall into Platinum Tier. The first 200 people that gained that position will be the only users Whitelisted. If the top 10 users in the Platinum Tier unstaked/sold assets, they would be moved out of the Platinum tier and added to the bottom of the Gold Tier queue. This would cause ten users who qualified for Whitelist but weren't in the top 200 positions to become Whitelisted.
Also, keep in mind that if Whitelist buys all Land packs, there will not be a general sale. If Whitelist doesn't buy all the WOO Land packs, then the general public will be able to buy what remains. All Land purchased during this first Territory sale will be the only Land sold before the game releases.
The date of the Pre-Sale Event will be announced soon, and the price per pack will also be announced at that time. Use this post as your heads up to start working towards your ideal Whitelist slot. The daily snapshots for Whitelist should begin by the end of December!

Did you know we've recently launched our witness for @wrestorgonline, if you like what we're creating,, please consider supporting us by voting here.
Buy WOO Token and stake your WOO for APY!
Claim your airdrops for holding packs!
Use your NFTs in our minigame or WOO NFT mining!
Follow WOO on Twitter and join our Discord!
Check out our WHITEPAPER!
Get your packs from Hive-Engine and Tribaldex
#oneup #ctp #leofinance #alive #aliveandthriving #archon #neoxian #proofofbrain #hivepizza #spt
---
---