SHARE YOUR BATTLE Weekly Challenge: CRYSTAL JAGUAR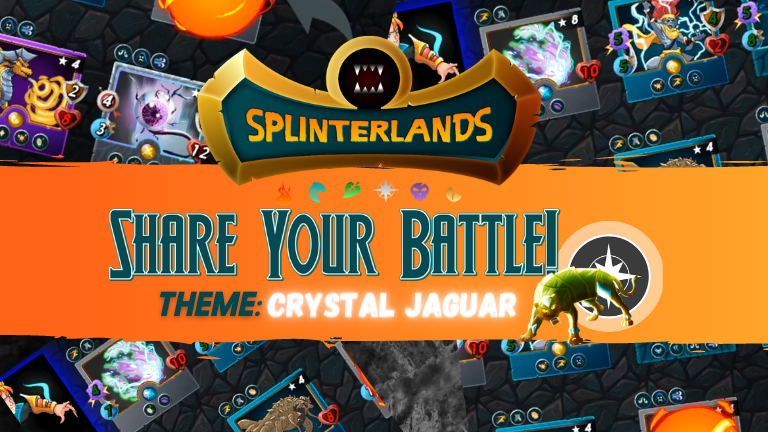 Evening Splinterlands Fans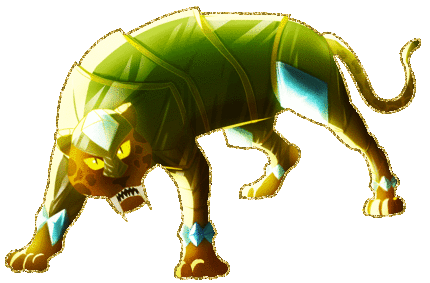 Its been quite a while since I have done 'SHARE YOUR BATTLE Weekly Challenge', so it feels a bit different. But I hope this time I am gonna do this on a more regular basis. For this weeks battle challenge I am gonna go with assigned monster, CRYSTAL JAGUAR. CRYSTAL JAGUAR is a common life splinter melee untamed edition monster.
Here is the amazing lore:
During the historic Obliteration of Light, a family of wild cats was napping deep in one of the caves of the Crystal Forest. They were spared by the wave of destruction, and over time, with no competition for food, the cats grew incredibly large.
Costing just 4 mana, CRYSTAL JAGUAR does have decent health but low speed and attack. The real perk comes Thorns ability starting from lev-4 and Retaliate ability from lev-9.
I own lev-6 CRYSTAL JAGUAR, which is currently sufficient for me in Diamond League.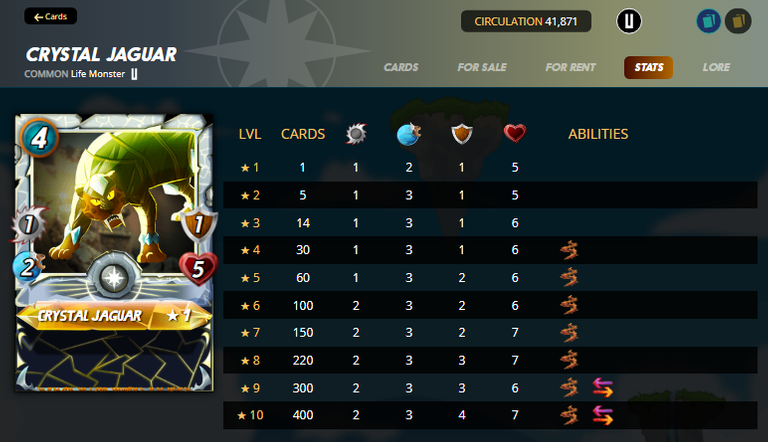 Cost Analysis
Currently there are 41,871 normal foil and 2,729 gold foil CRYSTAL JAGUARs in circulation, costing 0.71$/BCX and 13$/BCX respectively.
The prices skyrocketed just like all other monsters when the bloom came. Normal foils went up as high as $1.0 and gold foils to $32. Prices have been stabilizing lately but since untamed packs got sold out, so with time there might be a steady increase.
Here is the all time price trend of both Foils CRYSTAL JAGUAR, courtesy SPLINTX.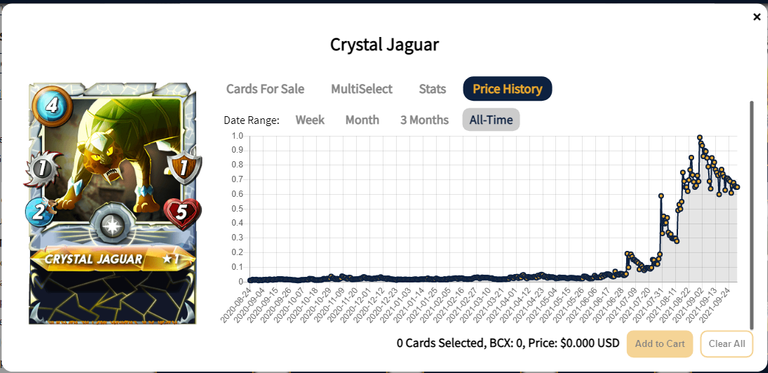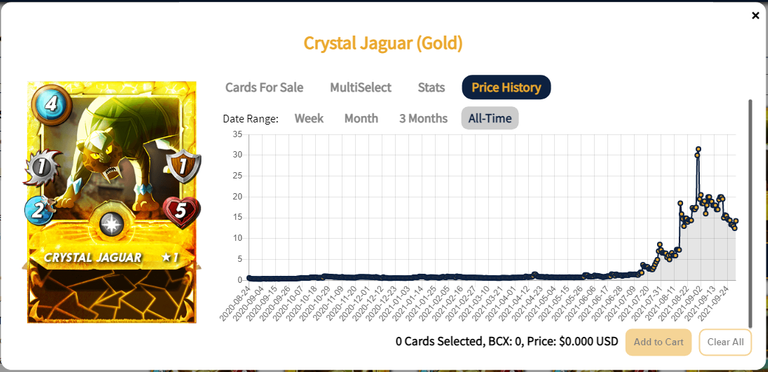 Favored Battle Rules
CRYSTAL JAGUAR works well all in all normal battle rules. It is especially suited for Little League rule set since it costs 4 mana.

Placement
CRYSTAL JAGUAR's main selling point is its Throns and Retaliate abilities. The placement depends upon the battle rules. It can be effectively used as sneak attack protection.

Complementing Abilities
CRYSTAL JAGUAR can be complemented well by summoners like TYRUS PALADIUM, MOTHER KHALA, LORNA SHINE, DRAKE OF ARNAK, DARIA DRAGONSCALE and BYZANTINE KITTY summoners.
As far as abilities are concerned, CRYSTAL JAGUAR can be decently complemented by other monsters with abilities. Best abilities that work best are Protect, Strengthen, Heal, Triage, Repair, Silence and Cleanse.

---
Defense
CRYSTAL JAGUAR can be killed easily using magic or ranged attack. Other option is take out the shield by Shatter or using the Piercing ability.

MY BATTLE USING MOLTEN OGRE
This was a 17 mana battle with two battle rules, Holy Protection and Healed Out.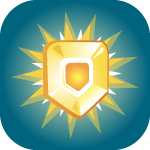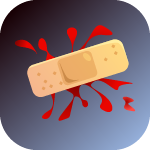 MY LINEUP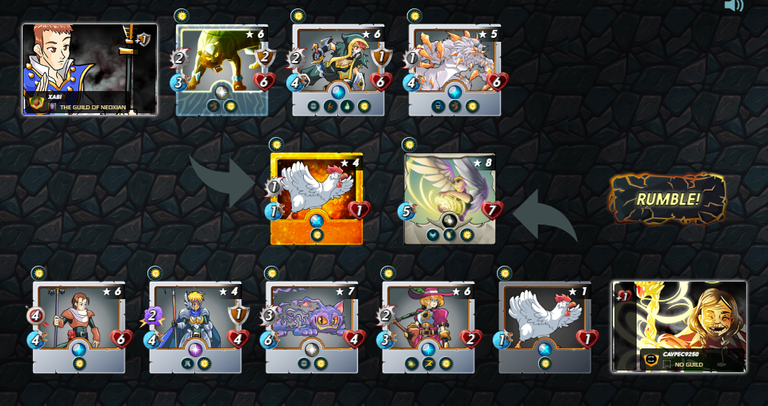 TYRUS PALADIUM
I choose to play with TYRUS PALADIUM summoner. The +1 shield from TYRUS do come in handy especially in low mana battles.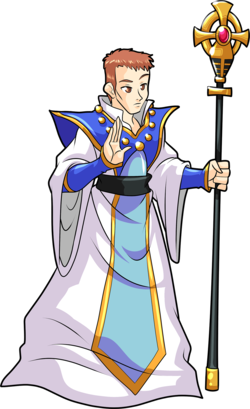 FURIOUS CHICKEN
Upfront I used zero mana monster, FURIOUS CHICKEN to eat up enemies' frontal attack(s). In low mana battles every single attack matters.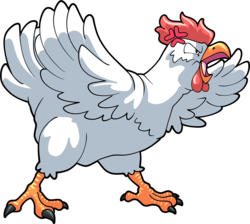 ---
CRYSTAL JAGUAR
Next I used CRYSTAL JAGUAR as a low mana tank, to eat up the enemy frontal assault.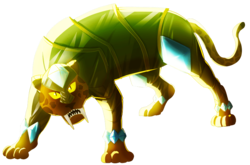 ---
SILVERSHIELD ASSASSIN
Next I placed my main attack monster, SILVERSHIELD ASSASSIN. That sneaky double strike, with poison ability makes this guy a real threat.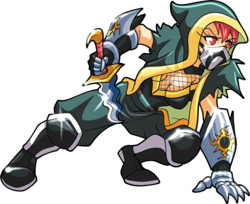 CRYSTAL WEREWOLF
And on the very last I placed CRYSTAL WEREWOLF. Costing just 3 mana, it works both as a sneak attack defender and magic suppressor due to Thorns and Silence abilities.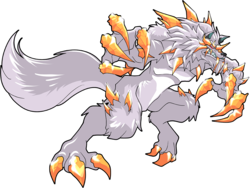 ---

BATTLE ANALYSIS
The battle went as planned. CRYSTAL JAGUAR worked well absorbing attack, meanwhile SILVERSHIELD ASSASSIN ate away enemy from the back. Although SILVERSHIELD ASSASSIN did the killings but CRYSTAL JAGUAR's role was critical in stopping enemy's frontal attack.

That will be all for today.
Take very good care of yourself and people close to you..
Until next time...
👋Adios👋

Don't know about Splinterlands

---




Support @bdcommunity by voting them for witness following this instructions:

Posted via neoxian.city | The City of Neoxian
---
---