Splinterlands: Beware of Poisonous Spiders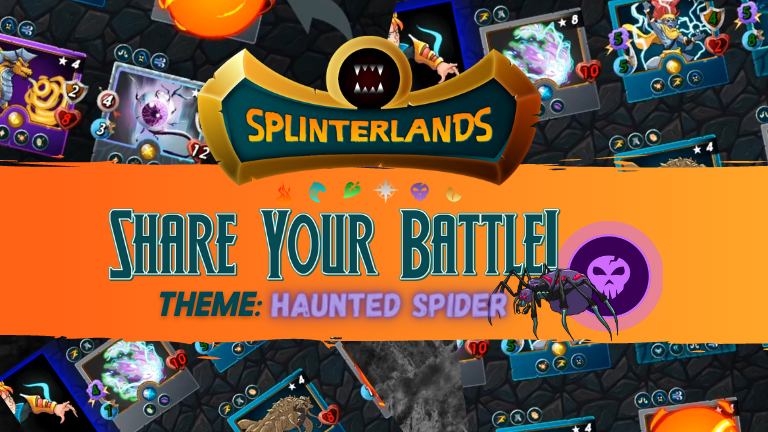 Evening Splinterlands Fans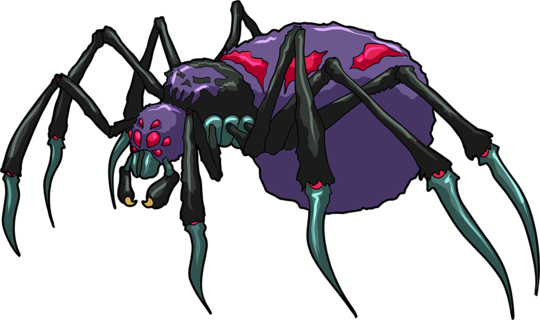 For this weeks battle challenge we go back to the the original Alpha and Bata editions, HAUNTED SPIDER. HAUNTED SPIDER is a common death splinter ranged monster.
Here is the amazing lore:
The second form of a Dark Eternal is determined by the state of the soul. Some of the more twisted souls take insect form, and the Haunted Spider is the favorite. The projectile venom and massive, armored thorax make the Haunted Spider a formidable (and intimidating) enemy in any battle.
Costing just 3 mana, HAUNTED SPIDER have mediocre health and speed. It have low ranged attack but with a very potent poison ability from level-4.
I own lev-4 HAUNTED SPIDER, which is not that much but still sufficient for me as Plosion ability comes at this level.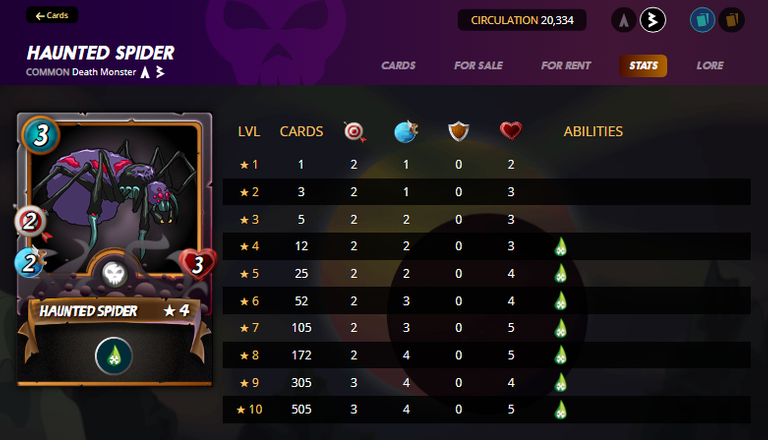 Cost Analysis
Currently there are 7,480 normal foil and 427 gold foil Alpha edition HAUNTED SPIDERs in circulation, costing 0.13$/BCX and 13.64$/BCX respectively. There are also 20,334 normal foil and 1,291 gold foil Beta edition HAUNTED SPIDERs in circulation, costing 0.09$/BCX and 3.34$/BCX respectively
The prices skyrocketed just like all other monsters when the bloom came. Normal foils went up as high as $1.0 and gold foils to $32. Prices have been stabilizing lately but since untamed packs got sold out, so with time there might be a steady increase.
Here is the all time price trend of both Foils HAUNTED SPIDER, courtesy SPLINTX.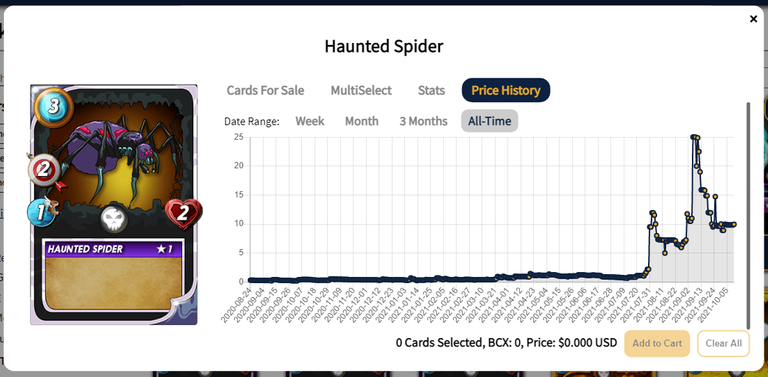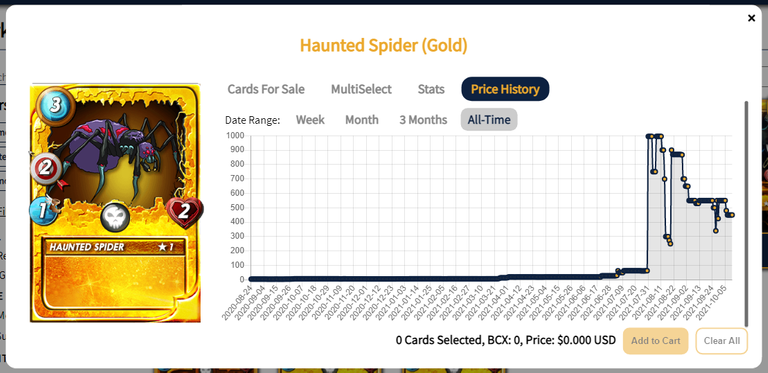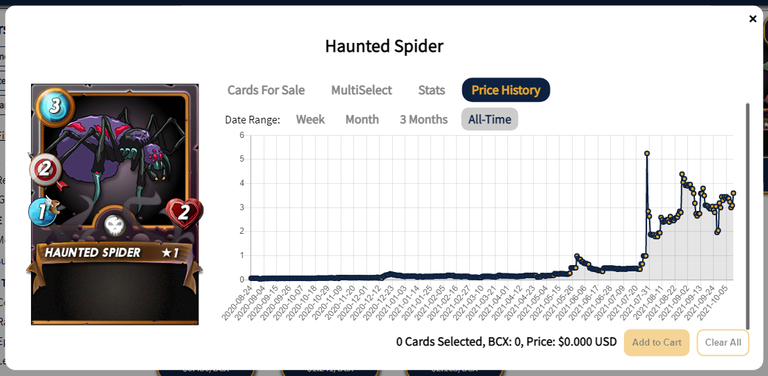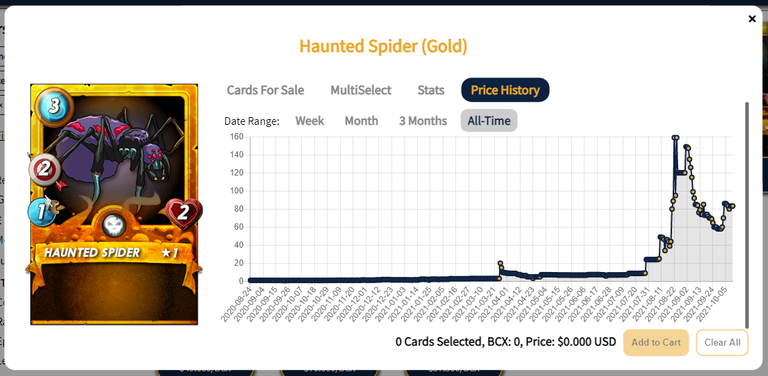 Favored Battle Rules
HAUNTED SPIDER works well all in all normal battle rules. It is especially suited for Little League rule set since it costs just 3 mana.

Placement
HAUNTED SPIDER like all ranged monsters is best suited in the middle back ranks well protected from frontal and sneak attacks.

Complementing Abilities
HAUNTED SPIDER can be complemented well by summoners like ARCHMAGE ARIUS, SELENIA SKY, DRAKE OF ARNAK and ZINTAR MORTALIS summoners.
As far as abilities are concerned, HAUNTED SPIDER can be decently complemented by other monsters with abilities. Abilities that work best are Protect, Strengthen, Triage and Repair.

---
Defense
HAUNTED SPIDER can be killed easily using Return Fire or Opportunity attack. Other option is to use strong snipe attack. Moreover HAUNTED SPIDER's low speed attack can be evaded by high speed.

MY BATTLE USING HAUNTED SPIDER
This was a 34 mana battle with two battle rules, AIM TRUE and HOLY SHIELD.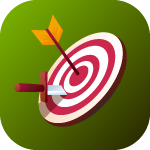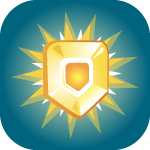 MY LINEUP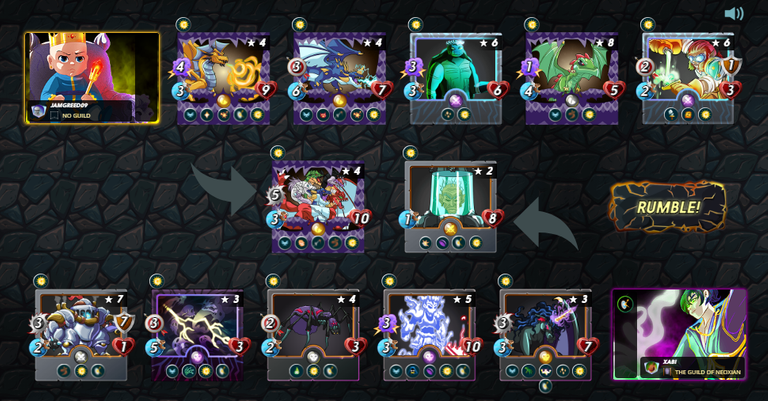 OWSTER ROTWELL
I choose to play with OWSTER ROTWELL summoner due to the enemy's inclination towards using magic attack.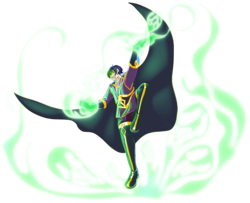 LORD ARIANTHUS
Upfront I used my favorite No Attack tank, LORD ARIANTHUS. This guy can really take some beating, all you need to do is some healer in the back.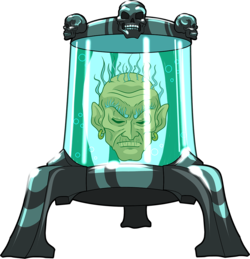 ---
CORRUPTED PEGASUS
On one down I placed the only death splinter healer, CORRUPTED PEGASUS. Decent reach attack with Healing makes CORRUPTED PEGASUS one of the best healer in the realm.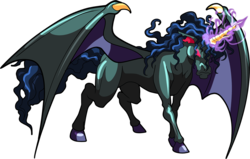 ---
PHANTOM SOLDIER
Next I used PHANTOM SOLDIER, a high magic attack epic monster. PHANTOM SOLDIER offers strong health with Silence, Void and Flying ability. This guy is especially comes handy in high magic battles.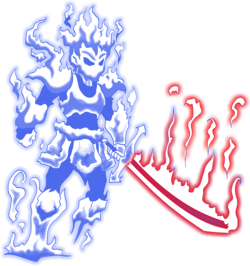 HAUNTED SPIDER
Then came the star of our show, HAUNTED SPIDER. The main attraction of HAUNTED SPIDER is its Poison ability, which has no remedy but Cleansing.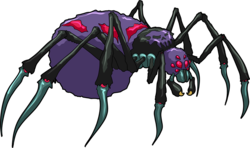 SOULSTORM
Next I place another high attack ranged monster, SOULSTORM. SOULSTORM's high speed along with Snare ensures guaranteed hit.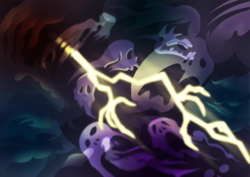 ENCHANTED DEFENDER
On the very last, I placed sneak and opportunity attack defender, ENCHANTED DEFENDER. Heavy shield and low health with Thorns makes this guy a perfect opportunity and sneak attack defender.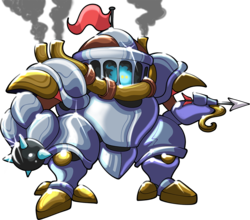 ---

BATTLE ANALYSIS
The battle went as planned. The enemy went with heavy magic attack and using OWSTER ROTWELL proved to be the right decision. HAUNTED SPIDER's Poison ability really came in handy to in taking down the enemy.

That will be all for today.
Take very good care of yourself and people close to you..
Until next time...
👋Adios👋

Don't know about Splinterlands

---




Support @bdcommunity by voting them for witness following this instructions:
---
---