Ferexian Hero - Splinterlands Art Contest Week 228

Greetings my dear Hive community!!!
Very good evening my #Splinterlands fans and dear Hivers, I hope you had a lovely weekend. I haven't created anything for my favorite contest for a long time, so I'm back my dear friends.🙌🏻😁
For this illustration I wanted to take a little risk because in all my years creating fantasy I never dared to make a #Minotaur so after seeing that this card existed I didn't think twice and I said to myself... Today is the big day, it was time to do it.💪🏻😋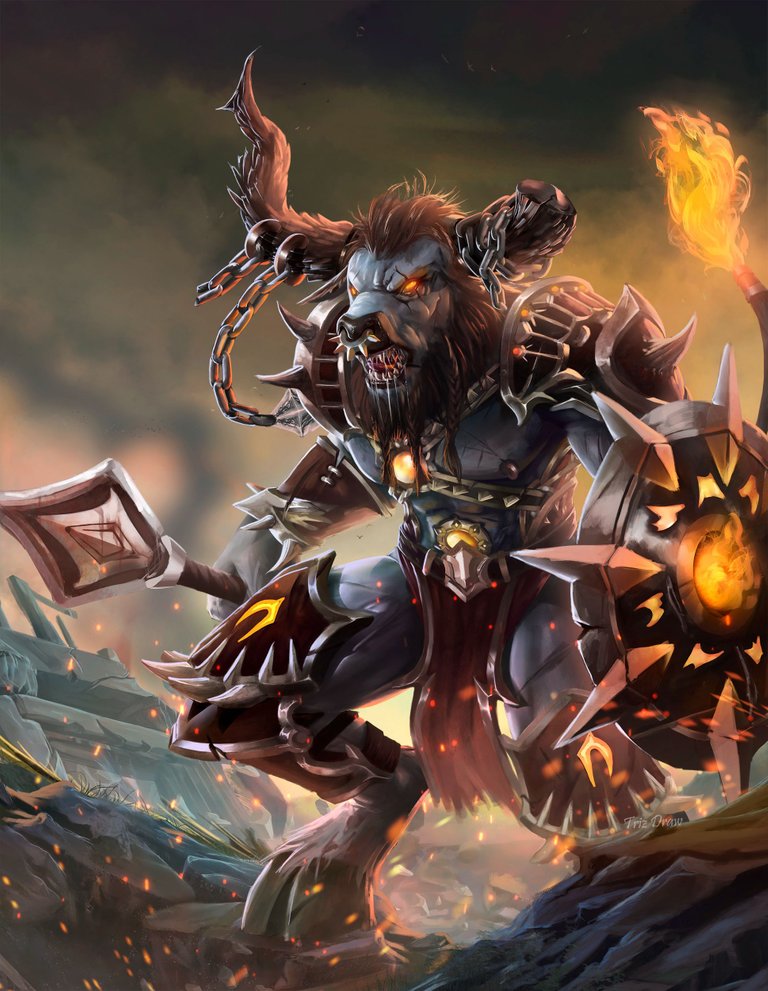 I hope you like it, this is my first time making this kind of fictitious creature and I put a lot of effort to my work, do you think it turned out well or on the contrary, do you think this design lacks more render? 🤔😱😅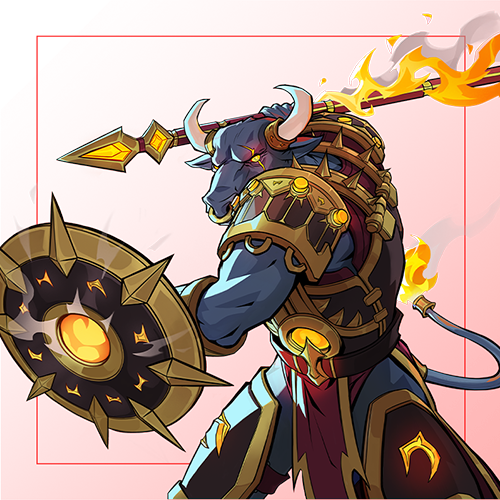 Ferexian Hero
💖💖💖
Ferexian Hero is called the card and I know it's been many years since I've played #Splinterlands, but this card looks supremely strong... Of course, speaking from my point of view where my old deck of cards there weren't any cards with these stats, at least the ones I had weren't like this. 🫲🏻😉🫱🏻
Now they are like stronger, that's what I have seen... I apologize if I am wrong. Someday when time allows me maybe I'll play for a while and spend some time losing with everyone hehehehehehe. 🤣🤣🤣

Some images of the process
---
Step 1️⃣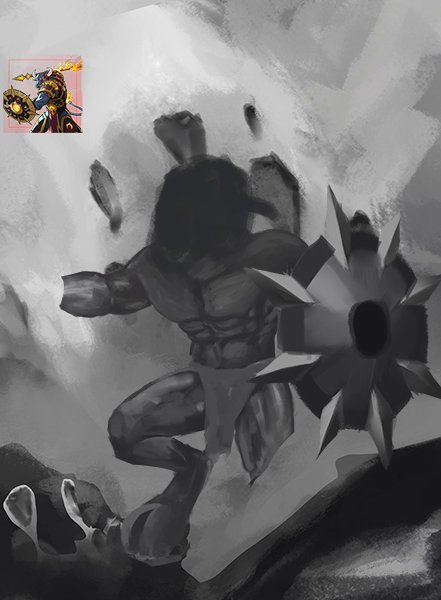 A pretty normal start, no Lineart "what a weird no😅", no sketch just a simple thumbnail, a blob that I shaped, practically a clay 😆, I thought a little grey would make life simpler.
-.-
Step 2️⃣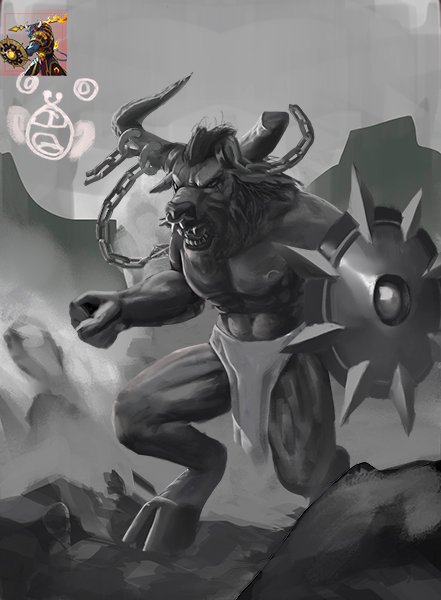 I didn't exactly have a clear position, I just wanted a little lean and a few things but important, he had to be screaming , very annoying and intimidating 🤔😳🤣😅 that was enough.
-.-
---
Step 3️⃣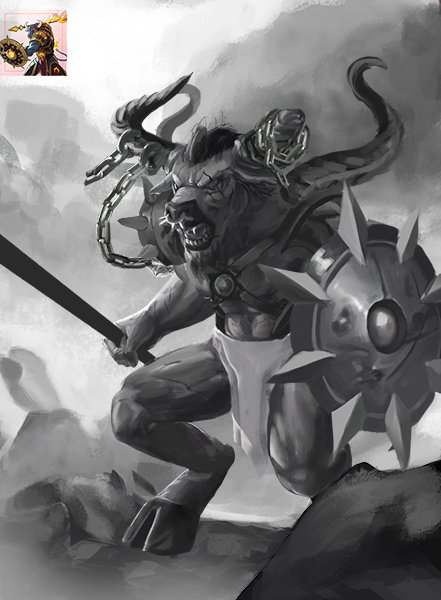 I almost never do that, in fact I rarely focus on that but in this drawing I practically spent more time on the grayscale than painting and more rendering, I mean I focused more on shaping the clay until I had a model that if I liked it, so that took time... Btw this was a variation, I wanted to add two more horns that would come out from the neck of the Minotaur but then I gave up because maybe I had already made some changes to the design of the card itself, so I removed it 🤔😆.
-.-
Step 4️⃣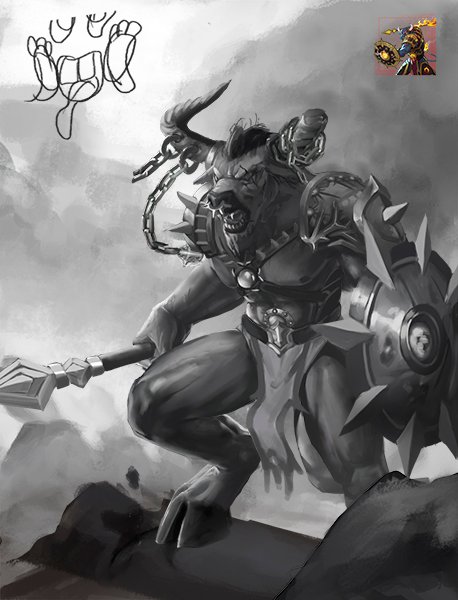 Well, after playing for a while like a babe with the clay, I thought it was time to grow up and leave it up to here, of course I have mixed feelings because at first it looked like a tiger 🐯 🐅 then it looked like a goat or something 😳😱, I think at this point it looked a little more like a bull 🥲, I didn't want to continue maybe later it would have a dragon 🐲 or something 😅.
-.-
---
Step 5️⃣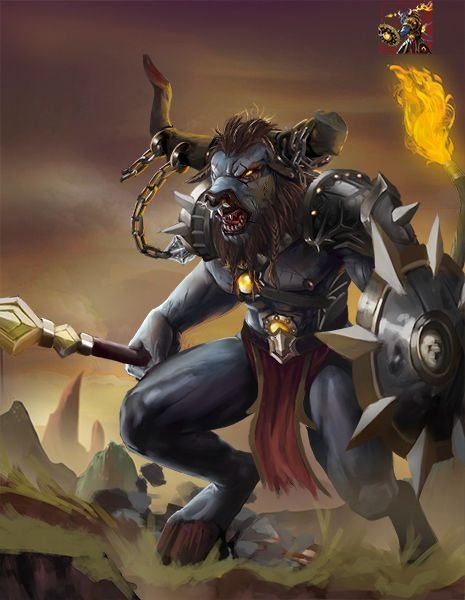 Finally the color🥲😱😱😱, a few layers with overlay, not so strong, to give some color to this grey😳 annoying guy. In fact, in that step I was a bit destructive because I didn't respect the edges, lines and stuff like that 🥴, usually in my old fan arts I take the essence of the character, change some things and interpret it my way but in this case if I went a bit overboard I made more changes than usual, it still looks like the character?🤔👉👈
-.-
Step 6️⃣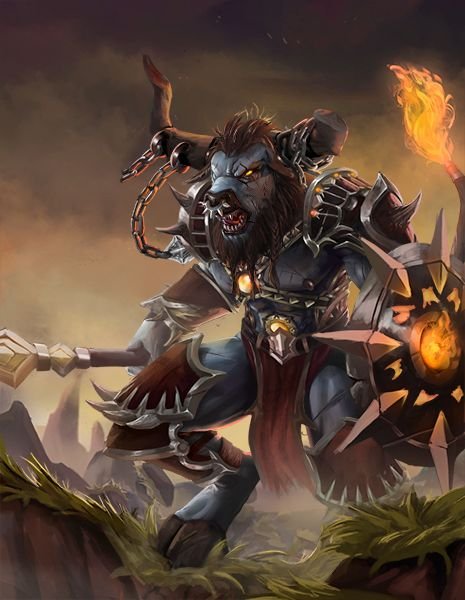 You might wonder why I did a full body with legs and everything when that won't show up?🤔😳😱 I'll answer you! even though it didn't show up in the end and I spent time on nothing it was good to do it 😸 before I used to avoid doing things and cover up body parts that didn't look so decent to me, that doesn't work every time, don't do it "tip of the day". 🤣🤣🤣
Among the small changes I made to the character, is the armor, the design and color I didn't like so golden, shield because I even avoided thin lines I wanted the character to look rustic so something thicker was going to work better and fur that on the card didn't have I added some. 😆
-.-
---
---
Final result 😘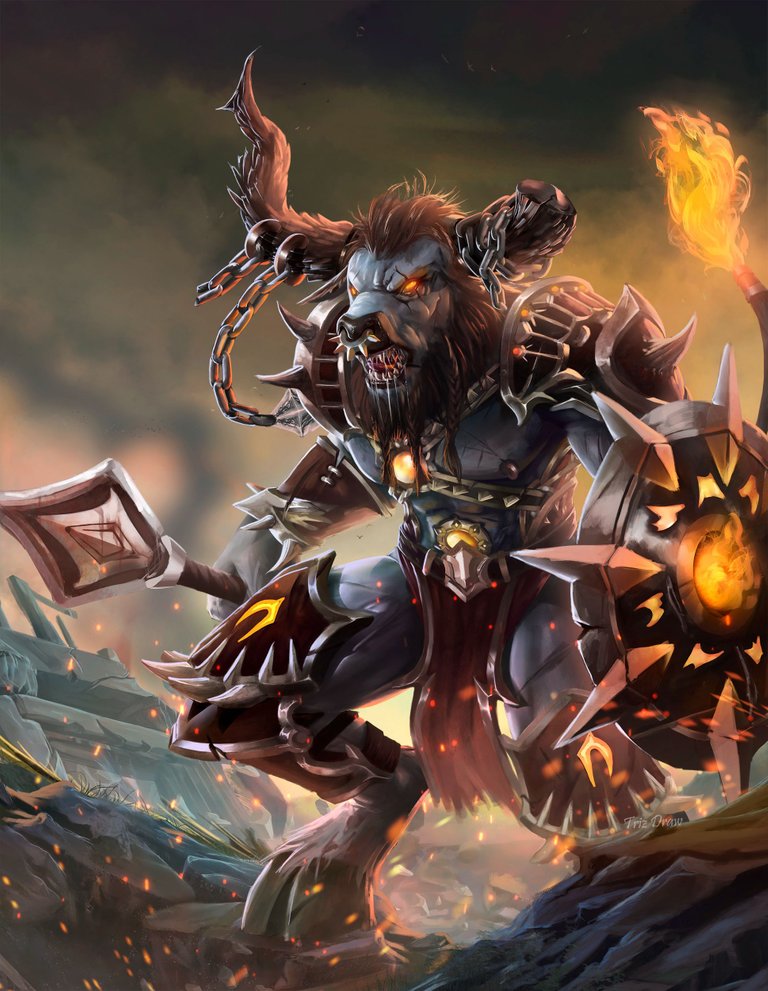 Some battle wound marks
The background hmmmmm it's kind of a separate class I started out being something but every time I left the Pc when I got there I didn't get the idea and changed it. 😳🤣
So this is what you see that in my opinion is more in line with the character... This was all my work, again I hope you liked it and see you soon.😴😴
---
.-.-.-.-.-.-.-.-.-.-.-.-.-.-.-.-.-.-.-.-.-.-.-.-.-.-.-.-.-.-.-.-.-.-.-.-.-.
.-.-.-.-.-.-.-.-.-.-.-.-.-.-.-.-.-.-.-.-.-.-.-.-.-.-.-.-.-.-.-.
.-.-.-.-.-.-.-.-.-.-.-.-.-.-.-.-.-.-.-.-.-.-.-.-.-.-.-.-.
.-.-.-.-.-.-.-.-.-.-.-.-.-.-.-.-.-.-.-.-.-.
.-.-.-.-.-.-.-.-.-.-.-.-.-.-.
These are the last drawings 👉🏼😘👈🏼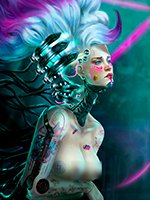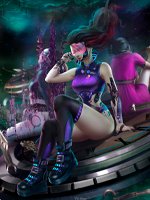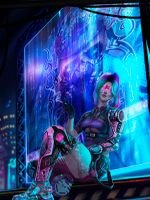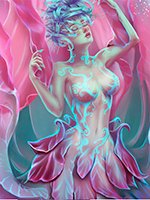 ---

What did you think of all this?
I would love to know your opinion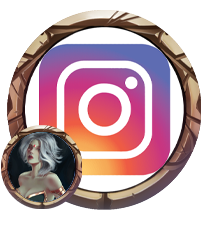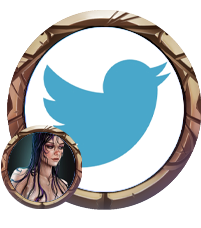 Ohhh BTW
I thanks for reading this
Follow me if you want
🤗🥰😉😘😘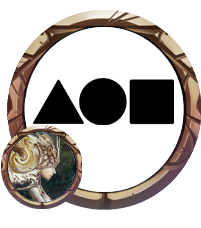 See you soon Hive!

🤭🤐🥹😍😍😍💖💖💖😋🤭🤣🤫🍾✨🥹🖨️😍🫣😍🥰
---
---