Mein Brawl-Ergebnis / My Brawl result (Quora now Lv.3)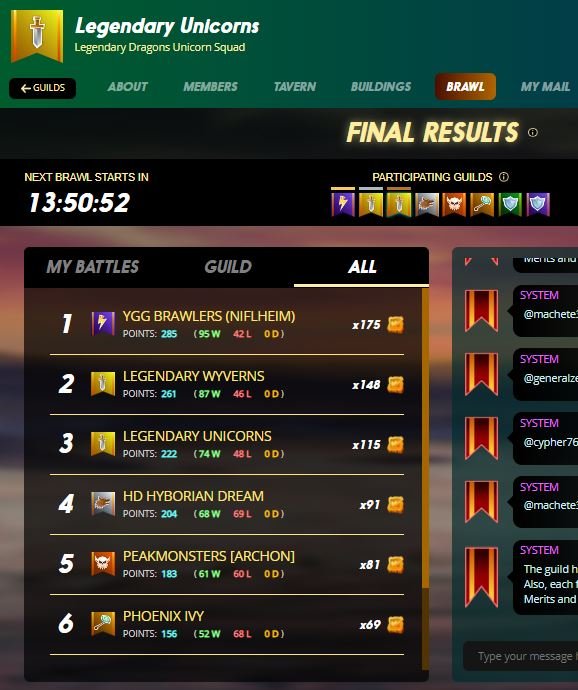 Am Wochenende ging der nächste Brawl zu Ende.
In der Vergangenheit waren die Brawls der Legendary Unicorns in Tier 4 nicht so erfolgreich. Zumeist fanden wir uns auf den unteren Rängen wieder.
Bei der letzten Ausführung hatten wir jedoch ein bisschen Losglück bei der Zusammenstellung der Gegner und ein bisschen Hilfe bei den Battles.
Somit fanden wir uns am Ende auf dem dritten Rang wieder und mussten nur den YGG Brawlers (Niflheim) und den Legendary Wyverns den Vortritt lassen.
Over the weekend, the next Brawl came to an end.
In the past, the Legendary Unicorns Brawls in Tier 4 were not that successful. Most of the time we found ourselves in the lower tiers.
However, in the last one, we had a little luck of the draw with the opponents and a little help with the battles.
So we ended up in third place, beaten only by the YGG Brawlers (Niflheim) and the Legendary Wyverns.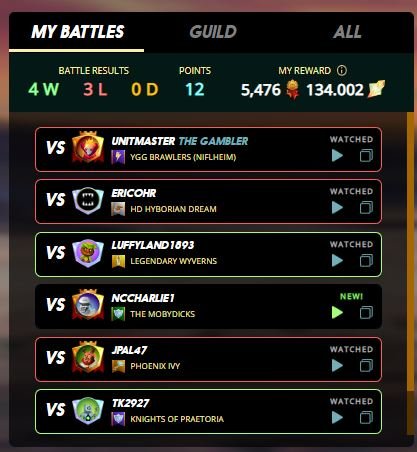 Auch bei meinen Battles konnte ich 4 Stück von 7 Battles gewinnen und dem Teamerfolg 12 Punkte beisteuern.
https://splinterlands.com/?p=battle&id=sm_GtTGbSzKlQ8cmXzfz9dj
Bei diesem Battle habe ich erst nicht verstanden, warum ich hier einen Gewinn erreiche und warum der Soul Fiend nicht vergiftet wird. Aber er stirbt ja einmal und wird dann wieder geboren und hat dann keinen negativen Effekt mehr.
I also won 4 out of 7 battles and contributed 12 points to the team score.
https://splinterlands.com/?p=battle&id=sm_GtTGbSzKlQ8cmXzfz9dj
In this battle I didn't understand at first why I get a win here and why the Soul Fiend is not poisoned. But he dies once and is then born again and has no negative effect.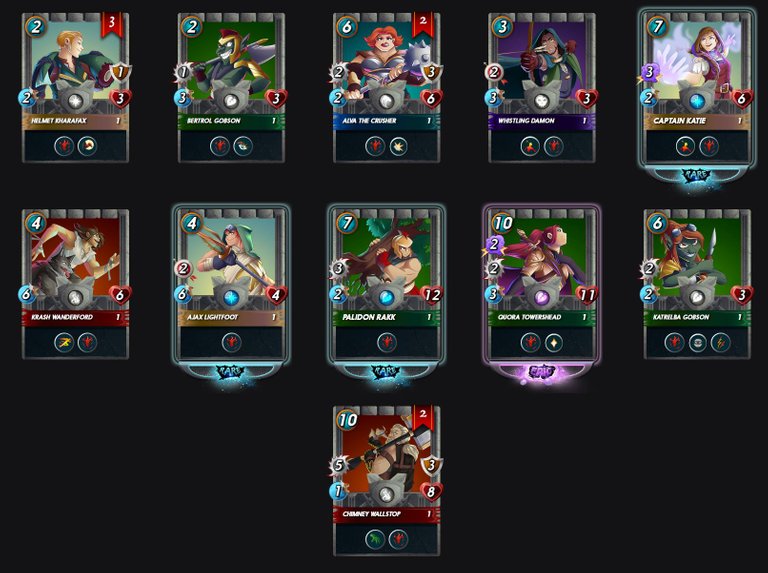 Der dritte Platz im Brawl brachte mir 5.476 Merit und 134 SPS. Ein Teil der SPS geht an die Gilde. Die Merits habe ich genutzt um ein paar Gladius Cases zu kaufen. Da ich noch ein paar Merits übrig hatte, reichte es dieses mal für 3 Cases.
Neben 3 seltenen Karten hatte ich auch mal wieder eine Quora Towersehad dabei. Die mag jeder! (Nur nicht der Gegner)!
Third place in the Brawl earned me 5,476 Merit and 134 SPS. A part of the SPS goes to the guild. I used the Merits to buy some Gladius Cases. Since I still had some Merits left, it was enough for 3 Cases this time.
In addition to 3 rare cards, I also had a Quora Towersehad again. Everybody likes it! (Only not the opponent)!
---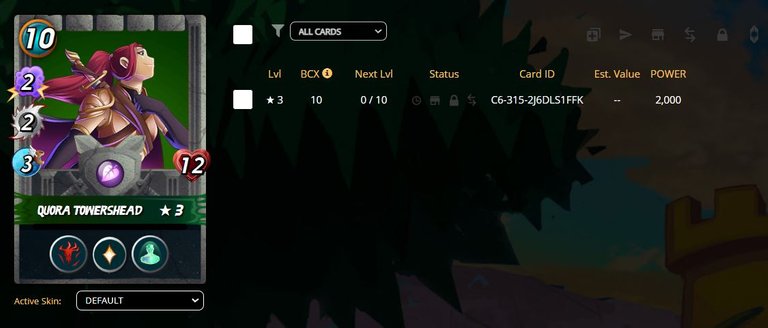 Das Beste an der Quora ist, das es bereits meine zehnte war und das ich sie ab jetzt auf Level 3 spielen kann. Mit der Fähigkeit "Immunity" wird Sie noch um einiges Stärker.
The best thing about the Quora is that it was already my tenth and that I can now play it at level 3. With the ability "Immunity" she becomes even stronger.
---
So, nach dem Brawl ist vor dem Brawl! Wir sehen uns in der Arena!
So, after the Brawl is before the Brawl! See you in the arena!
Translated with www.DeepL.com/Translator (free version)
---
---