TEMPORAL MASTER - SHARE YOUR BATTLE Weekly Challenge !!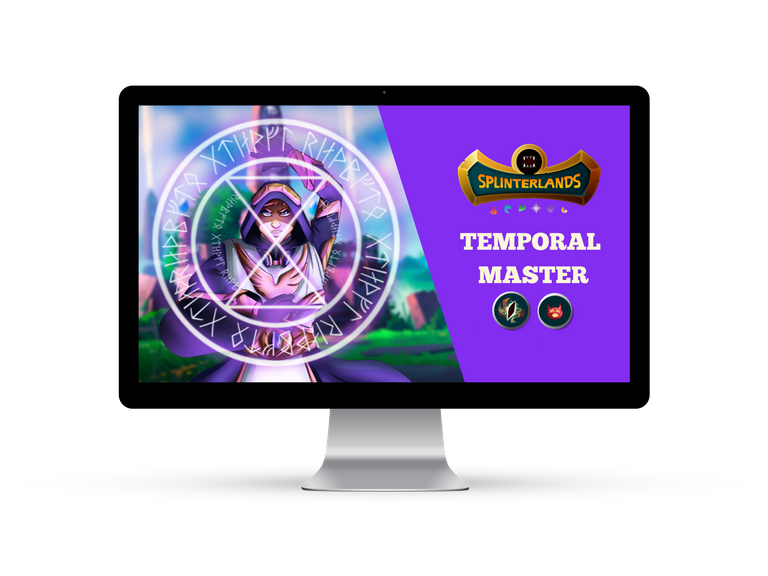 Hello @Splinterlands folks, I hope you guys are doing well. As most of you know, I have been playing splinterlands from the beginning, Most of the time, I was focused on Card/Pack trades, Tokens & in-game Battles. That's why I was irregular in blogging about splinterlands, But earlier I shared many of my Beta/Untamed/Orb/Dice packs opening results on my alt @zaku-spt account. Besides this, I am also the owner + curator of @bdvoter on hive blockchain. So, recently I started curating different @splinterlands topics/contests posts, and then I noticed SHARE YOUR BATTLE Weekly Challenge !!. That's why I decided to participate in this challenge. This week the Splinterlands Grand Contest Share Your Battle card belongs to the Earth Element, is relatively recent, and goes by the name of TEMPORAL MASTER, tbh there are very few times I used this card. But this time he really did his job well.

TEMPORAL MASTER


Temporal Master is really a good card considering his mana cost along with a healthy stat. It is a epic rarity card that belongs to the Life element. It costs 3 mana to be used on the battlefield and its attack type is magic. Let us now take a deeper look into its stat and abilities tier-wise below.
| ABILITIES | NAME | LVL | BATTLE BENEFITS |
| --- | --- | --- | --- |
| | Recharge | 1-6 | Recharge will ignore the Forcefield ability only if the base damage is less than 5. Recharge is one of the modifiers applied after a Forcefield check is done on the base damage. Damage returned from Magic Reflect or Return Fire is based on the creature's base attack damage, not the total damage done from the Recharge ability. |
| | Stun | 6 | A monster will remain stunned until right before the monster that applied the stun, takes its turn in the subsequent round. Let's say monster A stuns monster B. The stun on monster B will last until monster A takes its next turn. At the very start of A's next turn, monster B will become un-stunned, and battle will proceed accordingly. |
Bronze
At level 2, this card possesses 1 magic attack at 2 speeds and 3 health.
Silver
At level 3, this card stayed as same magic attack and speed, but this time with 4 health.
Gold
At level 4-5, this card increases its magic attack from 1 to 2 while having 2 speeds and 5 health. Though Level 4 has 4 health.
Diamond / Champion
At level 6/max, this card stayed as same magic attack, speeds & health as level 5, but it gets another ability - Stun.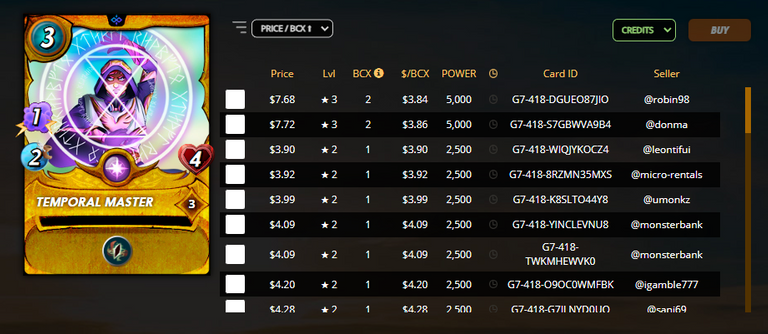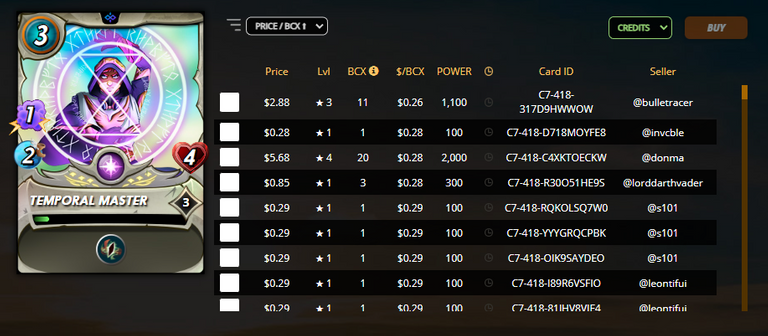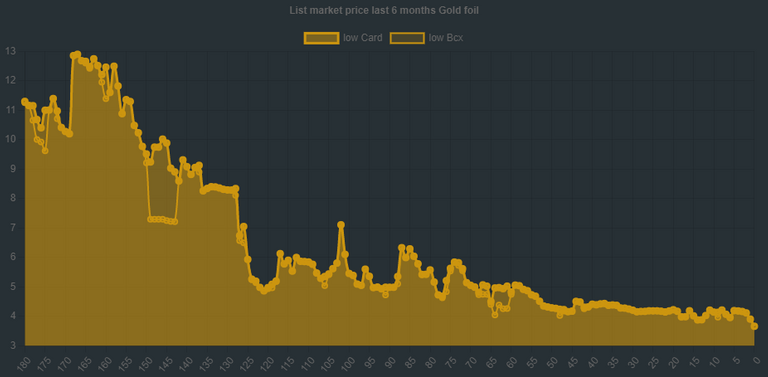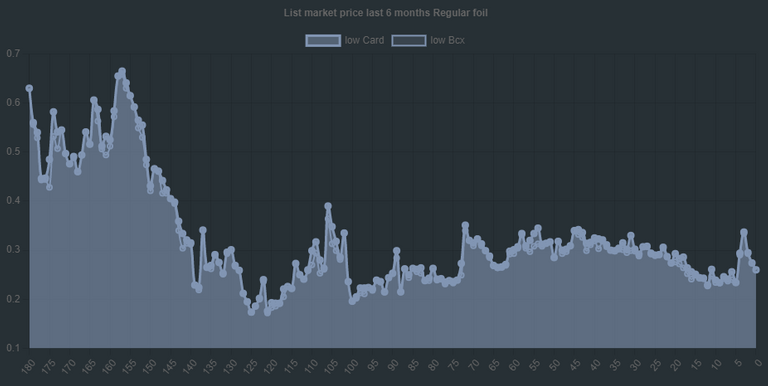 ---
TEMPORAL MASTER is currently being sold in the splinterlands market starting from 0.28$/Bcx Regular foil and 3.84$/Bcx Gold foil. There are a total of 89296 Bcx has been printed so far, with 35260 BCX Regular foil & 2217 BCX Gold foil currently circulating. 43 Bcx Regular foil & 2 Bcx Gold foil already burned. Also if you noticed the last 6 months' market price activity then you will notice both regular foil and gold foil were on peak 5 months ago, but atm gold foil price is at the bottom, on the other side regular foil is doing well and stayed near the 0.30$ mark.


BATTLE RULES
| | | |
| --- | --- | --- |
| Mana Cap | | This is a battle of medium mana. |
| Active Splinter | | Fire, Water, Life, Death Splinters Active |
| Rule Sets | | Noxious Fumes: All monsters start the battle poisoned. Holy Protection: All monsters have the divine shield ability. |
LINE-UP AND STRATEGY
| Monster | Placement | Strategy |
| --- | --- | --- |
| | Summoner | Grandmaster Rathe - This Summoner has abilities that support these rulesets because they provide +1 Armor, Void Armor, and Amplify buffs. |
| | First (Tank) | Pelacor Conjurer - One of the best low mana tank of the game. It costs only 2 mana and has magic reflect abilities and also has decent health. |
| | Second (Support) | Herbalist - Another low mana ranged Support monster which has 2 different abilities. This card has Cleanse and Triage abilities, All these abilities possessed are very useful for battles in the Gold league. |
| | Third (Support + Attack) | Adelade Brightwing - Legendary Chaos Legion card of life Unit, One of the best support card of the game. This card has 4 different abilities - Flying, Repair, Resurrect & Immunity. That means this card Immuned from Noxious Fumes and all other negative effects and also Resurrect a friendly monster who dies at first. |
| | Fourth (Support) | Spirit Hoarder - One more low mana neutral legendary support card. It has 1 magic attack and 3 different abilities - Triage, Dispel & Blind. All these abilities possessed are very useful for battles in the Gold league. |
| | Fifth (Attacker) | Stitch Leech - This is a 3 mana melee attack monster, It has two very useful abilities - sneak & life leech. While others focused on attacking tank this card target the last monster on the enemy team & gain some health from successful damage. |
| | Last (Attacker) | Temporal Master - This is a 2 Magic Attack card and I have taken this card to the last position. Since this card has a recharge ability, it attacks every other round and deals 3x damage. |
BATTLE COMMENTS
https://www.twitch.tv/videos/1645122657
As you guys can see my opponent used Lorna Shine which is also a life splinter summoner, But if you noticed on the Rule set there is already Holy Protection: All monsters have the divine shield ability. buff to all monsters. Then I don't see any reason to use lorna shine, unless you don't have any other summoner available. MIIK also used Pelacor Conjurer as tank, Kralus as the second tank, Venator kinjo in the third position & Adelade Brightwing At last position. So All I can see is my opponent gave priority to the immunity ability, Because of the Noxious Fumes: All monsters start the battle poisoned. rule set. From my side, I already got Holy Protection from the battle rules and to fight back Noxious Fumes I gave priority to Triange ability, which will Heal friendly back-line monsters. Also, I used Adelade Brightwing for Repair and Resurrect abilities.
Honestly, not having a monster with the Reflection Shield Ability on the opposing team was a disadvantage for them and a huge advantage for my team. My strategy worked pretty well in this battle and my team managed to beat a powerful team in 6 rounds.
Round 1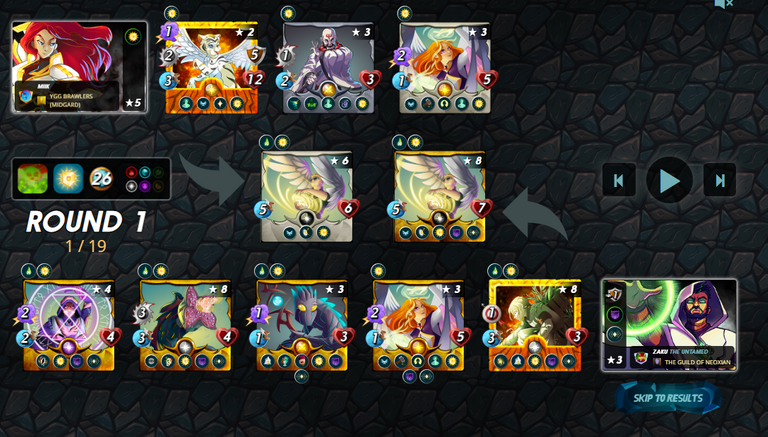 The battle begins with the giving of buffs and debuffs from all Summoners and Monsters. Grandmaster Rathe helped me with his Armor, Void Armor, and Amplify buffs. Herbalist cleanse ability helped to remove the poison effect from Pelacor Conjurer. So now my 4 monsters are poisoned.
Round 2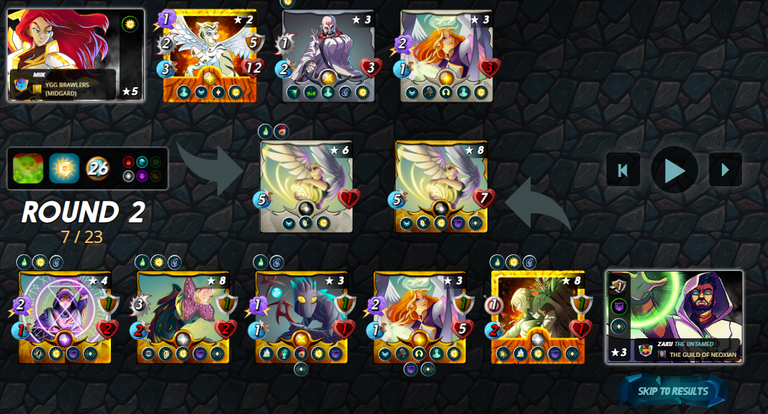 This round start with poison damaged, where 4 of my monsters and 1 enemy monster got 2 damage each from poison effect. After poison damage enemy tank have 1 life and Herbalist attacked and killed the opponent tank (Pelacor Conjurer), but then opponent Pelacor Conjurer got resurrected with 1 health by their Adelade Brightwing and that's when my Stitch Leech sneak melee attack Adelade Brightwing and killed her. Also on this round Temporal Master Attack with 6 magic attack against Kralus.
Round 3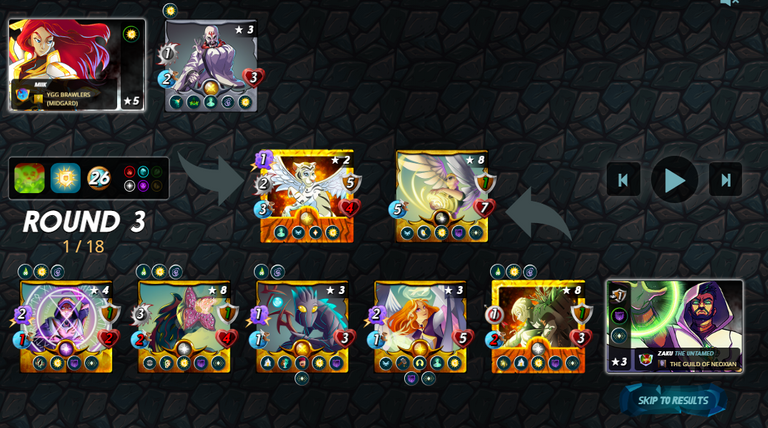 Another round and another poison damage time from the rule set, This time enemy team had only 2 monsters and both of them were immune from poison. On the other side because of poison damage, I lost Temporal Master at the very start of this round. But, I had Adelade Brightwing on my team so she resurrect Temporal Master and this time Temporal Master doesn't have any poison effect on him.
Round 4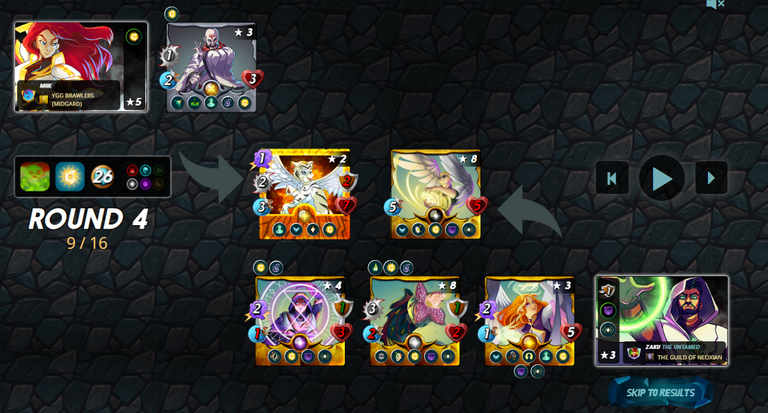 Because of Poison two of my monsters have been killed and now I 4 monsters left in my team. But my tank Pelacor Conjurer still managed to survive all because of the shield repair by Adelade Brightwing. Temporal Master also attacked this time and because of his big 6 magic attack, Kralus has been killed.
Round 5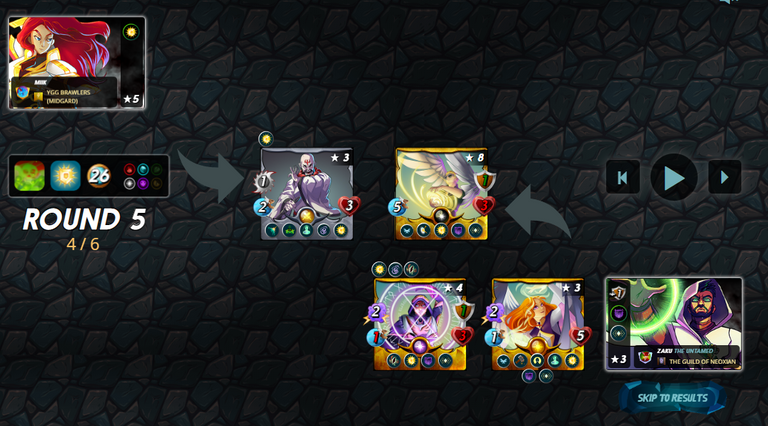 After poison damage, I had 3 monsters left in my team and the enemy team had only 1. So it was already decided that I am going to win the match. Venator kinjo survived this round because of his Divine sheild.
Round 6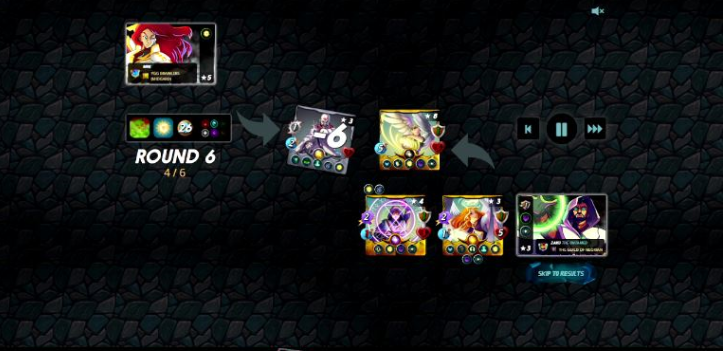 On this round, there was no poison damage. Temporal Master did his job and finished the match with a big 6 magic blow.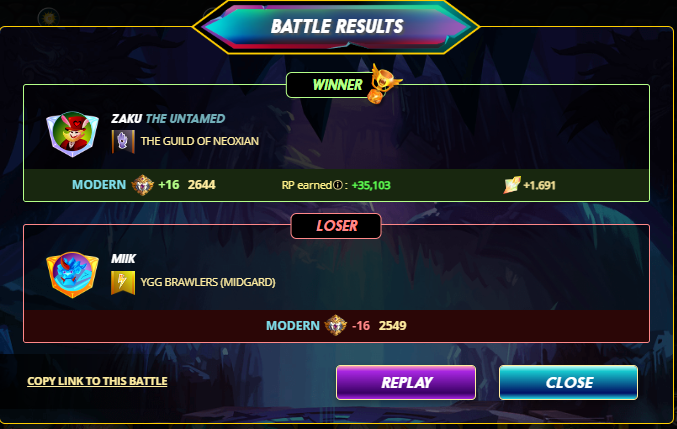 It was indeed a fantastic match and Temporal Master also performed very well this time. All of his recharged attacks helped my team to destroy the enemy team. Adelade Brightwing also helped me very well, all of her abilities were very helpful on the battleground. I would say it was an interesting low-mana game. I enjoyed this match very much and I hope you enjoyed this well. What are your thoughts on the battle? Let me know in the comments below and I will be seeing you all in my next post.

---
---