Zallin - SHARE YOUR BATTLE - DJINN CHWALA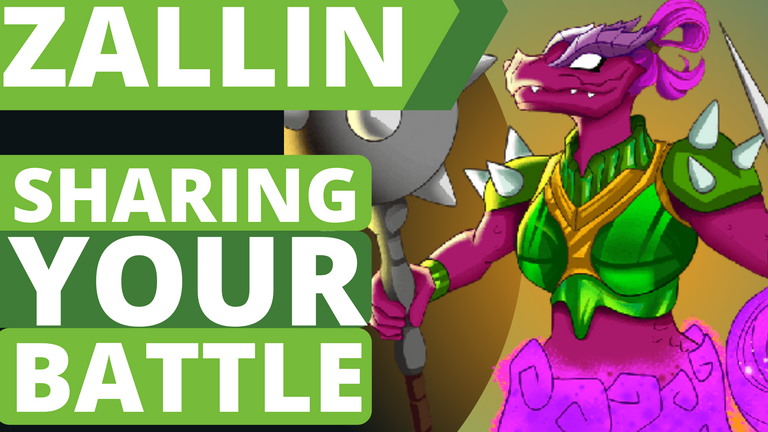 After a long rest I'm coming back with my posts, This time the card chosen for Sharing Your Battle was Dragons, I like this theme because it covers a lot of cards among these I chose Djinn Chwala, I really liked her art which is a combination of Djinn and Dragon 😄 and it's still powerful and cheap. it is among my favorite cards of this element.
Djinn Chwala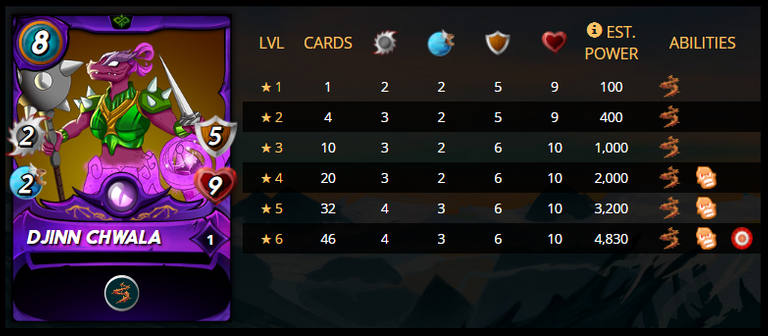 Djinn Chwala is an excellent epic card of the Dragon element, it was released in the current rewards set, it is very popular being used almost always in the first position, it has a very robust HP, a lot of armor, a medium damage and a low speed. with all her attributes plus her initial skill Thorns makes her a powerful tank, being able to acquire at higher lvls two extremely useful skills for her position in the game such as Enrage (to increase her attributes even more) and True Strike (to compensate for the lack of speed).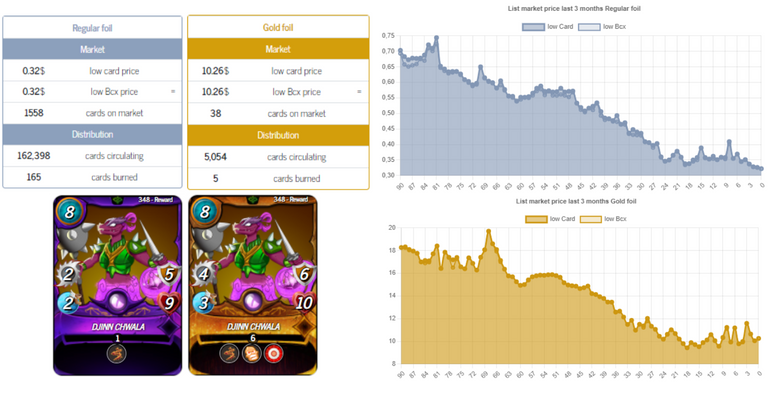 Its price today is around 0.32$ in its Regular version and 10.26$ in its Gold version, the value of the regular version continues to fall, it is worth remembering that it gains +1 damage at lvl 2 making it even more powerful.
My Team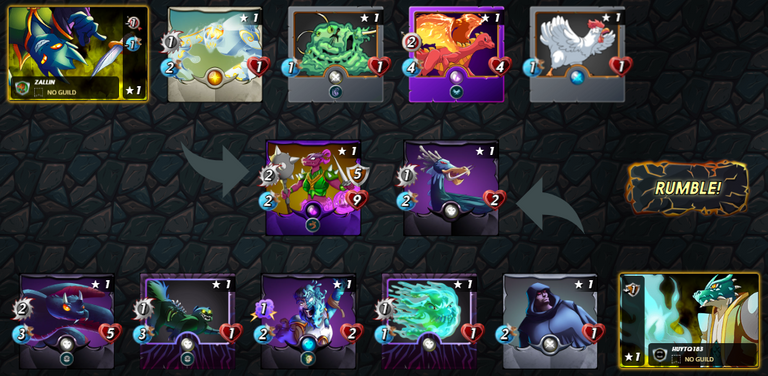 | Rule | Effect |
| --- | --- |
| | Standard: No modification to the standard gameplay rules and mechanics |
This time I brought a battle with little mana, I chose Summoner Quix The Devious for this match, I really like it when I combine it with other cards that have the slow ability like Ooze, I chose white as a partner only to use the 0-cost demon and for DPS I like my fire spliter a longtime partner. I didn't deviate from the lineup pattern and put Djinn Chwala as a strong tank in the front line.
| Card | LineUP |
| --- | --- |
| | Summoner : Quix is an incredible summoner, I like to do the slow combo with him and ooze, and he can also weaken ranged attacks. |
| | Tank : Djinn Chwala is an excellent card for this position, it can absorb a lot of damage because it has high armor and HP, Thorns skill is very useful especially in lower leagues. |
| | Secondary Tank : I always like to use a second tank option for when the main one is defeated, but as it was a low mana match I didn't have many options and because it costs 0 I didn't lose anything putting it in play. |
| | Support : It only costs 1 mana and slows every opposing team, combining this and the Quix debuff I managed to remove 2 speed from all enemy cards. |
| | DPS : one of my dearest cards, it has strong damage and incredible speed and still has the fly skill, this speed and the speed debuff of my combo Fire Spitter will be hard to defeat. |
| | Support : I always use this card when I have an empty slot and I don't have any more mana, it is excellent for absorbing damage and in this position it will protect my DPS from sneak attacks. |
The Battle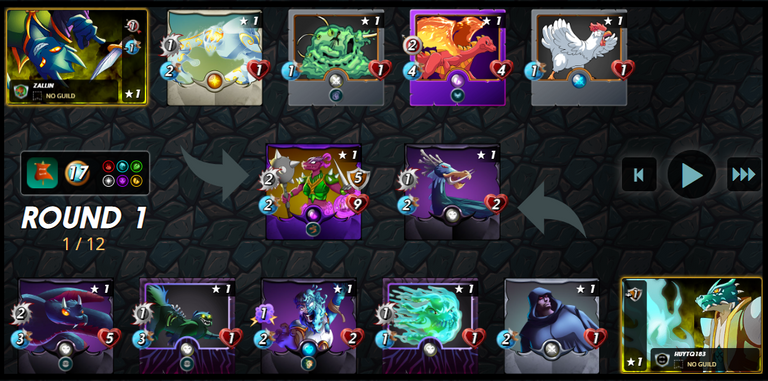 Round 1 - My first impression was that I had a good advantage even with the opponent's armor bonus I put myself in that position because almost all the damage is physical, I'm counting on the Fire Spitter's great dodging ability and the Djinn's Thorns Ability.
During the first round everything worked as expected, I defeated an opponent's card and my fire spitter managed to dodge it well.
---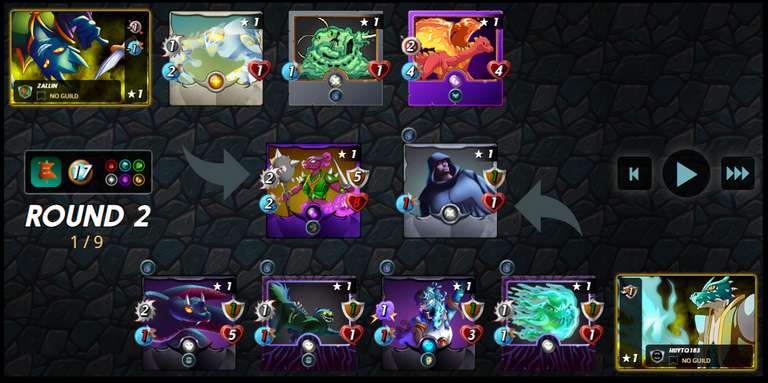 Round 2 - In this round I realized that I can be at a disadvantage because he has a lot of sneak cards, I'll have to rely on Spitter's dodge.
The round extends and I knocked out one more card from my opponent and my Spitter took a hit.
---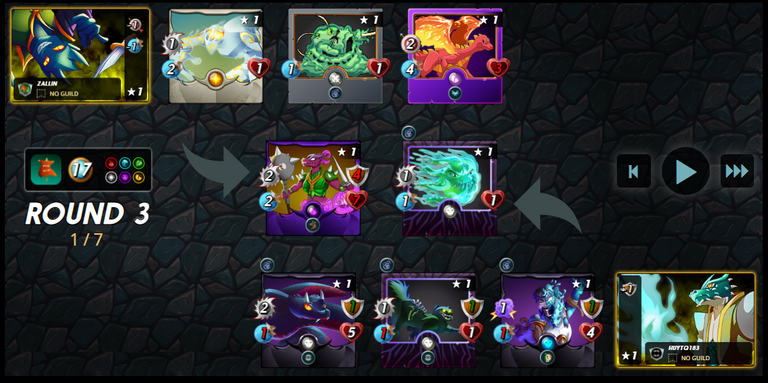 Round 3 - The game won't end quickly, the DRAKE OF ARNAK bonus is too strong for this match and I can't knock off two cards in one turn, but I think I'm still in the lead.
I defeated one more card, but the tank is now the Life Sapper mage, it will be complicated because the thorn won't work, and my fire Spitter has 1 HP left.
---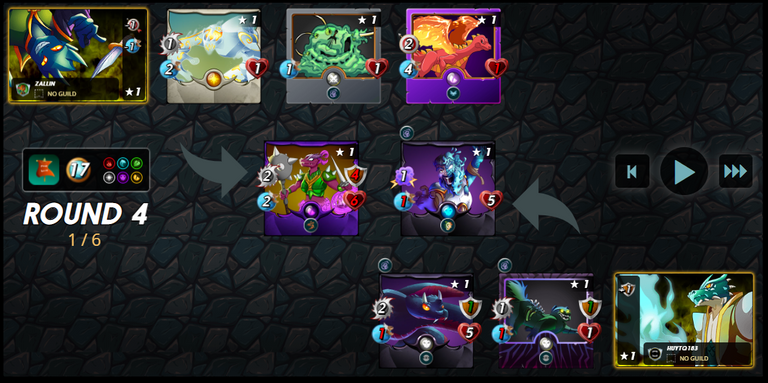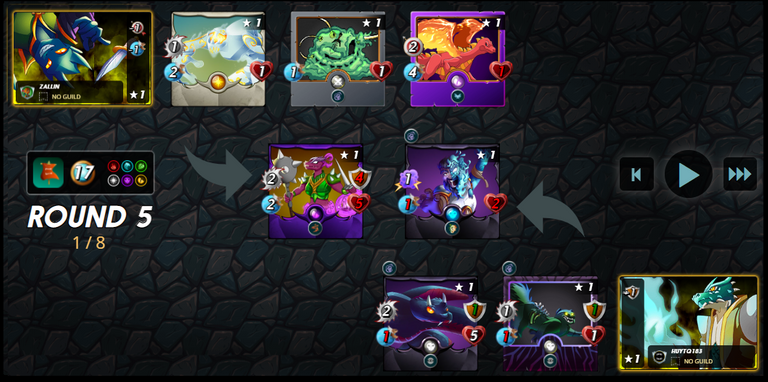 Round 4 and 5 : There was nothing different between these rounds.
In the course of round 5 I finally manage to defeat Life Sapper and soon after another opponent card falls thanks to the Djinn's thorns.
---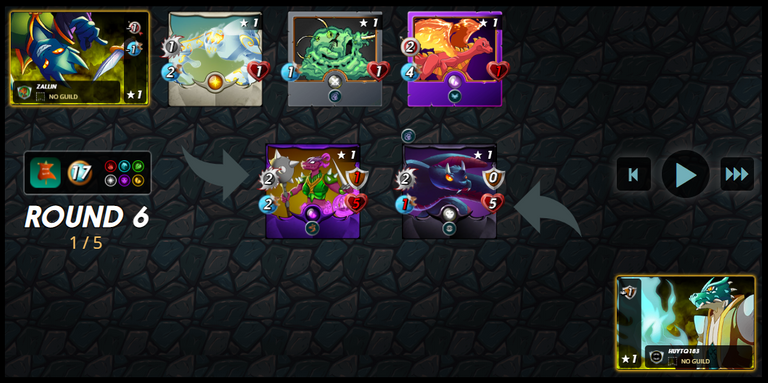 Round 6 : Finally the victory arrived, my Spitter dodged many hits and arrived alive in the last round of the game, the victory came with the Djinn's thorn.
Conclusion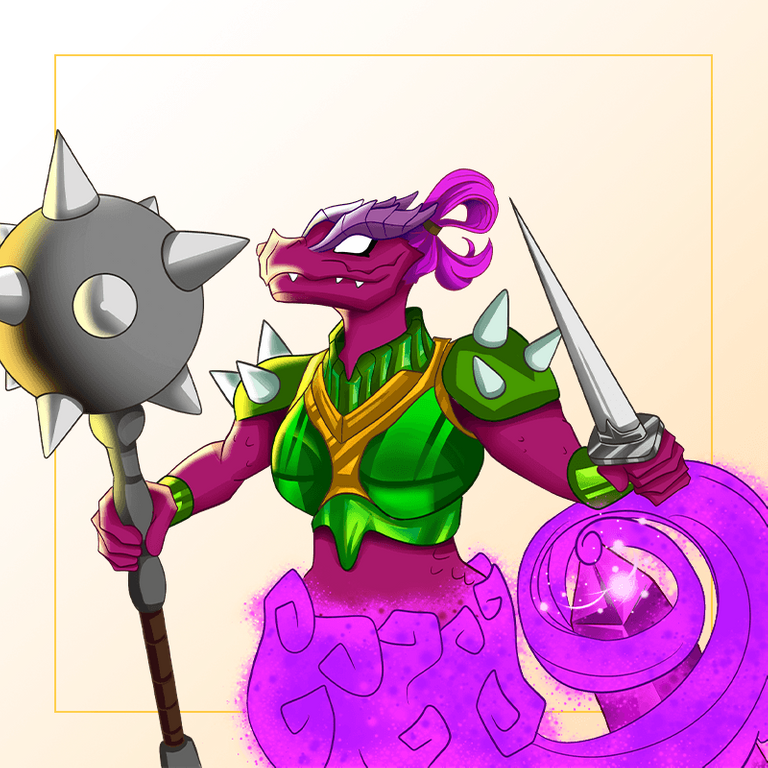 The Djinn made good use of her ability and only had difficulty when Life Sapper was in first position because he used magic to cause damage, she was not decisive in the match, I think who shone more was the Fire Spitter he dodged many attacks and stayed alive until the end of the match, the slow combo of Quix with Ooze was also very good in the match helped a lot in dodging the Sppiter.
Overall it was easy to find a victory to post here playing with Djinn Chwala, she was almost always useful in the matches she played her biggest enemy is the green magic combo, this combo melts your HP quickly and the thorn doesn't work, apart from that it was incredible, I made a mistake and I could already be using it at lvl 2 because I already have 5 copies of it.
That's it for today.
Game Link: Splinterlands
Battle Link: Zallin Vs. Huytq183

---
---