(Eng/Esp)The sites I use to buy/rent or view my stats in Splinterlands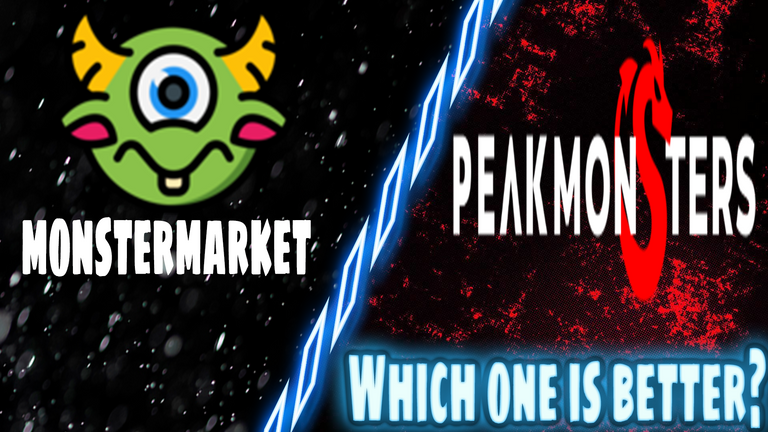 ---
Últimamente, tengo muchas cosas que hacer tanto fuera como dentro de casa, y eso me quita mucho tiempo par continuar con mis post, aun asi mantengo el margen de un post diario manteniendo la calidad de la información en cada uno de ellos.
Pero para el post de hoy me gustaría hablarles un poco de las herramientas que yo uso para comprar o alquilar cartas en #Splinterlands, ponte cómodo que acá te hablaré un poco de estas herramientas más usadas por mi..
Lately, I have a lot of things to do both inside and outside the house, and that takes me a lot of time to continue with my posts, even so I keep the margin of a daily post maintaining the quality of the information in each of them.

But for today's post I would like to tell you a little bit about the tools I use to buy or rent cards in #Splinterlands, make yourself comfortable because here I will tell you a little bit about these tools most used by me...
---

PeakMonsters es una de las páginas que uso para hacer el alquiler de algunas de mis cartas favoritas.
Pueden entrar iniciando sesión con tu usuario de hive y de forma automática te dará el balance de #DEC o de créditos que tienes dentro del juego de #Splinterlands.
Esta herramienta te permite hacer una búsqueda un poco más gráfica y eficaz al momento de querer alquilar una carta o de igual forma para comprarla
PeakMonsters is one of the sites I use to rent some of my favorite cards.

You can log in with your hive user and it will automatically give you the balance of #DEC or credits you have in the #Splinterlands game.

This tool allows you to make a more graphic and efficient search when you want to rent a card or buy it.
---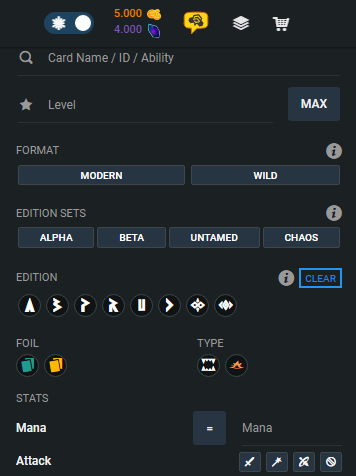 Lo que más me gusta de esta página es su sistema de filtrado de cartas.
Pues te permite buscar de forma más específica alguna carta en concreto, ya sea que busques cartas por un tipo de habilidad especifico, o con un gasto de maná específico.
Además de poder marcar cartas como favorito para luego tener un acceso rápido a dichas cartas marcadas.
What I like the most about this site is its card filtering system.

It allows you to search more specifically for a particular card, whether you are looking for cards by a specific type of ability, or with a specific mana expenditure.

In addition to being able to mark cards as a favorite and then have quick access to these marked cards.
---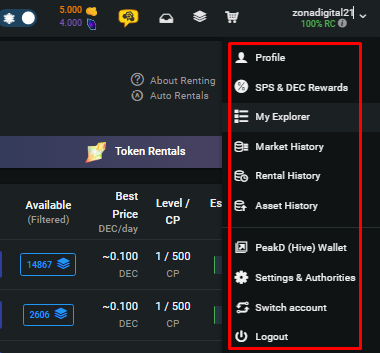 Además de esto también puedes ver un historial de compra o de renta de tus cartas, esto es bueno, pues permite ver y comprar el valor por el cual hemos rentado alguna carta en las rondas anteriores.
También puedes ver las recompensas que has reclamado en tus cofres, y eso me gusta para tener un control de tú ganancias al final de cada temporada
In addition to this you can also see a history of buying or renting your cards, this is good, as it allows you to see and buy the value for which we have rented a card in the previous rounds.

You can also see the rewards you have claimed in your chests, and I like that to have a control of your earnings at the end of each season.
---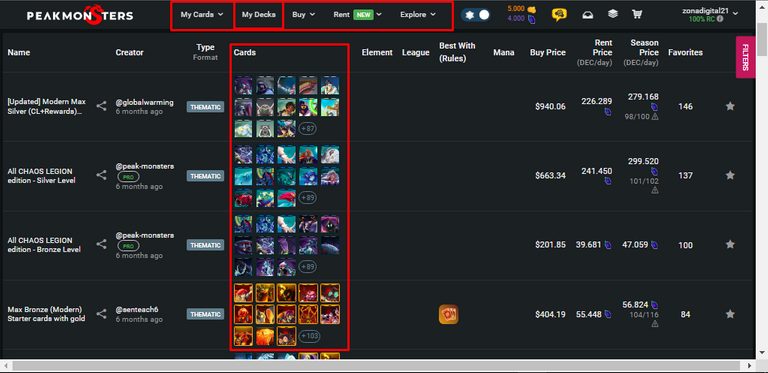 También pedes ver algunos DECKS de usuarios, o tener algunos marcados en favoritos, esto también me gusta, pues te da una idea de qué posibles combinaciones de cartas puedes hacer.
Si eres nuevo en Splinterlands seguramente las combinaciones de cartas se pueden complicar un poco, pero acá podemos ver algunos ejemplos de los mejores o al menos los mazos de batalla que te pueden ayudar a ser más competitivo.
You can also see some DECKS of users, or have some marked in favorites, I also like this, because it gives you an idea of what possible combinations of cards you can make.

If you are new to Splinterlands surely the card combinations can get a little complicated, but here we can see some examples of the best or at least the battle decks that can help you to be more competitive.
---

Monstermarket es otra de las que uso, pero en este caso no lo uso para alquilar cartas ni mucho menos para ver algún tipo de estadísticas.
Aunque todas las herramientas son buenas, algunas se inclinan más a un tipo de uso más específico, y en el caso de monstermarket lo veo más útil solo para la compra de cartas de #Splinterlands.
Si tienes en mente compra algún nuevo invocador, una carta legendaria o alguna otra, acá será tu mejor opción de compra, pues te darán un poco de cashback, y esto es bueno, pues te estarán reintegrando un % en #DEC por haber comprado dentro de monstermarket.
Monstermarket is another one that I use, but in this case I don't use it to rent cards or even less to see some kind of statistics.

Although all the tools are good, some are more inclined to a more specific type of use, and in the case of monstermarket I see it more useful only for the purchase of #Splinterlands cards.

If you have in mind to buy a new summoner, a legendary card or some other, here will be your best option to buy, because they will give you some cashback, and this is good, because they will be refunding you a % in #DEC for buying inside monstermarket.
---

Un ejemplo de compra con esta página sería la carta Gargoya Scrapper en su nivel 7, la cual tiene un valor de 1,79$=2206 #DEC.
Si haces esta compra con los 2206 DEC te estarán dando un cashback de 52.96 DEC.
Mientras más sea el valor de compra, más será el cashback que recibas por tu compra, y esto es muy bueno, pues así puedes recuperar un poco de los que gastaste con la compra de tus #NFTs
An example of a purchase with this page would be the Gargoya Scrapper card at level 7, which has a value of $1.79=2206 #DEC.

If you make this purchase with the 2206 DEC you will be getting a cashback of 52.96 DEC.

The more the purchase value, the more cashback you will receive for your purchase, and this is very good, because you can recover a little of what you spent with the purchase of your #NFTs.
---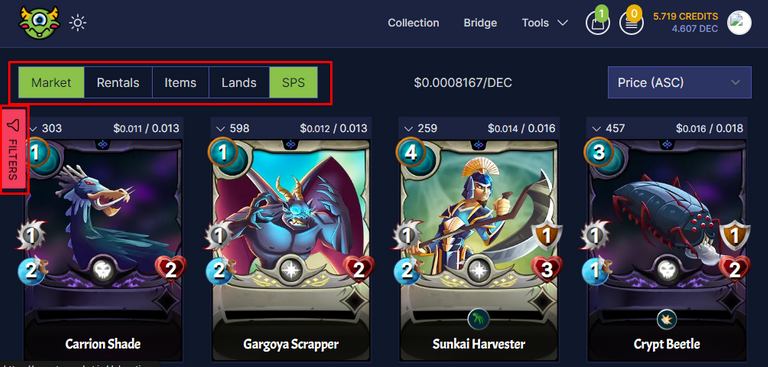 Esta página también cuanta con un filtro para buscar alguna carta en específico, ya sea por rareza, habilidades o edición.
Peor gráficamente es muy simple comparado con PeakMonsters, claro que de igual forma tiene la misma función, pero de verdad no me llama mucho la atención esta página, solo la uso para la compra y por tal motivo creo que es importante que la conozcas tú también.
Si te fijas en la imagen también puedes ver que tiene opciones similares a las de Peakmonster, pues incluso puedes hacer la renta desde esta página, pero en la renta o alquiler de cartas el cashback no estará presente, así que no vale la pena alquilar desde acá (Solo usar para la compra)
This page also has a filter to search for a specific card, either by rarity, skills or edition.

But graphically it is very simple compared to PeakMonsters, of course it has the same function, but I really don't care much about this page, I only use it for shopping and for that reason I think it is important that you know it too.

If you look at the image you can also see that it has similar options to Peakmonster, because you can even make the rent from this page, but in the rental or rental of cards the cashback will not be present, so it is not worth renting from here (only use for purchase).
---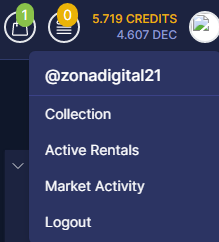 También puedes ver tu actividad en el mercado, así como también tus rentas activas en #Splinterlands.
Peor ya queda de tu parte ver cuál de las dos páginas usas para esto, pero en mi caso todo lo que es el historial de renta y colección lo veo desde PeakMonsters
You can also see your activity in the market, as well as your active rentals in #Splinterlands.

But it's up to you to see which of the two sites you use for this, but in my case I see all my rental and collection history from PeakMonsters.
---
Espero que te sean de mucha utilidad estas dos páginas que les he presentado en este post.
Recuerda que si tienes alguna carta que comprar puedes usar Monstermarket.
Y si quieres rentar o ver tus estadísticas de juego, lo puedes hacer desde PeakMosnters.
Un saludo para todos y sería genial que dejes un comentario del cual de estas dos es tu favorita y el porqué.
Feliz día chicos..
I hope you find these two pages that I have presented in this post very useful.

Remember that if you have a card to buy you can use Monstermarket.

And if you want to rent or view your game stats, you can do it from PeakMosnters.

Greetings to all and it would be great if you could leave a comment as to which of these two is your favorite and why.

Happy day guys...
---

---
---