In this round, the luckiest wins (Unexpected moments in #Splinterlands).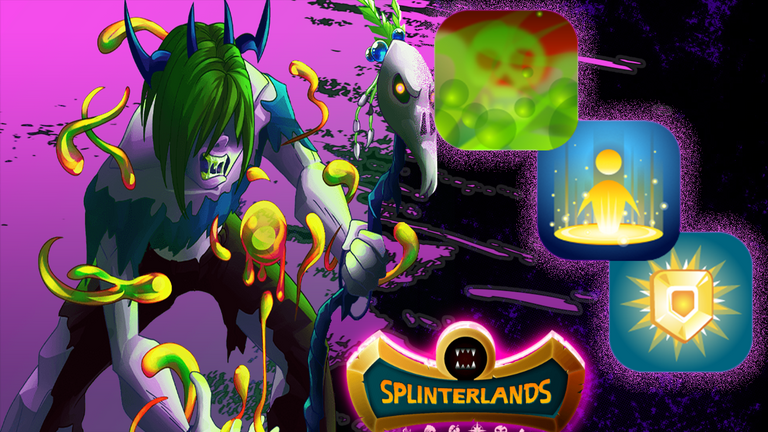 ---
Tengo una batalla muy interesante que mostrar aquí.
Se trata de algo inesperado en una batalla reciente de #Splinterlands, porque las condiciones de la batalla cambiaron por completo el destino que me esperaba, y así conseguí escapar de mi muerte inminente.
Poneos cómodos mientras comienzo este análisis de una batalla con elemento de muerte.
I have a very interesting battle to show here.

It involves something unexpected in a recent #Splinterlands battle, because the battle conditions completely changed the fate that awaited me, and so I managed to escape my impending death.

Make yourselves comfortable as I begin this analysis of a battle with an element of death.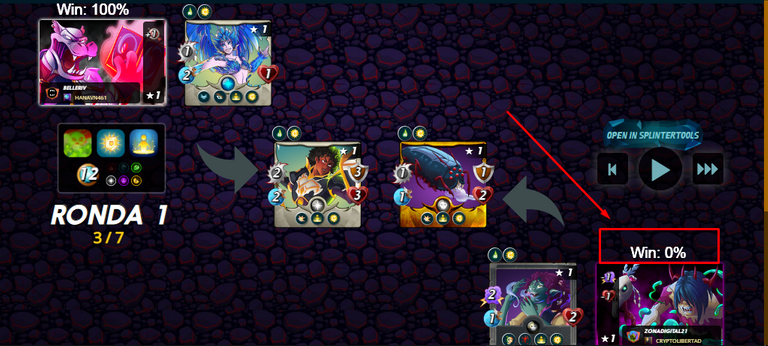 https://splinterlands.com?p=battle&id=sm_4EODqwoAkyCP4nbSD0nX&ref=zonadigital21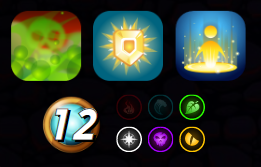 Es complicado, o al menos para mí lo es, jugar con este tipo de maná, es muy reducido.
Además también tenemos tres condiciones de batalla diferentes, una de ellas es el veneno que afectará a todas las cartas, también está el escudo divino, que es bueno, y también tenemos la habilidad de que todas las cartas pueden revivir.
It's complicated, or at least for me it is, to play with this type of mana, it's very reduced.

In addition we also have three different battle conditions, one of them is the poison that will affect all cards, there is also the divine shield, which is good, and we also have the ability that all cards can revive.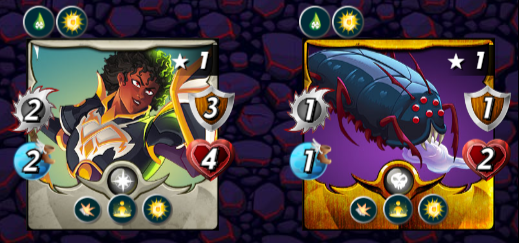 ---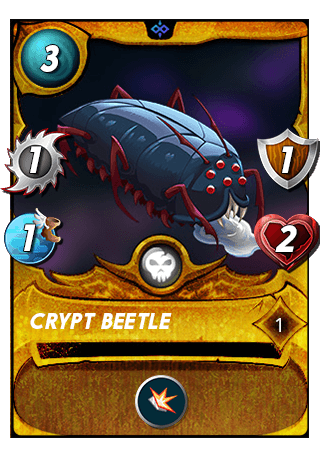 El abanico de opciones para elegir un tanque con poco maná, era reducido, pues el veneno estaba presente en la batalla.
Peor al final opté por hacer uso de la carta Crypt Beetle, una carta que esta en mi colección, y como pueden ver tiene poco gasto de maná, además de poseer la habilidad Shield para reducir el daño.
The range of options to choose a tank with little mana, was reduced, because the poison was present in the battle.

But in the end I opted to use the Crypt Beetle card, a card that is in my collection, and as you can see it has low mana expenditure, besides having the Shield ability to reduce damage.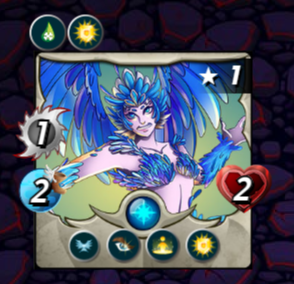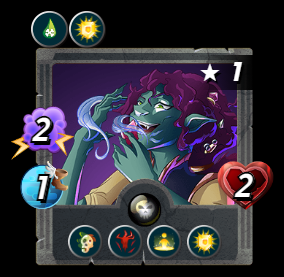 ---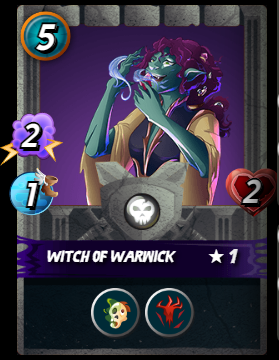 Si te fijas en la alineación de mi oponente, empezando por su carta tanque, puedes ver que tiene una buena ventaja en armadura, vida y poder de ataque.
Pero sin duda lo que marcó la diferencia fueron las cartas de apoyo, mi oponente usó una carta normal, con habilidad oportunista, mientras que yo estoy usando una carta gladius.
If you look at my opponent's lineup, starting with his tank card, you can see that he has a good advantage in armor, life and attack power.

But without a doubt what made the difference were the support cards, my opponent used a normal card, with opportunistic ability, while I am using a gladius card.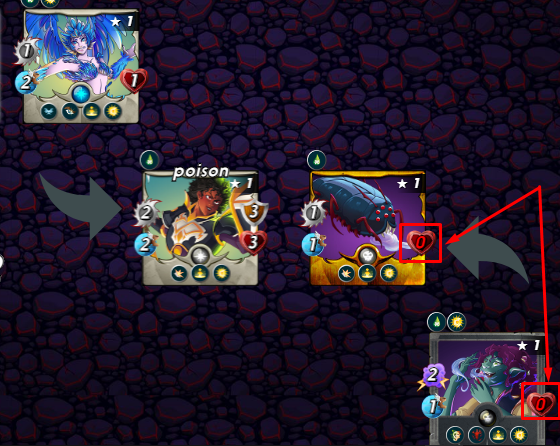 De mi equipo solo están jugando dos cartas, al igual que mi rival también tiene solo dos cartas.
El maná era muy bajo, así que toco inventar algo improvisado para la ocasión, pero acá la diferencia fue esa habilidad de revivir y también el escudo divino, como puedes ver en la imagen, así se veía la ronda uno cuando inicio (Fue una batalla muy corta de verdad)
My team is only playing two cards, just as my opponent also has only two cards.

The mana was very low, so I had to invent something improvised for the occasion, but here the difference was that revive ability and also the divine shield, as you can see in the image, this is how round one looked like when I started (It was a very short battle indeed).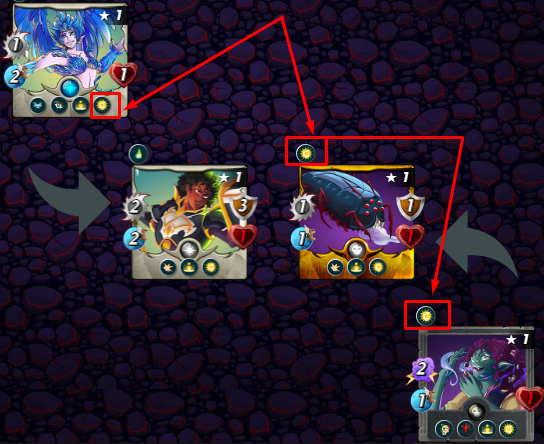 La habilidad revivir actuó sobre las cartas que murieron a causa del veneno.
Al momento de revivir también se activó nuevamente la habilidad Escudo divino en todas las cartas, y eso me dio un poco de ventaja, pues mi carta gladius al dar su ataque estaría aumentado sus estadísticas gracias a la sed de sangre, y también subiría +1 de vida por la habilidad vampirismo.
Esto me dio la ventaja de +1 de vida que ayudo a que el veneno no me afectara nuevamente.
The revive ability acted on the cards that died because of the poison.

At the moment of reviving also activated again the ability Divine Shield in all the cards, and that gave me a little advantage, because my card gladius to give his attack would be increased his stats thanks to the bloodlust, and would also go up +1 life by the ability vampirism.

This gave me the advantage of +1 life that helped the poison not to affect me again.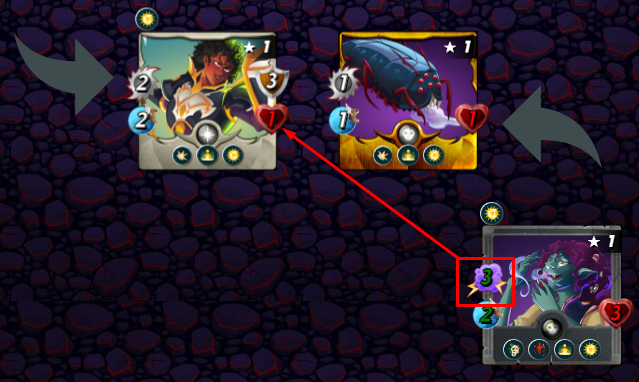 Mi carta gladius ahora tenia +3 de ataque magico, que daria un golpe directo a su vida, pero primeor tenia que quitar el escudo divino.
De eso se encargó mi carta primaria, pues con un golpe, y aunque no le hizo daño, logro quitar ese escudo para con mi carta poder afectar la vida de mi rival y así dejarlo fuera de combate.
My gladius card now had +3 magic attack, which would give a direct hit to his life, but first I had to remove the divine shield.

My primary card took care of that, because with a hit, and although it didn't hurt him, I managed to remove the shield so that with my card I could affect my opponent's life and leave him out of combat.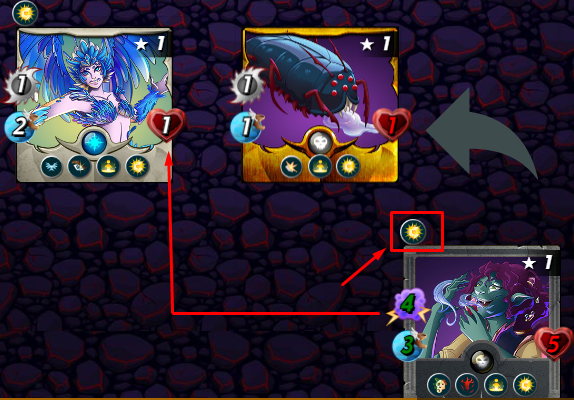 En este punto ya tenía la batalla ganada al 100%.
Pues ya la diferencia de vida que tenía no sería tan afectada por el veneno de cada ronda, pero sin duda todo eso fue gracias a la habilidad de revivir las cartas.
Aunque el escudo divino también jugo un buen papel en todo esto, ¿Crees que fue pura suerte mi victoria?
At this point I had already won the battle 100%.

The difference in life that I had would not be so affected by the poison of each round, but undoubtedly all this was thanks to the ability to revive the cards.

Although the divine shield also played a good role in all this, do you think my victory was pure luck?

En lo personal yo diría que: De no ser por las reglas de batalla, esta batalla yo la hubiese perdido, no tenía forma de ganarle a mi rival si la regla de revivir hubiese estado ausente.
Claro que sin el veneno también puede que la hubiese ganado de igual forma, pero el veneno está allí para hacer de las sullas.
Un gusto compartir esto con todos ustedes, y espero que dejen sus opiniones en los comentarios sobre que tanta suerte del 1 al 10 tuve en esta ronda jajaja.
Feliz día para todos.
Personally I would say that: Had it not been for the battle rules, this battle I would have lost, I had no way to beat my opponent if the revive rule had been absent.

Of course, without the poison I would have won it anyway, but the poison is there to do its thing.

A pleasure to share this with all of you, and I hope you leave your opinions in the comments about how lucky I was from 1 to 10 in this round hahaha.

Happy day to all of you.
---

---
---