The perfect summoner for Molten Ash Golem (A Brutal Attack)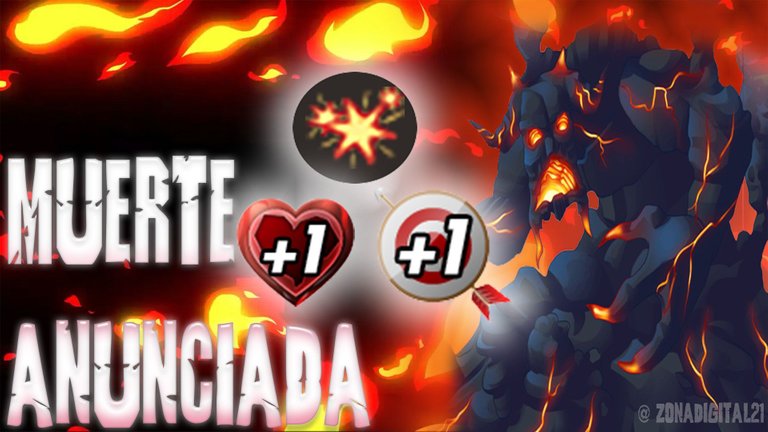 Una vez mas estoy por aca con ustedes
Antes de continuar agradezco que entraras a leer este post y espero que te guste
Para la batalla de hoy estaré haciendo uso de la carta estrella de esta semana la cual tiene como nombre Molten Ash Golem, una carta con ataque a distancia pero con una habilidad peculiar que la hace interesante, si quieres saber más sobre ella lee hasta el final del post y mira mi batalla al final del post que esta genial
Once again I am here with you

Before I continue I thank you for reading this post and I hope you like it.

For today's battle I will be making use of the star card of this week which is called Molten Ash Golem, a card with ranged attack but with a peculiar ability that makes it interesting, if you want to know more about it read until the end of the post and look at my battle at the end of the post that is great.

Molten Ash Golem es una carta de la edicion Chaos Legion la cual +9 puntos de vida , +1 punto de velocidad , +1 punto de ataque a distancia
Pero lo especial que tiene es su habilidad Close Range la cual le permite atacar en primera posición y eso marca la diferencia
Molten Ash Golem is a Chaos Legion edition card which +9 health points, +1 speed point, +1 ranged attack point.

But the special thing about him is his Close Range ability which allows him to attack in first position and that makes the difference.

Como puedes ver su ataque es bajo, pero esto no es mucho problema si lo combinan con un buen invocador, al ser una carta de tipo Fuego tenemos que usar un invocador del mismo elemento, así que aca usaré al gran YODIN ZAKU
Un invocador legendario que muchos usan y es que de verdad es muy bueno, otorga: +1 de ataque a distancia , +1 de vida y da la habilidad de explosión a todas mis cartas en batalla, y este era el invocador perfecto para combinar con Molten Ash Golem ya que aumentara su ataque a distancia a +2 dándole el extra de explosión, prepárate que esto va con todo en la batalla
As you can see its attack is low, but this is not much of a problem if you combine it with a good summoner, being a Fire type card we have to use a summoner of the same element, so here I will use the great YODIN ZAKU.

A legendary summoner that many use and is really very good, it gives: +1 ranged attack, +1 life and gives the ability of explosion to all my cards in battle, and this was the perfect summoner to combine with Molten Ash Golem as it will increase your ranged attack to +2 giving the extra explosion, get ready that this goes all out in battle.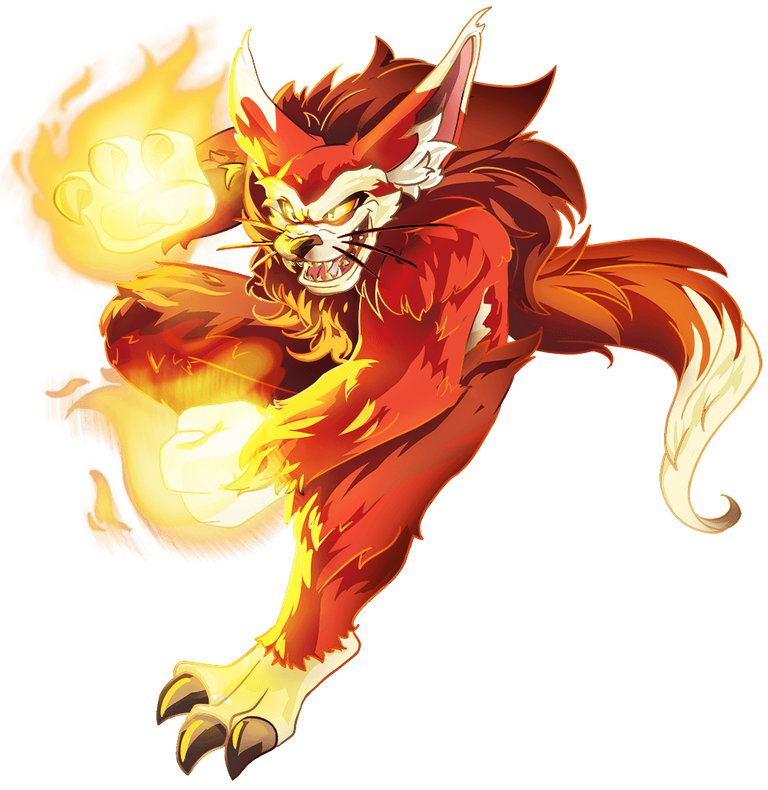 Fuente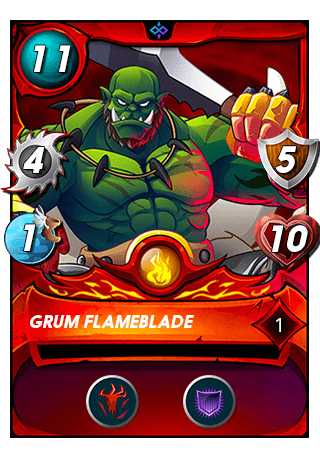 Como tanque uso a Grum Flameblade, una carta muy buena con dos habilidades que la hace peligrosa en algunos casos
En nivel uno tiene las habilidades Bloodlust y Void Armor la cual le permite subir sus estadísticas siempre que mata a su oponente, y tiene protección contra magia, sin contar sus estadísticas que puedes ver en la carta aca
As a tank I use Grum Flameblade, a very good card with two abilities that make it dangerous in some cases.

At level one he has the abilities Bloodlust and Void Armor which allows him to increase his stats whenever he kills his opponent, and he has protection against magic, not to mention his stats which you can see in the card here.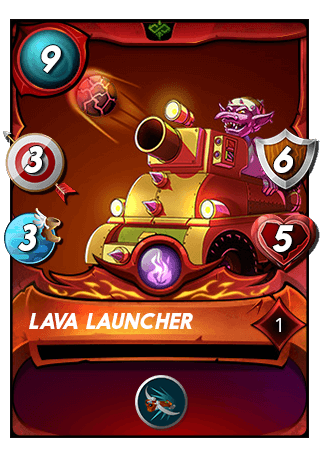 Luego uso a Lava Launcher que es de la edición Reward, cuenta con +6 puntos de escudo, +5 puntos de vida, +3 puntos de velocidad, +3 puntos de ataque a distancia
En este caso esta en la segunda posicion, ya que tambien cuenta con la habilidad Close Range y eso le permite atacar en la primera linea si mi tanque muere
Then I use Lava Launcher which is from the Reward edition, it has +6 shield points, +5 health, +3 speed, +3 ranged attack points.

In this case he is in the second position, since he also has the Close Range ability and that allows him to attack in the first line if my tank dies.

Como puedes ver estoy intentando usar al máximo el poder de YODIN usando cartas con ataque a distancia, ya que al final YODIN sumara +1 a todas las cartas con ataque a distancia
Intento colocar las cartas que tengo con mas poder de ataque para que el poder final sea tan bueno que no le de oportunidad de victoria a mi rival
Claro que esto tambien tiene un coste alto de mana, pero valió la pena esta batalla
As you can see I am trying to use to the maximum the power of YODIN using cards with ranged attack, because at the end YODIN will add +1 to all cards with ranged attack.

I try to place the cards I have with more attack power so that the final power is so good that it does not give my opponent a chance to win.

Of course this also has a high mana cost, but it was worth this battle.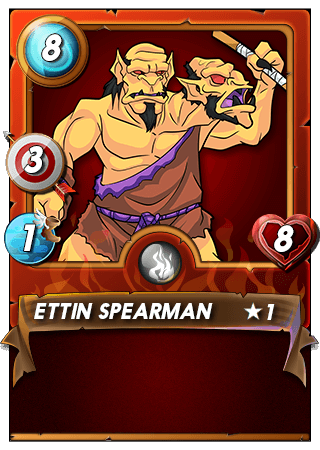 Ettin Spearman tambien es de la edición Reward y en este caso no cuenta con ninguna habilidad en el nivel uno, pero si tiene buen ataque a distancia
Cuanta con +3 puntos de ataque a distancia y +8 puntos de vida asi que la veo como una carta poderosa aun sin habilidades especiales
Ettin Spearman is also from the Reward edition and in this case he doesn't have any ability at level one, but he does have a good ranged attack.

It has +3 ranged attack points and +8 health points so I see it as a powerful card even without special abilities.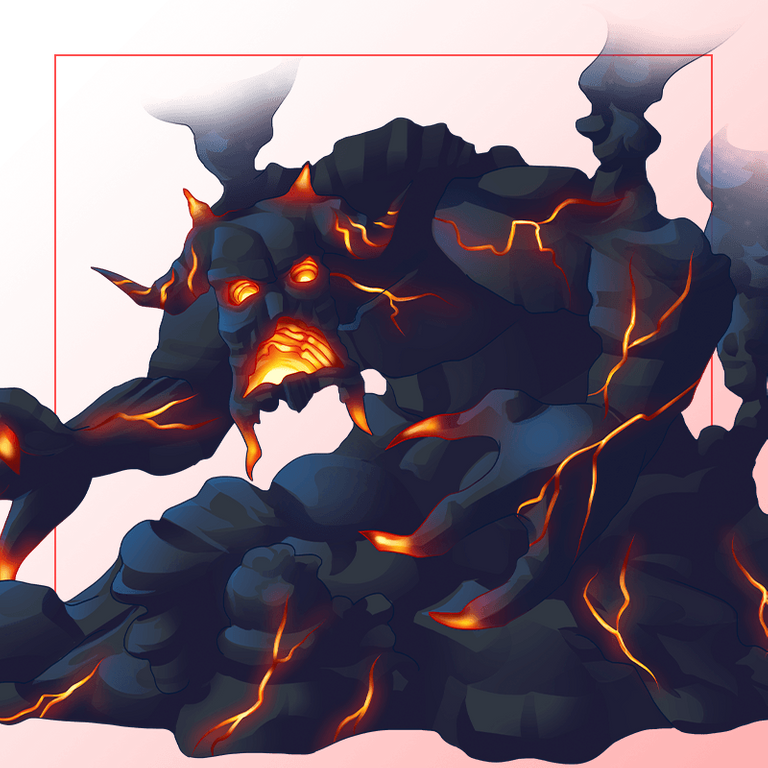 Molten Ash Golem nuestra carta estrella esta en la cuarta posición con la intención de cubrirla para que llegue al final de la batalla con vida
No es necesario decir aca sus estadísticas, ya que lo mencione al inicio del post, pero con la ayuda de YODIN esta carta terminara con +2 puntos de ataque a distancia
Molten Ash Golem our star card is in the fourth position with the intention of covering it so that it reaches the end of the battle alive.

It is not necessary to say here its stats, since I mentioned it at the beginning of the post, but with the help of YODIN this card will end up with +2 attack points at distance.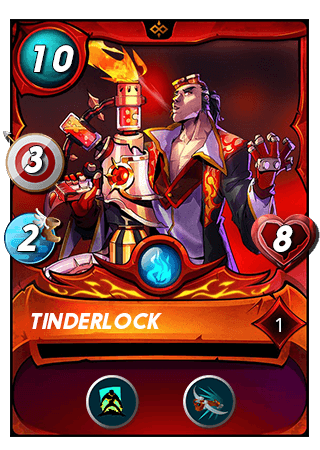 Luego hago uso de una carta que me gusta mucho y se llama Tinderlock, tiene muy buenas estadísticas con +3 puntos de ataque a distancia, +8 puntos de vida, +2 puntos de velocidad
Sus habilidades son Last Stand y Close Range, también me parece que tiene un diseño muy robusto y tambien es rudo en la batalla
Then I make use of a card that I like a lot and is called Tinderlock, has very good stats and has +3 points of attack at a distance, +8 points of life, +2 points of speed, +3 points of attack at a distance.

His abilities are Last Stand and Close Range, I also think he has a very robust design and is also tough in battle.

Y por último usaré una gran dama en la batalla que también me gusta su diseño
Cuenta con habilidades muy buenas y una de ellas es la habilidad Camouflage la cual le permite ocultarse del ataque de mi oponente y eso le da tiempo para poder atacar con toda su fuerza
Aca te explico un poco de sus estadísticas
And finally I will use a great lady in battle that I also like her design.

She has very good skills and one of them is the Camouflage skill which allows her to hide from my opponent's attack and that gives her time to attack with all her strength.

Here's a little bit about his stats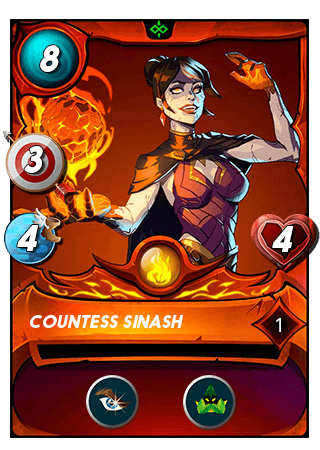 Su nombre es Countess Sinash y es de la edición Reward, cuenta con las habilidades Opportunity y Camouflage, si la subes de nivel tiene habilidades extra
Cuenta con +3 puntos de ataque a distancia, +4 puntos de vida, +4 puntos de velocidad
Como puedes ver tiene poca vida pero dura un par de rondas gracias a la habilidad Camouflage
Her name is Countess Sinash and she is from the Reward edition, she has the abilities Opportunity and Camouflage, if you level her up she has extra abilities.

She has +3 points of ranged attack, +4 points of health, +4 points of speed.

As you can see it has low health but it lasts a couple of rounds thanks to the Camouflage skill.

---
Llega el momento de la gran batalla y es aca donde todo se pone interesante
Si te das cuenta mi total en puntos de ataque es de +22 sumando el poder de cada una de mis cartas, sin contar la explosión que dare en cada ataque a mi rival
Mi rival en esta ronda tiene +11 puntos de ataque sin tomar en cuenta que la carta PELACOR ARBALEST puede atacar dos veces en su turno, sumando eso mi oponente tiene un total de +17 puntos en poder de ataque
Entonces dime tu ¿quién ganará esto?
La verdad fue una gran batalla y te invito a verla en el link a continuación, ya que fue muy épico todo, con explosión por todas partes y cartas muriendo a mi alrededor jajajaja
It's time for the big battle and this is where it gets interesting.

If you notice my total attack points is +22 adding the power of each of my cards, not counting the explosion that I will give in each attack to my rival.

My opponent in this round has +11 attack points without taking into account that the card PELACOR ARBALEST can attack twice in his turn, adding that my opponent has a total of +17 points in attack power.

So you tell me who will win this?

The truth was a great battle and I invite you to see it in the link below, as it was very epic, with explosion everywhere and cards dying around me hahahaha.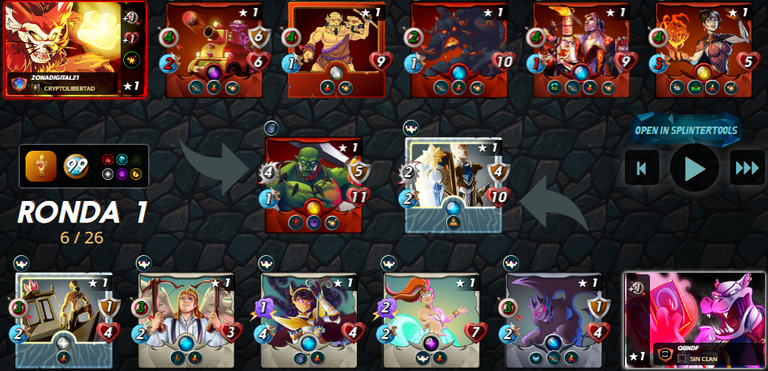 https://splinterlands.com?p=battle&id=sl_45727e59b74009359dfce003478e8b53&ref=zonadigital21
---
Espero que te gustara la lectura, un gran saludo para todos y espero que estés atento para el próximo post
Muchas gracias al equipo de #Splinterlands por el apoyo constante a todos los jugadores activos y continuemos con grandes batallas para llegar a la cima de todo
Feliz dia
I hope you liked the reading, a big hello to all and I hope you stay tuned for the next post.

Many thanks to the #Splinterlands team for the constant support to all active players and let's continue with great battles to get to the top of it all.

Happy day
---
---