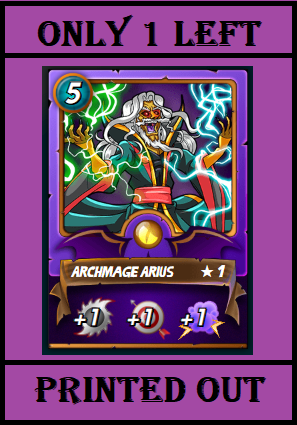 Only 1 more Archmage Arius left!
Let's start with the Archmage Arius, as most of you know we could find this Maxed (!!) legendary summoner inside the rewards of a mystery potion, that is if we were lucky enough! Only 90 of them would be printed, and as of today, I believe there will be 89 printed. Meaning, there's one last chance to find one tomorrow. I feel bummed that I never found one.. As many others probably feel the same.. lol.. I once opened the first Gold Foil Legendary from the Winds of Change collection, would be cool to now open the very last Archmage Arius that will ever be printed.. :)
---
I took some time to go through my rental cards
I know prices can fluctuate a lot, and sometimes rental prices get driven up or down because of maybe one or two people offering a card for a certain day price, but it's still smart to check the prices every now and then. Today I noticed that some of my escrows seemed to be too high compared to rental prices, I know how this happened as well. In the beginning when setting a rental price, I was just trying out what worked. My prices were based on other escrow prices I saw in the list of cards, or because higher when a card was rare on the (rental) market. Some cards are almost constantly rented out, others don't get rented or only get rented some times.
I also noticed that most of my rented out cards usually are promo or reward cards.. Although there's some more beta's rented out as well since beta packs ran out. Today I levelled up my Wood Nymph that has been sitting on the rental market at level 7 (without success lol) to level 8. Hopefully she'll be more interesting to rent now.
---
Let's talk season rewards!!!
This season opening was quite nice to be honest. For the first time in some season I found something epic and/or gold in almost every account, and a total of 3 legendaries. Two of them were in a herons account, but still nice to open 3 in total.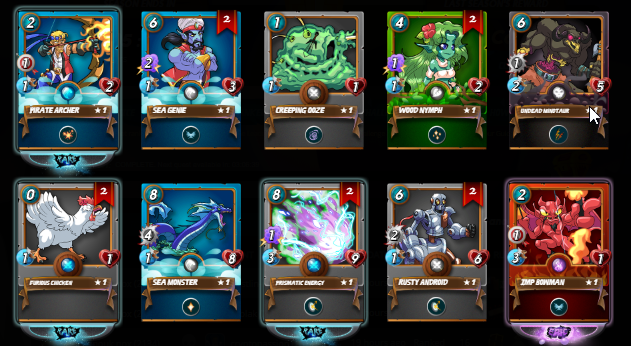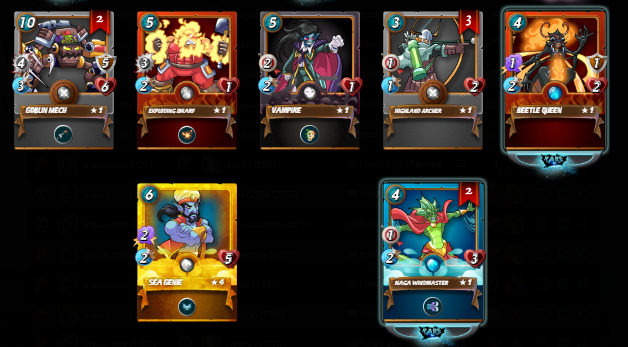 The cards above were the rewards on my main account, which looked pretty nice if you ask me.

The rewards above were from a forgotten account, which I started playing the night before season ended. Only starter set available, and the first card I pulled was a Beetle queen, when I also completed the second quest waiting for me, I opened a golden divine sorceress.. And as you can see above, the season rewards were pretty sweet for only 5 cards.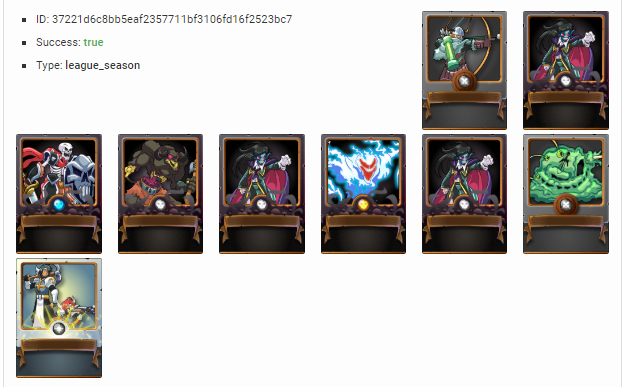 Two accounts had some hiccups when I claimed the rewards, a refresh also didn't work, which kind of takes away the fun of season rewards if you ask me. Thankfully, I could see in the peakmonsters explorer that there was a fallen specter in these rewards.. Which made up for the fact that I couldn't flip the cards myself.
I've been able to level up my Fallen Specter to level 2 thanks to season rewards. Let's see how I like playing it at level 2 with the Demoralize ability added.
---
More playing higher accounts and less on the lower accounts
This season I plan on ending higher up in the ranks with a few accounts, but I also told myself not to stress too much if a lower account is stuck for one or more days. Having only the basic cards in there can make it difficult, sometimes I don't play them for a week, which is fine as they are mainly played for the season rewards.
See you in the battlefield!!!
~Anouk