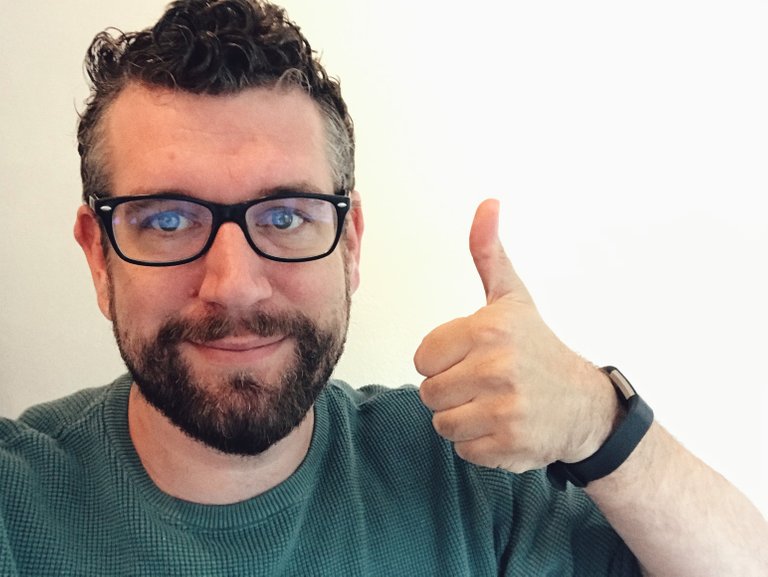 ---
This morning I asked Bianca to lend me her Fitbit because I wanted to test out Actifit properly in the gym today before I go live on the radio to interview @mcfarhat about it.
If you told me 3 years ago I would have a live radio show I would have called you crazy.
But here we are. Tonight it's going to happen and it's because of the connections I made on Steem.
When I arrived on Steem 3 years ago I had some experience with blockchain and crypto but absolutely zero when it came to social media.
I was always shy and unwilling to share much of my life on Facebook, Instagram or any of the others.
lol, how that changed.
3 years ago Steem was just a blogging platform in the form of the first Application ever build on Steem called Steemit.com.
I made an account (#21,960), bought some Steem and wrote my first post.
---

---
I remember it like it was yesterday.
My post was about whether Steem could be the gateway to finally get my girlfriend (Bianca) interested in crypto.
I posted it and that night Bianca and I went out for Greek food.
When we came back I went to my computer and checked out my article.
I think it made $50 right then and there.
I could not believe it. The feeling of happiness out of this world.
But then....then the grind started.
After that article, I wrote another one...it didn't do so well.
It made 10 cents.
Then I wrote another one.
It made 0 cents.
Then more 0 cents and more of them...
Something went terribly wrong and I couldn't really figure it out what it was.
I checked the trending page and people were making thousands.
In hindsight, I know why. But back then clueless...
I went to Steemfest 1 in Amsterdam. The first big meetup ever organized by @roelandp.
It would turn out to be a life-changer for me.
It did a world of good to me to see 200 people with the same crypto interest as I had.
Back then my crypto journey was lonely, nobody understood what I was doing.
Steemfest 1 made me realize this was real.
I also met a lifetime friend on Steemfest 1 in @ezzy.
We still talk almost daily about life and crypto.
---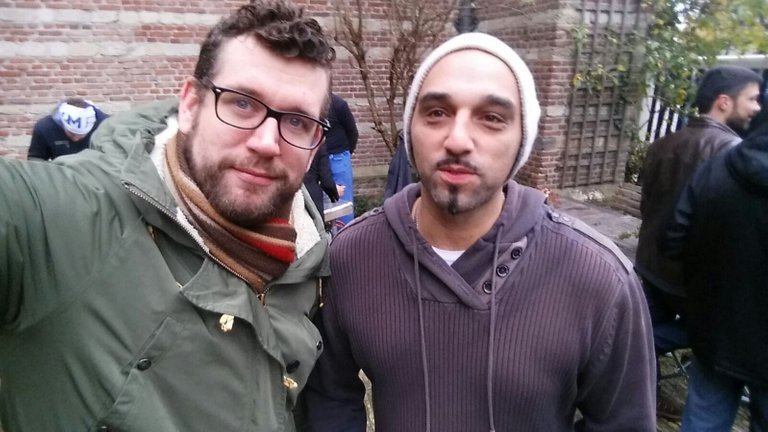 @ezzy and I, Steemfest 1, Amsterdam 2016
---
After Steemfest 1 my real journey began.
I decided to make Steem my second job.
I would dedicate time to Steem every single day besides working my other job.
It drove people mad.
My dad laughed at my 50 cents stories and the amount of time I spend on it.
It inspired Bianca at some point to write to me on Steemit
To my boyfriend who loves Steemit away too much.
I guess it did 'reel' me in a little bit.
But I didn't make me stop. I was dedicated.
Lesson 1: In general people will want to slow you down when you do something different, can sadly also be loved ones. Keep going.
When the first downtrend happened on Steem. I saw an opportunity.
Lot's of people started to leave Steem and calling it shit.
Steemians that were given thousands in STEEM started to sell and run for the exit.
I started to buy that Steem and continued to create.
It got noticed. My blogs even though they were making less in dollar value were making more STEEM.
Lesson 2: Keep going when others quit.
I made another good decision.
I got sick and tired of looking for thumbnail pictures for my articles.
I thought about something I could easily use over and over again and I would always have with me.
I started to use selfies as thumbnails.
Since then I have literary bombarded Steem with my face. Every single day for the last 2 years.
It's been laughed at, it's been hated, it's been recognized, it's been all sort of things.
But without me knowing I was doing it, it became my brand.
Grilling, Beer, Big Green Egg, Friends, Happiness, Investing, Steem, Good times, Family, good Steemian, bad Steemian all connected to that face.
I then took it to the next level.
I decided to start vlogging after Craig Grant left. There was a void.
Every single day I would vlog, every single day about Steem.
Nobody was doing it back then.
It was a good move even though I was terrible at it at the start.
But it is what I am now best known for.
Lesson 3: Never stop innovating yourself, try new things.
My daily vlogging period was my best year on Steem.
Then Steem started to gain traction.
Better content creators started to show up and Apps much bigger than any single content creator where developed.
I always knew where I would end up in this new Steem world.
My role would become different, more of a background figure trying to build Steem and invest rather than create content.
We are not there yet, but it's going to happen. The early signs are already here.
My behavior on Steem has changed over time.
My total dedication to content creation has subsided a bit already. I think my insights about Steem are still decent and needed but some of my other posts Steem can probably do without.
HF 21 and the new Economic rules will accelerate this process.
And it will be a good thing.
Currently, almost nobody understands Steem and where it's going. I believe I do.
Steem will power a complete social-economic ecosystem and STEEM will be it's most valuable token.
These are the final days of cheap STEEM and once more almost nobody believes me.
Steem is once again called shit. I have seen it before.
Lesson 4: When it comes to investing, do your own research, don't listen to the masses.
I know Steem in and out. I know a lot of dedicated people here. I know almost all the apps.
Once the word gets out what's being built here. O man...you better be on board.
3 years on Steem almost feels like a lifetime. But in the end, it's only 3 years. It's nothing.
---
The gratitude challenge.
---
@theycallmedan asked me to join the gratitude challenge.
It's easy. The thing I'm most grateful for on Steem is how it changed me as a person. I changed myself here from a shy nonconfident boy to a man that can stand his ground. Someone that believes in himself and is capable of making his own decisions.
I've learned that there are plenty of people in this life that are full of shit and will fill your head with utter shite and it makes me wish there was a real-life MUTE button that I could enable at times.
I've learned what true builders look like and how they act. I like to be surrounded by these people and learn from them.
I've met true builders from all over the world on 3 different Steemfests and it's been inspirational to have met these people in real life and talk to them.
I've made lifetime friends on Steem. My friend and true Steemian @ezzy I visit more than once a year and talk to almost daily.
Financially Steem gave me a lot. I've been free for the last two years. Again, by listening to myself when the euphoria of crypto was at its peak. Taking some profits at the heights was the right move.
Steem is a journey into self-discovery. It's just as hard to make it here as anywhere else in life. All the work has to be done by yourself. But every brick you put down to build a foundation for yourself HERE feels fantastic because this is a blockchain and you own everything that you do here.
I started as a content creator with ZERO STEEM 3 years ago just like anyone else that makes a new account here.
Now I own over 200k STEEM. I earned it, I bought it, I grinded for it, I took all the risk, I never sold any of my SP.
I'm a high-level Splinterlands (card game built on Steem), player. With a collection worth over 10k and the owner of a lot of DEC tokens.
I'm invested in Steemhunt. A product hunt platform built on Steem that is about to launch their new platform review hunt which will take it to the next level.
I'm invested in ENG on Steem-Engine and the different communities it empowers.
I'll soon be invested heavily in Dporn. The first community that will reward content creators for adult content. Something that does not exist in the world yet and has every possibility to become huge.
I know about all these things and opportunities because I dedicated the last 3 years of life to Steem.
I also know Steem will be able to handle all of it because it solved the scaling issue already something many blockchains will still have to face.
I know everything about Steem and soon the world will know it too. Because this place is real and it's being built on every single day.
That's what I'm grateful for. That's what's Steem is to me.
I challenge: @ezzy, @rea, @meesterboom. #GratitudeChallenge
---

---
Please consider us for your witness vote if you think we deserve it here:
---


---
Vote for @blockbrothers via SteemConnect
Set blockbrothers as your proxy via SteemConnect
---
We are the creators of Steemify a notification app for your Steemit account for iOS.
Get it Here: