Do you know that you can buy video games on the STEEM blockchain? A website called DGameMarket allows users to buy & sell Games (in form of Steam keys) for STEEM, SBD, BATTLE and DEC tokens of course!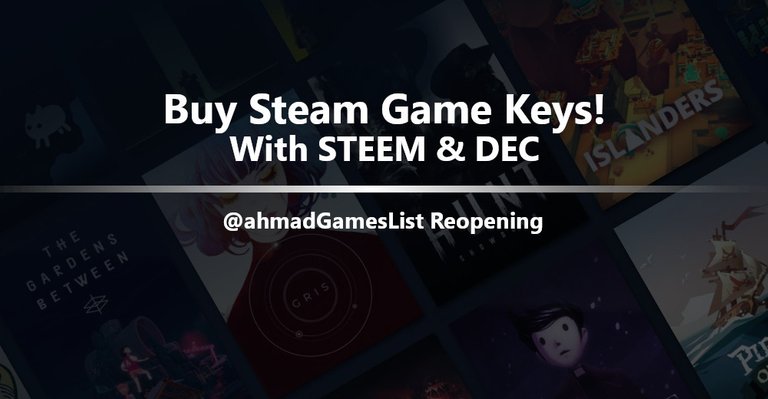 The website is run by @dgameshop and it offers a marketplace for people to buy/sell Steam keys, I already made 18 transactions on DGameMarket (buys and sells combined,) and I can assure you that it works!
---
WARNING: When buying from DGameMarket, you're actually buying games from other STEEM users. Make sure you trust the seller before clicking the buy button.
---
Last year I've been selling Humble Bundle leftover games on the STEEM blockchain. I put the list of the games I have and when someone replies, we meet in a discord chat and make our transactions manually.
I used to update these lists once a week and you can see them by scrolling down my blog @ahmadgameslist. The last one is from March 2019.
I decided to move the games my shop to DGameMarket because it's automated so I don't have to be online all the time, and because it offers all the tokens I want to be paid with (STEEM, SBD & DEC.) If you're interested in the games I put some of them in the list below:
The selection of games in DGameMarket isn't strong yet, but I promise to put more games in the website if I saw enough demand on the games I have in there now. If there's a game you'd like to buy that's not in the website, please tell me in comments I might be able to provide it.
---
If you want to use other coins (BTC, ETH and LTC) to buy AAA titles, you can try Indiegala Store.
The post image is designed using a base image from Steam website. All other images are taken directly from Steam store.