Recap of solymi birthday stream - watch to earn report – giveaway winners announced

Hello Gamers! Hello lurkers! Hello viewers of Splinternews!
Yesterday it was @solymi's birthday and we had an amazing time on the 2 hour live stream event and gave away a ton of prizes! This post is made by solymi to provide proof of sending the prizes!
Thanks to all of you who joined in the fun and thanks especially to @forykw for sending me that awesome Mozart card for the rising star game!
DISCLAIMER: If you read the post to the end you might find a way to win even more! This is open for all of you who can provide proof of brain by reading a long form post with more than 400 words ;)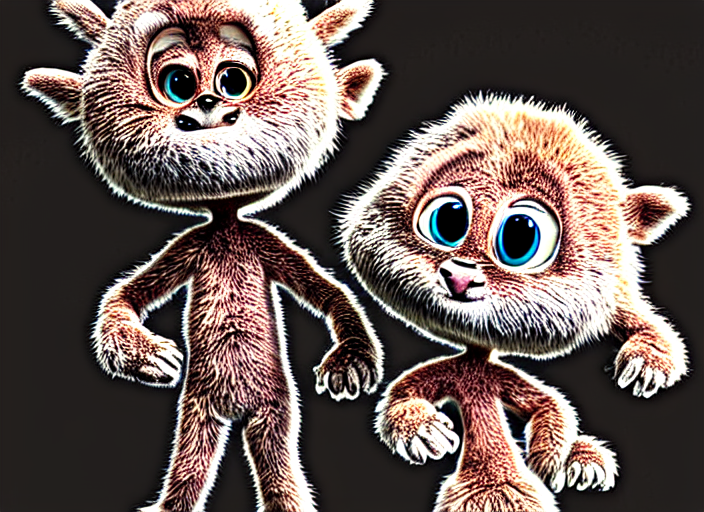 created image using stable diffusion AI bot by @ausbitbank
Prizes announced for the leo finance engagement thread!
As always we started a leo finance engagement thread where viewers could leave a comment using the tag watchtoearn.
for the thread I used the random comment picker by @sentipl to pick 3 winners (note only accounts that used watchtoearn in their comment where included in the draw)
1st 5 HIVE for @pixiepost
2nd 3 HIVE for @sieghard1990
3rd 2 HIVE for @juniorkid
Your HIVE has already been sent! Make sure to power it up!
Prizes given away during the stream
I will send the prizes after publishing this post. If you see any misshaps (I am a human I do make mistakes, please let me know)
As always on my twitch I have some ground rules I follow. Viewers have to fill out the splinternews IGN form that is being spammed into the chat every 5 minutes by my bot. This form contains your twitch ID and the HIVE account you use for gaming purposes. I wan't to make sure people are not cheating with multiple accounts and this is the best way for me to check for your HIVE usernames in order to send the prizes. If you have not filled this form and I can not find your IGN you wasted your time for nothing...
Yesterday was exceptional since we gave away a bunch of NFTs and other tokens.
We where playing battle of the bands and some players got really lucky raking in multiple prizes.
At the end we gave away everything that still was on the wheel! EVERYTHING.
I will only use the HIVE names in this table and without further ado let us see who won what:
| hive name | winnings |
| --- | --- |
| @atomcollector | 3x Venari Heatsmith, Panama Red Seed, |
| @jhuleader | Venari Heatsmith |
| @jdike | RADISH DCROP, 2xColombian Gold, 53 colin, birthday cake |
| @forykw | 2xVenari Heatsmith, GF Pelacor Deceiver, RADISH DCROP,R227 MC Cazz Rapper, 53 colin, colombian gold |
| @gr33nm4ster | R227 MC Cazz Rapper, GF Pelacor Deceiver |
| @daveirah | Colombian Gold, GF Pelacor Mercenary, Chaos Legion Pack |
| @xrayman | Venari Heatsmith, MC CHARGE RAPPER R257 |
| @slothlydoesit | GF Pelacor Deceiver |
| @pixiepost | Frank, R227 MC Cazz Rapper, MC CHARGE RAPPER R257, Colombian Gold |
| @maurye23 | Colombian Gold, GF Pelacor Deceiver, 500 BUDS |
| @exator | Panama Red, Colombian Gold |
| @mephiko | 2x Acapulco Gold |
| @mhowii | Venari Heatsmith, birthday cake |
| @tdctunes | 53 Colin, Chaos Legion PAck |
| @brando28 | R227 MC Cazz Rapper, RADISH DCROP, Acapulco Gold, Colombian Gold, Panama Red |
| @legend19 | R227 MC Cazz Rapper |
| @sieghard1990 | 103 Ethan |
| @subashtechy | 1000 LVL |
| @juniorkid please update IGN form not matching Twitch ID! Will send when done! | GF Pelacor Deceiver |
| @baburamg | Venari Heatsmith |
| @dafusa please fill IGN form next time you come | Chaos Legion Pack |
| @boogiewoogie777 | Colombian Gold |
| @kudegra | Legendary Countess Sinash |
| @masteraiz | Venari Heatsmith |
Watchtoearn Claims Double Payouts!
This is a project by @solymi and provides utility to the channel points you can collect by watching my stream on twitch. While the stream is live you can collect and exchange your channel points for real hive-engine tokens.
The treasury of the watch to earn program is transparent at all times and @solymi has stated several times that these funds are only used to pay viewers for their channel points. Check the wallet of @snvault! SNvault is the holding account for all claimable tokens.
If you are a streamer and would like to provide the same service for your viewers please contact @solymi as this should be a project for all streamers on HIVE! The more the merrier! I am not able to stream all the time so I would love some help on this front.
If we get many HIVEan streamers to use channel points like this I will create a paid position for the requests to be handled. (For this of course we still need to grow a bit :) )
We only have 12 requests and some are not even from yesterday but are not yet paid out so here we go.
Screenshot as of today: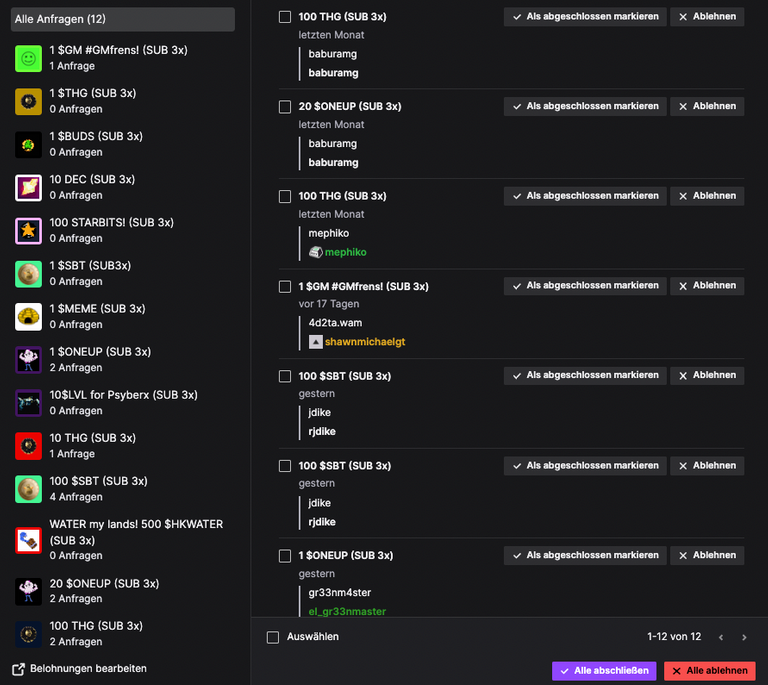 A list of all requestors and their payouts:
As you can see this is plenty of work to send out and here I am asking for your patience of course. The tokens will be sent after posting this blog. If tokens did not arrive after payout of this post ( in 7 days from posting) please contact me or @solymi!
The celebration will continue until we reach 1k followers on twitch!
I am on the road to 1000 followers and this is huge since the channel is only a little bit more than 1 year old. I have not been very active in streaming lately but Iwill always be there and pronmote HIVE to web2!
Land plot raffle:
I have provided info on this about a year ago and I will be posting an update again in the Sooniverse for all who have not read the announcement:
LAND PLOT RAFFLE ANNOUNCEMENT POST

important changes to the rules have been made here including players who are not subscribed to my channel.
Long story short:
we reach 1k followers on twitch and
we reach 50 subs
1 lucky follower or subscriber wins a splinterlands land plot
The sooner we get there the better GIVEAWAY rules:
This is where you can shine and also win some tokens! Two ways to help: Twitter and Leothreads!
If you are not yet following my twitch you should! CLICK and FOLLOW
OPTION 1 Threads:
Promote my twitch channel on Leofinance.io/threads Note: the thread has to contain the tag #watchtoearn and my link to my twitch channel! Copy paste the link to your thread in the comments! Win 10 LEO!
OPTION 2 Tweet about my channel on twitter:
Make a tweet containing the tags #HIVE #watchtoearn #web3 and include my twitter handle: (bitpandummy) the link to my twitch channel:
RIGHT CLICK AND COPY ADDRESS
Paste the link to your tweet in the comments!
You can do both options or only one!
Guaranteed gains:
each tweet and each thread will receive 0.1 hive or 0.69 LEO depending on the option you chose!
How to subscribe to my channel with HBD SOONtm (workaround already possible)
I understand that many people don't want to subscribe to my twitch channel using web2 payments. You can soon be a subscriber without that. I am currently working out some methods to provide this for you. I will have to see how I can work it out properly. If you are interested in subscribing please let me know. I know @forykw said he would immediately subscribe if he could do it with hive.
And well technically you already can do so on Bitrefill. I would post a referral link but I first have to spend 50$ to be able to refer new users. Use the one of @clove71 instead: https://www.bitrefill.com/buy/?code=tll33sj6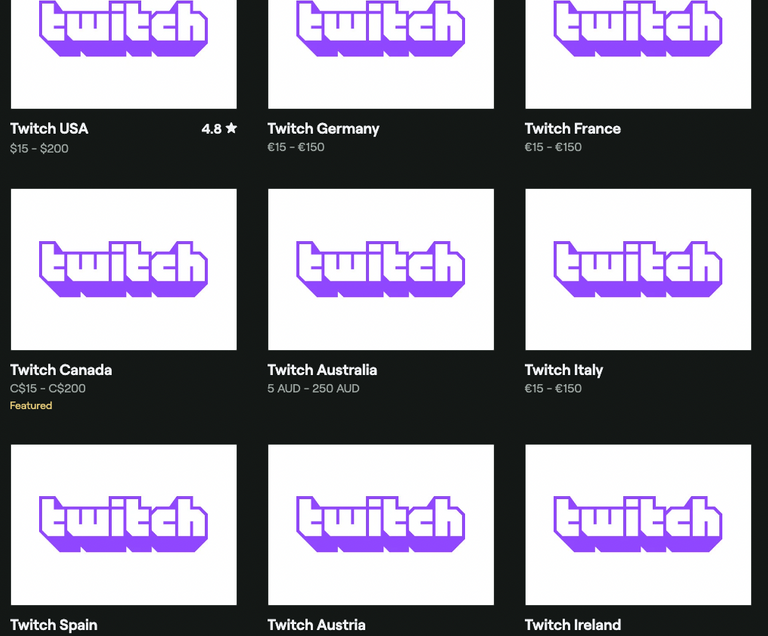 So you could create a lightning invoice for purchasing a twitch gift card and afterwards you then could redeem your giftcard on twitch to pay for your subscription.
NOTE check if it works for your country!
Other important stuff
Many good cards over 1200 NFTs currently raking about 4-7k in DEC per day.
Accepted currencies: USDT(BSC) BUSD(BSC) HBD(native, bsc, matic)
Protect your HIVE account with a hardware wallet!

Thanks for reading the last few lines of my post! If you still read this implement the word "Süü" in your comment!
---
---