What's good everybody it's your boy, Charlie!
---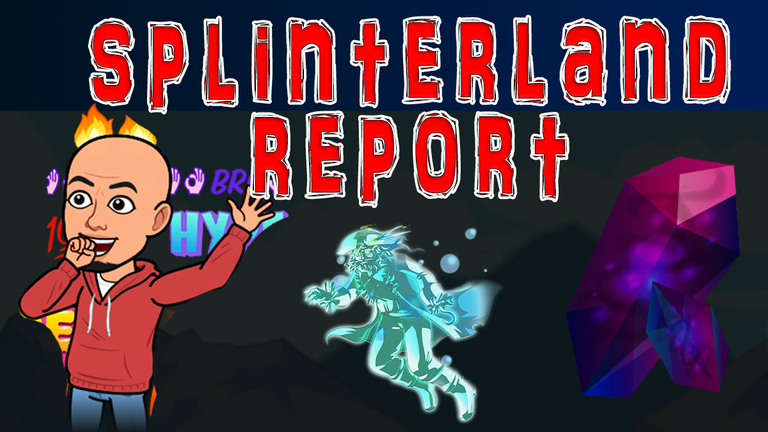 Today I am here to tell you guys about today's daily quest, our guild recruitment season beginning, and the other exciting things we have going on for Splinterland. The community is putting out some amazing challenges of their own so I wanted to dip my toe into it with this report using a Water Splinter Card as the focus for today. We have for you guys some great battle recaps and usage for our Captain's Ghost Card. This card is able to inflict an amazing ability that will stop healers in their tracks so we managed to create some great cores with it. I wish I stuck with this Amazing game earlier in development. I'd be more familiar with strategies and a base of people. Id also have a heck of a lot more cards. But enough of my BoyCharlieFOMO. Let's get down to why you are here to read on the best Splinterlands Platform. The BoyCharlieFamily is desperately in need of some new recruits as I have been slugging away barely getting scrolls in to level up the Guild. I think that's where I need some incentives to start pulling in some members. I hope to one day make playing this game an official business so it would be interesting to have an income-based system where completing quests gives you rewards from your guild leader if set. I could also just start a Discord group to work alongside the Guild Chat but if it was built into the Guild chat that would be sickness.
DAILY QUEST: Water Splinter | Complete 5 Matches | Captain's Ghost Spotlight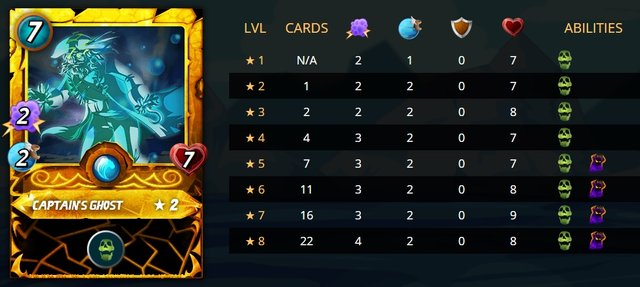 SOURCE
BCP Comments: Now on top of our Water Splinter Daily Quest it just so happens that there was a challenge for one of these amazing cards. The Captain's Ghost is a Magic-User Card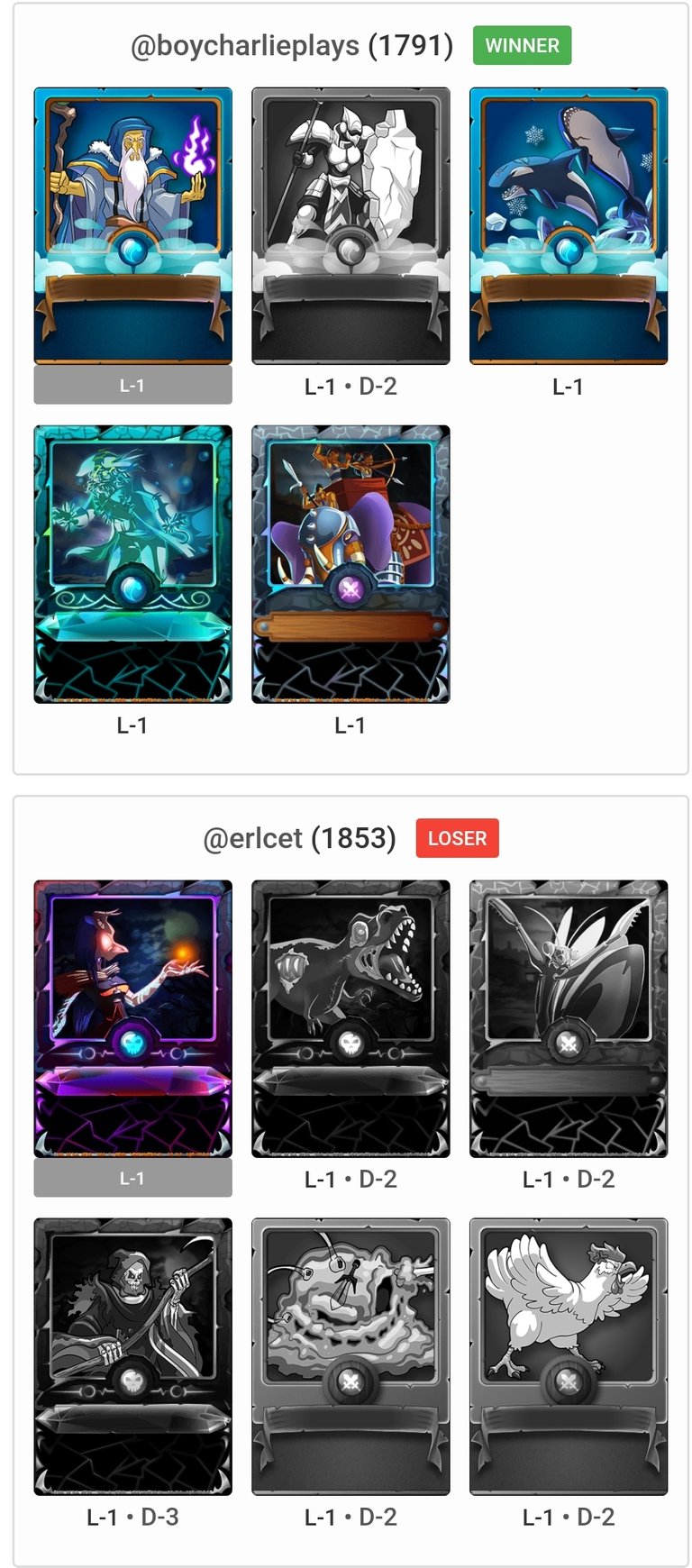 BCP Comments: We brought out the Captain's Ghost for our first matchup to get rid of any healing capabilities on the other side of the field with its Affliction Ability. Affliction allows you to halt healing properties on monsters that Captain's Ghost has hit directly. Captain's Ghost also got a nice power boost from Alric Stormbringer's Summoner Ability. With this Summoner, we are getting +1 Magic dealing some major damage to the Undead Rexx and Grim Reaper cards at critical points in the matchup. Another thing is people truly do forget about the Earthquake effect for matches haha.
Winning Hand:

Summoner | Alric Stormbringer Lvl 1
Monsters | Frozen Soldier Lvl 1, Battle Orca Lvl 1, Captain's Ghost Lvl 1, War Chaang Lvl 1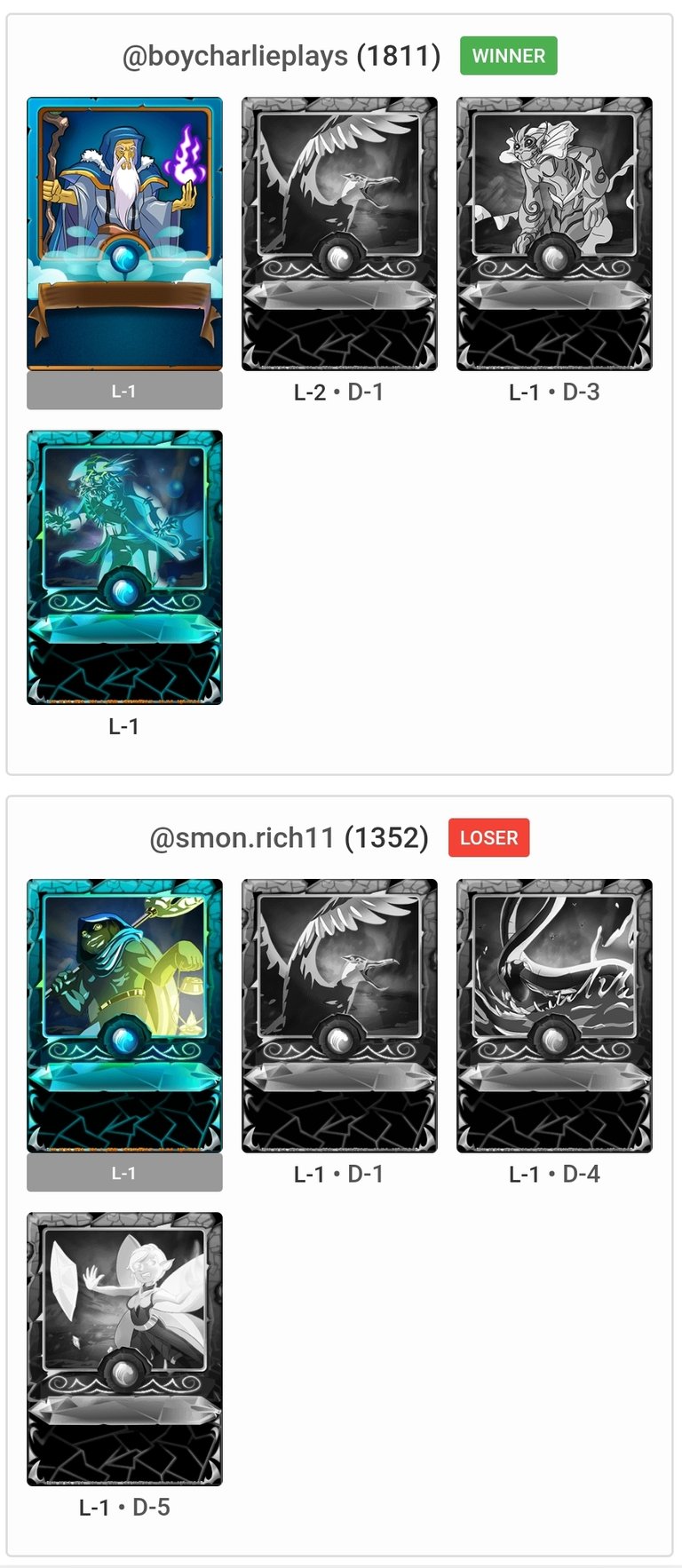 BCP Comments: It was looking pretty grim for us in this matchup actually. Captain's Ghost was able to power through some last hits on the opposite time for a critical win for us. Captain's Ghost has just enough health and just enough Magic Power to snag a win for the Water Splinter.
Winning Hand:

Summoner | Alric Stormbringer Lvl 1
Monsters | Albatross Lvl 1, Kelp Initiate Lvl 1, Captain's Ghost Lvl 1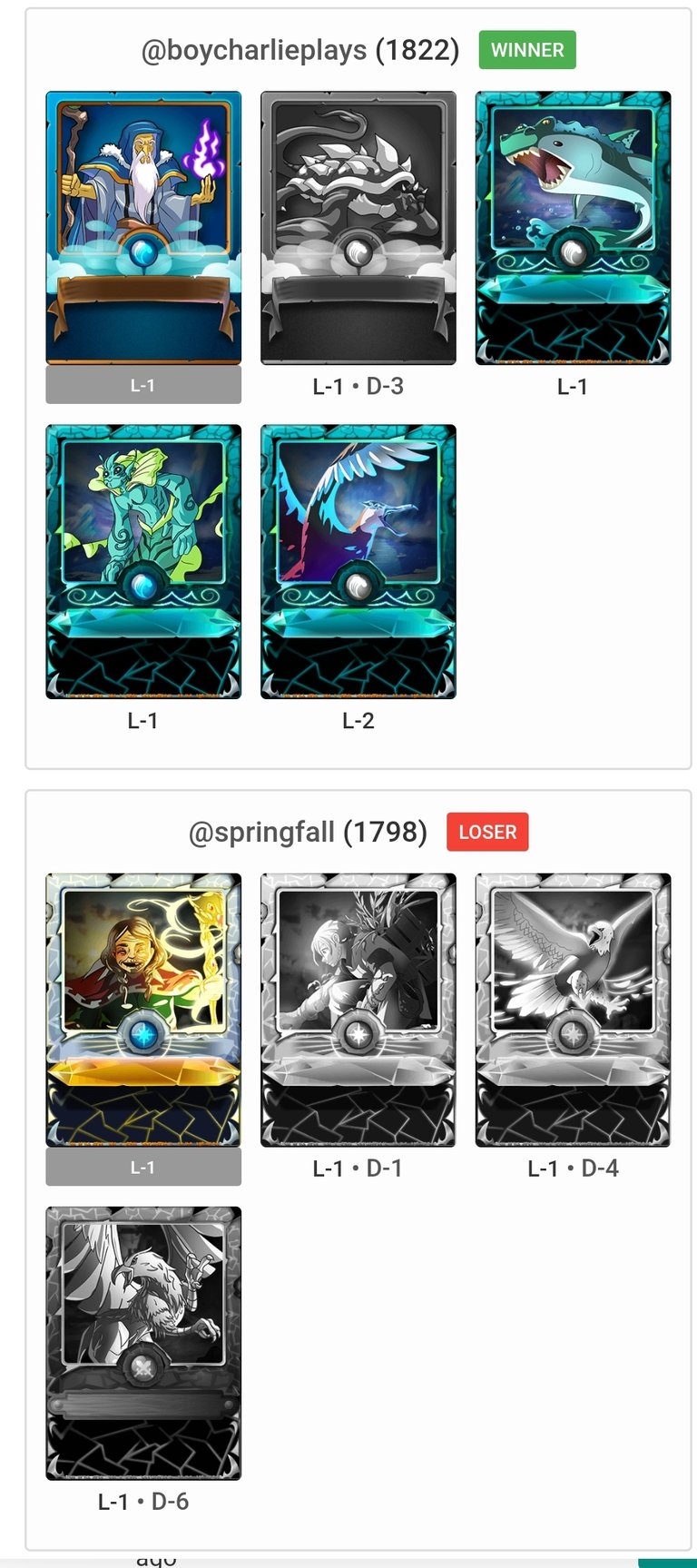 BCP Comments: Now Spineback Turtle was able to eat up a lot of the major hits from the attacking monsters on the opponent's team. Wave Runner was able to get the last few knockouts on the creatures on the field to take this thing home. I got nervous because I did the thing I normally do and stack a bunch of nonattacking monsters in the back. A good move for the defense at times but not always the smartest moves especially if you're opponent has some powerfully leveled up cards.
Winning Hand:

Summoner | Alric Stormbringer Lvl 1
Monsters | Spineback Turtle Lvl 1, Wave Runner Lvl 1, Kelp Initiate Lvl 1, Albatross Lvl 1
BCP Comments: We brought two Gold Foils and Captain's Ghost to this matchup. Heck, we loaded a full hand for this one and good thing because he had an Ettin Spearman in the back that looked pretty scary. Torhilo and Captain's Ghost broke the faces off of the first few creatures and everyone just piggybacked right onto their backs for a crazy win over @zollyci.
Winning Hand:

Summoner | Alric Stormbringer Lvl 1
Monsters | Torhilo the Frozen Lvl 1, Wave Runner Lvl 1, Captain's Ghost Lvl 1, Crustacean King Lvl 1, Gold Foil Feasting Seaweed Lvl 1, Gold Foil Ice Pixie Lvl 1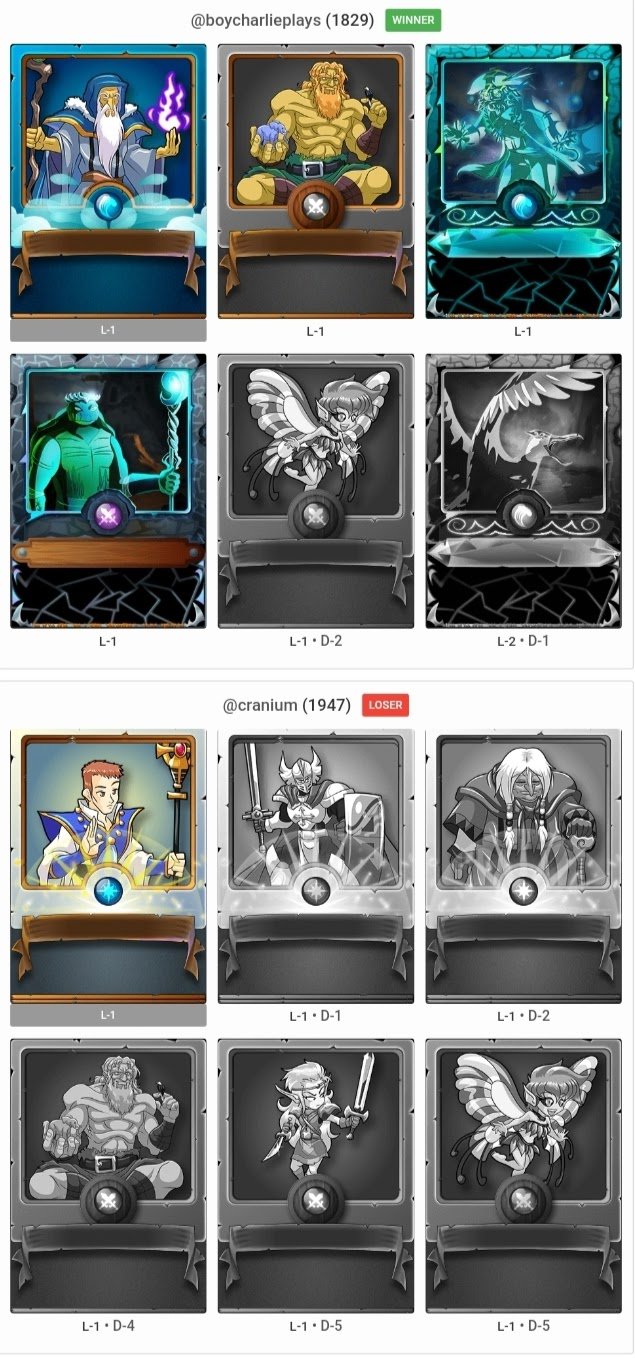 BCP Comments: I am glad we were able to get full usage of our friend Captain's Ghost in this challenge. Peaceful giant was able to eat up everything @cranium had on the other side. Meanwhile our powered up magic users in the back are just annihalitaing everything out on the field left and right. Captain's Ghost and Tortisian Chef as a Magic Core Duo was actually awesome to see. I just imagine the Captain standing side by side with the tortisian chef blasting away all of our enemies.
Winning Hand:

Summoner | Alric Stormbringer
Monsters | Peaceful Giant Lvl 1, Captain's Ghost Lvl 1, Tortisian Chef Lvl 1, Ice Pixie Lvl 1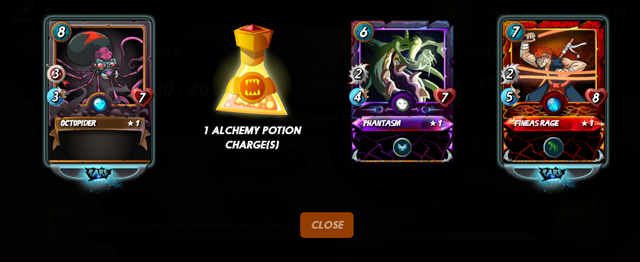 BoyCharlieFamily Guild Recruitment
---
So the BoyCharlieFamily has been active since July 5, 2020. I created the guild with the intention of having my Livestream community hop over from Facebook and help complete quests in the guild. This would allow for a higher Dark Energy Crystal % drop rate and allow for cheaper cards in the market which is really beneficial for players who are starting out. If you are looking to get active and make some friends I could use some new one to play Splinterlands with and I would love to get the Guild to a higher quest completion rate.
The best idea I have for onboarding a ton of people I thought to preorder a Summoner's Spellbook and offer as a reward to people who join the stream and create a Splinterlands account for the first time. It would be a great way to market the prize and encourage more livestreamers to give away these assets during their livestreams. People want prizes and if these prizes actually were given monetary value it would be great. I also have a ton of extra Light Splinter Cards I could give those away as well. Tons of possibilities when it comes to this amazing card game. Am I right?
Thank you for reading!

Make sure to check out more of our @boycharliefamily content through our other associated blogs.
MAIN THREE PROGRAMS
Make sure to check out the BoyCharlieFamily Hive community. Those who post within this community and support the @boycharlieplays posts may receive an upvote from the @boycharliefamily Account. I am still currently working on developing the Hive Power for this Account so that it is strong enough to curate content by our supporters for great rewards.
Community Entities
Support some of my favorite blockchain creations and creators down below!
Favorite Dapps



@klye - Vote KLYE for Witness, Every Single Vote Helps, Thanks for the Support!
Need to get in Contact with KLYE?
Make sure to say hi to my Hive Shoutouts! Drop them a follow, an upvote, and a comment saying @boycharlieplays sent me ;)!
Ways to Connect with BoyCharliePlays!
Be sure to follow me on the other social media platforms provided down below.
---
---