Splinterlands' market activity must be exposed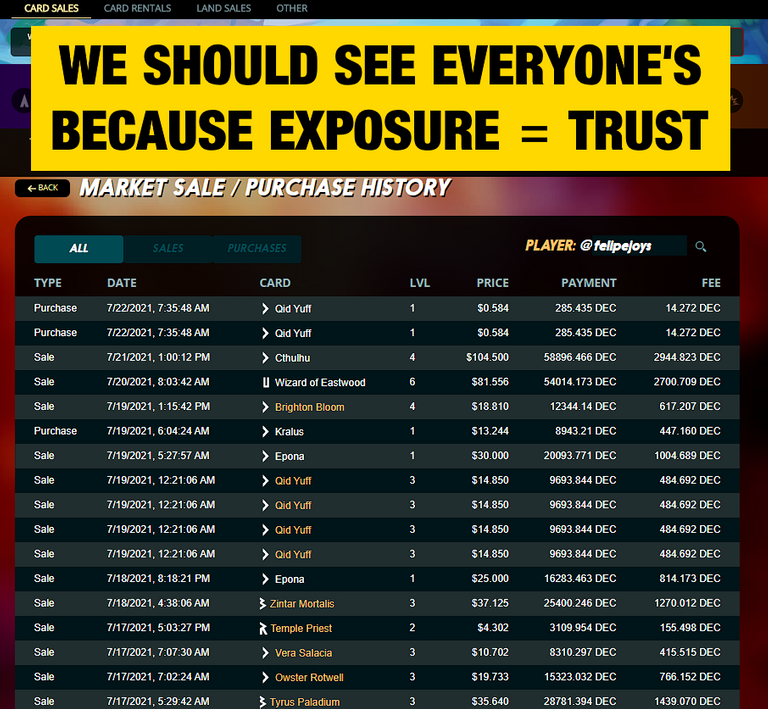 It's a huge step-up for the new player experience
There are a lot of crypto games in the market right now, but the Splinterlands crypto game is one of the few offering a high-liquidity market. Of course, I mean both DEC and cards. Everyone who has been a player for a while knows whatever card they put up for sale is going to sell very quickly, but newbies are always very scared of not being able to sell their assets.
Many of my acquaintances haven't put up their cards for sale or put them on the market at like 30% off the cheapest listing. They were so afraid it wouldn't sell! That's the number one reason many newcomers end up holding a 10 cent card, when they're better off selling it so they can buy BCX of another card they're so close to leveling up.
While market transparency is available, looking up recent card liquidity is very difficult. There are no public tools available. Splinterlands.com's market tab does have an "activity" button, but it only shows our own activity, not everything that's happening. It's much easier to trust in an exposed market. Newbies don't feel at ease for a long time before they finally get used to trusting the economy.
Decentralization and transparency is about removing trust. If a player knows how often and how quickly cards are sold all the time, they are more likely to settle with Splinterlands as one of their preferred crypto game. So I suggest adding a button to the market interface we can click, that'll show us a very compact version of all card market activity, updated every 3~5 HIVE blocks, even if it's just "X card with X BCX has been listed for $ / sold for $".
---
---