A little talk about Splinterlands rentals from the owners perspective
Not very long ago there were so many complains about the high prices on the rental market and that it has to be done something about it. Looks like these days owners renting out are not the happiest either...
I read a very interesting post about rentals yesterday by @revisesociology. I don't completely share his pessimism though.
While two seasons ago it was perfect for owners and renters had valid reasons to complain, now we see the reverse to some extent: renters avoid renting before the final days of pushing for the season end.
I don't see this situation lasting very long, for this reason: competition at the end of the season is fierce and will become even more so the more people join and learn the ropes of Splinterlands. The site itself can become instable because of the huge activity. Which means many players basing their strategy on the season end push might have the surprise of not reaching the targets they set for themselves until the season end.
There is also the fact that most players which reach their targets stop playing, to avoid dropping to a lower league. So a player coming up from behind will have fewer and fewer opponents of higher ranks to beat, so they'll have to play many more battles to rank up, given how the ranking points are awarded after each game, depending on the relative ranks of the opponents.
That's why I don't believe in the "final push" method, and never used it. It worked, and probably still does for top players with top decks, but how many are they?
The larger the playerbase, I believe it will become a necessity a more step-by-step approach to ranked games, and renting longer term, maybe not at the prices we see at end of season these days, but certainly not as low as the rest of the season either.
Personally, I'd be happy with long term renters and started to protect mine if they pay a good enough ROI, even if it's not the top amount at certain times. This would reduce to some extent the race to the top price at the end of season.
There is something that can be done to reduce the race to the lowest price, too.
As we know, most owners who have a significant number of cards use PeakMonsters to rent them out, because of its feature to handle bulk renting.
But one of its features for owners actually can drive the price down.
Let's see this screenshot: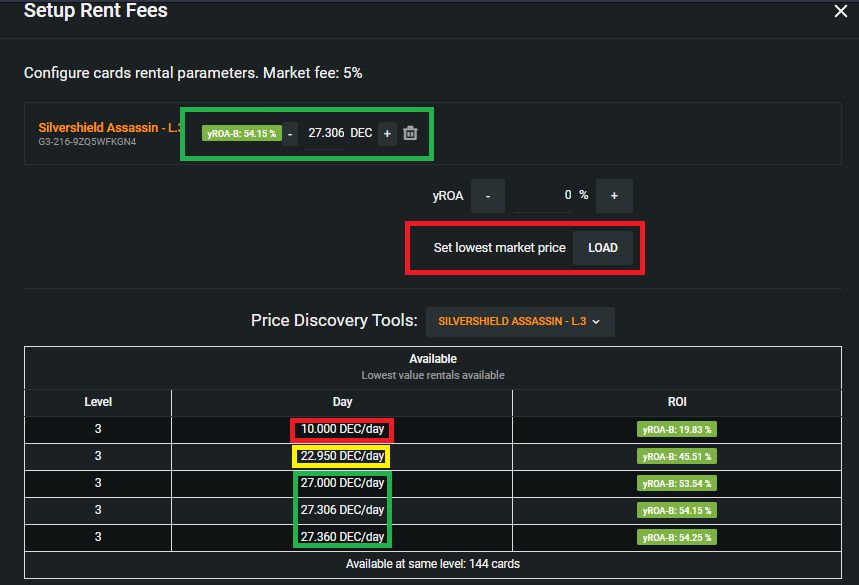 That's the renting popup for a GF Silvershield Assasin. I color-coded three groups of prices for them on the discovery tool. The green one is higher, around 27 DEC/day and that's where my current price for this card is with another group of cards. Below there are two other rentals available: one at around 22 DEC/day, color-coded yellow, and one at 10 DEC/day, color-coded red.
If I were to click the button to load the lowest market price, my price for the GF Shilvershield Assasin would be set a little bit below 10 DEC/day, to be in front of the red rental.
But that's over 170% lower than my current price. And it's a single card that 'makes' that price. If the owner is desperate to rent it asap, he/she can. But maybe I'd rather wait for a higher price. However, maybe I would lower my price to the yellow-coded value, 22 DEC/day.
This is just an example. I'm not holding with my teeth on any of the rental prices right now.
But my point is we need more options to auto-set the rental prices.
In the case of one card it might not be obvious, because you could simply set the amount or percent you want and that's it.
But if you have rented out hundreds or thousands of cards, managing them one by one is rarely an option.
And when you bulk-manage them, you either set prices you believe are appropiate to different groups of similar cards, or you go with the market. And on the low end there is the option to set the lowest market price. But in this latter situation, you won't know if the current lowest market price of one of the cards is way below the rest of them, because someone was desperate to rent out a card right away. And you amplify the drop.
If more options were available, maybe you would choose not to set the lowest price, but still go with the market.
Here are more solutions that maybe could work.
auto-set price, based on intended deepness, i.e.

set [lowest] price market
set [2nd level] price - on the screenshot above, this would insert the new price in front of the yellow-coded price.

auto-set price, based on relative percent compared to lowest price, i.e.

set lowest price market +/- given percent - where percent can be a few fixed-value links (+/- 5%, +/- 10, +/-25%), and/or a custom field where the the percent can be inserted (both negative and positive values).
I hope @jarvie and @asgarth will consider this idea or something similar they might have in mind, because it would really help card owners react to the market, possibly without unintentionally amplifying the price swings during the season.
---
---