Hola queridos lectores, curadores y comunidad en general, esta vez les comparto mi participación en el concurso de splinterlands de compartir batallas, esta vez con Monstruo Marino
Hello dear readers, curators and the community in general, this time I share with you my participation in the splinterlands contest to share battles, this time with The Child of the Forest.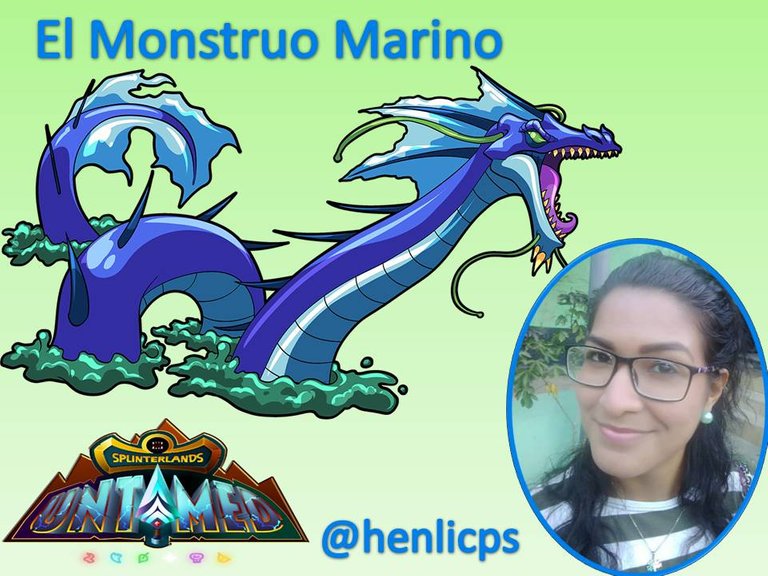 FUENTE

Splinterland es un juego de cartas coleccionables y batallas muy entretenido y con buenas recompensas para sus jugadores. Los retos semanales también son un excelente incentivo para que los jugadores creemos contenido con referencia al juego para recibir los votos que ofrecen por participar.
Empieza en este gran juego desde este Link
El monstruo al que hacemos referencia de esta semana es perteneciente al grupo de cartas Reward las cuales se entregan en los quest diarios y las recompensas de final de temporada. Es un monstruo bastante bueno para ser un tanque el cual con su habilidad de curación le constituye otra buena manera de mantenerlo vivo por mas tiempo. Tiene un buen ataque y una buena vida por lo que la mayoría de las veces lo uso como tanque, al menos que la regla de juego me permita colocarlo en otro lugar.
Tu también puedes participar entrando a este Link.
Al igual que yo me he encontrado con muchas personas que usan este monstruo marino como tanque por lo que veo que le doy un buen uso.
Splinterland is a very entertaining collectible card and battle game with good rewards for its players. Weekly Challenges are also an excellent incentive for players to create in-game content to receive the votes they offer for participating.
Get started in this great game from this Link
The monster we refer to this week belongs to the group of Reward cards which are delivered in daily quests and end-of-season rewards. It is a pretty good monster for a tank which with its healing ability is another good way to keep it alive longer. It has a good attack and a good life so most of the time I use it as a tank, unless the game rule allows me to place it elsewhere.
You can also participate by entering this Link.
Like me, I have come across many people who use this sea monster as a tank so I see that I put it to good use.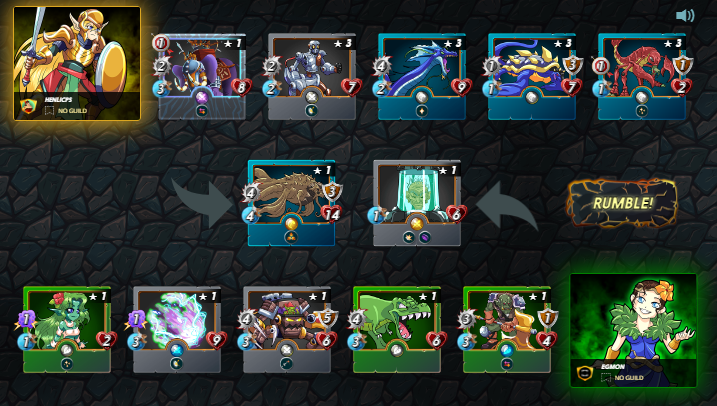 FUENTE
En este link pueden encontrar mi batalla que les comparto en la que este monstruo fue uno de los factores principales para conseguir la victoria.
La regla de la batalla le permitió a todos mis monstruos poder atacar desde cualquier posición al monstruo contrario, por lo que los pude formar de esta forma y utilizar toda su fuerza de ataque para acabarlos. Ademas los complemente utilizando un invocador que les aumenta su fuerza de ataque.
In this link You can find my battle that I share with you in which this monster was one of the main factors to achieve victory.
The rule of the battle allowed all my monsters to be able to attack the opposing monster from any position, so I was able to form them in this way and use all their attack strength to finish them. Also complement them using a summoner that increases their attack strength.


Con esta regla y alto nivel de mana permitido, pude colocar a todos estos monstruos de esta forma, colocando al Monstruo Marino en medio para se uno de los que de sus fuertes golpes y ademas sobrevivir todos los ataques posibles, ademas coloque a la curadora en la ultima posición para que sane a los monstruos en su primera posición. Esta formación es muy buena utilizarla cuando las reglas permiten a los monstruos atacar desde cualquier posición.
With this rule and the high level of mana allowed, I was able to place all these monsters in this way, placing the Sea Monster in the middle to be one of those who of its strong blows and also survive all possible attacks, also place the healer in last position to heal monsters in first position. This formation is very good to use when the rules allow monsters to attack from any position.

SPLINTERLANDS BRINDA MUCHAS FORMAS DE RECIBIR RECOMPENSAS, ESTA ES UNA DE ELLAS, EN LA QUE PODEMOS COMPARTIR NUESTRAS OPINIONES SOBRE CADA UNA DE LAS BATALLAS QUE REALIZAMOS. ESTA VEZ ME SALIÓ DE LO MEJOR PORQUE PUDE CONSEGUIR LA VICTORIA QUE ES LO QUE TODOS DESEAMOS.
SPLINTERLANDS PROVIDES MANY WAYS TO RECEIVE REWARDS, THIS IS ONE OF THEM, IN WHICH WE CAN SHARE OUR OPINIONS ABOUT EACH OF THE BATTLES WE FIGHT. THIS TIME I CAME OUT OF THE BEST BECAUSE I COULD GET THE VICTORY WHICH IS WHAT WE ALL WANT.


Traducido por GOOGLE TRADUCTOR