Hi people, today I bring you Rexxie from Splinterlands, this is a special drawing because it's the last one I made using a mouse, my original plan was to publish it when I finished another drawing, but my tablet arrived and I thought it was better to take it out to mark a milestone of how my work was before and after using the tablet.
However, for those who read my previous post Ají con Empanada you will know that I procrastinated, don't judge me. 😓
Hola gente, hoy les traigo a Rexxie de Splinterlands, este es un dibujo especial porque es el último que hice usando mouse, mi plan original era publicarlo cuando terminara otro dibujo, pero mi tableta llegó y creí que era mejor sacarlo para marcar un hito de como era mi trabajo antes y después de usar la tableta.

sin embargo, para los que vieron mi post anterior Ají con Empanada sabrán que procrastiné, no sean duros conmigo. 😓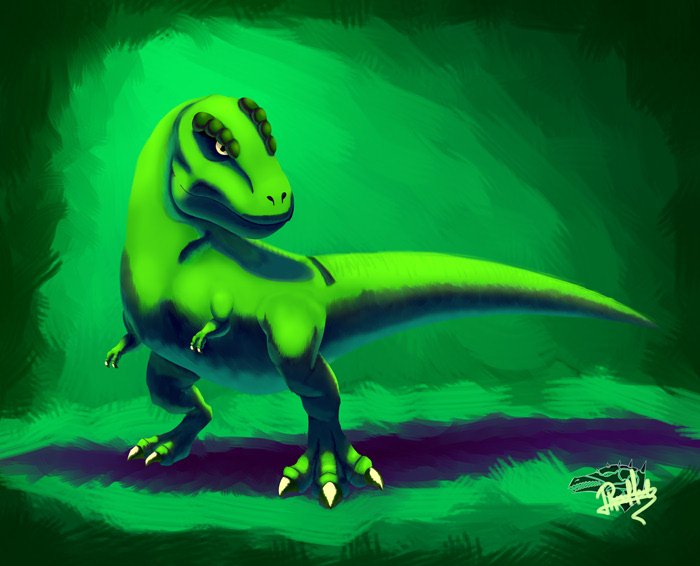 Process | Proceso
---
I start with the pencil sketch, this specific sketch I did in a smaller space, I force myself to always use a letter-size sheet, but in this case I started to make a little rudimentary sketch that I would later draw a large version.
Empiezo con el boceto a lápiz, este boceto en específico lo hice en un espacio más pequeño, me obligo a usar siempre una hoja de tamaño carta, pero en este caso empecé a hacer un boceto rudimentario que luego iba a pasar en grande.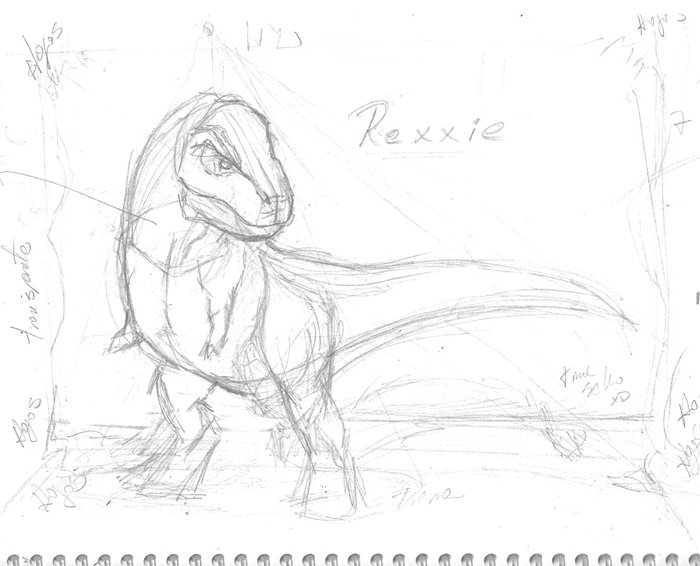 I made the lines with the linework layer, corrected different mistakes I made in the pencil sketch and added details to make it more like the original version.
Hice las líneas con la capa de linework, corregí diferentes errores que cometí en el boceto a lápiz y agregué detalles para que se parezca más a su versión original.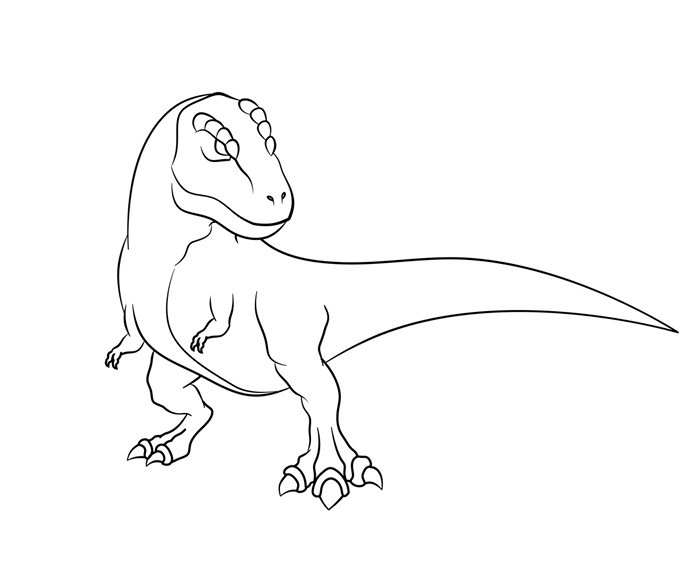 For its colors I decided to use a monochromatic composition in shades of green, sorry if it's a little complicated to distinguish the shapes, after adding the shadows it becomes easier, I promise. 😉
Para sus colores base decidí usar una composición monocromática en tonos de verde, lo siento si es un poco complicado de distinguir las formas, luego de agregar las sombras se hace más fácil, lo prometo. 😉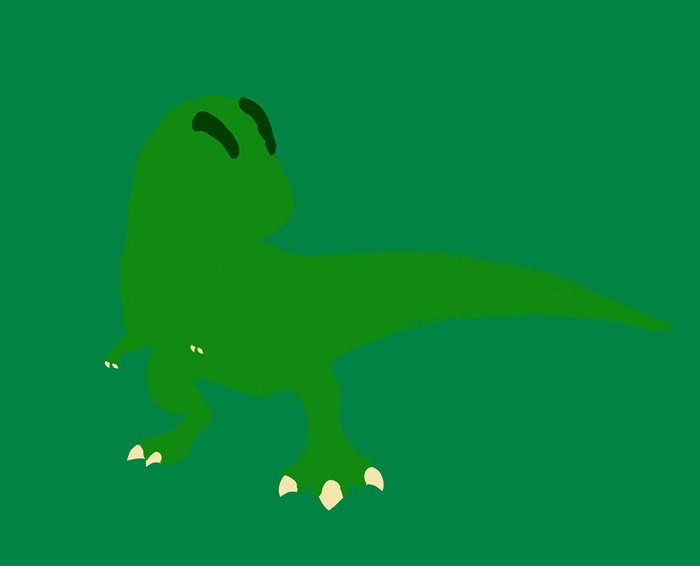 I added the light and dark shadows in different layers and then I mixed them, although I don't think I'll do it again, I had a hard time combining them, on the other hand, I made a floor and put shadows on it so Rexxie wouldn't be floating in space.
Agregué las sombras claras y oscuras en capas distintas y luego las mezclé, aunque no creo que lo vuelva a hacer, me costó bastante combinarlas, por otra parte le hice un piso y le puse sombras para que no estuviera flotando en el espacio.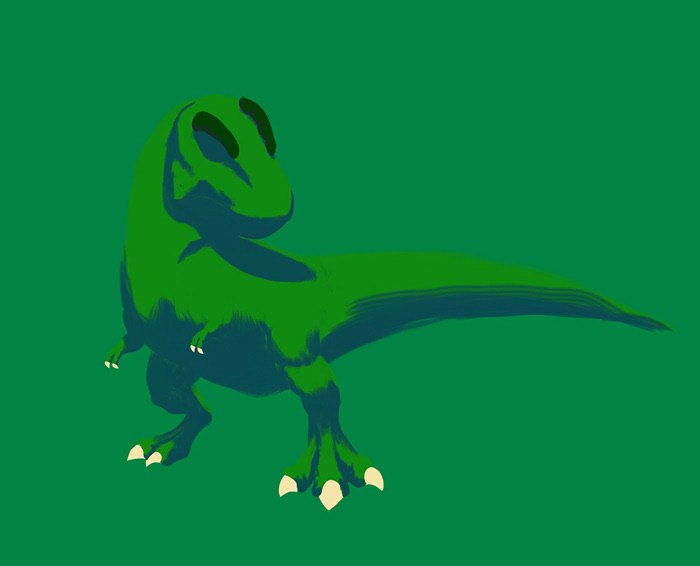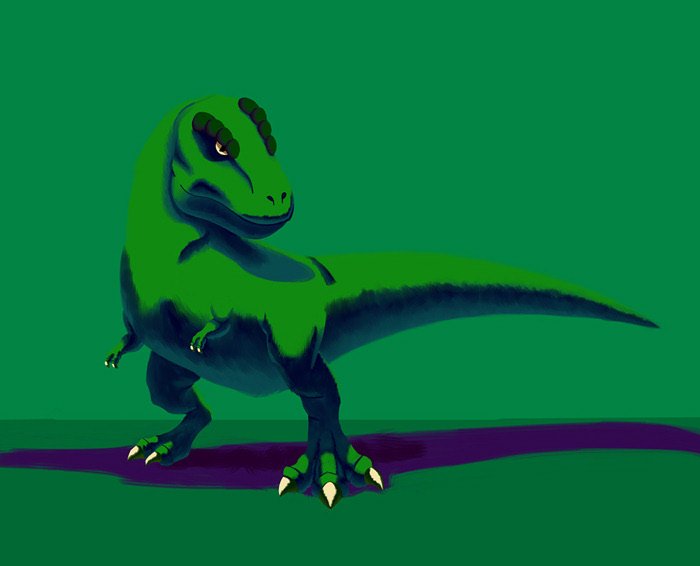 ---
Finally I added the highlights, they were so strong that they changed the original color of the drawing, but it didn't look bad so so I left it like that.
Finalmente agregué las luces, fueron tan fuertes que cambiaron el color original del dibujo, pero no se veía mal así que lo dejé pasar.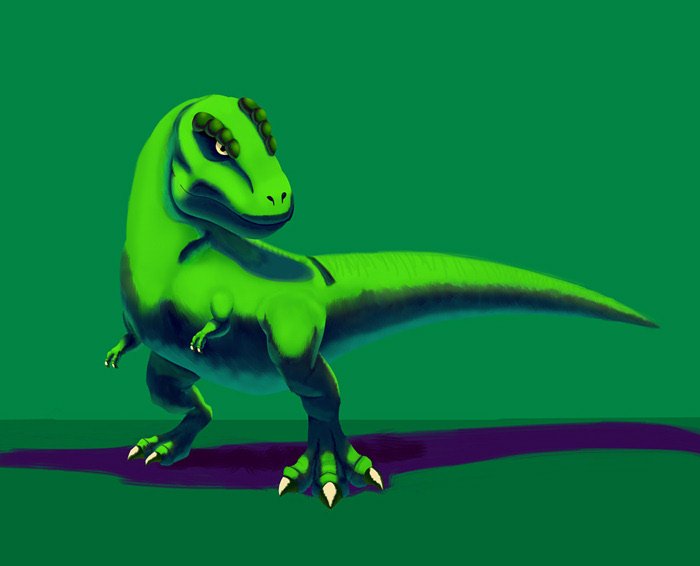 For the background, I originally planned to make a leaf curtain with its individual lights and shadows, I spent at least two days thinking about how I would do it, but then I realized that I don't yet have the skill level and tools to do something like that without getting frustrated, so I applied different shades of green and mixed them to make a gradient.
In my previous post I called it a new technique, but it's something I've been doing in my drawings,but I used more colors, it gives a better effect. 😂
Para el fondo originalmente planeaba hacer una cortina de hojas con sus luces y sus sombras individuales, pasé al menos dos días pensando en como lo haría, pero luego me di cuenta de que aun no tengo el nivel de destreza ni las herramientas para hacer algo parecido sin fundirme, así que apliqué distintos tonos de verdes y los mezclé para hacer un degradado.

En mi post anterior lo llamé una nueva técnica, pero es algo que ya venía haciendo en mis dibujos, solo que al usar más colores da un mejor efecto. 😂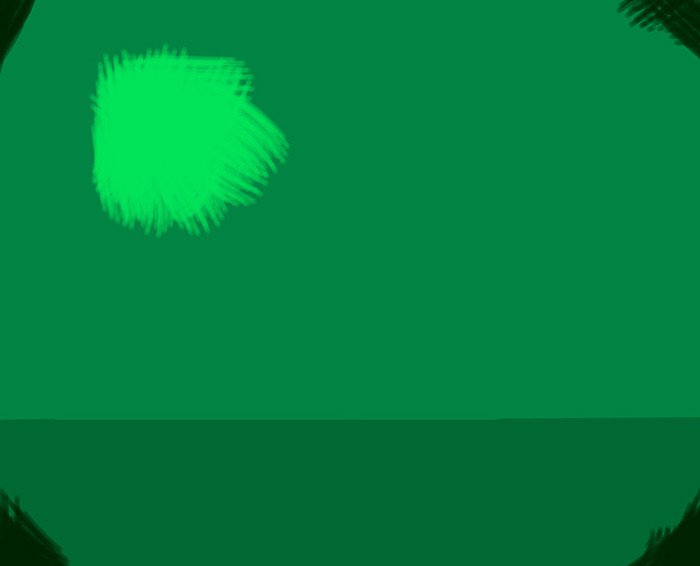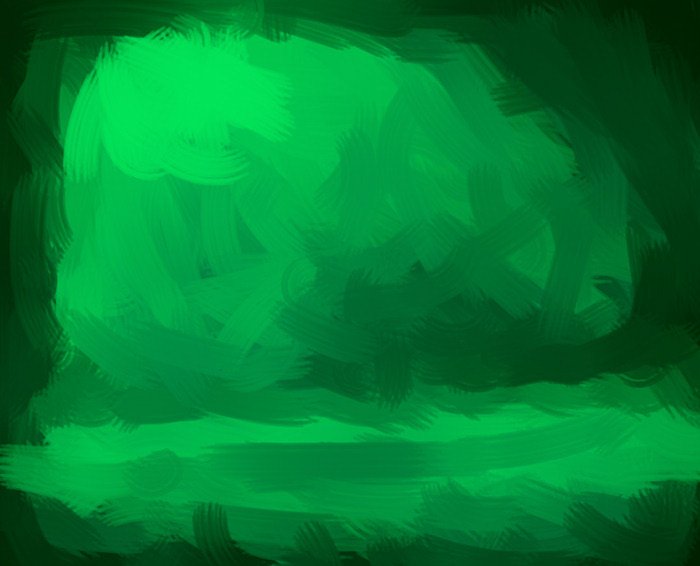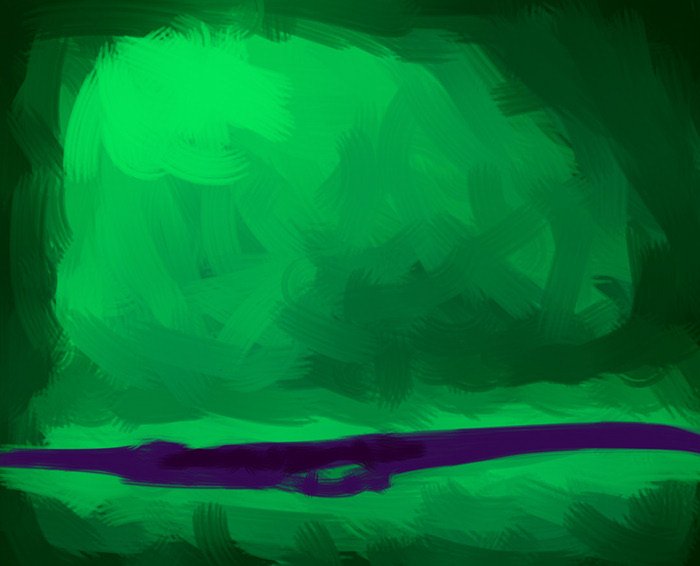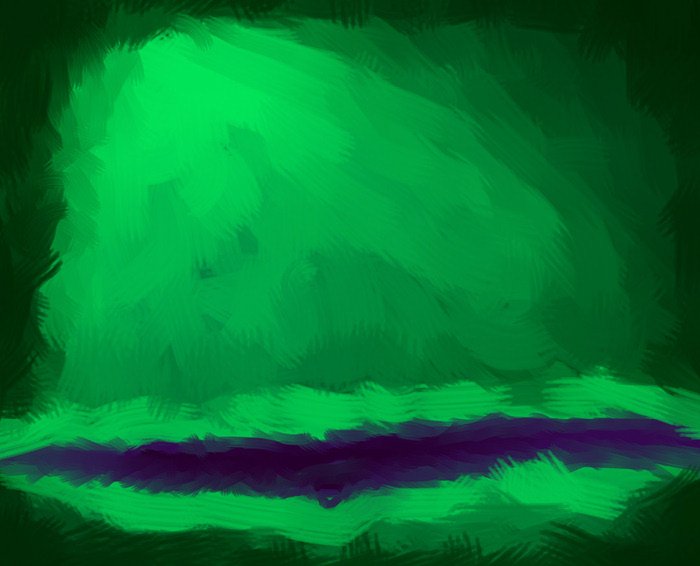 ---
The background it's ready, then I added Rexxie, give him a little more higlights and that was it.
Con el fondo listo solo quedaba agregar a Rexxie, darle un poco más de iluminación y listo.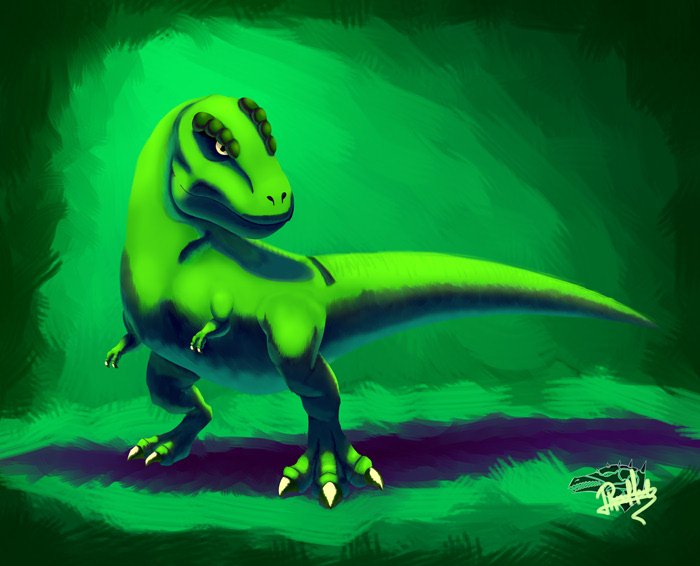 Rexxie was a challenge, it made me realize that even though I prefer dark colors, I enjoy more doing drawings with bright colors and it made me build a dynamic technique to make backgrounds, I hope you liked it as much as I enjoyed doing it, we read in another post. 😉
Rexxie fue desafiante, hizo que me diera cuenta de que a pesar de que prefiera los colores oscuros, disfruto más haciendo dibujos con colores brillantes y me hizo cimentar una técnica dinámica para hacer fondos, espero que les haya gustado tanto como yo disfruté haciéndolo
nos leemos en otro post. 😉
---
I hope you liked them and if you have any corrections or suggestions do not hesitate to comment, that will help me to improve.
Espero que le hayan gustado y si tienen alguna corrección o sugerencia no duden en comentarla, eso me ayudará a mejorar.
For this drawing I used Paint Tool Sai 2.
Para hacer este dibujo usé el programa de Paint Tool Sai 2.
Brush/Pinceles
| Bristle brush/Pincel de cerdas | Blur brush/Pincel de degradado | Airbrush/Aerógrafo |
| --- | --- | --- |
| | | |
---
My social media:
Twitter, Instagram, Artstation
Here you can buy my NFT here:
Pixeos art gallery, Nftshowroom
Si quieres jugar a Splinterlands no dudes en darle click.

Mis redes sociales:
Twitter, Instagram, Artstation
Por aquí pueden comprar mis NFT:
Pixeos art gallery, Nftshowroom