Stats for Vruz Promo Card Came In!
Ok, so we have the stats for Vruz, the running goblin we all know from claiming SPS, for example.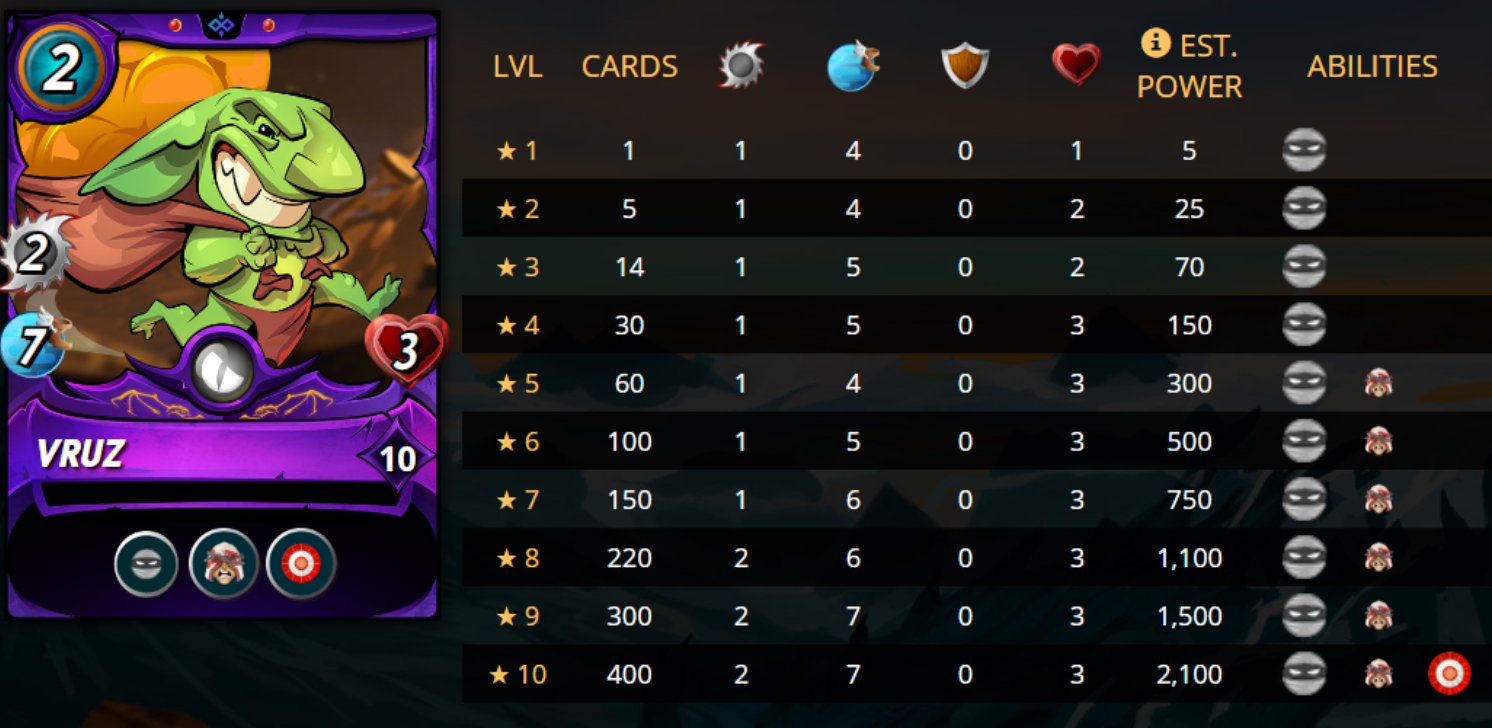 That's a really quick one, for sure!
Very interesting combination of stats and abilities. At that health, it is likely to be a target for Opportunity, and such attacks could miss due to its high speed.
If however he gets hit, it is easy to kill, but then Martyr kicks in and boosts the stats of adjacent monsters.
Vruz will also sneak on the last monster in the lineup that isn't camouflaged and will most likely hit it first. If that monster has Thorns and Vruz dies, again, he becomes a Martyr and nearby monsters get boosted stats. If the attacked monster has Retaliate, then it also has a high chance to miss before hitting Vruz.
The best position for Vruz seems to be somewhere in the middle, to take advantage of a double boost from Martyr, if Vruz is killed while he is still surrounded by friendlies.
The first position (or last position in the Super Sneak ruleset) may not be such bad either, due to its speed and the likelihood of misses.
It also costs 2 mana, which makes it a great card for low-mana games.
Now, the True Strike ability. In the presentation post, they mentioned it's a way to make sure Vruz hits his target even in Reverse Speed. And that makes sense.
But True Strike also makes sure Vruz doesn't miss a high-speed Flying+Dodge enemy.
As a Dragon card, this makes it even more versatile and could be used in more combinations. Of course, a Neutral card would have been better, but how much value can you pack in a common promo card while keeping the options open for other niche cards?
What's interesting is that Vruz can be an annoying card to play against. Either hard to kill because of the misses, or easy to kill but at the expense of boosting other enemies. Seems like a strategy could be to not kill Vruz early on, while minimizing the effects of its fire power by using Triage, Protect and Repair, or Shield in the last position.
There will be more or less a maximum of 530000 BCX of Vruz available (changes with the amount of staked SPS until the snapshot is taken). But that's the maximum because there will be SPS stakeholders who won't buy Vruz.
That may end up being a pretty scarce promo card, especially at top levels.
Personally, I will be eligible to buy up to a level 6 Vruz (and change). Depending on its price on the market, I'll either try to buy up to level 8 or max it out.
---
And an unrelated, but exciting side note, for me: today, in a few hours, the whitepaper for land 1.5 is expected to be made public.
Posted Using LeoFinance Beta
---
---