How To Double Your SPS Airdrop Points
Just days ago I went over my Hive Goals and one of them was to increase my SPS airdrop points. There are multiple ways to do this as Splinterlands has many assets in which can be held to collect SPS airdrop points. One of my favorite ways is blogging from or to the Splintertalk.io frontend which allows you to collect the Splinterlands official blogging token SPT. Each SPT will award you 0.25 SPS airdrop points. Another Splinterlands asset that will award you SPS airdrop points is the DEC token. Holding DEC (Dark Energy Crystals) will give a 1:1 airdrop point ratio. Meaning for every DEC you hold you will earn One airdrop point. What some might not know is if you toss those DEC into a liquidity pool (all DEC pools may not qualify) you will double your airdrop points. This is because DEC in a liquidity pool will give 2:1 ratio in airdrop points. Meaning for every DEC you have in a liquidity pool you will earn Two airdrop points. I will leave a screenshot of all the Splinterland assets that qualify for SPS airdrop points near the end of this post. Seeing as I have a little HIVE in my Hive Wallet sitting around doing nothing I thought it about time I put it to work for me and pair it up with the DEC I have earned from playing the awesome game that is Splinterlands. If you are new to Splinterlands you might not know how to toss your DEC into a liquidity pool and if that is the case this tutorial is for you. Keep in mind there is risk to placing tokens in liquidity pools. I urge you to do some research on pools before diving head first with adding liquidity to them.
Hive/DEC Liquidity Pools Location
Tribaldex
BeeSwap
Hive Deposit Options
LeoDex
Hive-Engine
Tribaldex
BeeSwap
Above I have listed some of the DEX(s) on the Hive Blockchain in which you can deposit your HIVE for SWAP.HIVE which is needed to participate in the SWAP.HIVE:DEC pools located on the Hive Blockchain. Also Listed above are DEX(s) the pools are located on. To deposit your Hive all one needs to do is go to their DEX of choice and hit the deposit icon and then follow the instructions on how to deposit that is supplied by the DEX. Each DEX has their pros and cons for Hive deposits. For example one DEX might charge a lower fee for a deposit but have low liquidity while another DEX might have high liquidity but slightly higher deposit fees. Regardless of which DEX you choose for your deposit, your balance will show on all of them. Once you deposit your HIVE you will want to deposit your DEC. This can be done directly from the Splinterlands wallet page as detailed below.
How To Deposit DEC To DEX(s)
Go to Splinterlands.io
Sign In
Click DEC Wallet Icon
Enter DEC Transfer Amount
Select Wallet (Hive-Engine)
Click Transfer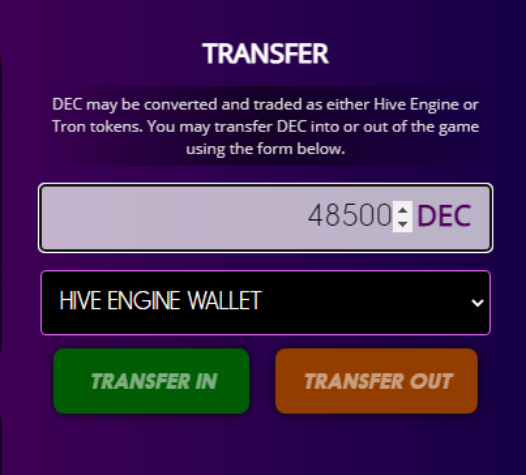 Luckily for everyone on the Hive Blockchain transactions are done in an instant which means the time between hitting that transfer out button and your deposit hitting Hive-Engine is lightening fast. Depositing your DEC using the Hive-Engine option will allow your DEC to show up on all the other Hive DEX(s) listed above. Now that you got your DEC in your desired DEX lets take a look at how to add your newly deposited DEC to a liquidity pool that will double your SPS airdrop points. Keep in mind that you will need to make sure you have an equal amount of Swap.Hive (USD Worth) available to the USD worth of DEC you plan on adding to the SWAP.HIVE:DEC liquidity pool. If you do not have enough SWAP.HIVE or DEC to match the pairing tokens you will see a red outline which indicates you need to make a deposit or lower your pairing liquidity amount(s).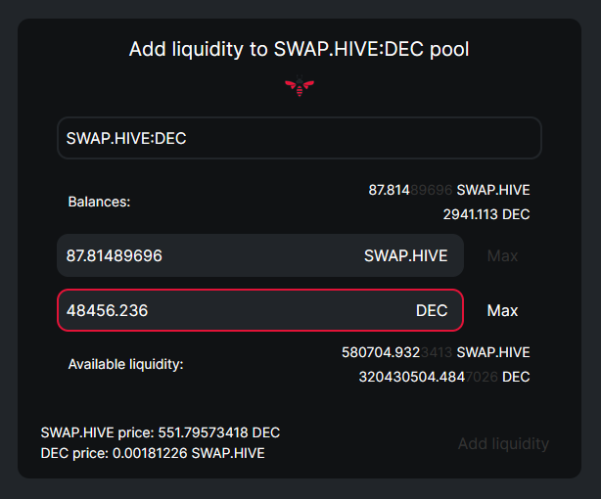 How To Add Liquidity
Go to your favorite DEX
Navigate to Liquidity pool section
Click Add Liquidity
Search SWAP.HIVE:DEC
Enter desired amount of each token
Click Add Liquidity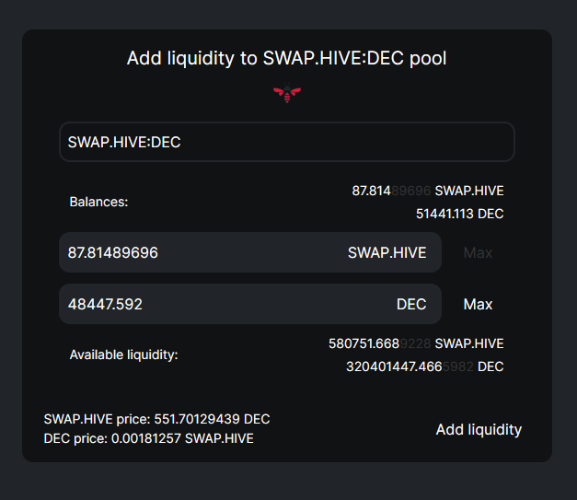 Congratulations you just added liquidity to the SWAP.HIVE:DEC pool and in the process earned yourself double SPS airdrop points. To verify you completed all steps correctly all you need to do is head on over to the Your Positions section of your favorite DEX. It is there that you will see all the liquidity pools you have provided liquidity to (including the SWAP.HIVE:DEC pool you just added liquidity to). Current SPS airdrop day is 283 of 365. Your SPS airdrop point total can be found in your SPS wallet located at Splinterlands (updated once a day, at the same time the daily SPS drop happens).


Splinterland Assets
That Earn SPS Airdrop Points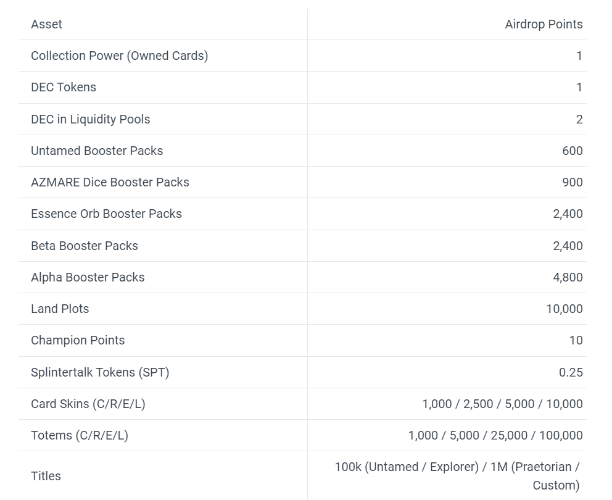 What Is Splinterlands
Splinterlands is a blockchain game built on the Hive Network. The game itself utilizes NFT's for game play. These NFT's can be won in battle and/or purchased from the official Splinterlands marketplace or many other secondary markets. Game play rewards players with cryptocurrency and in game assets. Click here to get started with Splinterlands.
Splinterlands RoadMap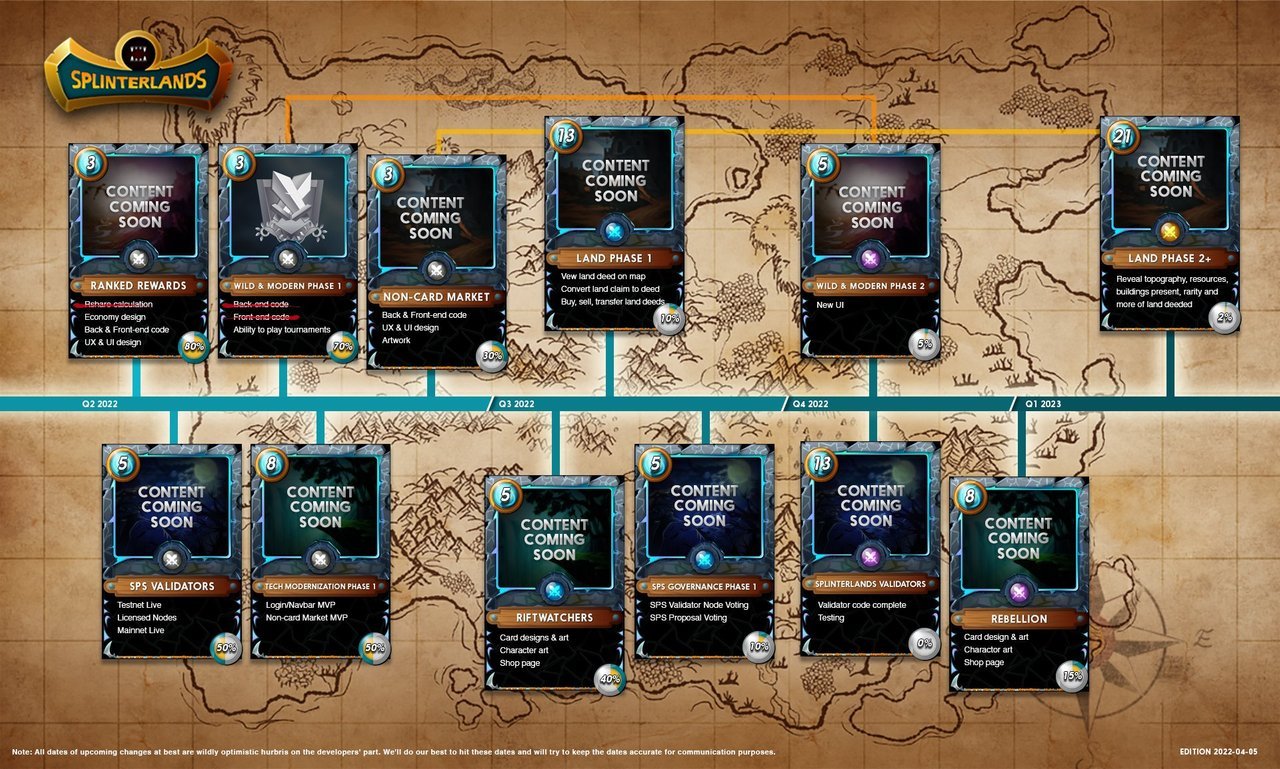 ---
---