Splinterlands Card Leveling up - For Gameplay or Profits?

Trying out new functionalities on the Splinterlands game is exciting. I just shared my first profiteering experience with Splinterlands tournament and that inspired my entrant into many tournaments this week. This on the other hand revealed why I need to buy more packs to groww my Deck power and value as well as have sufficient cards for battles. Buying more packs, especially this festive season comes with loads of rewards as Splinterlands announced Winterfest rewards.
Getting an Arkemis card for every single pack I bought at first sounded monotonous and boring, but at the recommendation of @Josediccus, I got to know more about card levelling up. This post is a report of my first attempt leveling up cards and the outcome in my deck.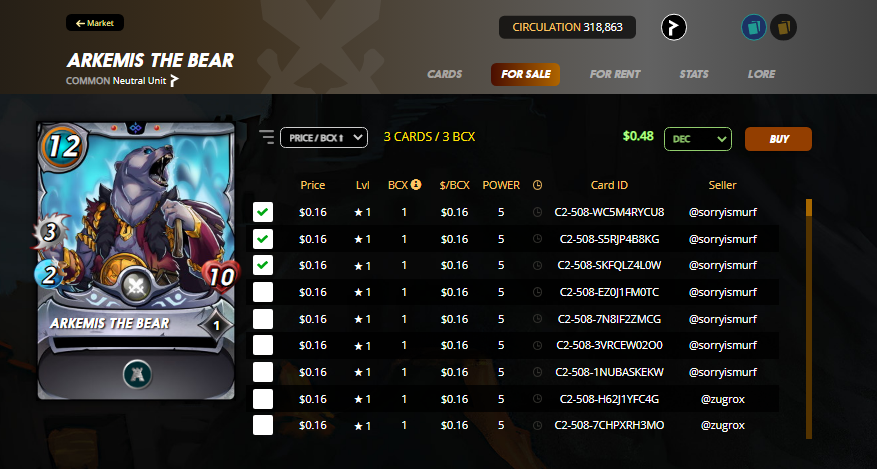 Levelling up of Splinterlands cards is the combination of similar cards into a more superior card with higher elements stats, power and new and abilities unlocked. The combination of cards on Splinterlands is irreversible and the new card possesses a new level depending on the number of cards combines. Below is the breakdown of number of cards required card levelling-up.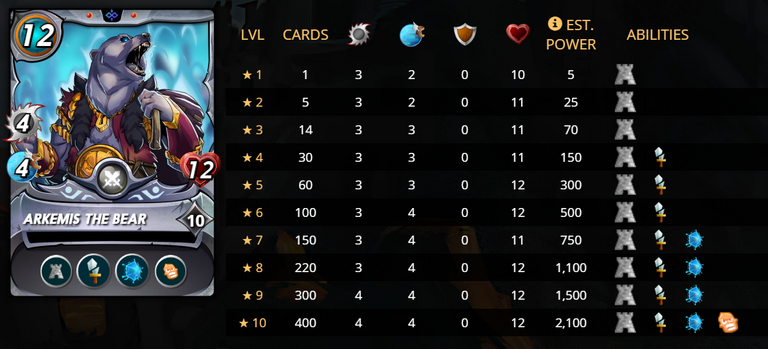 Level 1 - 1 card
Level 2 - 5 cards
Level 3 - 14 cards
level 4 - 30 cards
Level 5 - 60 cards
Level 6 - 100 cards
Level 7 - 150 cards
Level 8 - 220 cards
Level 9 - 300 cards
level 10- 400 cards
My First Splinterlands Card Leveling up
While my Arkemis card counts started to grow in my deck and I couldn't use more than one in a battle, I had to try out card levelling-up. I gathered 5 Arkemis cards and levelled them up to Level 2 cards..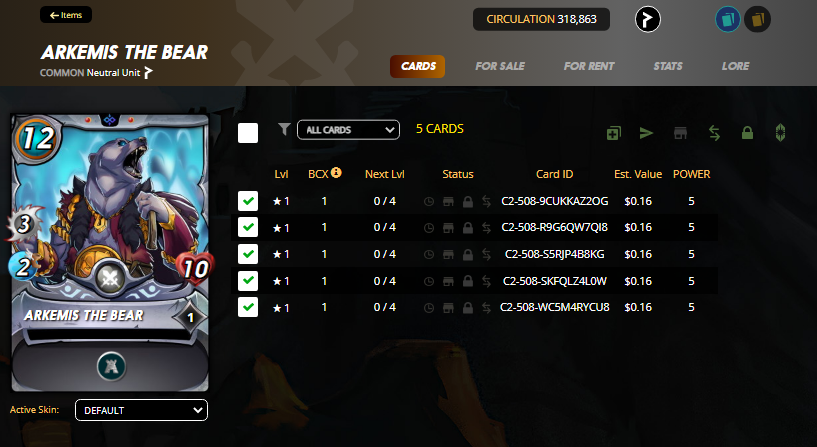 Levelling up of Splinterlands cards is expected to boost your new cards effectiveness in battles and also qualify them for use in higher leagues. My Arkemis levelled up increased in Hearts stats by 1, that is, from 10 to 11. While that was not very significant, the level of the card changed from 1 to 2 and it was very obvious.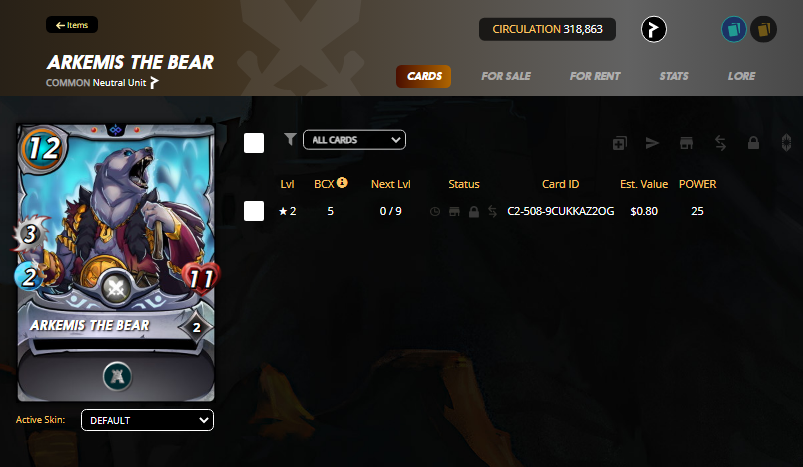 Since I'm still navigating my team through lower splinterlands leagues, my new levelled up card rejected my league and is calling for higher leagues and battles. The screenshot below hows the caution sin on the Arkemis card that it can't be used in this level of battle.

Is Card Levelling-up for Gameplay or Profits?
I beg to ask if Card Levelling-up feature was primarily designed just for Gameplay or for Profits? I discovered that the power and price of the levelled up card is just an arithmetic accumulation of the power and price of the number of cards combined. I'm still observing what becomes of the promo card in the future.
It can only get better!
---

Splinterlands game is termed the "next generation of collectible card games" in which allows players to collect, trade, and battle with provably scarce digital collectibles with real-world value. Battles on Splinterlands Unlike most trading card games, are fast and furious, and are usually completed within few minutes. The Splinterlands gameplay is simple and easy to learn viz: reviewing combat rules, making and submitting of the team and watching the battle unfold.

If you found the article interesting or helpful, please hit the upvote button, share for visibility to other hive friends to see. More importantly, drop a comment beneath. Thank you!
Let's Connect
Hive: https://leofinance.io/@uyobong
Twitter: https://twitter.com/Uyobong3
Discord: uyobong#5966
---
Posted Using LeoFinance Beta
---
---