The new awesome SPLINTERLANDS rewards!!! ESP/ENG
NEW SPLINTERLANDS REWARDS!
Splinterlands se vino con todo este mes, lleno de actualizaciones y cosas muy interesantes, recordemos que splinterlands es el rey de los juegos NFT y no son palabras mayores, mencionenme un solo juego NFT que este mejor que splinterlands y mas teniendo la trayectoria de splinterlands, ninguno! Es un juego play to earn que no te va a hacer millonario de la noche a la mañana como prometen todos los demas juegos, tambien es un juego que tiene 5 años, sigue creciendo y esta cada vez mejor! Si aun no juegas splinterlands deberias hacerlo y coleccionar cartas que con el pasar de los años valdran mucho mucho mas!
Splinterlands came with everything this month, full of updates and very interesting things, remember that splinterlands is the king of NFT games and they are not big words, mention me a single NFT game that is better than splinterlands and more having the trajectory of splinterlands, none! It is a play to earn game that is not going to make you a millionaire overnight as all the other games promise, it is also a game that is 5 years old, continues to grow and is getting better and better! If you still don't play splinterlands you should do it and collect cards that over the years will be worth much much more!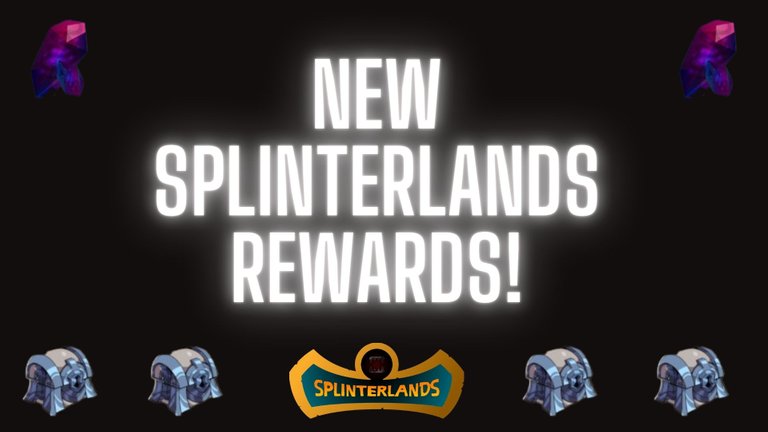 Vamos a empezar con que la nueva actualizacion trajo nuevas cartas reward! Asi que tenemos mas cartas para ganar, mas cartas para hacer estrategias y mas cartas para acumular poder! Personalmente me gustaria que se detengan con la emision de cartas ya por un tiempo, que esperen hasta que las cartas de chaos legion se terminen y mucho mas, para que asi las cartas actuales tengan mas valor coleccionable y el juego sea mas complicado, si, que sea mas complicado, actualmente si inviertes una suma decente es muy facil estar en silver 1 por ejemplo, sin hablar de lo rentable que pueda ser economicamente, ya que todos sabemos que a corto plazo no lo es, porque bueno, no se trata de eso, se trata de jugar, coleccionar y divertirse, por eso muchos aqui hacemos compras de cartas y coleccionamos cartas, porque nos gusta!!! Voy a ir hablando de las nuevas recompensas liga por liga! La verdad dependiendo del nivel en el que estes y dependiendo de cuanto juegues puede ser rentable o no, en mi caso les adelanto que me tiene MUY MUY FELIZ!
Let's start with the fact that the new update brought new reward cards! So we have more cards to win, more cards to strategize and more cards to accumulate power! Personally I would like them to stop issuing cards for a while now, to wait until the chaos legion cards are finished and more, so that the current cards will have more collectible value and the game will be more complicated, yes, more complicated, currently if you invest a decent amount it is very easy to be in silver 1 for example, not to mention how profitable it can be economically, as we all know that in the short term it is not, because well, it's not about that, it's about playing, collecting and having fun, that's why many here do card purchases and collect cards, because we like it! !! I'm going to talk about the new rewards league by league! The truth depending on the level you are and depending on how much you play it can be profitable or not, in my case I tell you that I am VERY VERY HAPPY!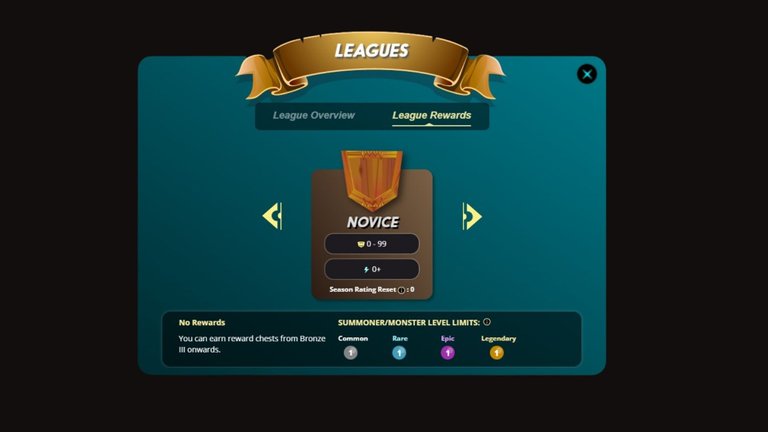 Vamos a empezar desde abajo, desde NOVATO, las recompensas son nulas, para empezar a generar recompensas tienes que tener un nivel mas alto, empiezas a jugar comprando el spell book que cuesta 10$ eso te permite utilizar las cartas standard que se usen en ese momento por asi decirlo! Luego de eso tienes que comprar cartas para sumar poder o alquilarlas, para asi tener poder, dependiendo de la rareza de la carta tiene mas poder o menos poder, para empezar a producir algo de dec tienes que tener minimo 100 de poder, esta liga no ofrece beneficios, es mas para que practiques y aprendas a jugar!
Let's start from the bottom, from NOVICE, the rewards are null, to start generating rewards you have to have a higher level, you start playing buying the spell book that costs 10$ that allows you to use the standard cards that are used at that time so to speak! After that you have to buy cards to add power or rent them, to have power, depending on the rarity of the card has more power or less power, to start producing some dec you have to have at least 100 power, this league does not offer benefits, it is more for you to practice and learn to play!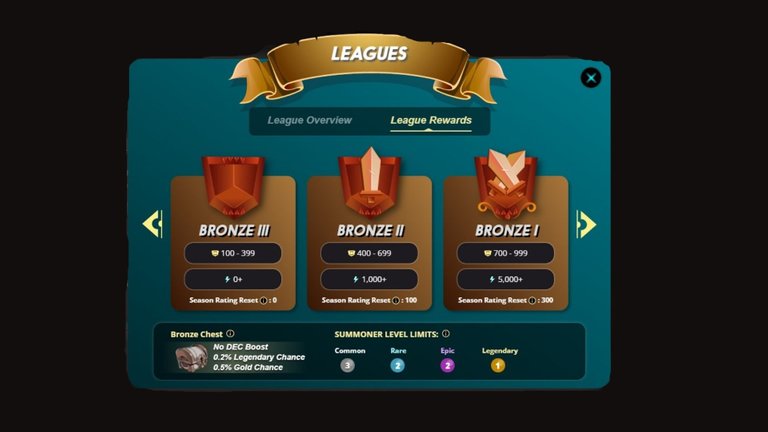 En este punto todo empieza a ponerse interesante y empiezas a generar ganancias y crecer, al estar en las ligas de bronce ganas lo minimo que se puede ganar de dec,eso si, empieas a competir, ganar cofres y aunque las probabilidades sean bajas igual puedes ganar algo muy bueno! Muchas veces he visto una cuenta bronce ganar una legendaria dorada por ejemplo, asi que para empezar, ya empiezas bien y ademas tienes una oportunidad remota de tener una carta muy buena! ahora veamos las probabilidades, 0.2% de conseguir una legendaria y 0.5% de conseguir una dorada, eso significa que si abres 500 cofres seguramente te ganes una legendaria! Y con la nueva modalidad de focus, siendo un sistema de recompensas que puedes ganar mas cofres pues, me parece muy muy muy bien! digamos que en una temporada sacas 50 confres, en 10 temporadas seguramente ya tendras una legendaria!
At this point everything starts to get interesting and you start to generate profits and grow, being in the bronze leagues you win the minimum that can be won from dec, yes, you start to compete, win chests and although the odds are low you can still win something very good! Many times I have seen a bronze account win a gold legendary for example, so to start, you start well and you have a remote chance to have a very good card! now let's see the odds, 0.2% of getting a legendary and 0.5% of getting a gold, that means that if you open 500 chests you will surely win a legendary! And with the new focus mode, being a reward system that you can win more chests, it seems to me very very very very good! let's say that in one season you get 50 chests, in 10 seasons you will surely have a legendary!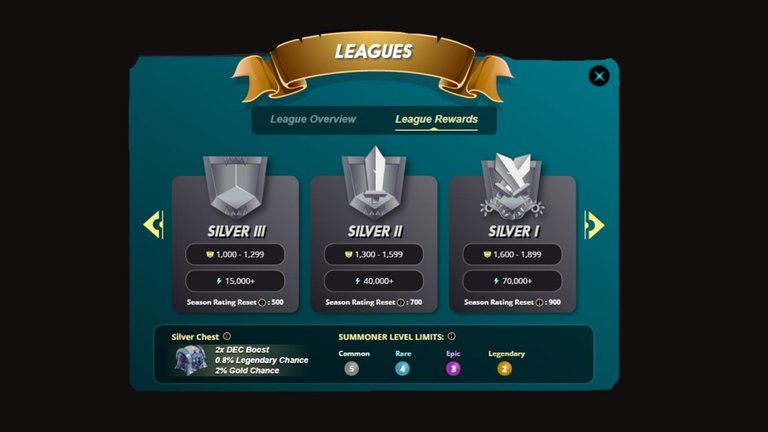 Ahora se va a poner muy muy bonito el asunto y mas provechoso! Entramos a las ligas de plata y las ligas que actualmente juego, tengo 40.000 de poder propio por lo que puedo jugar en plata 2, aqui tenemos unmultiplicador de dec x2 asi que estaremos generando el doble al avanzar de nivel, es muy bueno, pero lo realmente bueno esta en los cofres!! tienes 0.8% de que te salga legendaria y un 2% de que te salga una dorada, eso significa que para que te salga una legendaria lo mas probable es que tengas que abrir 125 cofres! Y una dorada cada 50 cofres, las probabilidades son muy buenas! En mi caso ya llevo 30 acumulados y gano aproximadamente 5 diarios sin matarme mucho en las misiones diarias, ya de por si mi maximo era 15 cofres y llevo el doble acumulado y aun queda bastante tiempo!!!
Now it's going to get very very nice and more profitable! We enter the silver leagues and the leagues I currently play, I have 40,000 of my own power so I can play in silver 2, here we have a dec multiplier x2 so we will be generating twice as much when we advance in level, it is very good, but the really good thing is in the chests!! you have 0.8% that you get legendary and 2% that you get a golden, that means that to get a legendary you will most likely have to open 125 chests! And a gold every 50 chests, the odds are very good! In my case I already have 30 accumulated and I earn about 5 daily without killing me much in the daily missions, and in itself my maximum was 15 chests and I have the double accumulated and there is still plenty of time!!!!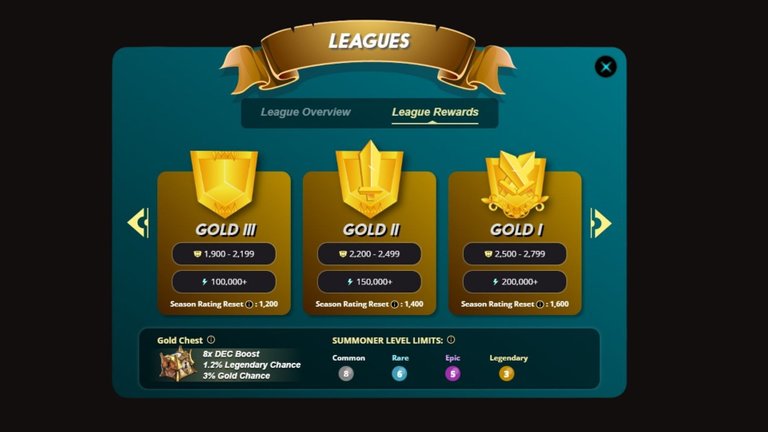 La proxima liga a la que aspiro es la liga oro, aun me detiene que necesito mas del doble de poder jeje y ademas de eso que necesito mas invocadores a nivel 2 y nivel 3, me hace falta una inversion de alrededor de 1000$ para ser competitivo en Oro la verdad y si tuviera que alquilar gastaria mucho alquilando y la verdad no me gusta alquilar! preferiria al menos tener mis cartas decentes, tener algo mas de poder y no tener que alquilar tanto en caso de que tenga que alquilar! En oro el multiplicador de dec sube a 8x un salto barbaro!!! Tienes 1.2% de probabilidades de legendaria que serian aproximadamente 84 cofres, mucho menos que plata y ademas un 3% de probabilidades de conseguir una dorada! osea que cada 33 cofres tendrias una dorada, una maravilla!!!
The next league I aspire to is the gold league, it still stops me that I need more than double the power hehe and besides that I need more summoners at level 2 and level 3, I need an investment of about 1000$ to be competitive in gold the truth and if I had to rent I would spend a lot renting and the truth I do not like renting! I would prefer to at least have my decent cards, have some more power and not have to rent so much in case I have to rent! In gold the dec multiplier goes up to 8x a huge jump!!!! You have 1.2% chance of legendary which would be about 84 chests, much less than silver and also a 3% chance of getting a gold! so every 33 chests you would have a gold, a wonder!!!!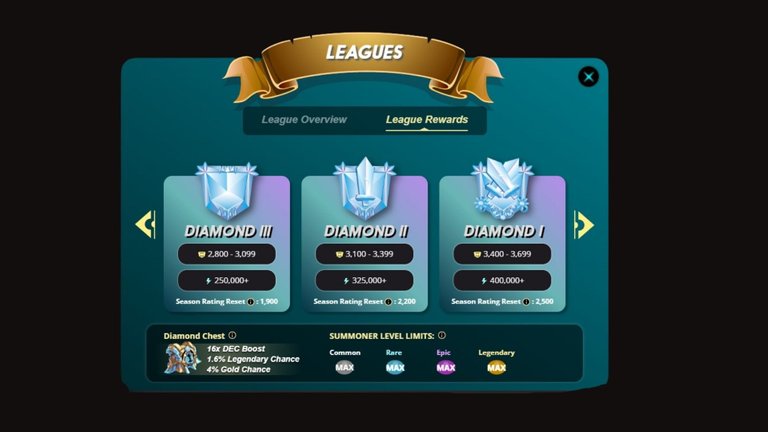 A partir de aqui si empezamos a soñar! Pero bueno, soñar no cuesta nada xD La liga DIAMANTE! Para hacer el cuento corto necesitas 250.000 de poder, pero eso es lo de menos! Ahi si de verdad tienes que tener un mazo competitivo, alguno que otro invocador maxeado, cartas maxeadas, osea una locura! Pero porsupuesto que las recompensas tambien son una locura, nada mas el multiplicador de dec es de 16x! Las posibilidades de conseguir una legendaria suben a 1.6% osea cada 62 cofres puede que te toque una legendaria y las cartas de oro aumentan a 4%!!! Eso significa que tendrias una carta dorada cada 25 cofres, no es asombroso? eso si, ahi si tu cuenta debe valer unos cuantos miles de dolares!
From here if we start to dream! But well, dreaming doesn't cost anything xD The DIAMOND league! To make a long story short you need 250.000 power, but that's the least of it! There if you really have to have a competitive deck, some maxed summoner, maxed cards, so crazy! But of course the rewards are also crazy, just the dec multiplier is 16x! The chances of getting a legendary go up to 1.6% so every 62 chests you might get a legendary and the gold cards go up to 4%!!!! That means you would have a gold card every 25 chests, isn't it amazing? that's if your account must be worth a few thousand dollars!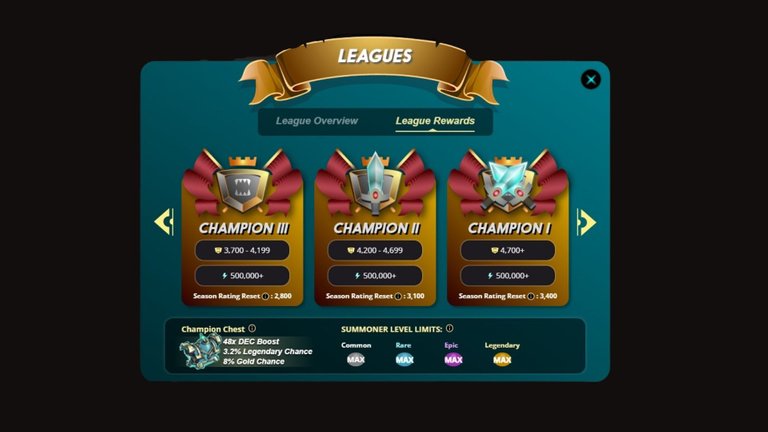 Por ultimo lo bueno de verdad, la liga CHAMPIONS! La liga que hasta soñarla pareciera que es imposible, minimo son 500.000 de poder y ademas de eso tu cuenta a esa altura valdria decenas de miles de dolares, cuidado si no cientos de miles como muchos que sus cuentas valen eso! El boost de dec se va a 48x! la posibilida de una legendaria es de 3.2% osea casi cada 30 cofres vas a tener una legendaria y la posibilidad de oro es de 8%!!! osea una dorada cada 12 cofres! Me imagino que en esos niveles conseguir una legendaria dorada ya es parte de lo comun y ni sonrisas te saca ya!


Gracias por tomarte el tiempo de pasar por mi post! Si te llama la atencion el jugar splinterlands puedas registrarte AQUI Es un juego maravilloso que ahora esta lleno de muchas sorpresas y te va a encantar! Ademas de eso puedes ganar dinero jugando, que puede ser mejor que eso?
Todas las imagenes fueron creadas con canva por mi y utilice screenshots de la pagina de Splinterlands.
Hasta pronto!
Last but not least, the CHAMPIONS league! The league that even dreaming about it seems to be impossible, minimum is 500.000 of power and besides that your account at that point would be worth tens of thousands of dollars, careful if not hundreds of thousands as many that their accounts are worth that! The dec boost goes to 48x! the chance of a legendary is 3.2% that means almost every 30 chests you will have a legendary and the chance of gold is 8%!!! that means a gold every 12 chests! I imagine that in those levels getting a golden legendary is already part of the common and not even smiles anymore!


Thanks for taking the time to go through my post! If you are interested in playing splinterlands you can register HERE It is a wonderful game that is now full of many surprises and you will love it! Besides that you can earn money by playing, what can be better than that?
All images were created with canva by me and I used screenshots from the Splinterlands website.

Posted using Neoxian City
---
---